Are you planning to launch an NFT collection? Wondering what it takes to sell out an NFT project?
In this article, you'll discover how to build a qualified community and strategy to sell out your NFTs.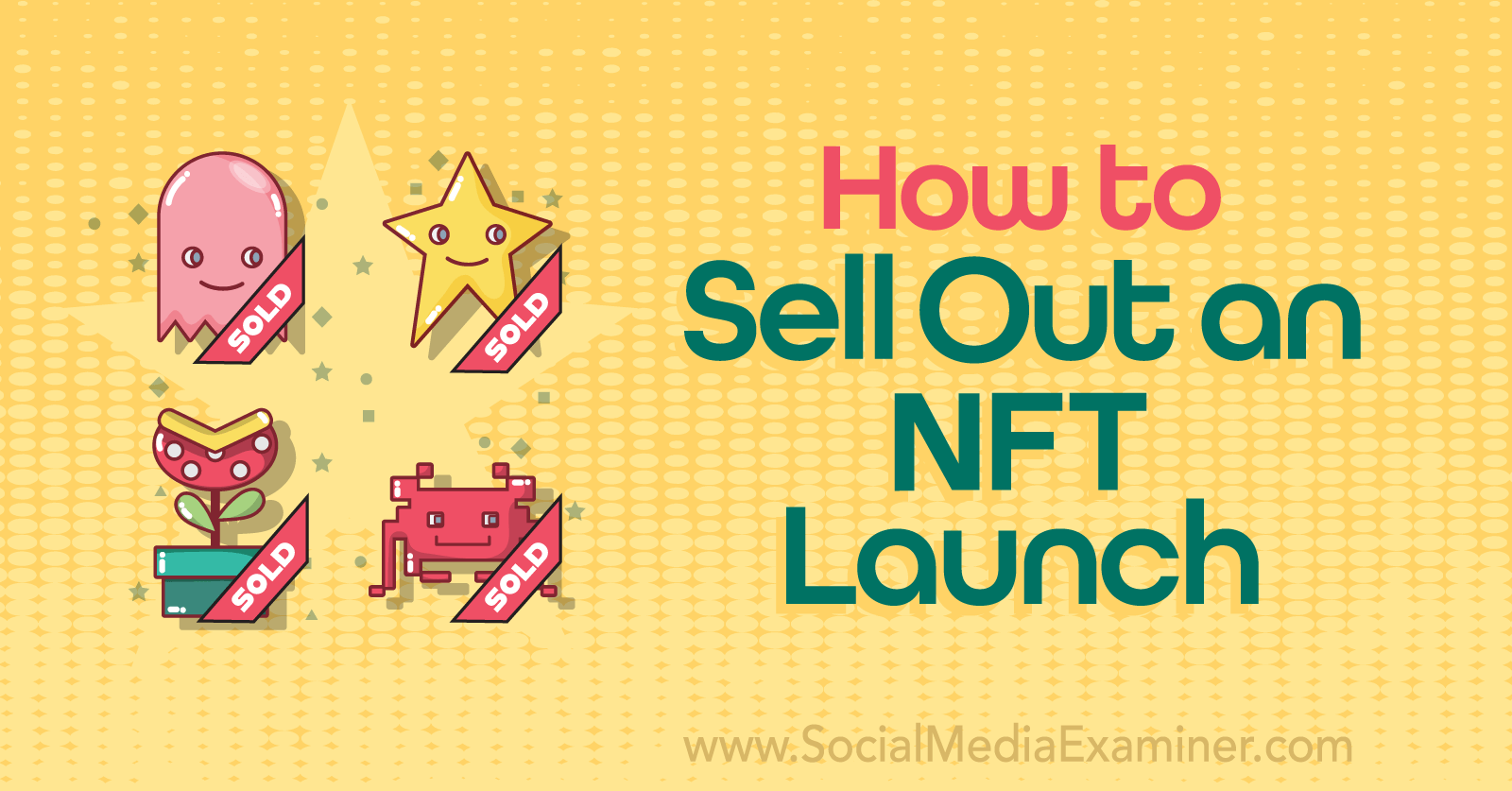 Top Mistakes That Doom NFT Projects
Although there are some factors beyond your control that may affect the success of your NFT launch, there are some mistakes to avoid to secure a successful launch in the NFT space.
Skipping Utility
First, don't forget to review the basics: why people buy things, or more specifically, why people buy from you. During the crypto world's bull market, there were dozens of NFT projects that were selling out, drawing increasing attention to NFTs in general. People were purchasing NFTs primarily because of the excitement and curiosity that surrounded them.
Now, as that excitement and novelty have waned a bit, people are less likely to purchase an NFT without a reason or purpose.
And this is why utility, which serves as a measure of product market fit, is so important with any new NFT launch. You can no longer depend on the novelty of the artwork or the enthusiasm of the community to help you sell out an NFT launch; you have to provide people with a reason to purchase the NFT.
For example, members of the LinksDAO community receive perks and membership access to the first golf course the DAO purchased.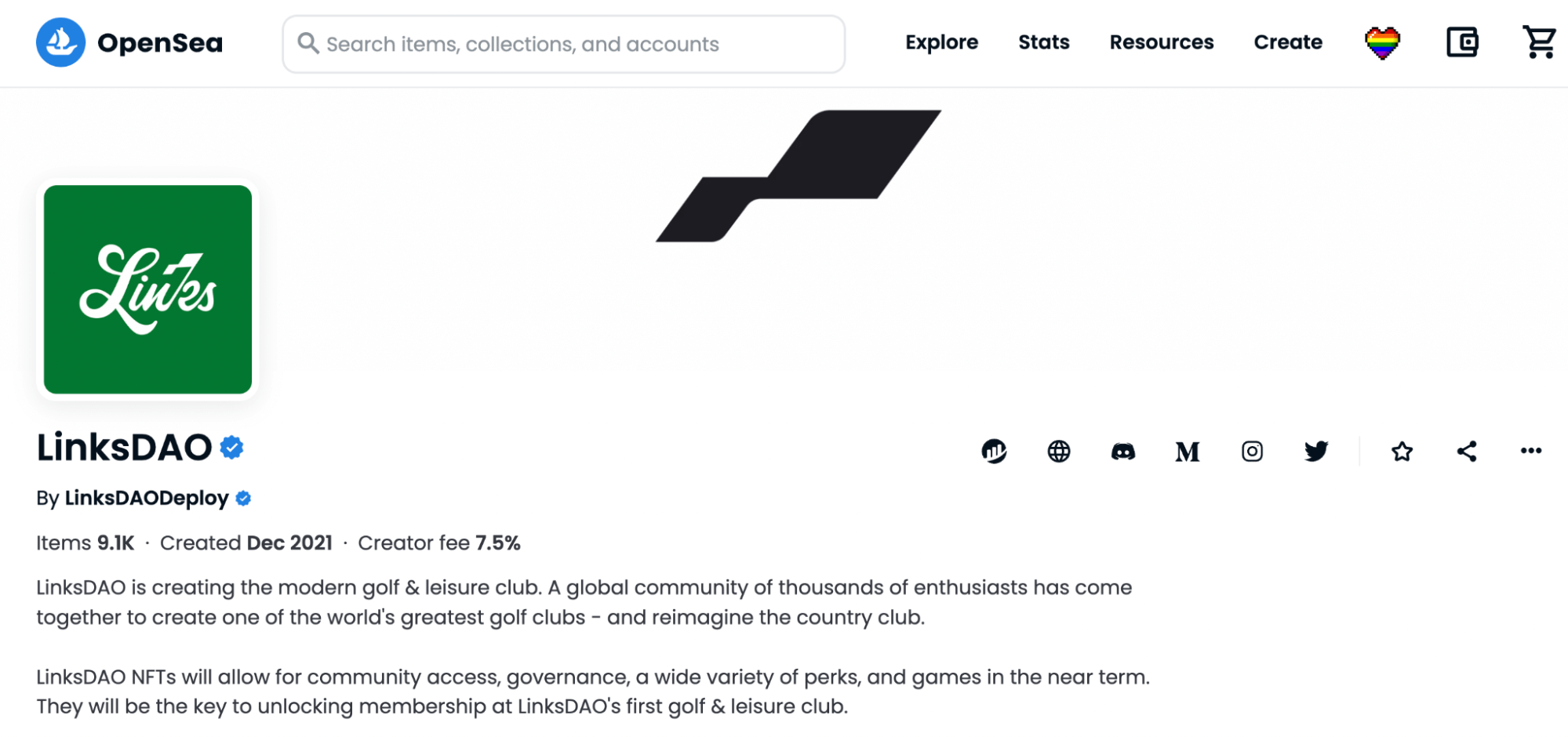 Not Preparing a Clear NFT Project and Utility Pitch
In addition to utility, NFT projects need to put together a story that sells that utility.
Quite often, the creators of these NFT projects join other communities but then they're unable to clearly communicate the value and utility of their own NFT project. They end up spending 20 minutes trying to pitch their NFT project, which makes the project itself feel confusing and underdeveloped. They should be able to communicate that value in a pitch that takes about a minute.
Focusing on NFT Project Community Quantity over Quality
This brings us to the next mistake that businesses make when launching an NFT project: relying too heavily on the size of their community rather than focusing on its quality.
Businesses built up communities, primarily on Discord, with tens of thousands of members and still failed to sell out their NFT projects during the launch. They were then stuck wondering why. Part of this is due to the difference in enthusiasm from what we saw a couple of years ago.
Back then, there were a lot of people interested in learning more about NFTs and watching NFT projects get launched and fewer NFT launches were happening. Now, there are slightly more people interested in following NFT launches but the number of NFT projects being launched has skyrocketed.
Many of these buyers are joining communities to learn more and some express genuine interest in purchasing the NFT. Many of these communities are open, allowing anyone to join at any time. But they're in more than one—in some cases 20 or 30—other communities, receiving updates for each one until those notifications are either muted or ignored.
Businesses that are able to qualify members before opening the community up to them have a higher buy-in rate than businesses with little to no barrier to access for their community at all. If you make the community harder to get into, then only the people who have more than a passive interest will work to become a part of that community.
3 Keys to Planning an NFT Project People Buy From at Launch
When you analyze today's most successful NFT launches, you can see the components they all have in common.
#1: Pre-Qualify Your Community Members for NFT Purchases
We just talked a bit about how the size of the community is no longer a true factor for predicting how well your NFT launch will sell but a qualified community is imperative. Qualifying your community members means putting up more gates between the public and the doors to the community.
One way to qualify community members is to build an allow list. An allow list is a group of people who are preapproved to purchase an NFT on mint date. The Sacred Skulls NFT project invited holders of Crypto Tech Women (CTW) NFTs to join their allowlist.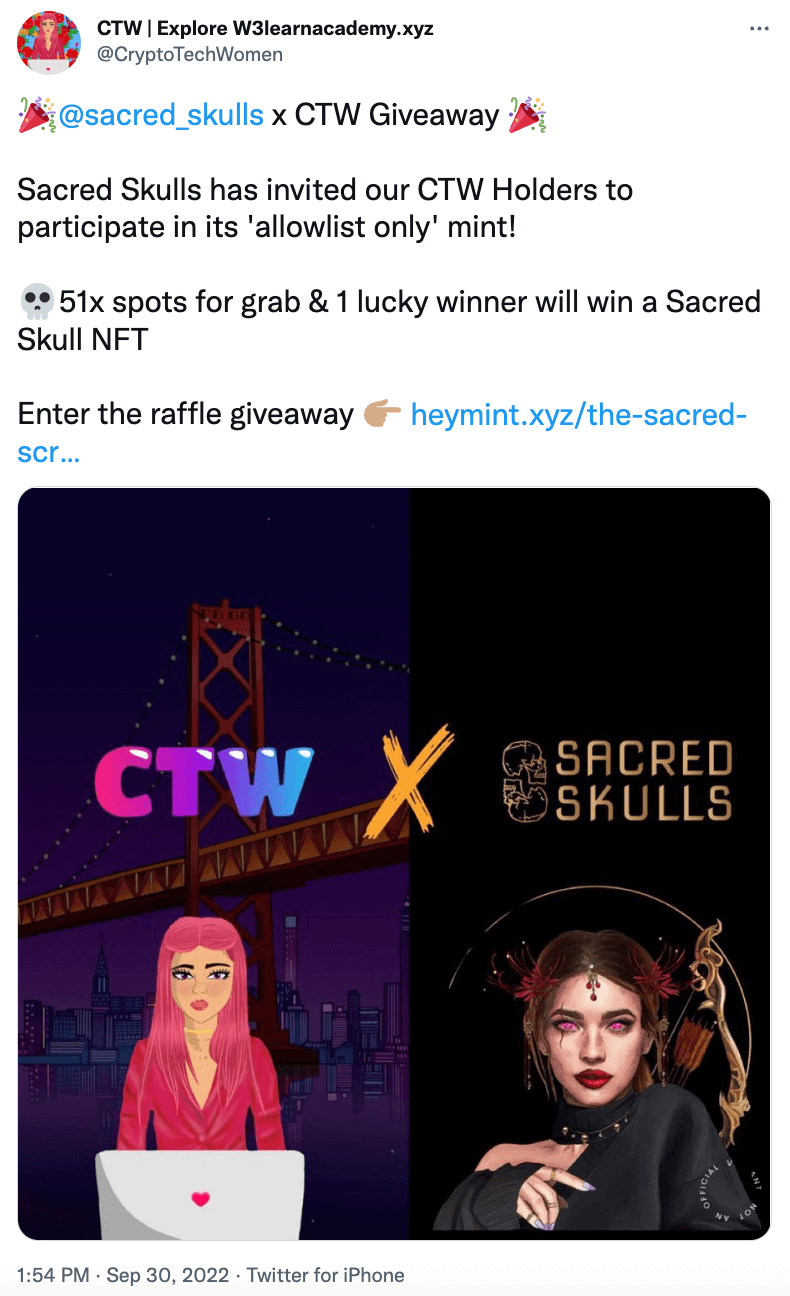 You could build an allow list out of the people who have purchased other NFTs from your own collection because they would be the most likely to pay attention. They've already shown that they want to be in that community. You could also sell spots on the allow list by letting someone pay a small fee to reserve their spot, or you can use a service like premint.xyz to build an allow list.
#2: Organic Marketing Strategies: Promote the Utility Behind Your NFTs
It's one thing to have the utility and the story that separate your NFT project from other launches happening around the same time. You also need to communicate the value of that utility and explain to people why they want to buy that NFT from you.
Before launching your NFT project, start joining Twitter spaces where you can talk about your project with various NFT enthusiasts, developers, potential investors, and influencers. By getting into these conversations, you'll have a chance to talk about your project and refine your pitch as the public asks you questions about your project.
At first, you'll likely need to join existing Twitter spaces hosted by influencers who have already built an audience. After a while, you can start hosting some of your own Twitter spaces, allowing people who met you at one of the other spaces to migrate over to following you.
Successful NFT projects also have websites that convey both their project story and their utilities at a glance, such as with a graphic, so people know what they're buying into and feel as though they belong with that community.
For example, at the top of the Bored Ape Yacht Club site is an image that portrays the story of a group of rich people lounging around their yacht club and passing art via graffiti in their members-only area dubbed the Bathroom. Websites should also contain a roadmap that details the future of the project itself along with proof of completing some of the milestones they've already reached.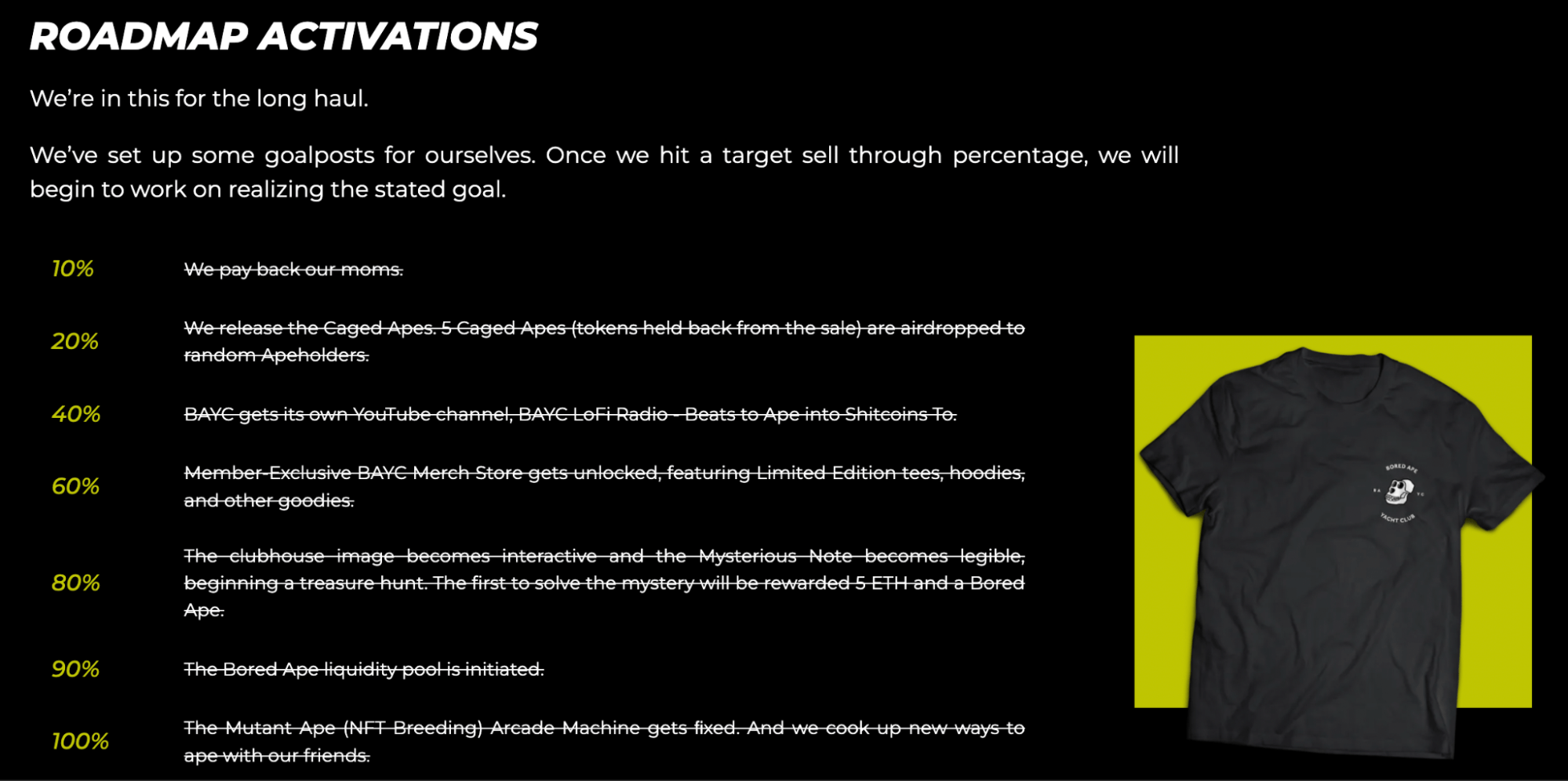 Finally, your website should introduce people to the creators of your NFT project along with why they're involved in the project. Why did they want to join and why were they the right person to join? What experience do they have that makes them an asset to the project and makes people want to follow and join?
#3: Paid Marketing Strategies: Choose Platforms Relevant to Your NFT Utility
If you're looking to leverage paid advertising for your NFT launch, there are a lot of platforms available that will work well:
Meta (Facebook and Instagram)
Twitter
Quora
Reddit
YouTube
When putting together strategies for paid advertising, you want to consider the type of project you're advertising and match that up to the platform. For example, YouTube ads work very well for gaming-related NFT projects where you want to demonstrate just how much fun the game is. If you have a list of NFT holders, you can upload that list to create a target audience for your ads.
Create an interesting hook that grabs people's attention and draws them in right away. And, just as with your communication and website, your ads should portray the value of your utility and your story at a glance.
Other Notes From This Episode
Where to subscribe: Apple Podcast | Google Podcasts | Spotify | Amazon Music | RSS
✋🏽 If you enjoyed this episode of the Crypto Business podcast, please head over to Apple Podcasts, leave a rating, write a review, and subscribe.
Disclaimer: The information provided on this website is provided solely for educational purposes and does not constitute any advice, including but not limited to, investment advice, trading advice or financial advice, and you should not treat any of the website's content as such. Social Media Examiner recommends that you independently research any information contained on this Website and that you speak with an investment professional before making any decision to purchase, trade, hold or sell cryptocurrency. Nothing herein should be treated as a recommendation to buy, sell or hold cryptocurrency. Social Media Examiner cannot guarantee the accuracy of any information listed on the website and is not responsible for any missing or wrong information. All information is provided as is and should be used at your own risk. Social Media Examiner disclaims all responsibility and liability for your use of any information found on the website.