Are people pretending to be you or your business on popular social platforms? Wondering how to report profiles that steal your content?
In this article, you'll discover how to find and report fake accounts.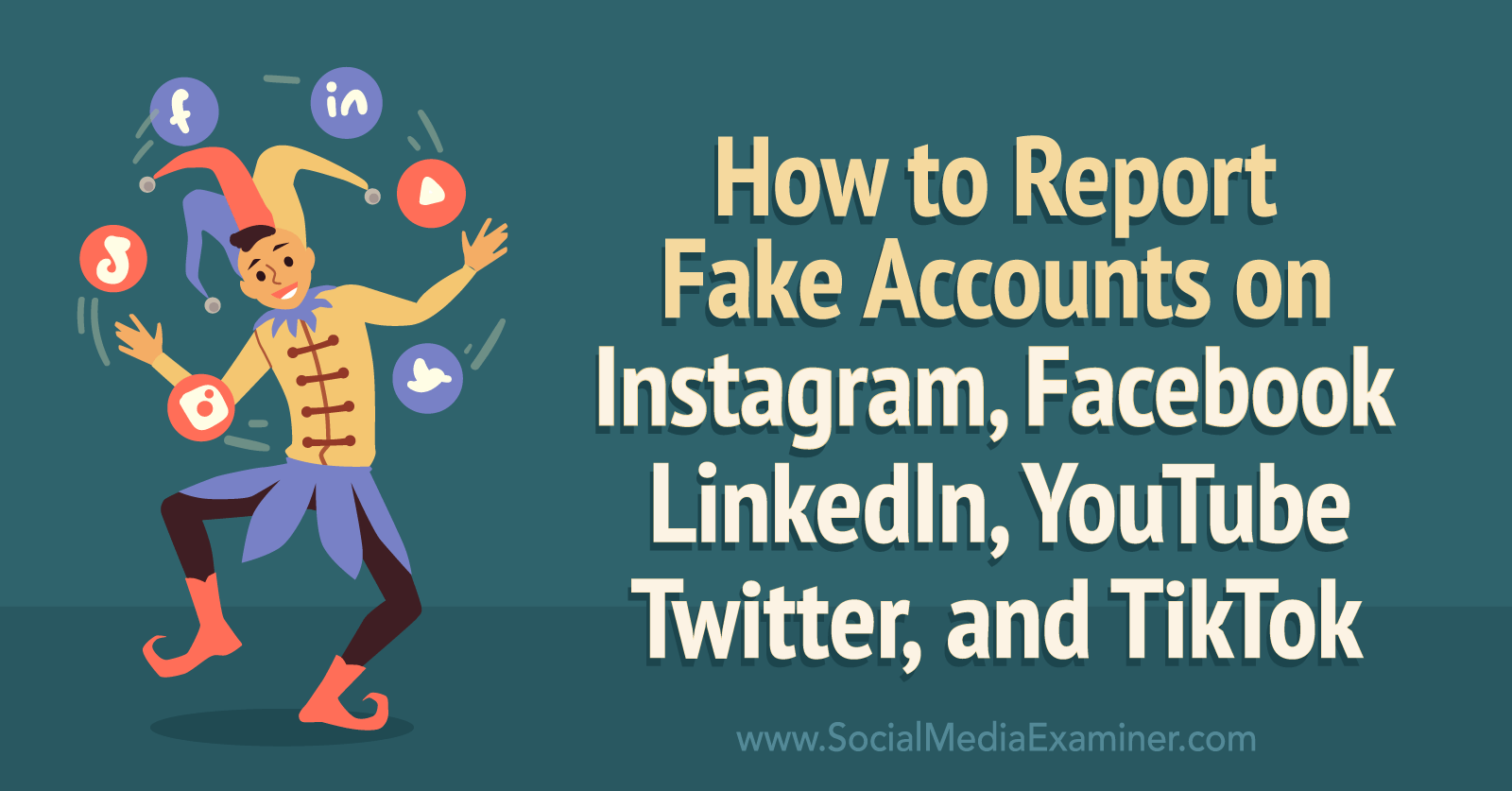 Why It's Important to Seek Out and Report Fake Accounts and Profiles from Impersonators
Maintaining a healthy brand reputation is critical across marketing channels, especially social media platforms. When you try to protect your brand reputation, your business appears more trustworthy, which can help you convert and retain more customers.
If you don't implement brand safety measures, you could put your brand at risk and end up with confused or unhappy customers. After all, impersonators can spread misinformation about your brand and even steal customers from your business.
Unfortunately, it's relatively easy for bad actors to impersonate brands and organizations with fake accounts on social media networks. That's why it's important to check for imposters and repurposed content regularly. A monthly review may be sufficient for most businesses but national or international organizations often warrant more frequent brand safety checks.
Fortunately, each social network has policies against impersonation and intellectual property infringement. Each platform also has a workflow for reporting accounts and content; some even let you do so without having an account of your own.
Below, we'll look at how to report fake accounts impersonating your business or using profiles in a confusing or deceptive manner on all major social media channels. It's a good idea to use native search tools to check all of these platforms regularly, even those where your brand doesn't have an official presence.
#1: How to Report Fake Facebook Pages Impersonating Your Business
On Facebook, you can report business pages, professional profiles, and personal profiles for mimicking your brand. To report a page or fake profile for impersonation, open it on Facebook and click the three dots under the cover photo.
Depending on the type of page or profile you're viewing, the available options may vary slightly. You can access identical options on desktop or mobile versions of Facebook:
To report a page using the new pages experience, select Find Support or Report and choose Pretending to Be Something.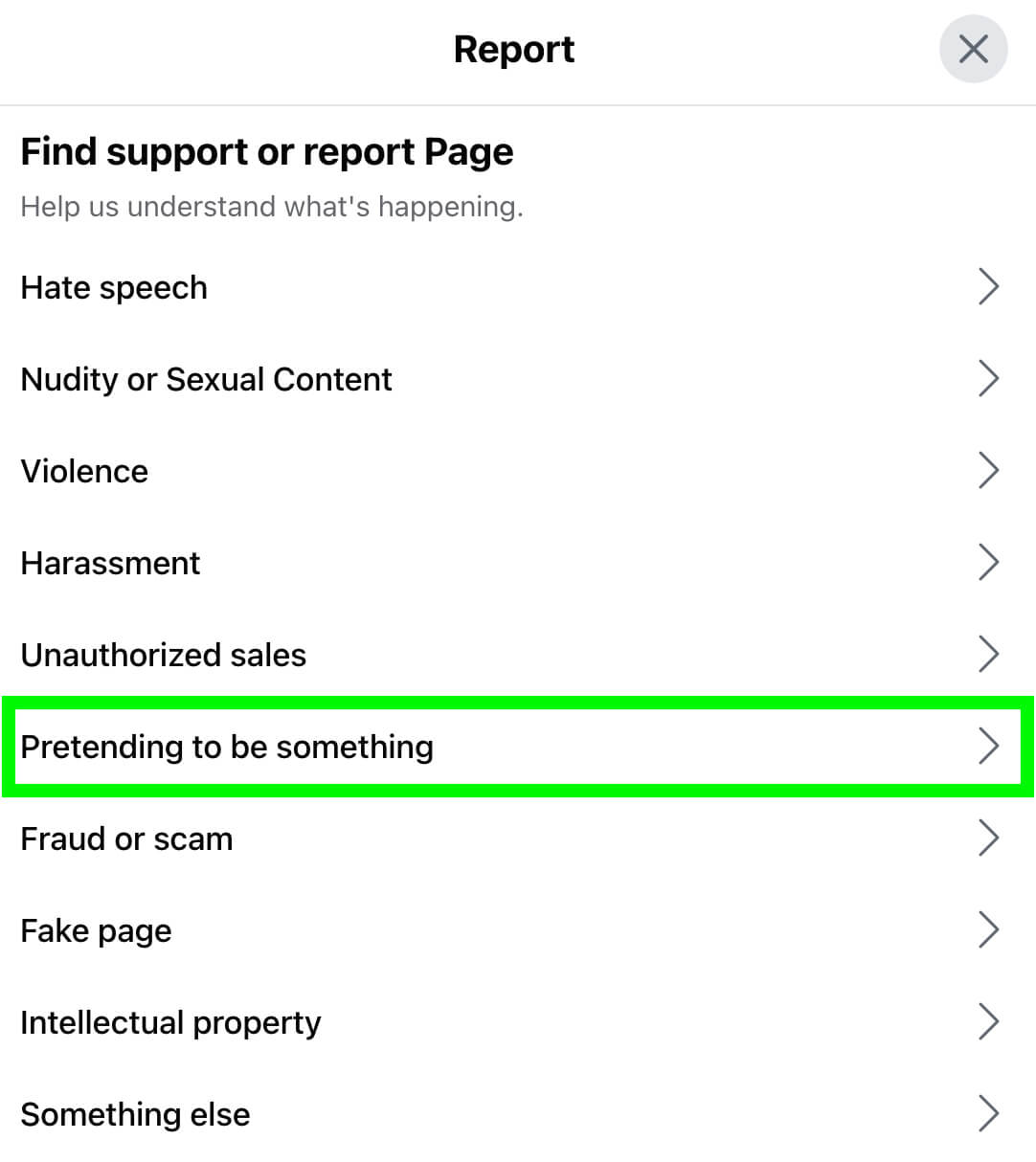 To report a page using the classic pages experience, select Report Page and choose Scams and Fake Pages. Then select Pretending to Be Another Business.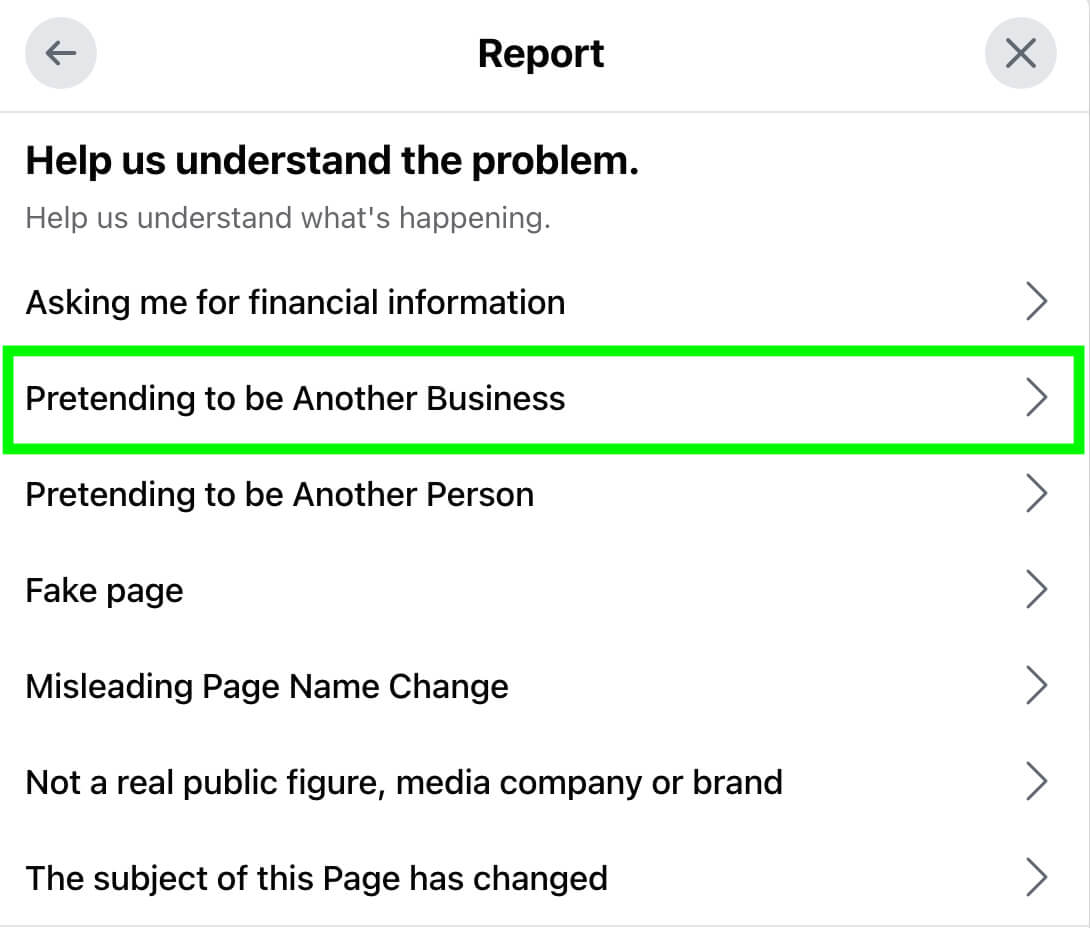 To report a personal or professional profile, select Pretending to Be Someone and choose A Business.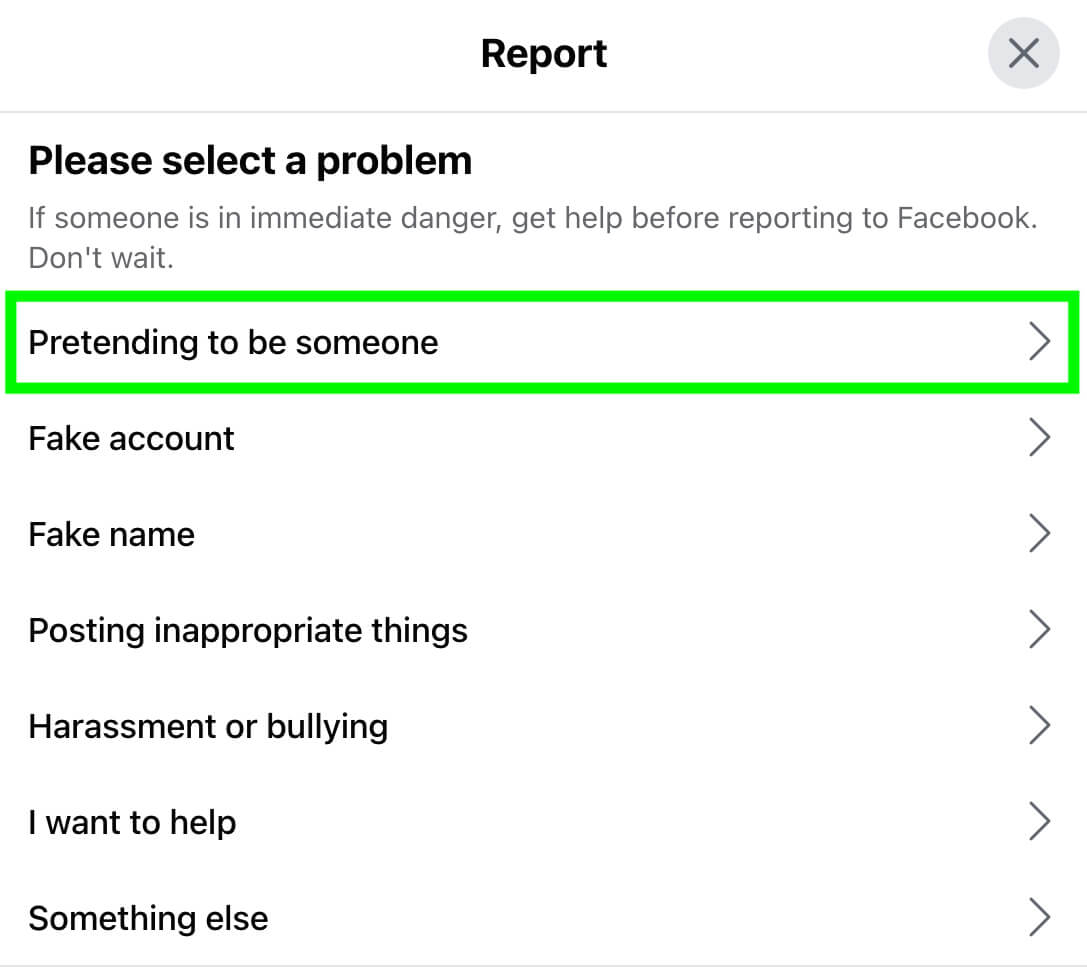 Then follow the on-screen instructions. In most cases, you'll need to enter either your Facebook page name or URL as the business that's being impersonated. Click Send to submit the report.
Note that you can always submit these reports from your personal profile. You can also submit them from your page if it uses the new pages experience. Switch to your page first, and then use the workflow above to complete a report.
Track Facebook Impersonation Reports
Once you complete an impersonation report, you can track updates from your support inbox. Click your profile picture and select Help & Support. Then select Support Inbox and view Reports About Others.

Submit Facebook Impersonation Reports Without an Account
Do you need or want to submit an impersonation report without logging into a Facebook account? You can use the Report an Imposter Account form in the Facebook Help Center, even if you don't have an active Facebook account.
#2: How to Report Fake Instagram Accounts
On Instagram, you can report personal and professional accounts using the same workflow. Like Facebook, Instagram has similar reporting options on both desktop and mobile.
The Conference You've Been Waiting For
As a small business marketer, you can probably only pick one or two events to attend each year. Get back into the game with an unbeatable conference experience and expert training at Social Media Marketing World in sunny San Diego, California—from your friends at Social Media Examiner.
🔥🔥 As a valued reader, you can save $350 if you act now! Sale Ends Wednesday!
CLICK HERE TO LEARN MORE
Did you find a fake account in an Instagram search or spot an imposter in your feed? Open the account's profile and tap the three dots in the upper-right corner. Select Report from the menu. Then select Report Account and tap It's Pretending to Be Someone Else.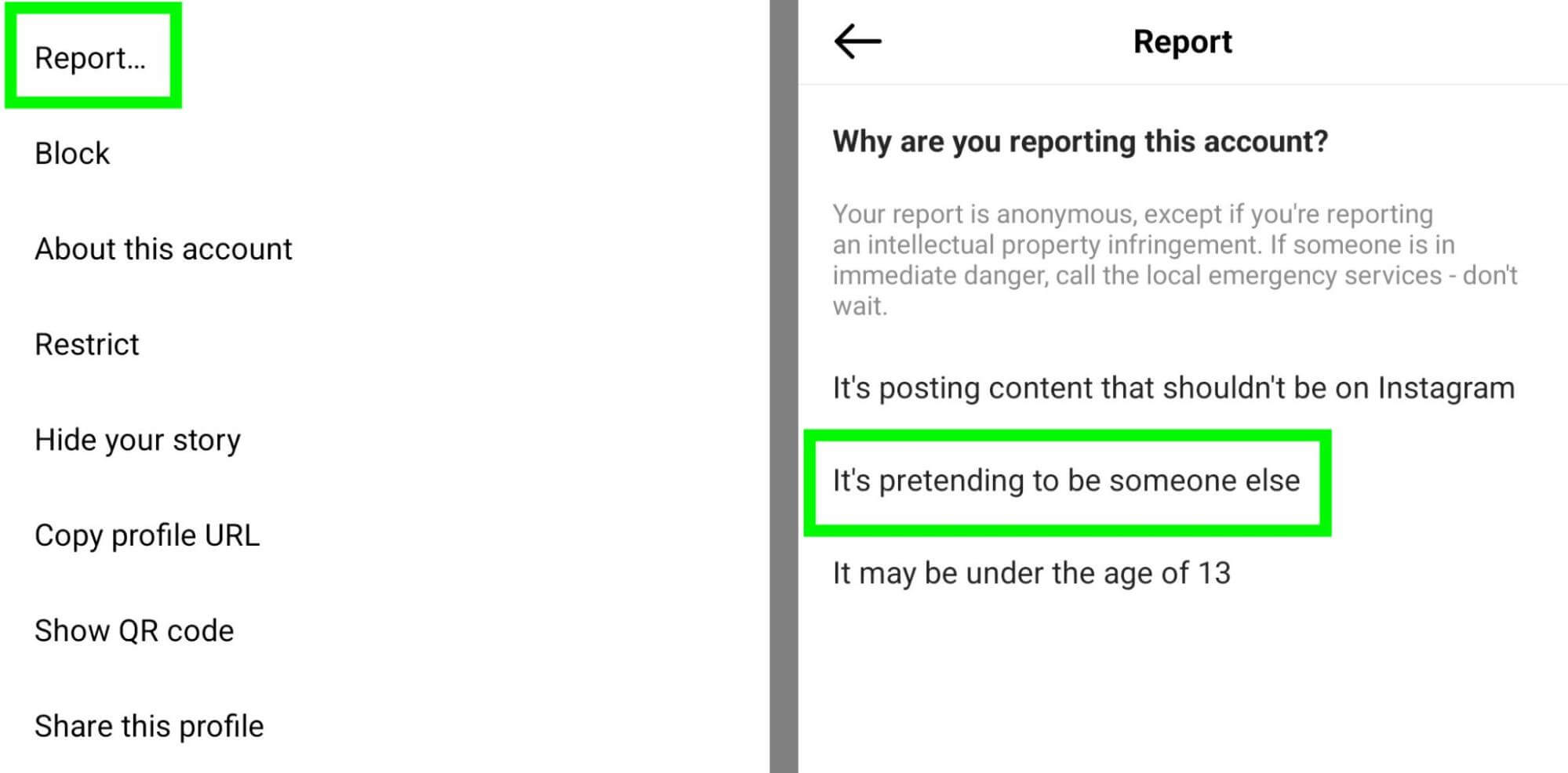 From the menu, select A Business or Organization. Then use the search bar to find your business' Instagram account. Tap the Submit Report button to complete the process.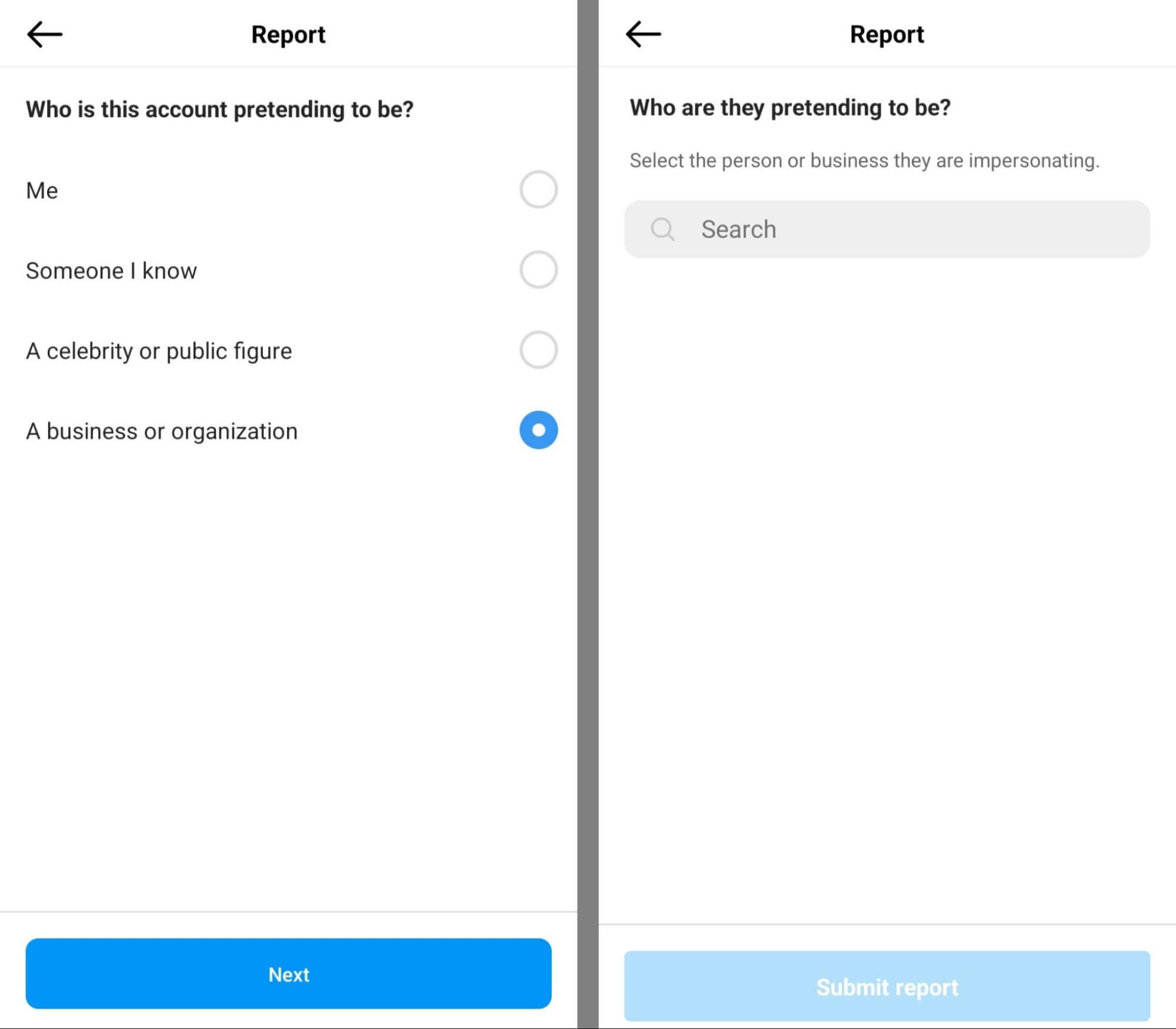 Note that Instagram may request that you provide identification to prove that you're you or that you own the business that's being impersonated. Make sure to follow any on-screen prompts to get the imposter account removed.
You can also report imposter accounts from a desktop device. Log into your Instagram account in a browser and find the account you want to report. Click the three dots in the upper-right corner and select Report.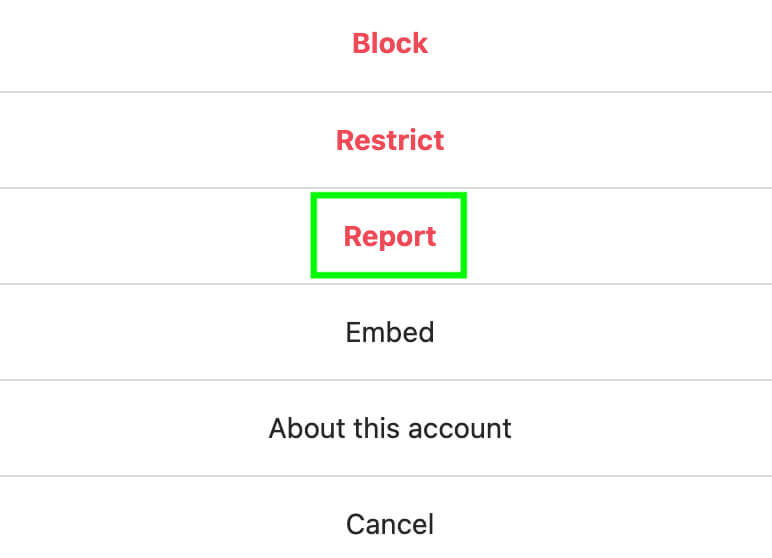 Select Report Account and click It's Pretending to Be Someone Else.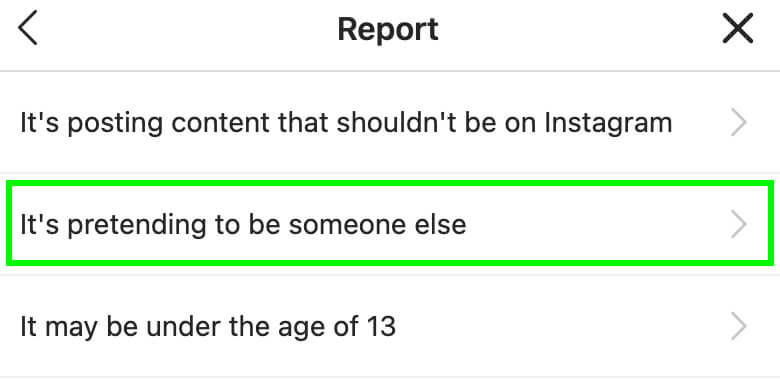 Then select A Business or Organization. Click Submit Report and check your support inbox for updates.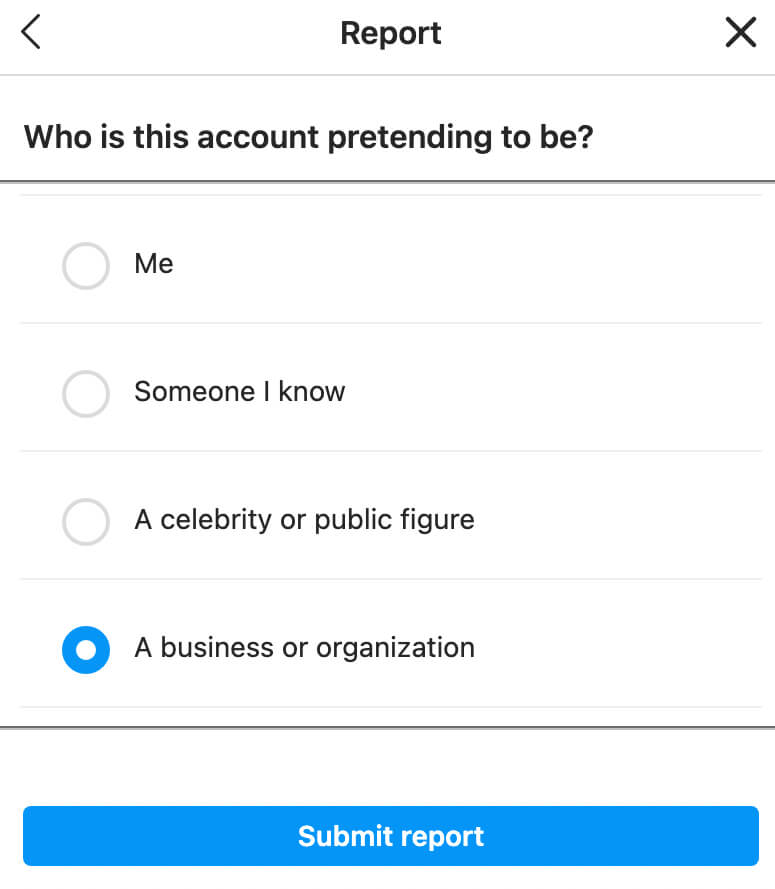 Monitor Instagram Impersonation Reports
To track any imposter reports you've filed, go to your profile settings and select Help from the menu. Tap Support Requests and open the Reports inbox and scroll through to review the status of each one.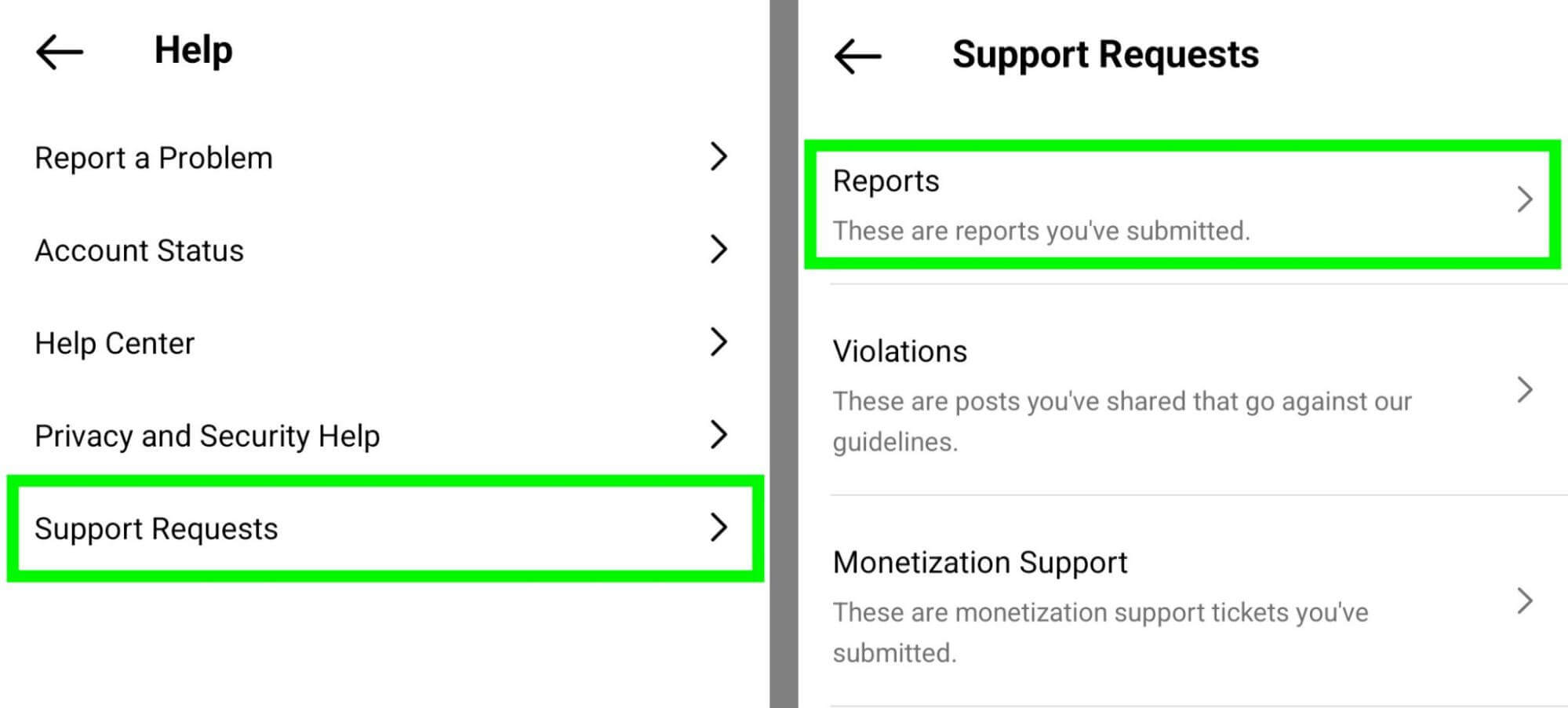 Create Instagram Impersonation Reports Without an Account
If your business doesn't have an Instagram account, you can still report imposters. Use Instagram's Impersonation Reportto complete the process.
#3: How to Use Meta's Intellectual Property Tools for Facebook and Instagram
If you spot imposter accounts or intellectual property infringement once in a while on Facebook or Instagram, the workflows above should be sufficient. But if you manage social media for a major brand, you may have constant brand safety issues.
With Meta's Brand Rights Protection tool, you can find and report pages, content, and ads faster and more reliably. Instead of setting up separate searches for Facebook and Instagram, this tool lets you search across Meta properties.
Meta's Brand Rights Protection tool also identifies some issues automatically. Once you report imposter pages or stolen content, the tool automatically finds similar content and pages. If you upload reference images, the tool can also identify ads that impersonate your brand or use your trademarks.
When you find imposters or intellectual property issues, you can report them directly from the Brand Rights Protection tool. You can also use the tool to monitor reports and follow up on outstanding issues.
The only catch is that not just any business can access this tool. Instead, you have to apply to use Brand Rights Protection. To be eligible, you must have a registered trademark and no history of intellectual property infringement on Meta properties.
To apply for the Brand Rights Protection tool, navigate to your Business Manager account. Open the menu and select Brand Rights Protection. Then click the Apply for Brand Rights Protection button.
#4: How to File a Report for Fake LinkedIn Pages Impersonating Your Business
LinkedIn doesn't have a dedicated imposter reporting tool like Instagram and Facebook do. However, you can still use LinkedIn's reporting options to flag fake company pages and intellectual property violations.
Report Fake LinkedIn Company Pages
You can report imposter company pages on LinkedIn by clicking or tapping the More button next to the organization's call-to-action (CTA) button. From the menu, select Report Abuse.

Then select Suspicious, Spam, or Fake from the list of options.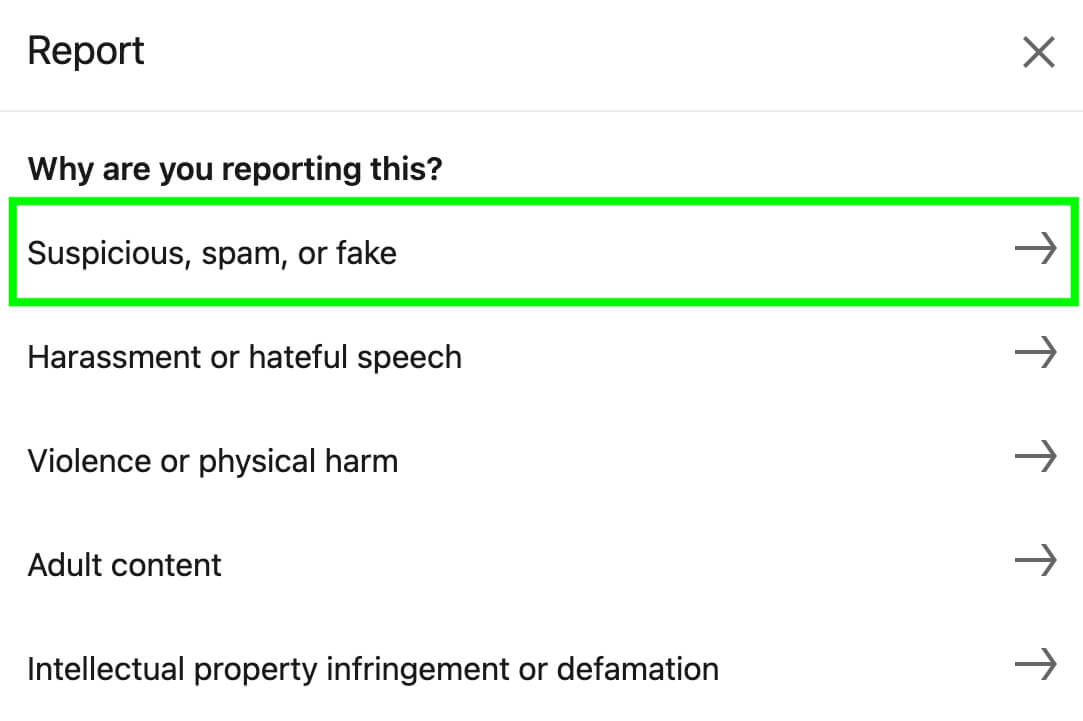 Select Fraud or Scam and click Submit. LinkedIn may ask for additional details about the fake company page.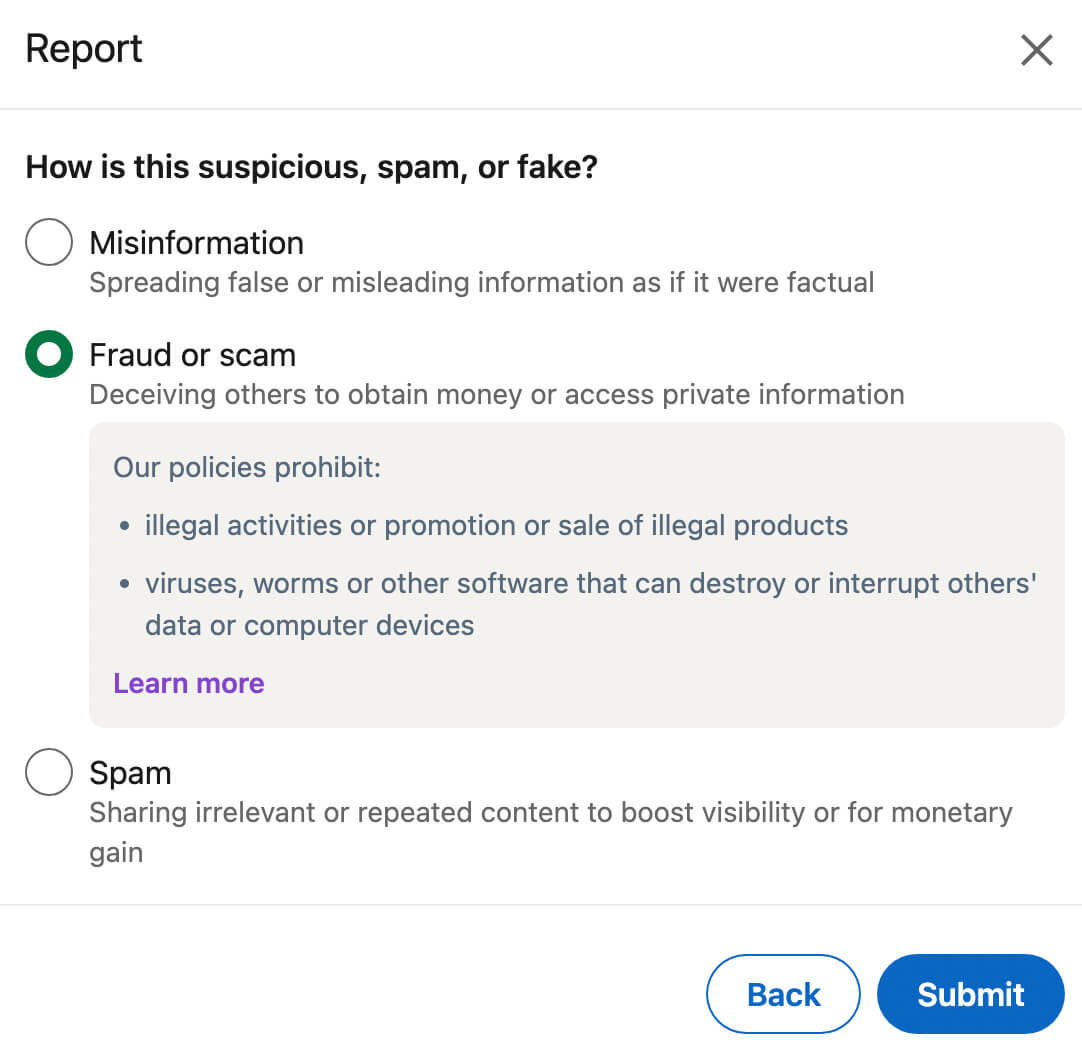 File Intellectual Property Infringement Notices on LinkedIn
If the fake page is using your intellectual property such as trademarked logos and taglines or other copyrighted content, then you have another option. On the imposter's company page, click the More button and select Report Abuse. Then select Intellectual Property Infringement or Defamation.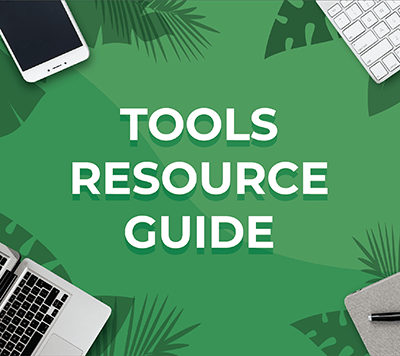 Looking for something to make your life easier?
Discover the tools we recommend to drive engagement, save you time, and boost sales across your entire marketing funnel or business.
Whether you need help planning content, organizing social posts, or developing your strategy, you'll find something for every situation.
FIND YOUR NEXT FAVORITE TOOL
Choose the option that best describes the issue you're experiencing. For example, you can choose Copyright Infringement or Trademark Infringement if the company page is using your organization's intellectual property to imitate your brand.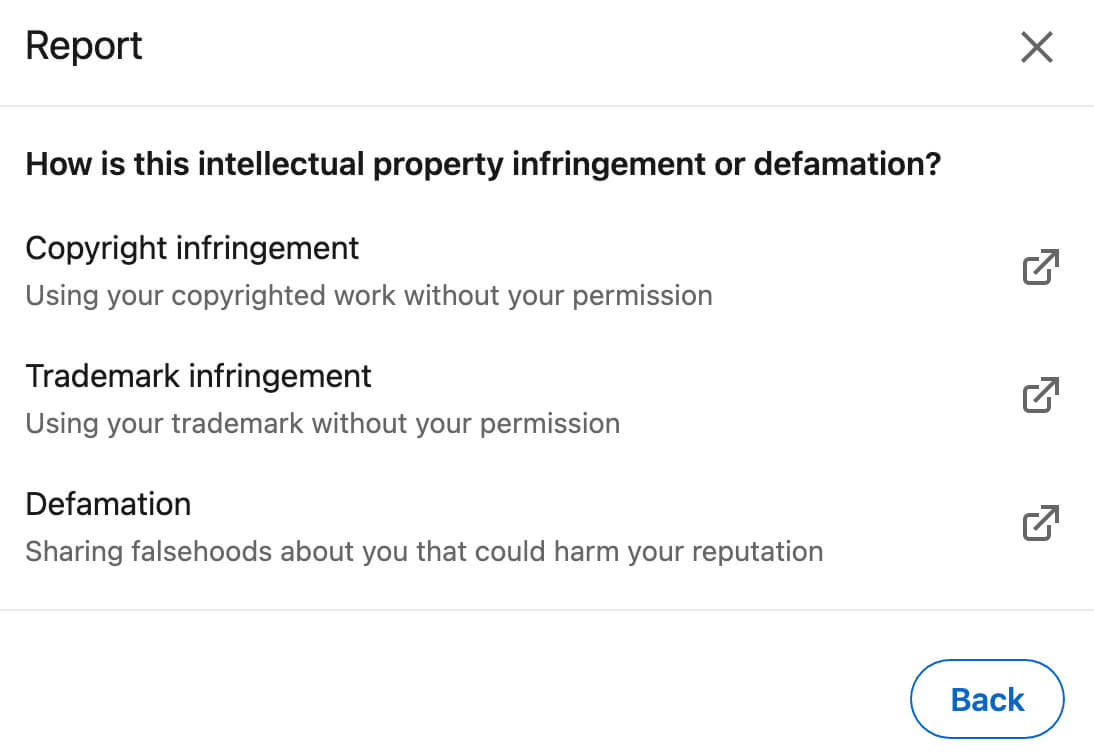 You'll be redirected to LinkedIn's resources for submitting a notice of copyright or trademark policy infringement. Here, you can provide all of the necessary details about the intellectual property violation, including links and explanations.
If the company page is sharing false information about your business, you also have the option to file a defamation claim. However, LinkedIn states that the network isn't able to act on most defamation reports so you may be better off pursuing a legal solution.
Submit LinkedIn Impersonation Reports Without an Account
You can access LinkedIn's resources for copyright and trademark infringement even if you don't have an account. Just provide your contact information and all of the required details.
#5: How to Report Fake Twitter Accounts Impersonating Your Business
Like LinkedIn, Twitter gives you a couple of options for reporting imposter issues and intellectual property theft. You need a Twitter account to use the brand impersonation workflow but you can report trademark and copyright issues without an account.
Report Imposter Accounts on Twitter
To report an imposter account on Twitter, open the account's profile. Click or tap the three dots in the upper-right corner of the profile. Select Report. Then click or tap Start Report to navigate through Twitter's workflow.
When the workflow asks Who Is This Report for?, select Myself and tap or click Next. Then select the most relevant issue: I'm Being Impersonated or Shown a Deceptive Identity. On the next screen, choose the top option: Pretending to Be Me, or My Company or Brand. Then confirm that My Company or Brand Is Being Impersonated.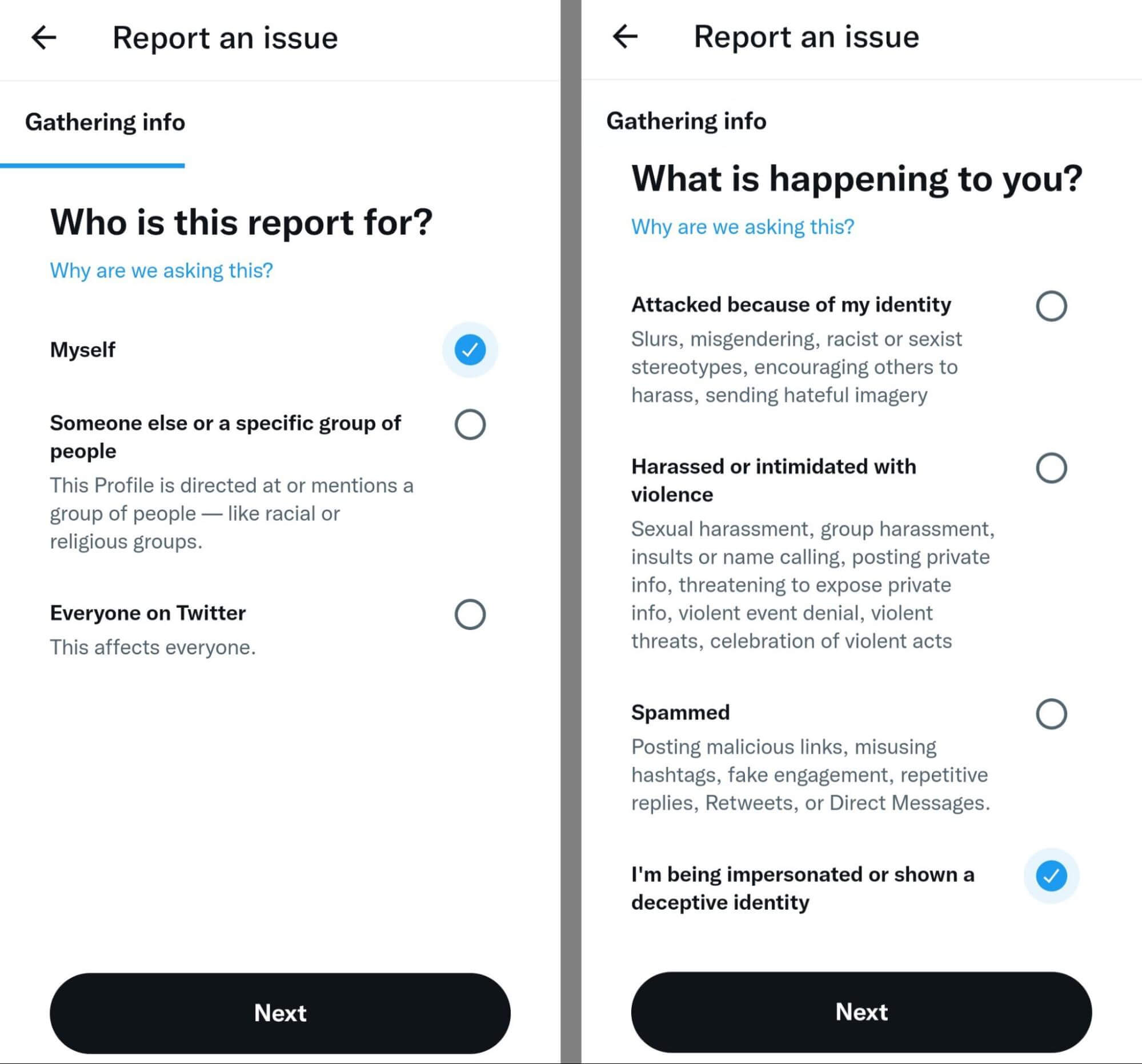 Next, type your company's Twitter username and select it from the list of options. Finally, provide a company email address where Twitter can follow up with your team and submit the report.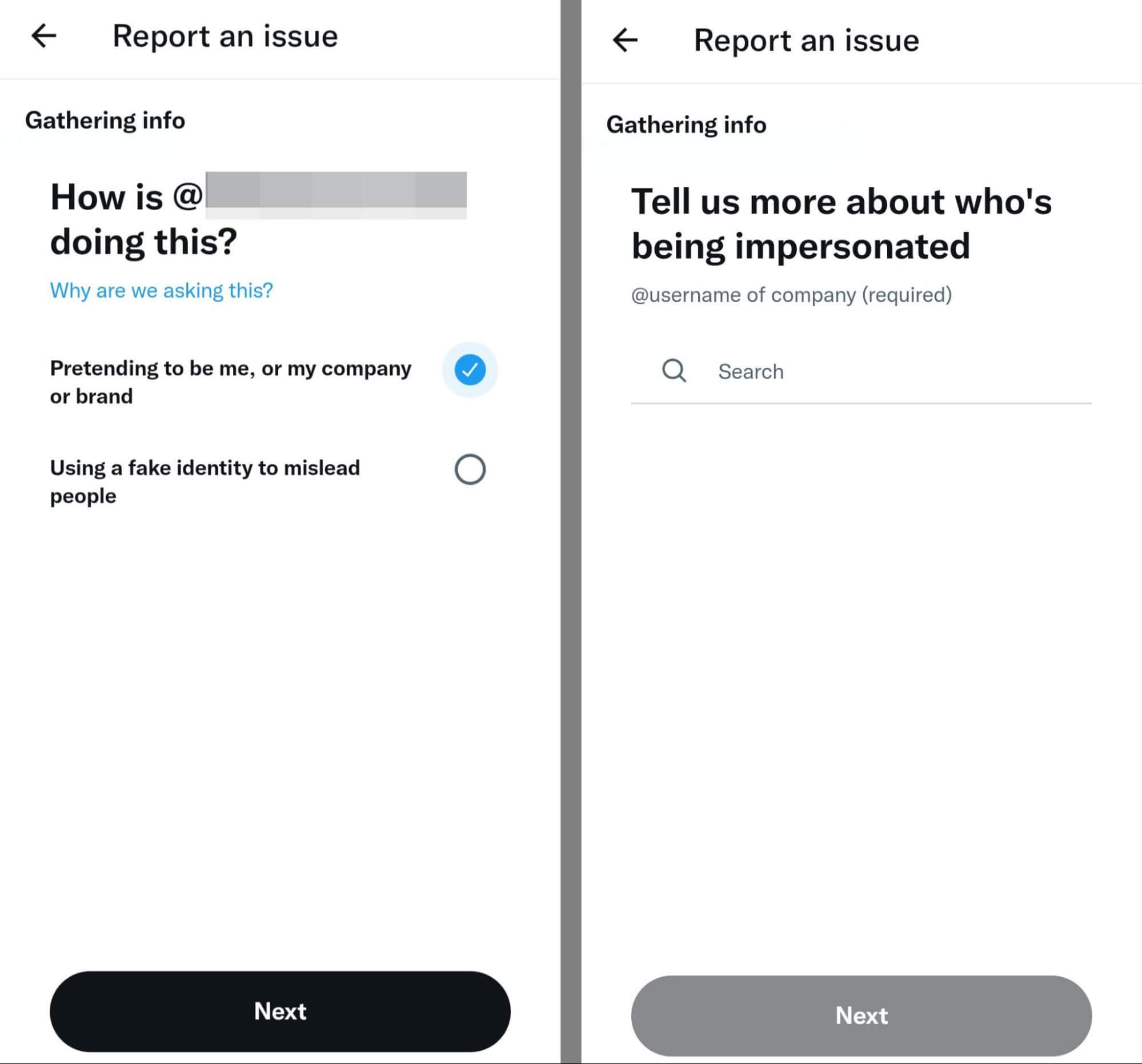 Alternatively, you can go directly to the Authenticity on Twitter portal to report multiple instances of impersonation. To submit a report, you'll need to provide contact information for your business and enter links to relevant tweets.

Get Help With Intellectual Property Issues on Twitter
Have Twitter users been posting your brand's trademarked or copyrighted content? You can report these issues through the Twitter Help Center. First, use the drop-down menu to choose the most relevant issue such as trademark or copyright infringement. Indicate whether you're the rights holder or if you're acting on their behalf.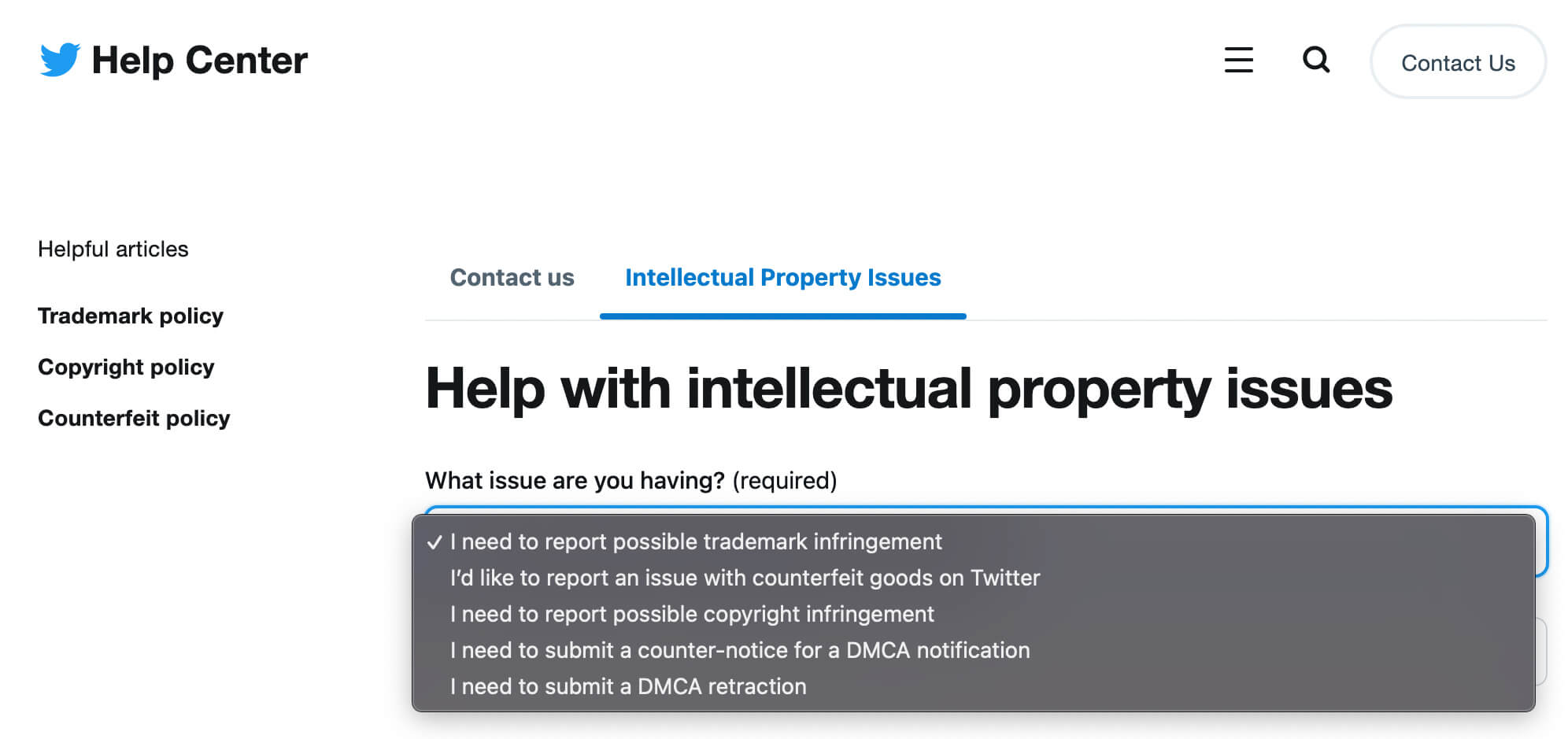 Next, provide details about the issue. If you're reporting a copyright violation, you'll need to specify the type of work and link to your original. You'll also need to share links to the infringing tweets. If you're reporting a trademark violation, you'll need to provide details about the trademark, including a registration number and a link to the trademark record.
#6: How to Report Fake YouTube Channels Impersonating Your Business
Before you can submit an impersonation report or copyright claim on YouTube, you have to sign into your Google account. You won't be able to access the reporting workflow without a Google account. If you don't yet have a YouTube channel, the reporting workflow will automatically prompt you to create one.
Report an Imposter YouTube Channel
You can report a YouTube channel for impersonation by going to its About page. Under the channel's stats, click the flag icon to open the menu. Then select the most relevant options, which will be Report User in most cases.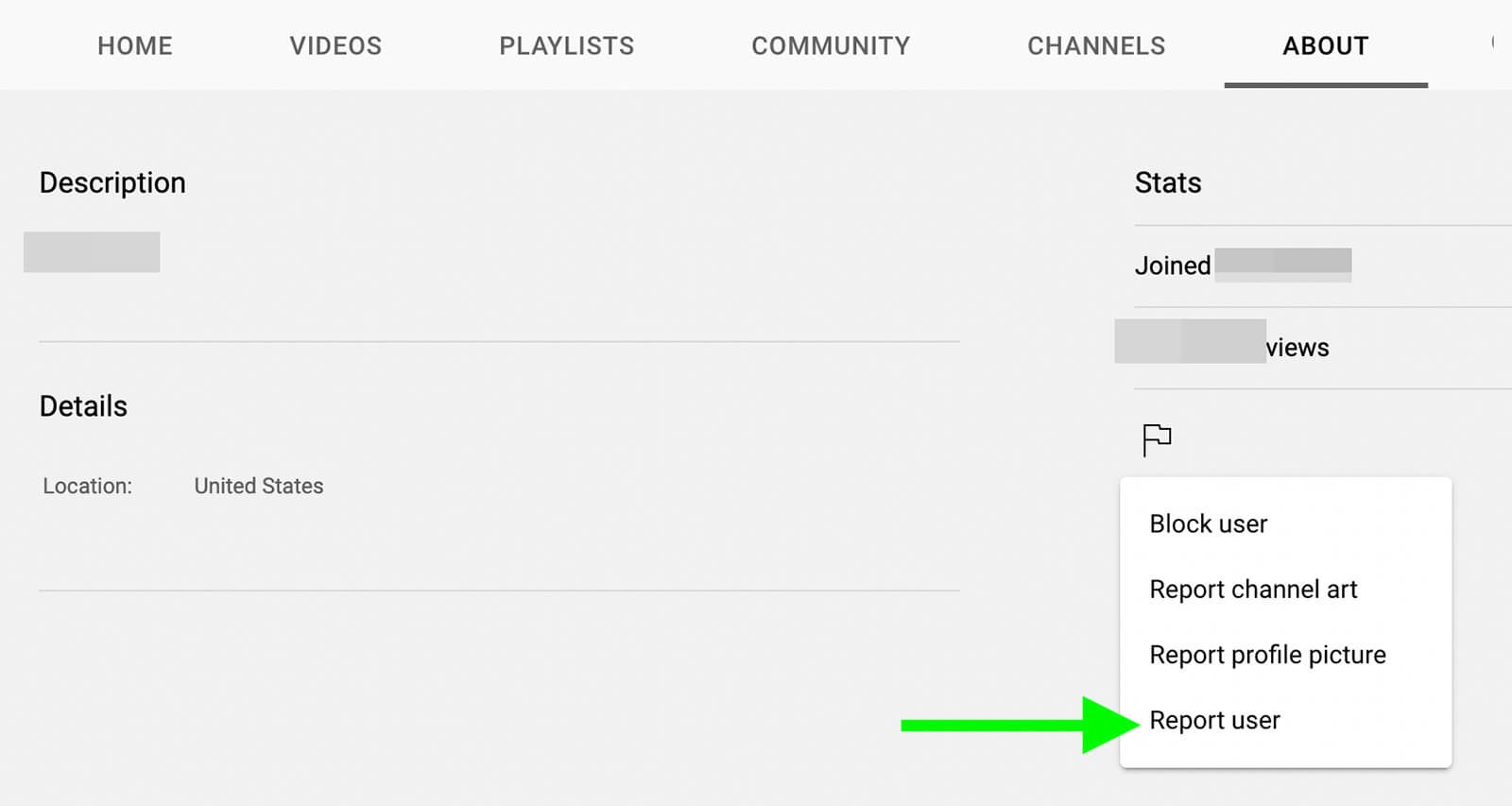 From the list of options, select Impersonation. Then choose This Channel Is Impersonating Me if you're signed into your brand's YouTube channel. If you're signed into another account, select This Channel Is Impersonating Someone Else instead.
If you submit a report from another channel, you'll need to enter the URL for your brand's channel. Then write a short description of the issue. You can add links to specific videos or external sites to share additional context. Click Submit when you're finished.
Manage Intellectual Property on YouTube
If a YouTube channel has reposted your content, you can also report individual videos. Start by opening the offending video in one tab. Then open another tab and go to YouTube Studio. Click the Copyright tab and select the New Removal Request button in the upper-right corner.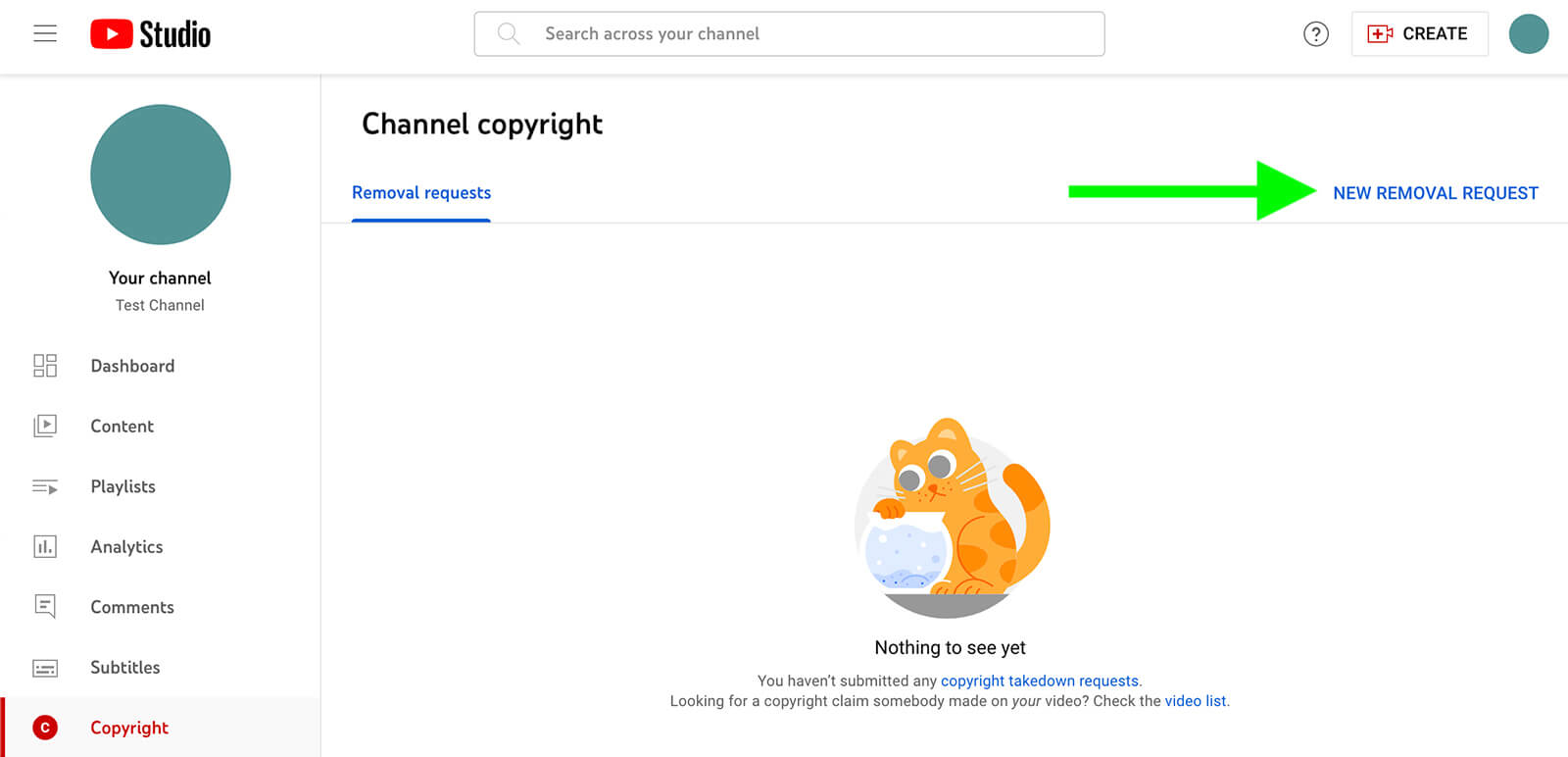 Then choose the type of content you want to report. For example, the video may include your brand's logo or it may repurpose an entire original video. Then copy the link from the video and paste it into the form.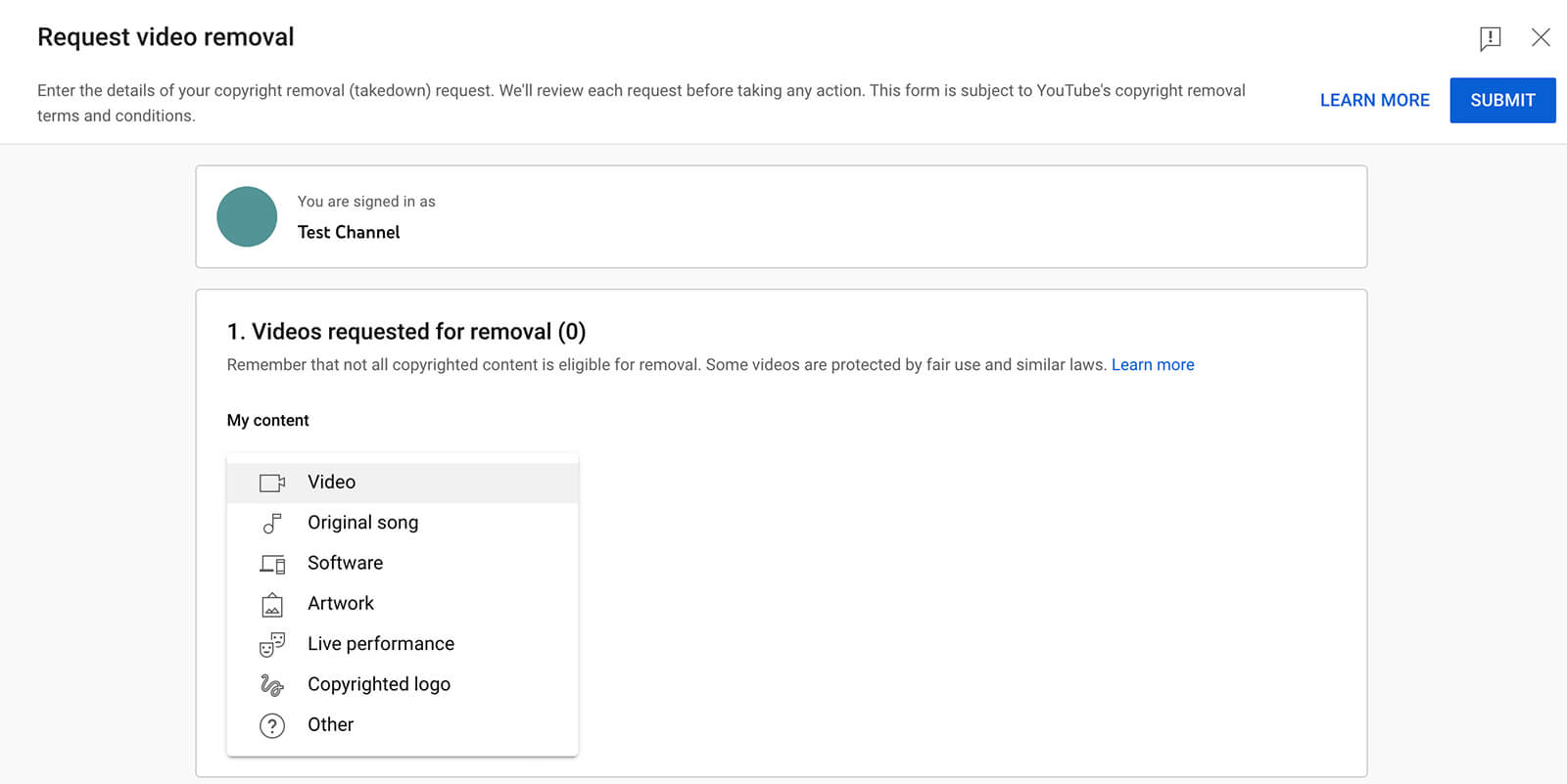 Enter your contact information and then choose a removal option. You can opt to send a 7-day notice, which notifies the offending channel to take down the video. Alternatively, you can request immediate removal, which creates a copyright strike against the offending channel.

When you submit a video removal request, you can also ask YouTube to prevent additional copies from appearing. This option uses YouTube's Copyright Match Tool to prevent reuploads. From the Copyright tab in YouTube Studio, you can track both copyright request removals and the reuploads that YouTube has automatically prevented.
#7: How to Report Fake TikTok Accounts Impersonating Your Business
Depending on the severity of the impersonation, you can report TikTok accounts or individual pieces of content. To do either, however, you need to log into your TikTok account.
Report an Imposter TikTok Account
To report a TikTok account for impersonation, navigate to the account and tap the three dots in the upper-right corner. Select Report from the list of options.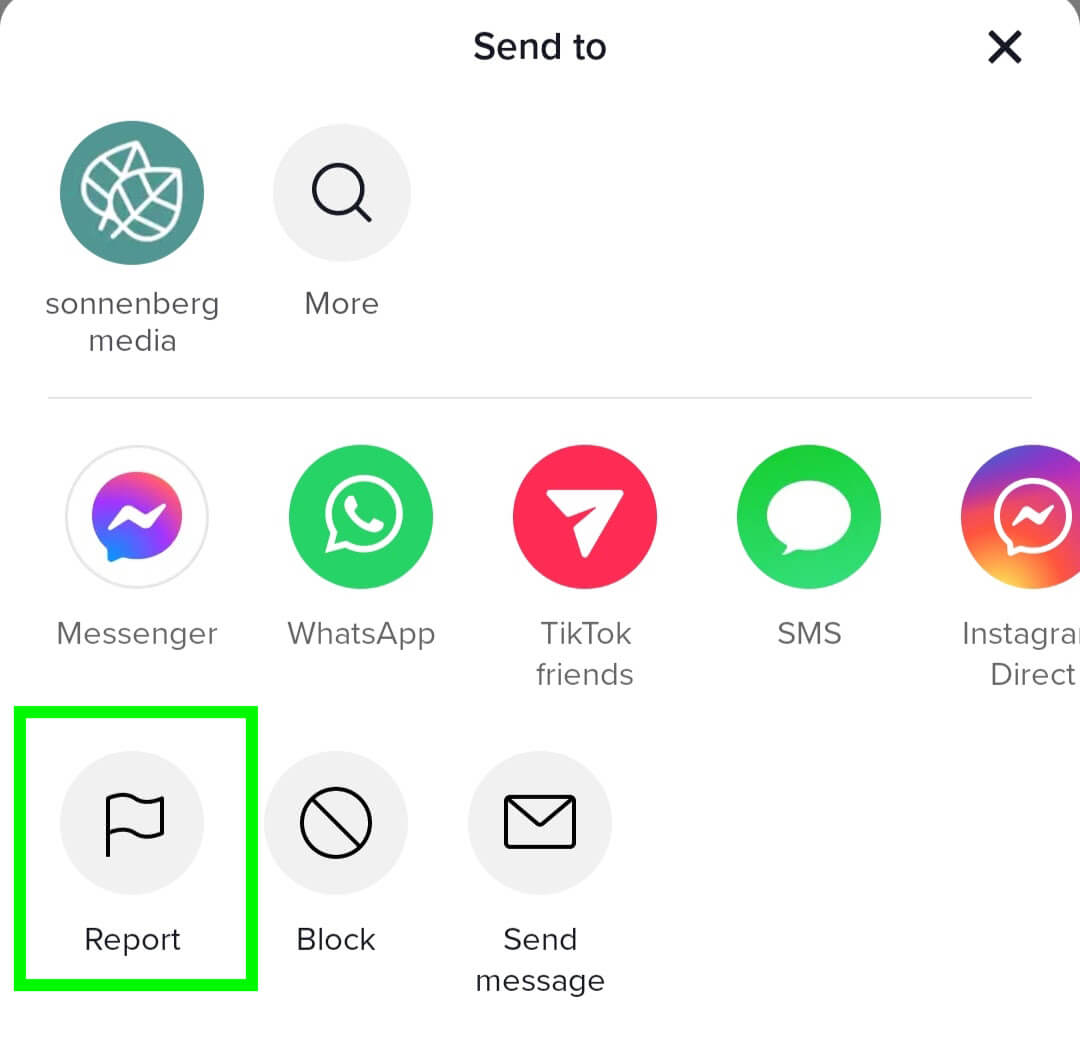 Then tap Report Account and select Pretending to Be Someone. Select Me and tap Submit.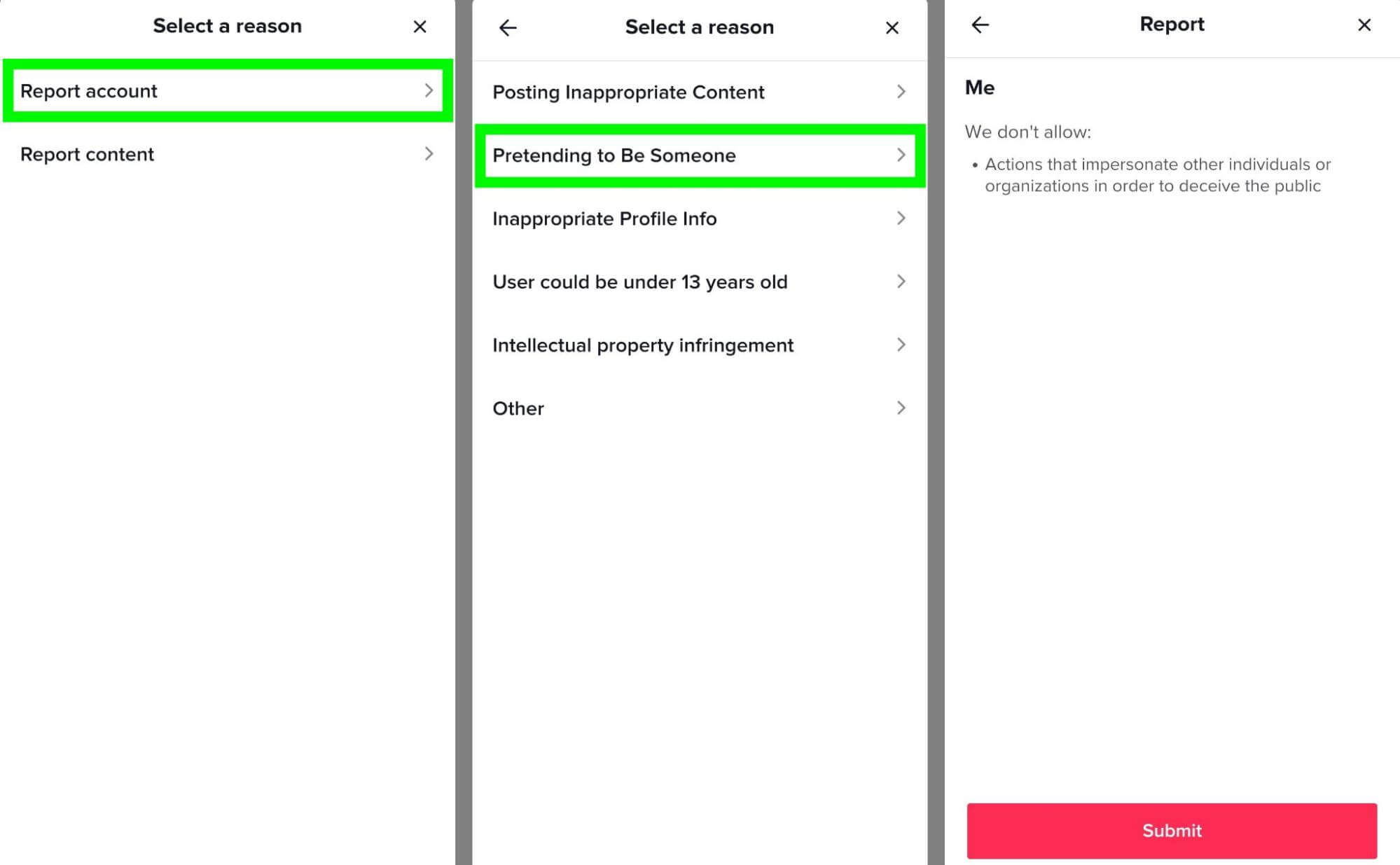 Monitor Intellectual Property on TikTok
To report a TikTok video for infringing on your brand's intellectual property rights, open the video and give it a long press.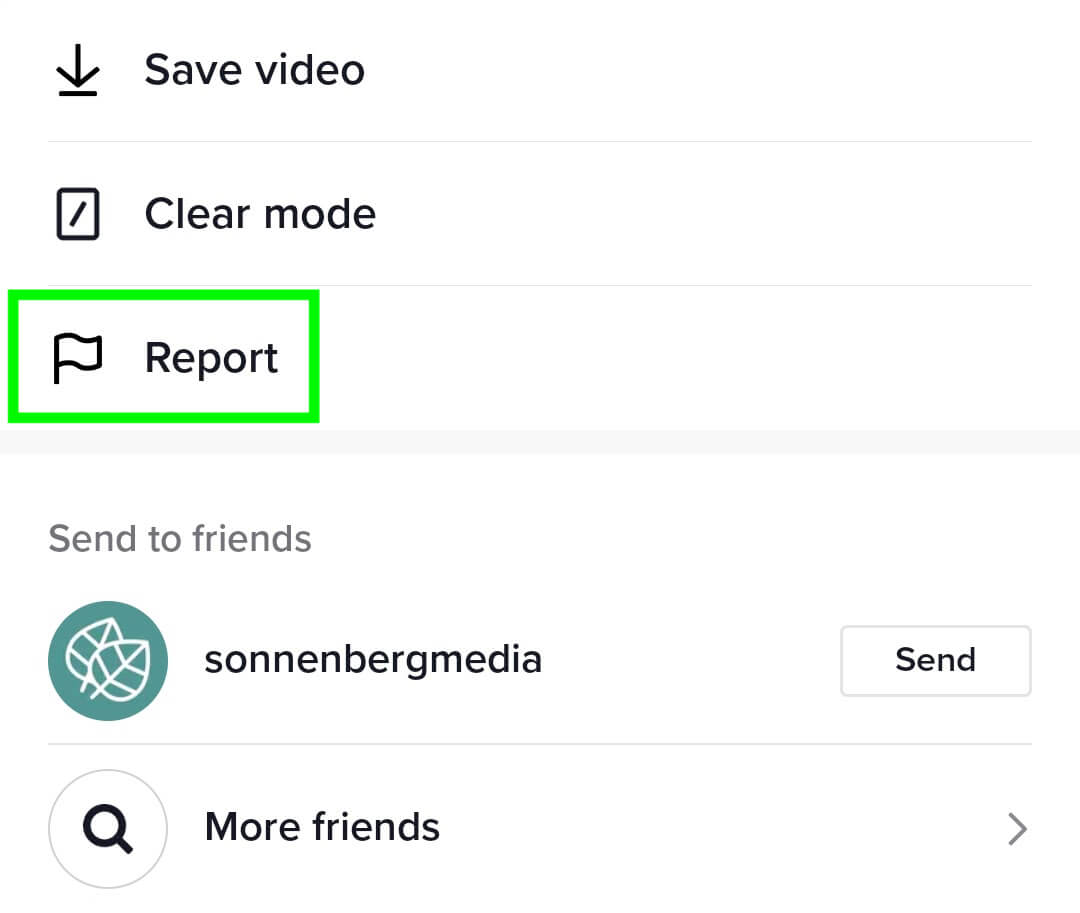 From the menu that pops up, select Report and choose Intellectual Property Infringement from the list of reasons.
You'll see a brief explanation of TikTok's Community Guidelines and Intellectual Property Policy. Tap the Copyright Infringement Report link to fill out the form and submit an intellectual property violation report.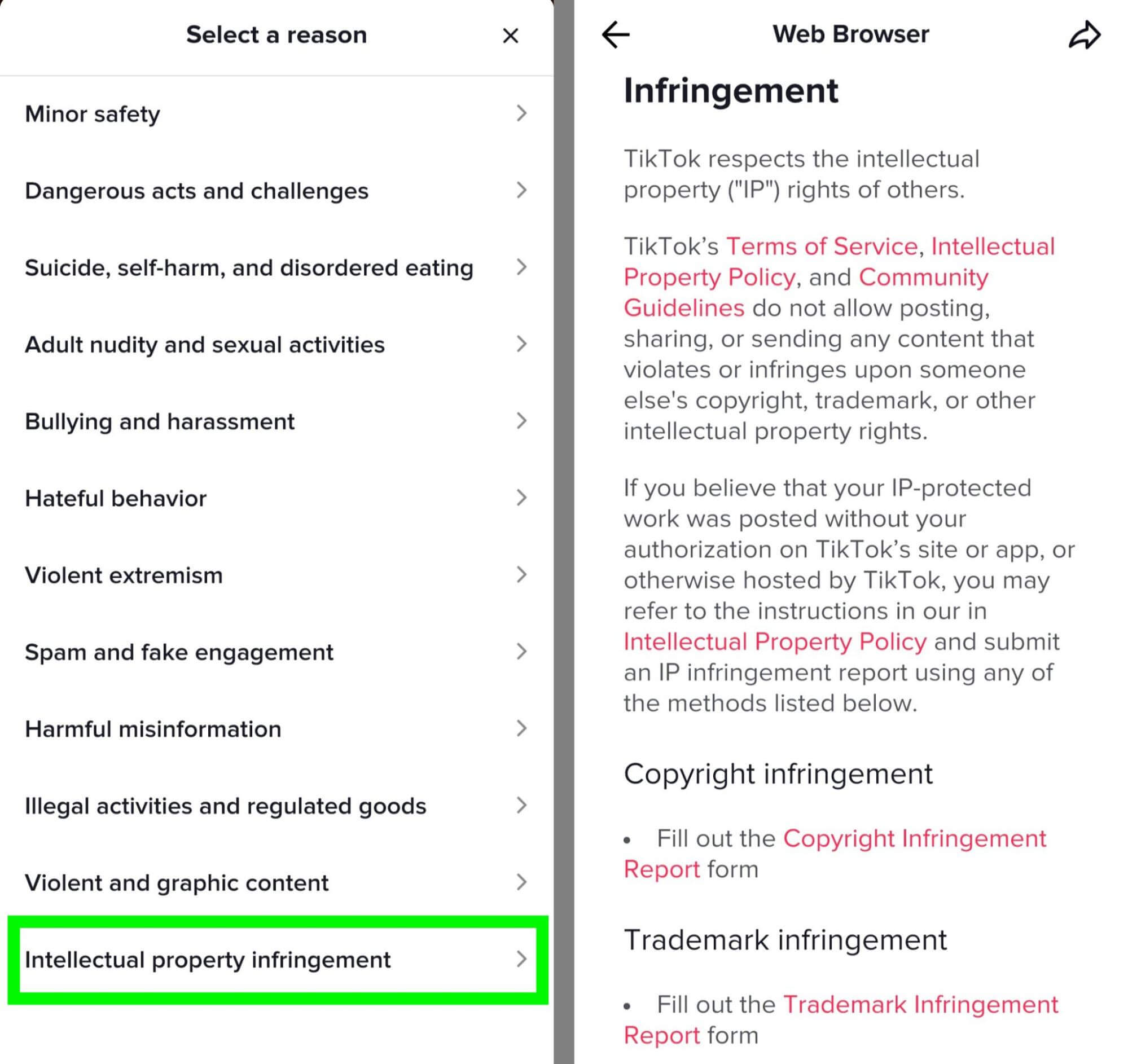 Conclusion
Imposter accounts, stolen content, and repurposed trademarks can all negatively impact your brand's reputation. By using the workflows above to report fake accounts, you can protect your brand and keep confusion to a minimum for customers.
---
Stay Up-to-Date: Get New Marketing Articles Delivered to You!
Don't miss out on upcoming social media marketing insights and strategies! Sign up to receive notifications when we publish new articles on Social Media Examiner. Our expertly crafted content will help you stay ahead of the curve and drive results for your business. Click the link below to sign up now and receive our annual report!
Get Your FREE Course: Web3 for Beginners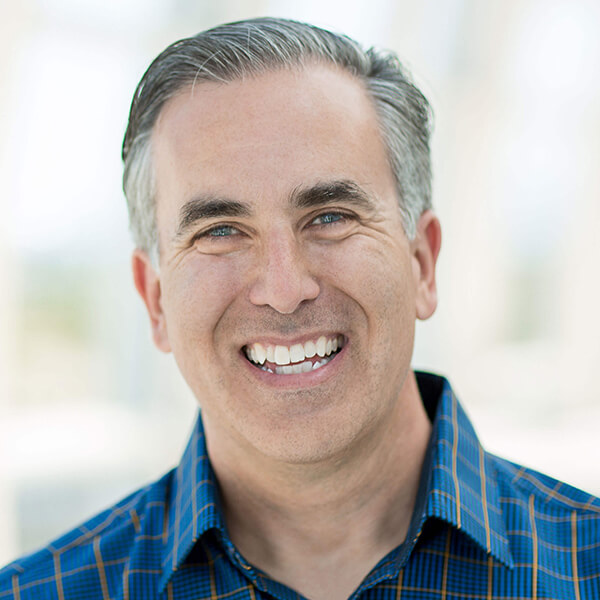 Curious about Web3, but don't know where to start or who to trust?

Introducing Web3 for Beginners, a course taught by Michael Stelzner, the founder of Social Media Examiner.

Learn the basics of Web3 and apply it to your business with this FREE comprehensive course.
CLICK HERE TO GET FREE ACCESS