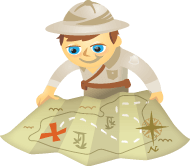 Are you trying to reach the 18- to 34-year-old part of your customer base?
Are Facebook and Instagram two of your main social platforms?
In this article, you'll discover which Facebook and Instagram features will help you reach and engage with Millennials on social media.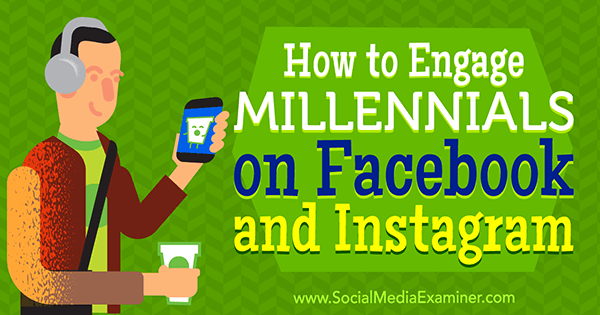 Understand Millennial Preferences
To connect with your Millennial audience more effectively, you have to learn to speak their language, which is experience.
Millennials have grown up as digital natives, and instead of seeing social media as a gathering of information as an older person might, they view social media as an opportunity to experience what other users have to offer and to create experiences themselves. Community is very important to them.
In addition, Millennials are price- and innovation-oriented. If you have an advantage over a competitor in either of those areas, make the most of it for this audience.
And, if your product or service bridges local concerns with being a global citizen and/or being socially responsible, you'll speak more effectively to the Millennial audience than a competitor with products or services that don't.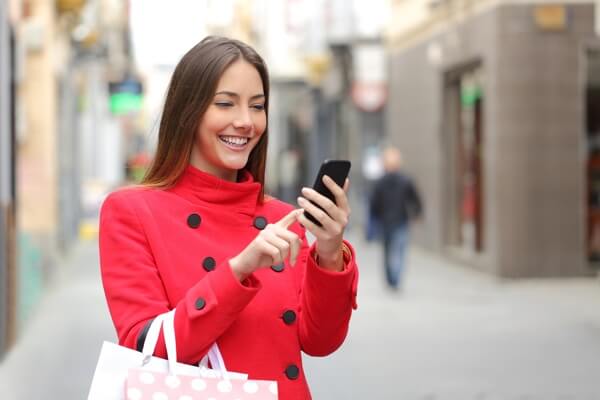 Be Mindful of Millennial Sub-Groups
Something to keep in mind even as you plan to reach out to Millennials: They're a diverse body of individuals. Even more than other consumers, Millennials are aware of how 'identity' is both collaborative and constructed. This is especially true because Millennials resist the one-size-fits-all world.
Within the broad 18- to 34-year-old age range, tastes will differ. So it's important to identify sub-groups and what speaks to each of them. Customizing their experience on social media will help you connect. If you're able to speak to their values and lifestyle, your product or service will be much more attractive.
Millennials and Social Media
It may surprise you to know that Millennials actually spend less time on social media than their older Gen X counterparts (ages 35-49 years). Social media consumes 24% of Millennials' time on media (including TV, games, computers, smartphones, and tablets).
Facebook is more popular with non-Millennials and some sources even claim that Millennials have abandoned Facebook for smaller, less-constricting platforms like Snapchat. Even so, my college professor friend Jed Record recently conducted a poll of his students and asked them, "If you had to delete all but one app from your mobile phone, which would it be?"
They all chose Facebook, primarily because it's the only app where they know they can reach/contact everyone they know including family members, extended family, and a circle of friends.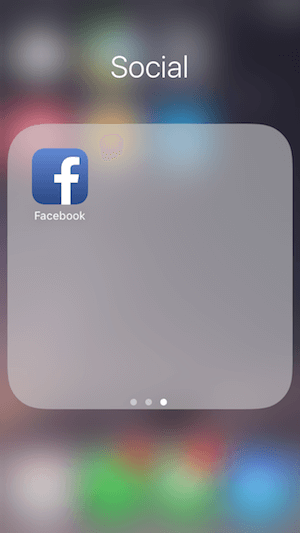 How Facebook and Instagram Are Positioning for Millennial Audiences
In order to reach Millennials, Facebook and Instagram are constantly updating with features designed to attract and maintain engagement with this audience in the face of competition from other apps such as Snapchat.
Both Facebook and Instagram are increasing their focus on showing, rather than telling. So let's have a look at how you can leverage these features for your own Millennial audience marketing efforts.
#1: Deliver Disappearing Messages to Keep Interests Piqued
In keeping with their experiential preference, disappearing media is popular, especially among younger Millennials. They like knowing that intimate sharing in words and pictures, as well as rambling posts, will disappear forever.
Facebook's mobile app and Instagram now include the ability to share photos and videos directly with specific friends. These messages disappear 24 hours after they're viewed up to two times, similar to Snapchat.
To access this feature, called Direct, on either Facebook or Instagram, simply tap on the little paper airplane icon. For example, on Facebook, the icon is on the top left of your main news feed. (Note that this feature is only available for personal profiles at the moment.)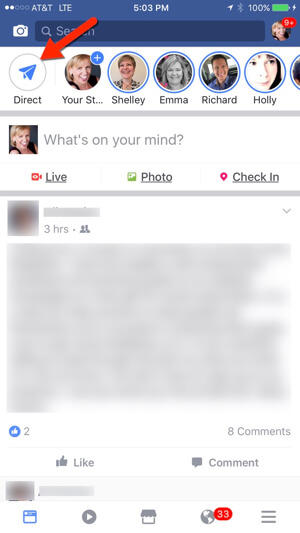 When you tap the Direct icon, you'll first see a list of any friends who have seen your replies and vice versa. Tap the big blue button at the bottom of the screen to take or select a photo or video first, and then choose the friend(s) to whom you wish to send the media.
Facebook really wants users to take advantage of this feature, as the camera icon shown in the screenshot above allows you to first take a photo or video, add filters and stickers, and then post to your stories and/or use the Direct feature to send to specific friend(s) privately. To access the camera even quicker, right swipe while looking at your news feed.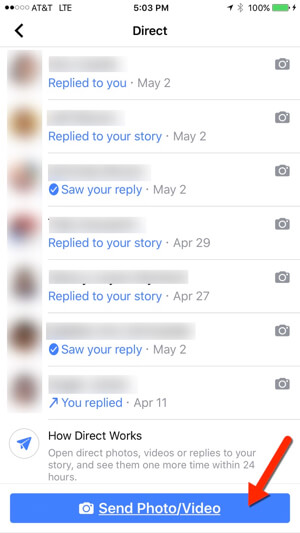 On this screen, you can tap the camera icon next to a friend's name to record and send another private direct photo or video.
Next, whether you take the photo/video using the camera icon or tap the paper airplane Direct icon, you'll be able to customize your media by adding filters and stickers.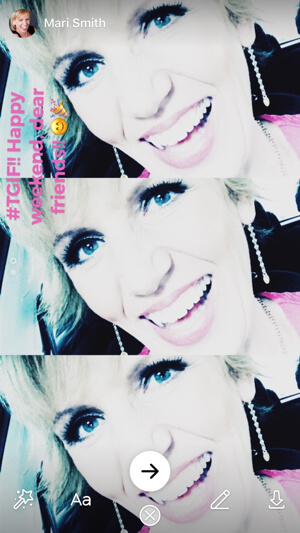 While the example above isn't exactly what you'd call a "marketing message," keep in mind a mantra I've been espousing for over a decade now, "To succeed on social, we must think and act like a member first and a marketer second."
Posting to your stories and/or sending media to specific friends via Direct can be a great way to support top-of-mind awareness and add an even more personal feel to your posts.
Once you're happy with your media, tap the right arrow button at the bottom. This brings up a screen where you can choose to publish this media to any of three places:
Post = to your personal profile wall, where the media becomes a regular wall post and doesn't disappear
Your Story = visible in your story at the top of the news feed of any of your friends for 24 hours
Send Directly = to specific friend(s)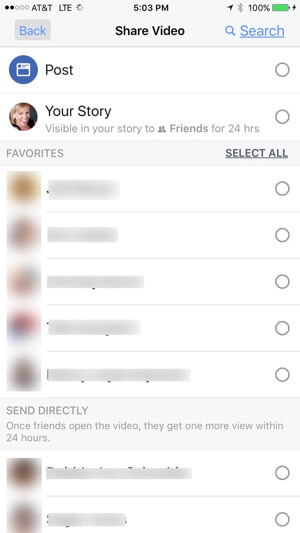 Because these features are still very new, like most users dabbling with them, I too am experimenting. Sometimes I post to my wall, sometimes not.
Below is a fun example video that I posted to my wall, where I've donned the Wonder Woman filter, just before I take the stage at Marketo's annual Marketing Nation Summit.
On Instagram, the process is very similar to Facebook. Tap the Direct icon at the top right of your main screen. On the next screen, you'll see a list of notifications including replies to your stories, mentions in stories, and direct messages. Just like Facebook, reply to any friend/follower by tapping the camera icon next to the user's name.
To create a new Instagram direct, tap the '+' icon and then select specific friends (people you follow) and tap the Next button. Then tap the camera icon at the bottom left on the message screen to take your photo or video, and send.
Also, similar to Snapchat, if friends take a screenshot of your message, Instagram will let you know.
Build Disappearing Stories on Instagram and Facebook
Given the success of Instagram Stories late last year, Facebook added a very similar Stories feature that mimics Snapchat, where content disappears after 24 hours. Personally, I'm not convinced the Facebook Stories feature is in the right place, dominating the top of your main news feed. It will be interesting to watch the rate of user adoption over time.
Concerns you may have about over-posting diminish with the Stories feature. You take photos during the day with the feature, building your story. In 24 hours after posting, it'll be out of your feed and gone.
To use the Instagram Stories feature, tap the camera icon on the top left of the home screen. Alternatively, you can quickly launch Stories with a right swipe. (Note: a left swipe on your Instagram home screen takes you to your direct messages.)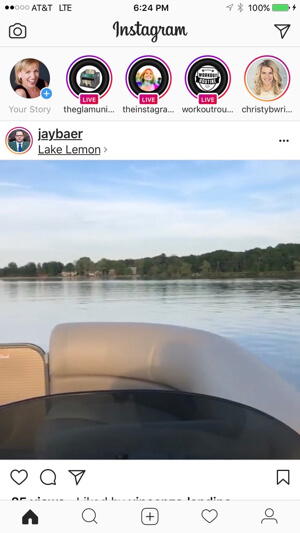 By the way, whenever you take a screenshot of any content on Instagram, a notification like the one below will pop up, letting you know you can share the post with your friends.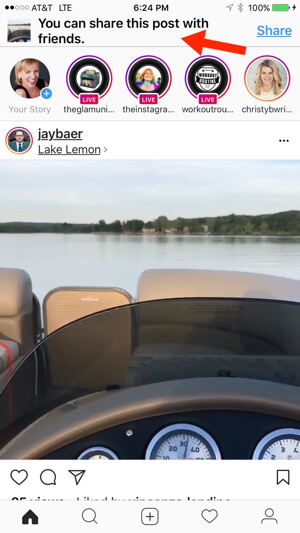 Continuing with your Instagram story content, tap the circle button at the bottom of the screen to take photos, or tap and hold to create a video. Swipe left to add filters to your photo or video, and add stickers and text as you wish. Once you're happy with your media, tap the arrow on the bottom right to add it to your story.
Like Snapchat, it's not about capturing great photography. It's about sharing moments. Remember how we started with the appeal of experiences to the Millennial crowd?
#2: Stream Live Video to Sustain Visibility and Discoverability
Like Facebook Live and Twitter's Periscope, Instagram has the ability to share streaming live video as part of its Stories feature. However, the key difference is that Instagram Live videos are ephemeral. Your followers need to tune in real-time to catch your broadcast, and the stream disappears the moment you end it.
Since the Live feature rolled out in November of last year, Instagram has added the ability to save your Live video broadcasts. This allows you to download live broadcasts to your camera roll and repurpose the video content if you wish.
To start broadcasting live on Instagram, tap the camera icon at the top left of the mobile app. Then swipe the choices at the bottom to select Live. Any Instagram followers who've chosen to get Live (push) notifications will be among the first to join you. In addition, your Live video will get prime positioning in the Home tab top story 'bubbles,' as I call them!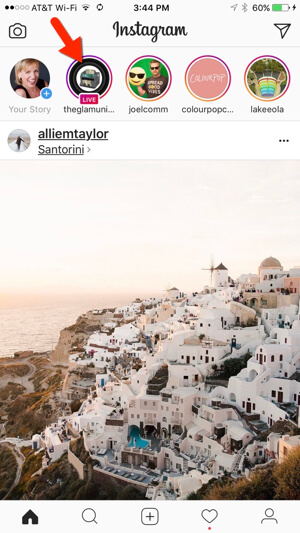 Instagram also gives prime positioning to current live-streaming videos at the top of the Explore section (second tab from the left, with the magnifying glass). This is a wonderful section to get a feel for which videos and live broadcasts are popular now.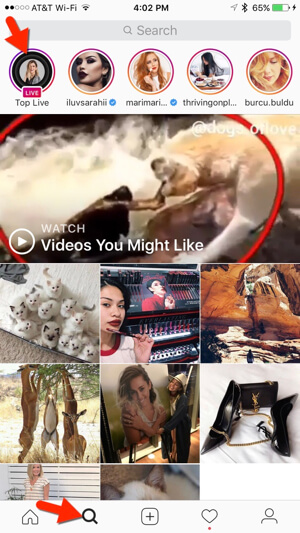 If one of your friends is currently streaming live video, you'll see "Live" under their profile picture.
#3: Apply Augmented Reality Filters for Top-of-Mind Messaging That Entertains
Augmented reality features have become more mainstream, thanks to the introduction of an in-app camera in Facebook, Messenger, and now Instagram. The camera in each of these three apps allows you to add augmented reality features like interactive filters, selfie masks, captions, and stickers.
Remember, in Facebook and Instagram Stories and Direct, as well as Messenger Day, your published/shared photos and videos will only last 24 hours. And, as mentioned above, Instagram Live videos disappear as soon as you end your broadcast. Conversely, photos and videos sent to friends using Messenger don't disappear.
Plus, the cool thing about the new Instagram face filters is that you can use the masks in conjunction with other Instagram camera features, such as Boomerang or Rewind (video records backward).
Mark Zuckerberg announced this fairly new feature with a demo video on his Facebook profile. This funny filter Mark demonstrated is a geek coder, complete with taped glasses and swirling code above your head when you open your mouth!
Because the camera in all three apps (Facebook, Messenger, and Instagram) lends itself to endless creativity and eye-catching visuals, you can interact with your friends and followers in new lighthearted ways simply to maintain top-of-mind awareness.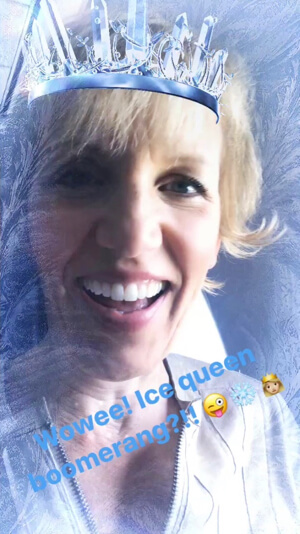 Each time you use the camera app on Facebook, Instagram, or Messenger, you can also choose to save your photo or video to the camera roll of your phone, instead of or in addition to publishing it. I like to do this periodically and get more 'mileage' out of fun content, posting publicly on my wall.
For example, I check my Facebook Stories camera face filters periodically and recently enjoyed a couple of new ones: lifting weights and a 'gangster' look. I took some videos, saved them, and posted to my profile wall.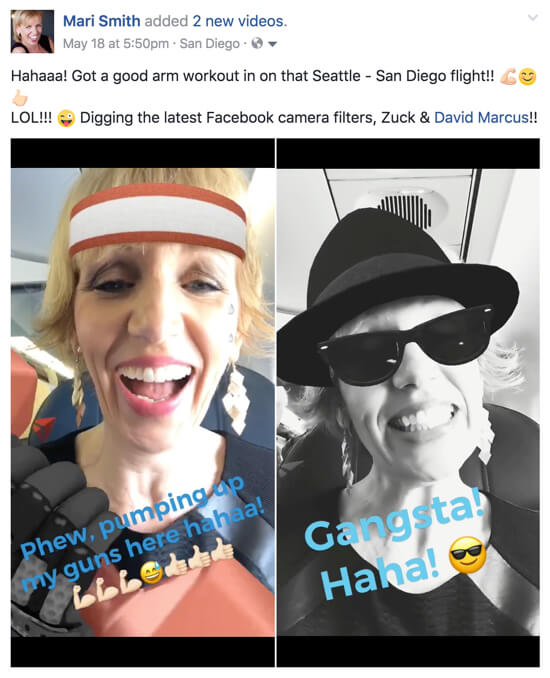 The faux bicep curls and gangster videos got more than 2,500 combined video views, plus many fun responses from my community. It's not a giant number of views compared to my business page, but it's a lot more than if I'd only posted to my stories (friends only).
I like to be goofy at times, keeping it light and fun. But not so light that people don't take my business content seriously! If you can create an element of education + entertainment = 'edutainment,' your audience stays more engaged.
You can also broadcast via Facebook Live with real-time masks, filters, and stickers. Just tap the magic wand icon in the upper-left corner to reveal the special effects options. You can set up these special effects first, then go live. Or change while broadcasting. (I love the Pop filter to make colors more vibrant!)
#4: Leverage the Facebook Jobs Tab to Attract Millennial Talent
Using Facebook, you can reach out to your Millennial audience as potential employees. While LinkedIn is often seen as the go-to social media platform for job hunters, only 13% of Millennials are on LinkedIn. In contrast, 41% of Millennials use Facebook every day. So it makes sense to post jobs on the platform where Millennials spend their time.
To create a job posting for your Millennial audience, first make sure you have the Jobs tab. Go to your page on desktop, click on Settings, then Edit Page, then Add a Tab. Select Jobs. (If you don't see Jobs as an option, you may need to select a different type of template.) While there, you can choose to reorder your tabs and place Jobs first, if you wish. (Or you can come back later to do this step.)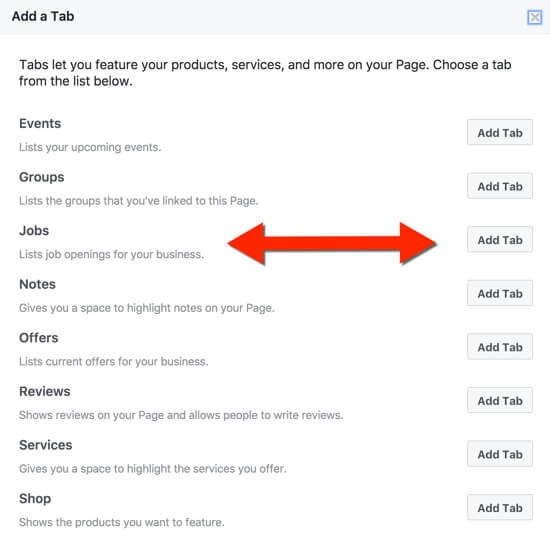 Next, go back to your main wall and you'll see where to start filling out the form. Click the green Publish Job Post button.
Fill out all pertinent information, include a relevant photo, and enter additional questions as needed. Click the Publish Job Post button and your job post will appear on your page wall.
You can pin the post and/or add budget via the Boost button or in Ads Manager to increase visibility. In fact, I would highly recommend promoting your job post with even a small budget, as you can then reach the specific demographic you're looking to attract to apply for the job.
Once posted, your job will also appear under Jobs in the tabs on the left of your page for easy spotting.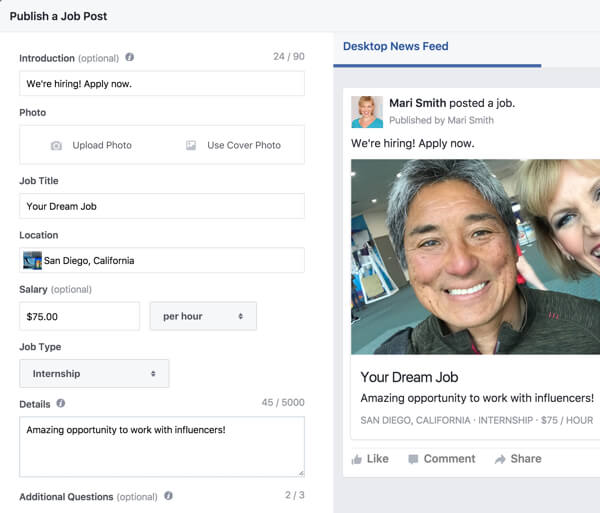 Note that the screenshot above is just a mockup job posting! I was experimenting with the fields and added a fun selfie of Guy Kawasaki and me at the recent Social Media Marketing World 2017.
Conclusion
Being an early adopter of these new Facebook, Instagram, and Messenger features can really help you and your business stand out with Millennial audiences.
If you're not naturally an early adopter, just stay informed about these new features. Don't be overwhelmed! They're designed for Millennials to use, and aren't necessarily for all marketers.
One of the challenges of these new features is integrating them into your social media marketing in a way that feels authentic to your brand. Simply pretending to be a Millennial isn't the right approach to attract this audience, and may actually repel the very people you want to reach. Use them in a thoughtful, intentional way.
Also, it's possible that these features may not be the way to go for your own or your client's brand. Consider sub-groups of this Millennial crowd that may be a better audience for your marketing than Millennials as a whole.
What do you think? Will you try these Facebook and Instagram features to help you attract a Millennial audience as customers and potential employees? How will you make these features work for you, while still maintaining the integrity of your brand and business style? Share your thoughts in the comments below.