Want to expand your Instagram ad campaigns? Looking for scaling tactics that work?
In this article, you'll learn three easy methods to scale Instagram ads.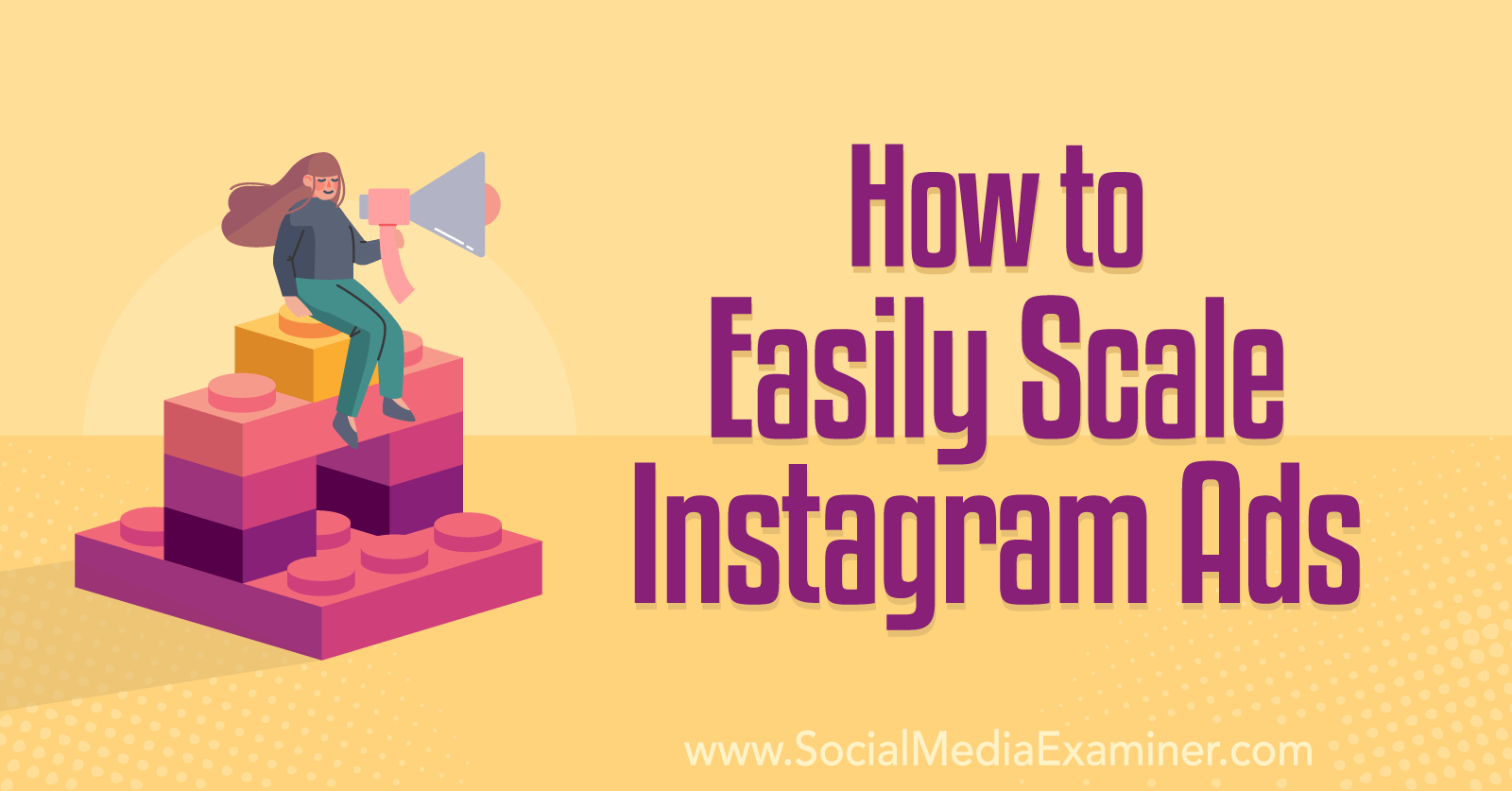 How the Learning Phase Impacts Scaling Instagram Ads
Before you start mapping out a plan to scale Instagram advertising campaigns, you need to know how the learning phase may affect the process. You've likely noticed that when you launch any Instagram ad set, it enters what's known as the learning phase. During this time, Meta actively optimizes your Instagram ad sets to get the best possible results.
Usually, ad sets leave the learning phase within a few days but it can take up to a week. However, this phase isn't strictly time-based. Instead, it depends on when your ads generate optimization events. Ad sets typically need 50 optimization events over a week before they can leave the learning phase.
While the learning phase is happening, ad delivery and campaign results tend to be uneven, with spikes followed by drops in activity. This uneven activity can have a negative effect on campaign costs. In fact, cost per result is usually worse during the learning phase. Once the learning phase ends, ad delivery, campaign activity, and cost per result should even out.
But here's the thing. Instagram ad sets can reenter the learning phase weeks or months after the initial campaign launch.
Anytime you make a significant edit to an ad set, you can send it back to the learning phase. But because the learning phase can negatively affect cost per result, you want to avoid retriggering this status.
What kind of edit is major enough to trigger the learning phase?
In many cases, changes to ad set budgets and spending limit amounts qualify as significant edits. Minor adjustments like increasing the ad set budget by a few dollars won't impact the ad set status. But doubling or exponentially increasing your ad set budget is considered a significant edit.
Other edits you might consider making as you scale can also send an ad set back to the learning phase. For example, changing the bid strategy, adjusting the creative, and adding new ads to an existing ad set are all considered significant edits.
Here's how you can avoid the negative effects of the learning phase while still scaling your Instagram ad spend and optimizing your ad sets.
#1: Test Instagram Ads Prior to Scaling
It's critical to approach testing and scaling separately. Plan to test your Instagram ads first so you can identify a top-performing combination of audience segments, ad placements, and creatives—which you can then scale.
What's the most effective way to test Instagram ads? Let's look at tips for what to do and what to avoid.
Do Set a Realistic Budget Per Ad Set
When you test various Instagram ad combinations, you'll want to get them out of the learning phase as quickly as possible. That means you need an ad set budget that's big enough to generate at least 50 optimization events efficiently.
Get Your FREE Course: Web3 for Beginners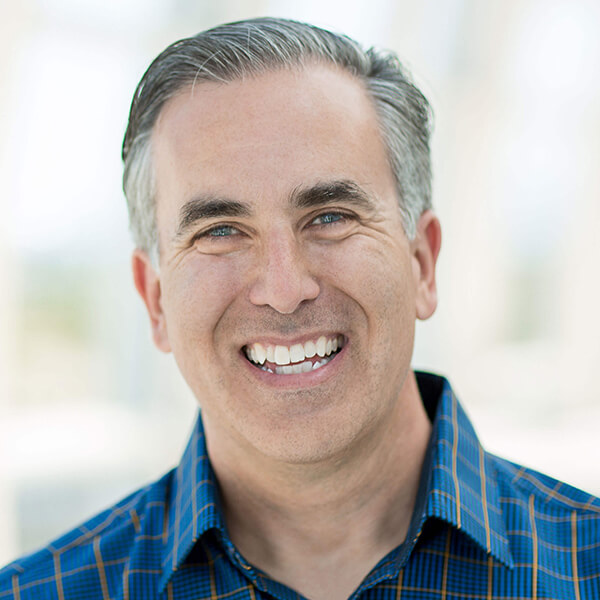 Curious about Web3, but don't know where to start or who to trust?

Introducing Web3 for Beginners, a course taught by Michael Stelzner, the founder of Social Media Examiner.

Learn the basics of Web3 and apply it to your business with this FREE comprehensive course.
CLICK HERE TO GET FREE ACCESS
But it's important not to use an ad set budget that's dramatically higher than what you'd realistically use after testing. Naturally, the results you'd get from an ad set with a massive budget are pretty different from what you could expect with a realistic spending limit.
When testing an ad set, use historical data from your Ads Manager or Google Analytics account to estimate a typical conversion rate and cost per result. Then use those insights to reverse-engineer your testing budget.

Don't Overdo It With Ads or Ad Sets
When you want to find what works best, it's tempting to test a lot of ads or ad sets at once. You can certainly do extensive testing. But take care to avoid adding too many ads to an ad set or too many ad sets to a campaign using Advantage Campaign Budget.
Ads Manager allows up to 50 ads per ad set. Instead of aiming for that upper limit, plan to test just a handful of ads (i.e., three to five) per ad set. That way, Meta can adequately deliver and test your creatives without running out of budget before you get definitive results.

In addition, consider setting budgets per ad set rather than per campaign. When you use Advantage Campaign Budget, Meta may not allocate spend evenly. This means ad sets with smaller target audiences may get less budget and remain in the learning phase longer.
Do Use Meta's A/B Testing Tool
You always have the option to test Instagram creatives and audience targeting manually by creating or duplicating ad sets. But you can also streamline the process using Ads Manager's built-in split-testing tool.
To create a split-test, launch a campaign in Ads Manager and allocate enough budget to get useful results. From the main Ads Manager dashboard, select the ad set you want to test and click the A/B Test button. Select the option to Make a Copy of This Ad.
Next, choose the variable to test such as the creative, audience, or placement. Then select the key metric for determining the winner.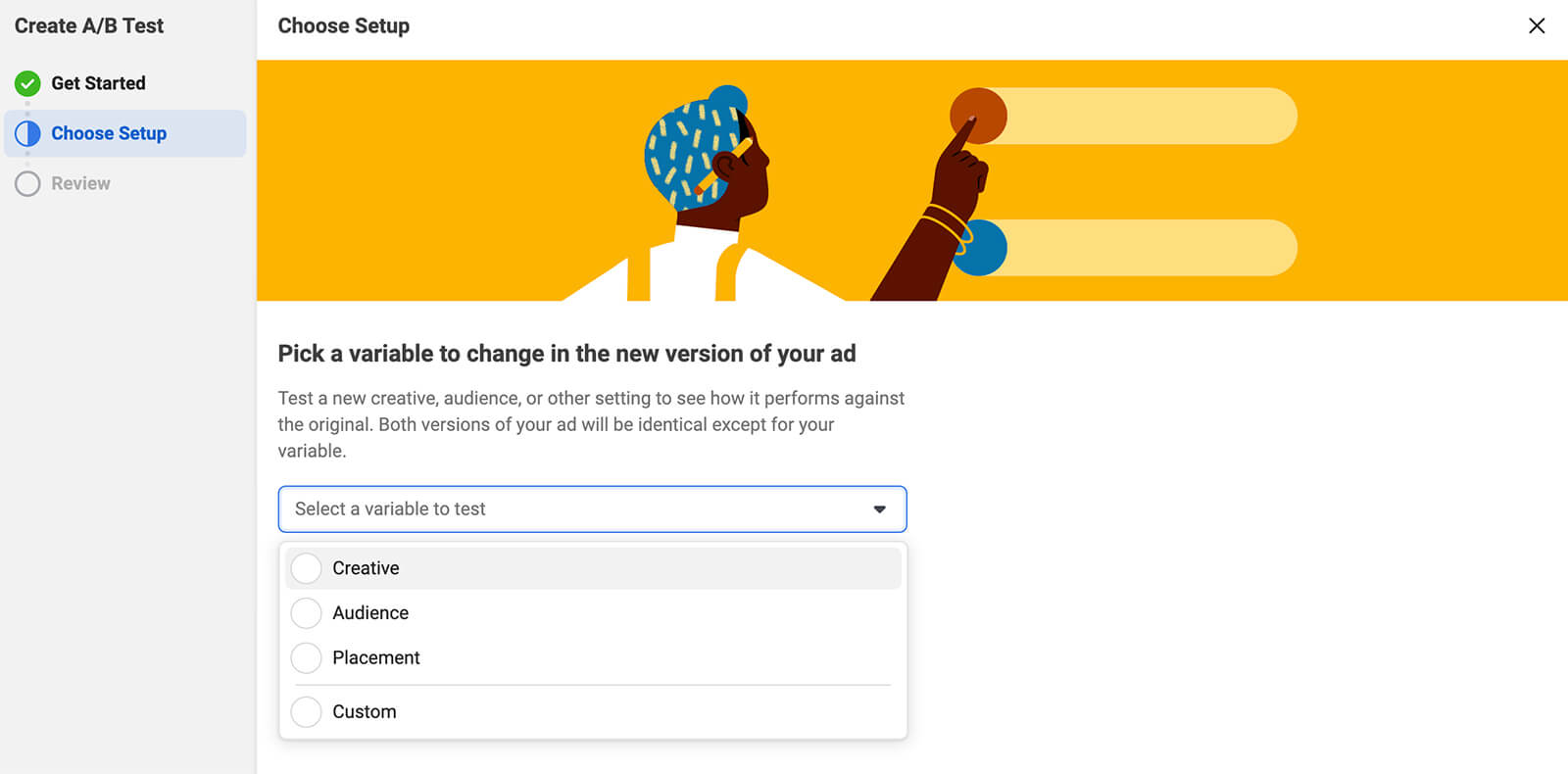 Ads Manager automatically recommends a metric based on your campaign goals but you can choose other standard options higher or lower in the funnel.
Aim for an estimated test power of 80% or higher for optimal results. Then finish setting up the B version of the ad set and let the test run. Keep an eye on the results and use the winning ad or ad set to guide your scaling strategy.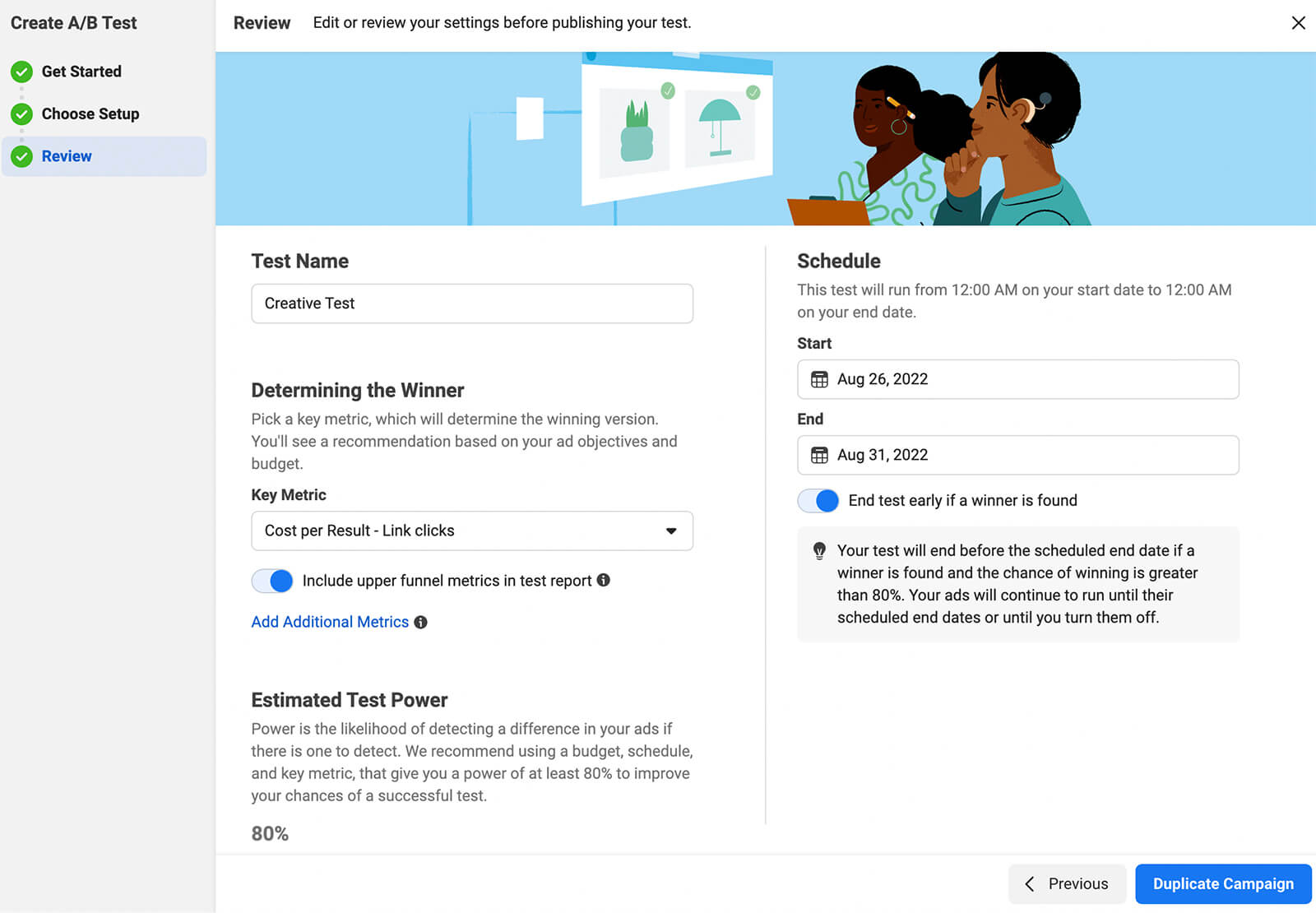 Don't Use Creative Optimization Tools
Over the past year or so, Meta has rolled out a number of tools—including Dynamic Creative, Advantage+ Catalog, and Optimize Text Per Person—designed to optimize creative assets for users in your target audience. As helpful as these tools can be for improving performance, they won't help you identify top-performing combinations.
Instead, Ads Manager typically reports aggregated results that don't clarify the specific headlines, creatives, and catalog items responsible for each result. To find top-performing combinations, you'll need to test them manually. Once you start scaling, you can switch on these tools to improve performance.
#2: 3 Ways to Scale Instagram Ads
Once you've done some testing, you can make an informed decision about what to scale. But how can you avoid the negative effects of the learning phase while still scaling your Instagram ad spend and optimizing your ad sets? Let's look at three options.
How to Scale Instagram Ads Manually
The most straightforward way to scale Instagram ad sets is to increase the spend slowly enough to avoid making significant edits. In other words, scale the spend by up to 20% at a time. Scaling your Instagram ad budget by 20% every few days lets you avoid sending the ad set back to the learning phase.
Start with a campaign that uses Instagram-only placements but that doesn't use Advantage Campaign Budget.

At the ad set level, set a daily budget (not a lifetime budget). Start with a budget that will help your ad set get out of the learning phase relatively efficiently.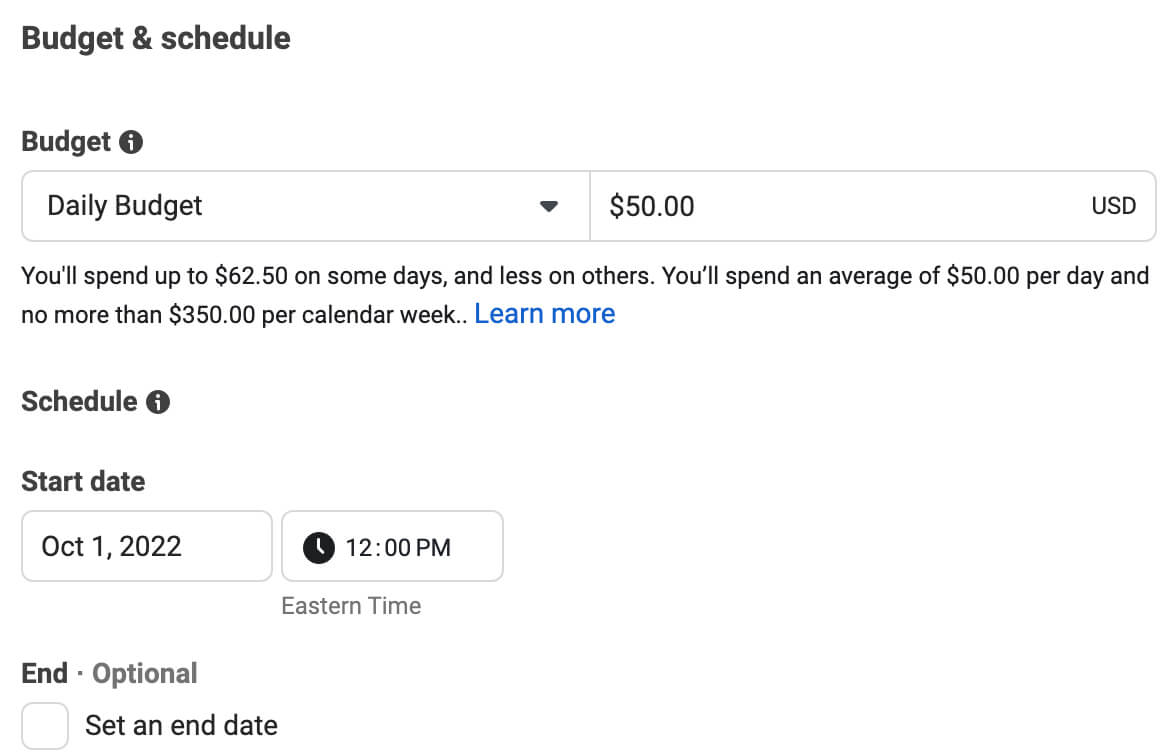 Continue setting up the rest of the campaign with relevant optimization events and creatives. You can create multiple ads, but for best results, limit it to three to five at most. You can also use built-in optimization tools like Advantage+ Creative.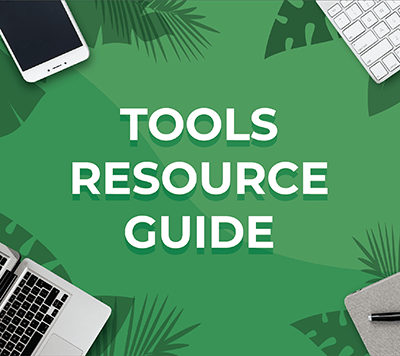 Looking for something to make your life easier?
Discover the tools we recommend to drive engagement, save you time, and boost sales across your entire marketing funnel or business.
Whether you need help planning content, organizing social posts, or developing your strategy, you'll find something for every situation.
FIND YOUR NEXT FAVORITE TOOL

Once the ad set has left the learning phase and is running efficiently, you can manually increase the daily budget by 20%. Once or twice a week (no more than every 3 days), continue to increase the ad set budget by 20% until you reach the maximum you want to spend.
How to Scale Instagram Ads Automatically
Changing Instagram ad budgets manually can take a lot of time and math, especially if you're working to grow multiple ad sets or accounts. If you want to save time and juggle fewer manual tasks, you can set up an automated rule in Ads Manager instead.
From the Ads Manager dashboard, click Rules and select Create a New Rule. Then select Custom Rule from the options in the pop-up.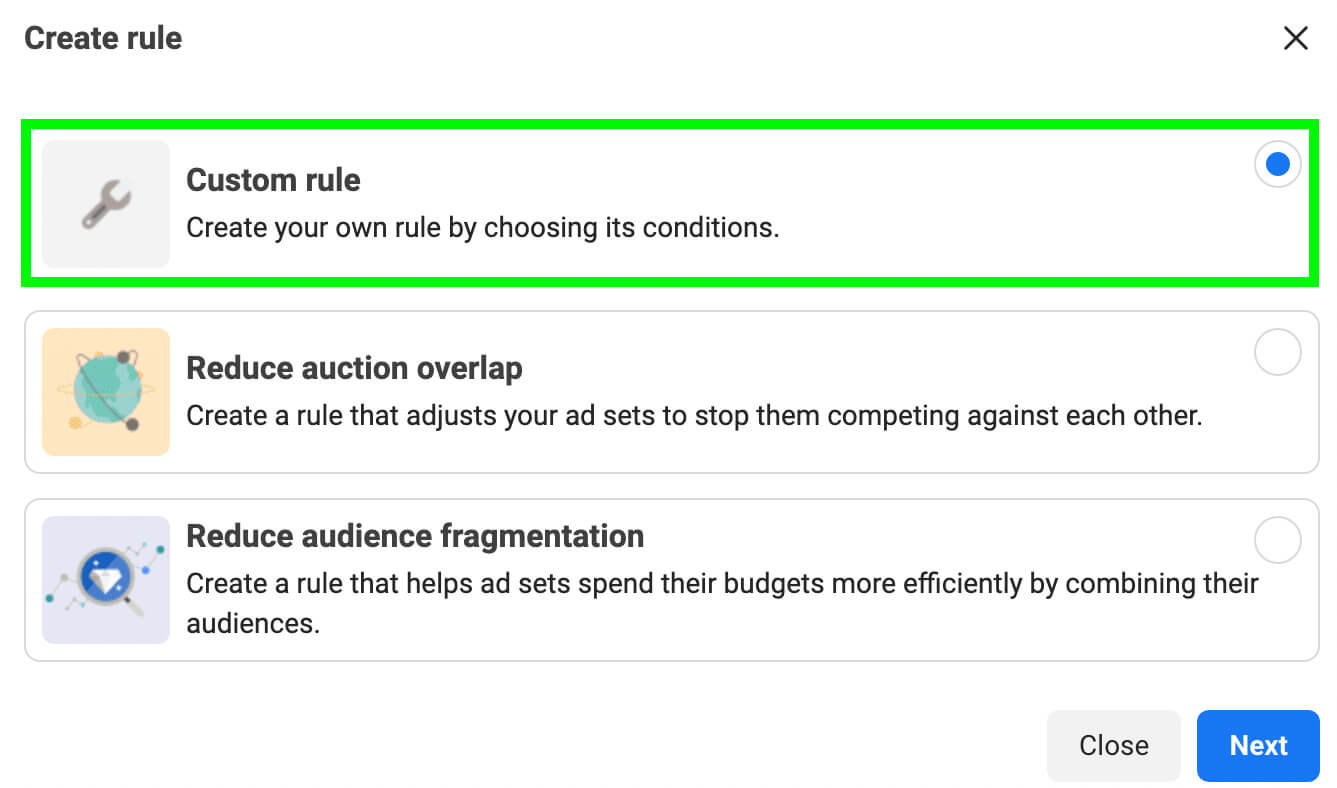 Click All Active Ad Sets to apply the rule. Don't worry—you can set additional conditions that will prevent your spending from getting out of control.
Under the Action drop-down, select Increase Daily Budget By and enter a percentage. To avoid the learning phase, limit the increase to 20%. Under the Action Frequency drop-down, choose how frequently you want to apply the increase.
Choose Once Weekly to avoid learning phase issues.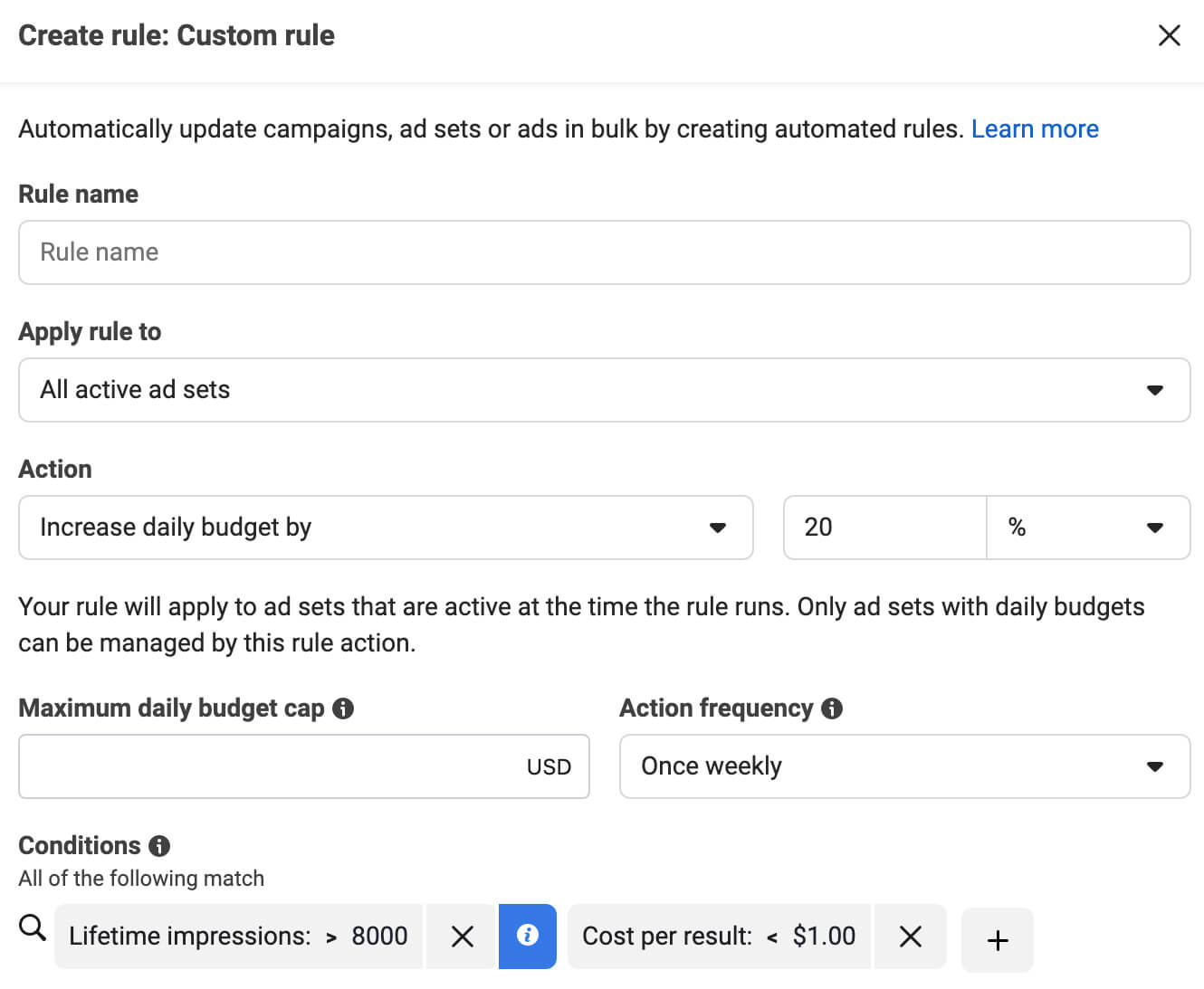 Under Schedule, you can set the day of the week when you want the rule to run.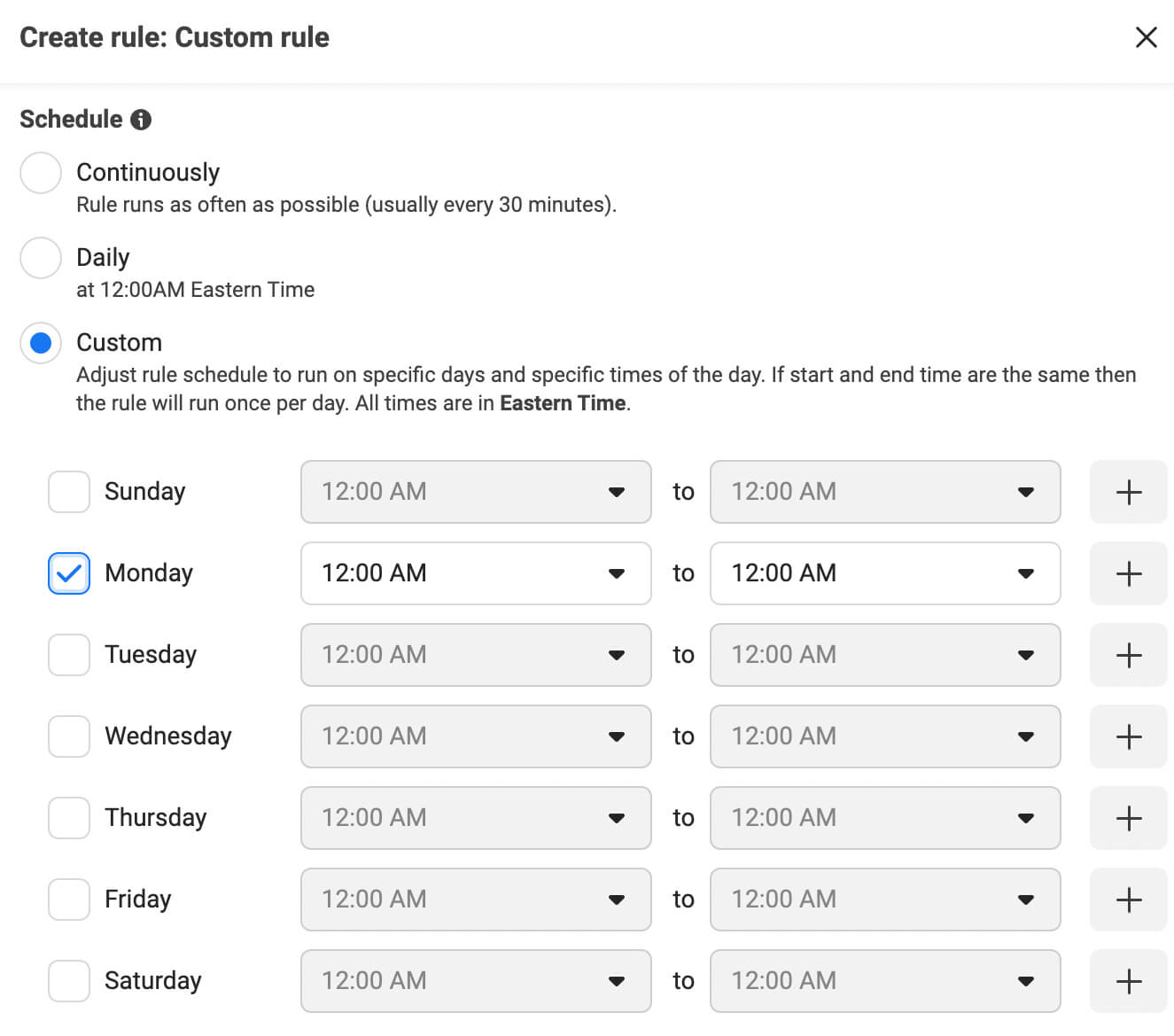 Then add some conditions to ensure the automated rule applies only to ad sets that have exited the learning phase and achieved good results. For example, if you add a condition based on cost per result, Ads Manager automatically applies a minimum number of impressions to ensure the rule only applies to seasoned campaigns.
You can also add a maximum daily budget cap to avoid exceeding preset limits for your ad sets. Note that if you've budgeted a higher limit for one of your ad sets, you'll need to do any further scaling manually.
How to Scale Boosted Instagram Posts
In most cases, you'll probably test and run Instagram ads from Ads Manager. But what if you get excellent results from a boosted Instagram post and you want to scale it to keep growing your account or driving traffic to your site?
You can easily adjust budgets for boosted posts in Ads Manager. Since boosted posts have a single ad set and ad, they use Advantage Campaign Budget by default. So instead of changing the ad set budget, increase the campaign budget by up to 20%.

Note that you won't be able to make any additional changes to boosted posts in Ads Manager. Instead, you'll need to make any changes to the timeframe or other elements in the Instagram app.
If you prefer, you can also scale boosted posts directly from the Instagram app. Open your account's professional dashboard and tap Ad Tools. Then tap Edit and select Budget & Duration to scale the boost. Use the slider to increase the daily budget by 20% or less. Confirm the changes and continue to make the same adjustment once or twice a week.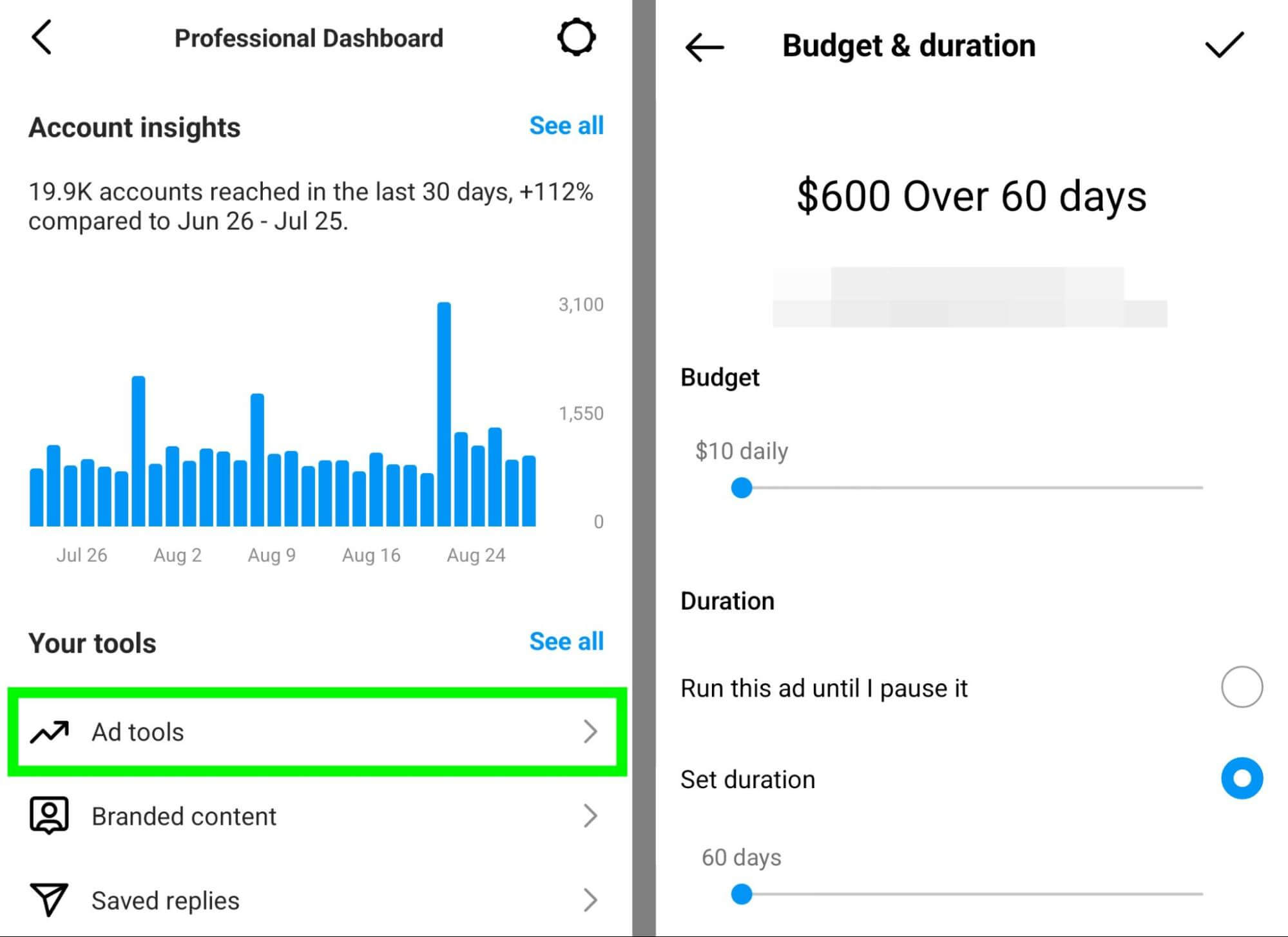 #3: How to Analyze Results as You Scale Your Instagram Ads
Whether you scale Instagram ads automatically or manually, do regular checks to make sure your ad sets are running smoothly.
Adjust Your Analysis Window for Delayed Results
To maximize ad delivery and improve performance while addressing privacy concerns, Meta now includes both modeled conversions and delayed data in Instagram ad reporting. In most cases, you won't be able to see full results from an ad set in real time or even within 24 hours. Instead, Meta recommends waiting for 72 hours before analyzing results.
Although you might be tempted to adjust campaigns based on trending activity, it's important to adjust your decision-making timeframe. For example, rather than reviewing data from the past 7 days, use data from the prior week, starting 3 days ago.
Ways to Optimize When You See Rising Ad Costs
If you've done enough testing on your ad set, you should continue to see good results from your Instagram ad, even as the budget scales. But over time, even the most successful Instagram campaigns will start to deliver more expensive results.
Eventually, Meta will run through the most affordable ad delivery opportunities and will need to spend more per conversion. You can use bid strategies and automated rules to limit what you spend on conversions. But ultimately you'll need to update your ad set to pursue more affordable conversions.
First, consider expanding your targeting to avoid oversaturating your audience or delivering ads to the same people too frequently. You don't necessarily have to create an audience from scratch but you can certainly A/B test a new one.
Instead, think about using lookalike audiences to build on targeting that has already proven successful. For example, you can create a lookalike for your existing audience. Just keep in mind that adjusting the targeting will temporarily send the ad set back to the learning phase.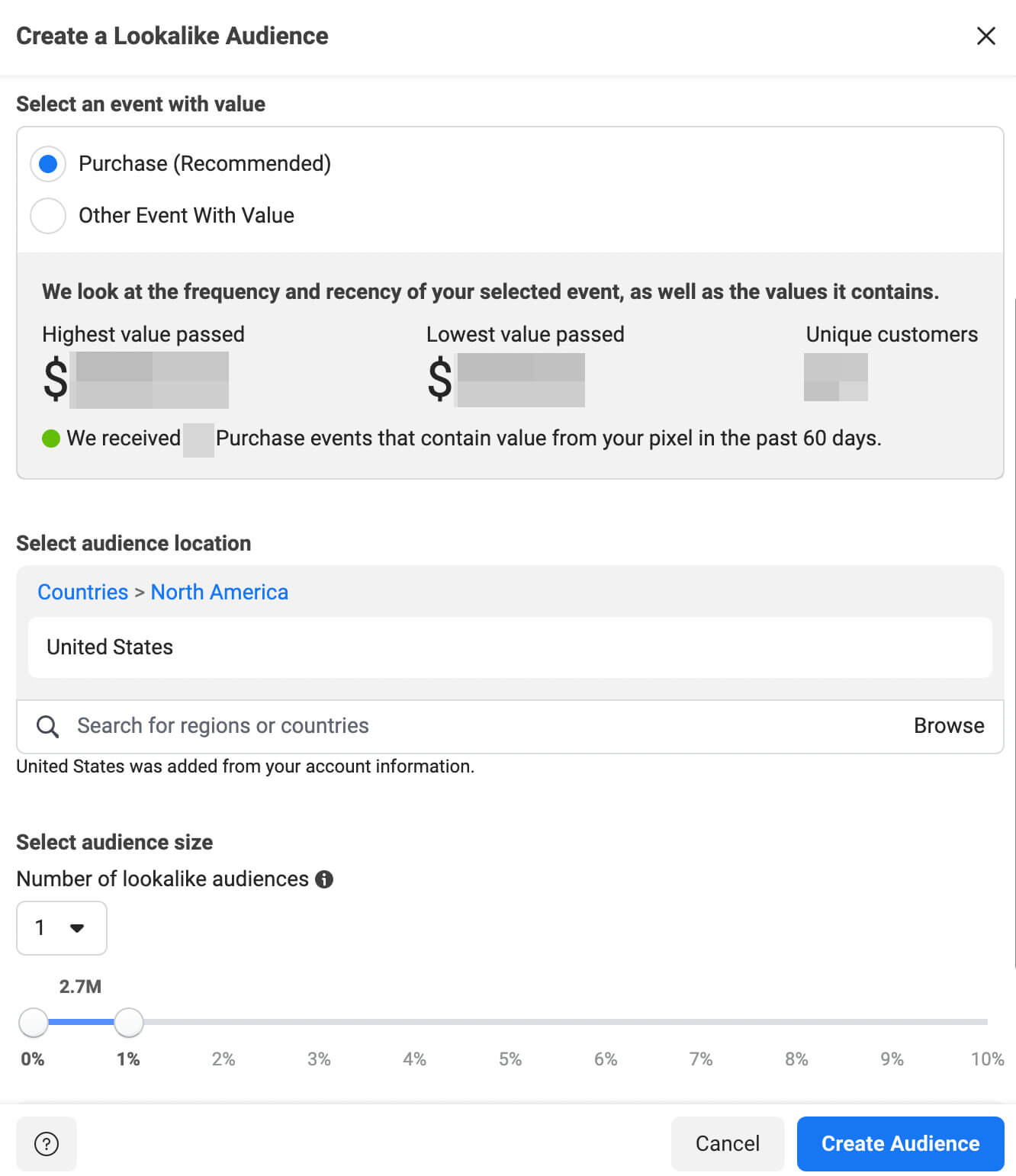 Second, consider updating your creative or adding new ads to the ad set so Meta can deliver a wider variety of options to your audience. You can use Meta's Advantage+ Creative tool to optimize images and ads for your target audience.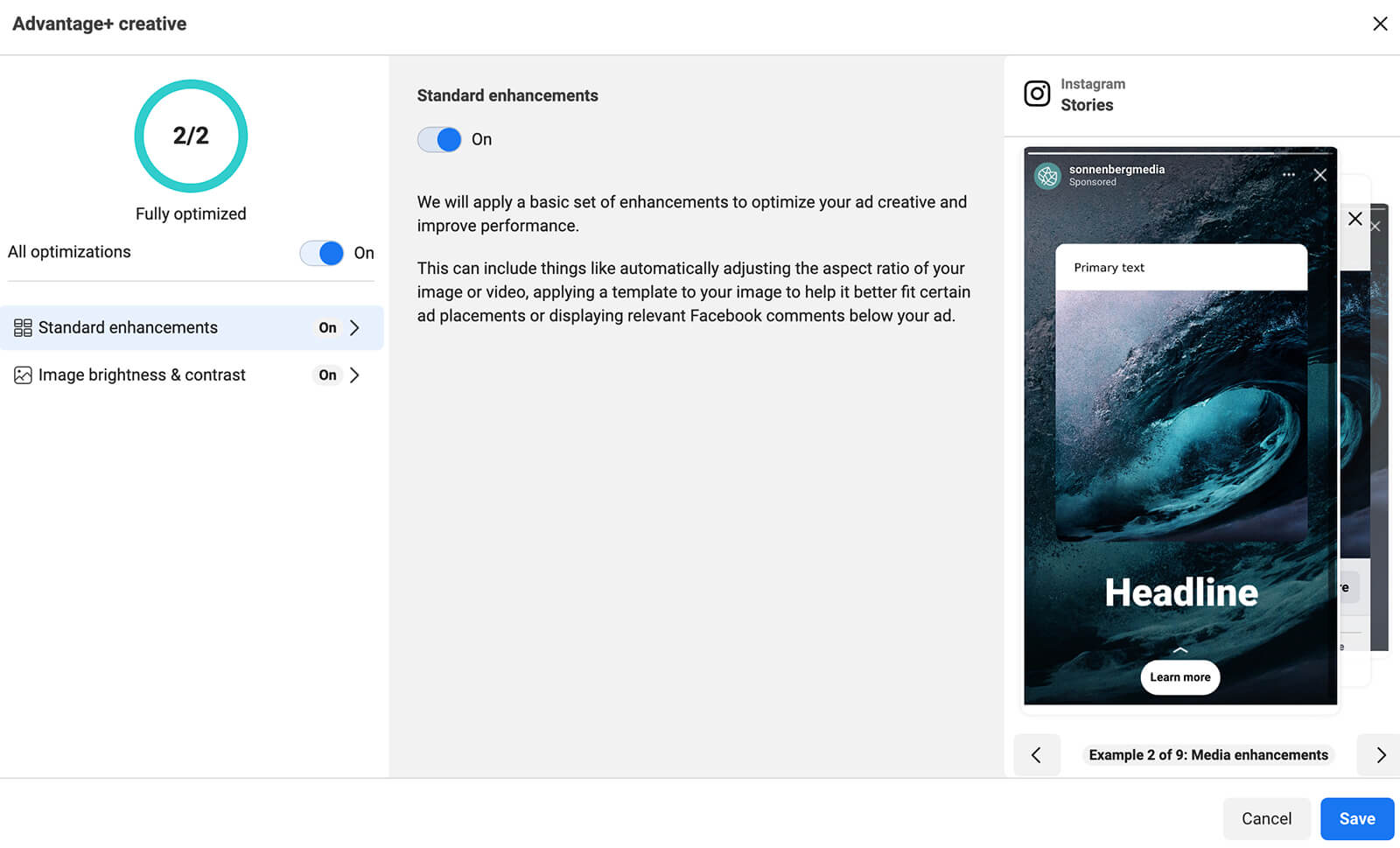 Like targeting changes, new ads also send ad sets back to the learning phase. But an ad set that was already performing well should power through the learning phase quickly and the updated version should generate even better results.
When you make creative and targeting changes to an ad set, always duplicate it and update the new version. That way, you'll keep the original data intact and you can always resume the initial ad set if necessary.
Conclusion
Scaling Instagram campaigns is a great way to get more value from your best ads while delivering high-performing offers to more of your target audience. Using the steps above, you can test and scale Instagram ads effectively while keeping them optimized, even during long-running campaigns.
---
Stay Up-to-Date: Get New Marketing Articles Delivered to You!
Don't miss out on upcoming social media marketing insights and strategies! Sign up to receive notifications when we publish new articles on Social Media Examiner. Our expertly crafted content will help you stay ahead of the curve and drive results for your business. Click the link below to sign up now and receive our annual report!
Get Your FREE Course: Web3 for Beginners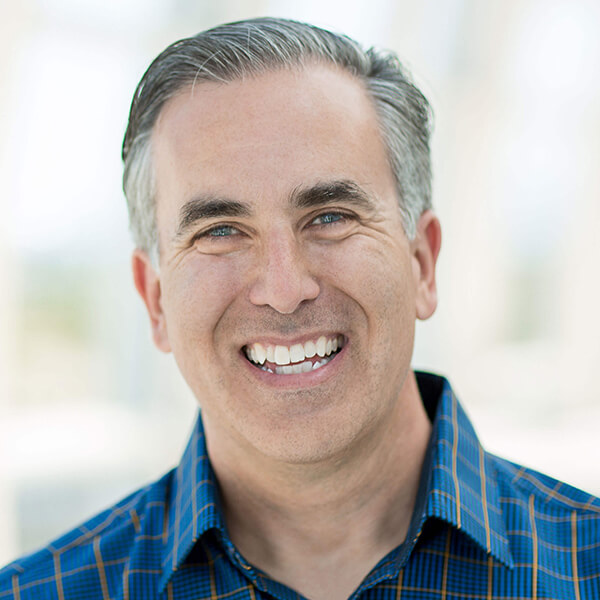 Curious about Web3, but don't know where to start or who to trust?

Introducing Web3 for Beginners, a course taught by Michael Stelzner, the founder of Social Media Examiner.

Learn the basics of Web3 and apply it to your business with this FREE comprehensive course.
CLICK HERE TO GET FREE ACCESS