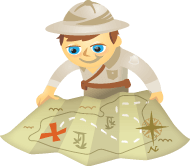 Facebook Fan Pages are popping up in record numbers.  Now businesses have another space to connect with their clients or customers and a great opportunity to add value.
However, one thing I hear repeatedly is that Fan Page owners are frustrated with their lack of fans and low engagement levels. They work hard to create the page, add the bells and whistles, but no-one comes.
One reason for this is a lack of purpose and planning. The words purpose and planning might not get you all that excited.  However, the payoff is big and worth the time.  Once you put a plan of action in place (in the form of an editorial guide), the rest starts to fall into place. The result:  growing fans and increasing engagement will not feel like work, but actually be an enjoyable experience.  Imagine that!
Below I outline how to create an editorial guide to ensure your Fan Page success.
First, Define Your Purpose
To define the purpose of your Fan Page, here are three questions to consider:
#1: Why Do You Want a Fan Page?
If the answer is, "Because everyone else has one," you might want to rethink your direction.  What can a Fan Page do for your company that you're not already experiencing now? What do you hope to achieve by creating this new platform?
#2: How Will Your Fan Page Differ From Your Website?
Think about what you can offer on your Fan Page that's different from your website. Consider the factors that will keep your clients and potential clients coming back for more.  Often, the more interactive a page, the greater the success.  If all you do is create a static mini-website, you might get people to become fans, but it is unlikely they will visit often.
#3: What is Your "It" Factor?
Think about what makes your company and its employees unique.  Figure out what you bring to the table that's different from your competitors and build on that within your Fan Page strategy.
Once you're clear on why you want to create a Fan Page, you're ready to create a plan of action.  You don't just want to wing it. The Fan Page is part of your business strategy and you should approach it just as you would any other business endeavor. (But that doesn't mean you can't have fun with it!)
Creating Your Editorial Guide
Here's what to include in your editorial guide:
#1: Posting Strategy:  Decide on the Consistency of Your Posts
The Conference You've Been Waiting For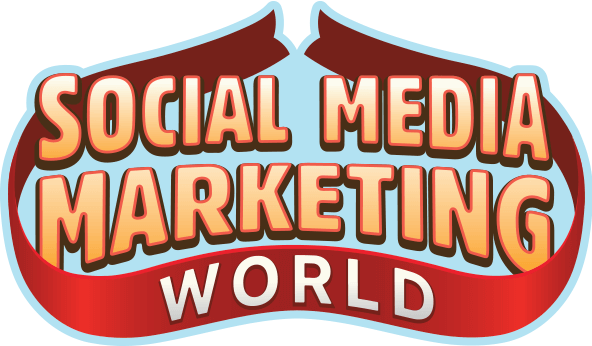 As a small business marketer, you can probably only pick one or two events to attend each year. Get back into the game with an unbeatable conference experience and expert training at Social Media Marketing World in sunny San Diego, California—from your friends at Social Media Examiner.
🔥🔥 As a valued reader, you can save $770 if you act now! Sale Ends Tuesday!
CLICK HERE TO LEARN MORE
For the Social Media Examiner Fan Page, although we jump in and engage with our fans at all times throughout the day, we've designed time chunks for specific content.  In the morning we always post the most recent Social Media Examiner article.  In the afternoon we post a link to a great third-party article that we know our fans will find valuable.  And a few times a week, in the late afternoon, we post questions.  Although most questions focus on social media topics, not all of them do.
Get Expert Social Media Marketing Training from the Pros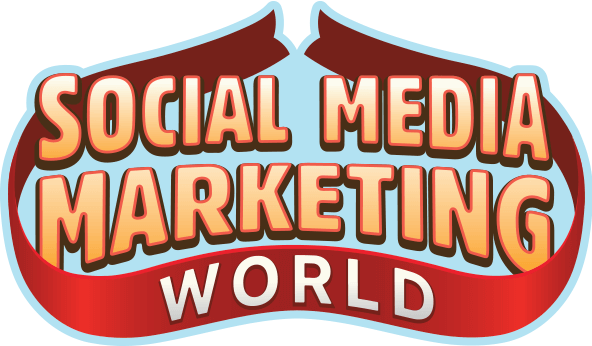 Want to get ahead of the competition and learn how to diversify your social marketing strategy?
Learn from the industry's most trusted experts, rub elbows with other smart marketers, and take your marketing to the next level during this 3-day event in sunny San Diego, California.
CLICK TO LEARN MORE
Here's an example of a morning post of an SME blog article:

Here's an example of a "question" post that added a little fun: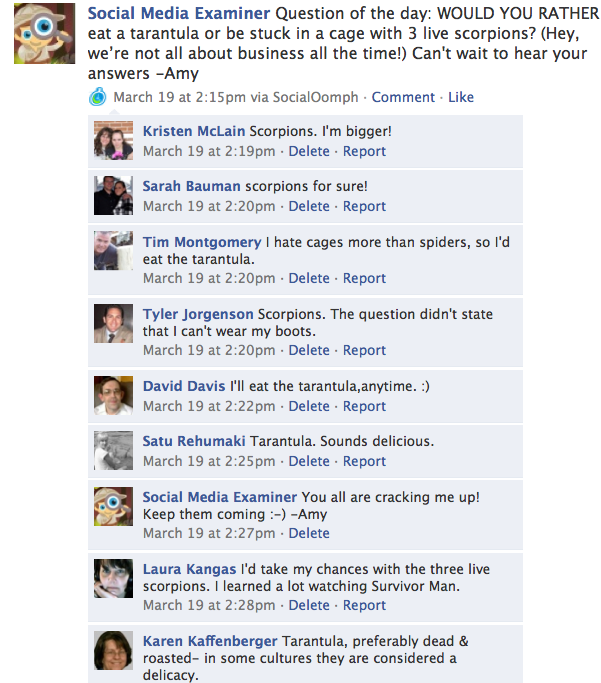 #2: Content Strategy: Decide What Type of Content You'll Be Posting
By defining this from the start, your team will have a much easier time finding appropriate content for your page.  At Social Media Examiner, we've identified about 20 websites that we use regularly to find the latest and greatest in social media marketing.  Of course you can branch out and test new waters, but if you have your list of tried and true sites for great content, you'll never be at a loss for adding value.
#3: Formatting: Define What a Post Should Look Like
Although it may seem like a no-brainer to you, it's important to clearly define how you want your team to craft the posts.  Some Fan Page posts are conversational and relaxed; others are more informative and read like newspaper headlines to grab readers' attention.
Define your style and document it. In addition, if you have multiple people posting, you might want to try what we do on our Fan Page. Because we have three people posting, we always end our posts with our names to allow our readers to know with whom they are talking. It makes things more friendly and personal.  Here's an example:

#4: Engagement: How Will You Approach Fan Comments?
On the Social Media Examiner Fan Page, we make it a goal to reach out to everyone who comments on our page. We want our fans to know we are listening and interested in what they have to say.  Fans are more inclined to come back if they feel there is an even exchange of information.
Here is an example of fan engagement: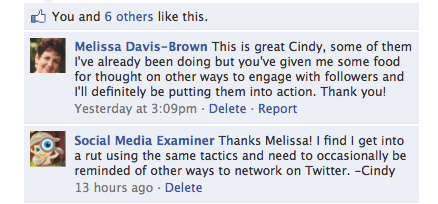 #5: Prepare For Negative or Promotional Posts
It's common for some fans to post promotional details about their products and services to your wall. This tends to clutter the page and deters from the conversations that are happening. Define which posts are not acceptable on your page and how you will address them in advance so your team will be ready to handle any situation that comes your way.
There's one caveat to all of this:  Your editorial guide is just that—a guide. It's not written in stone and should be tweaked until it works for your team.  The goal is to get your Fan Page running like a well-oiled machine, while continuing to go with the flow and enjoy the constant interactions and conversations with your fans.  Your Fan Page community is sure to thrive if you spend a little time planning up front.
Now it's your turn!  Have you already created an editorial guide for your Fan Page?  If so, how is it working for you? And if you haven't yet, do you see the value of planning out your strategy ahead of time?  Let us know your thoughts below.
Curious about NFTs, DAOs, and Web3?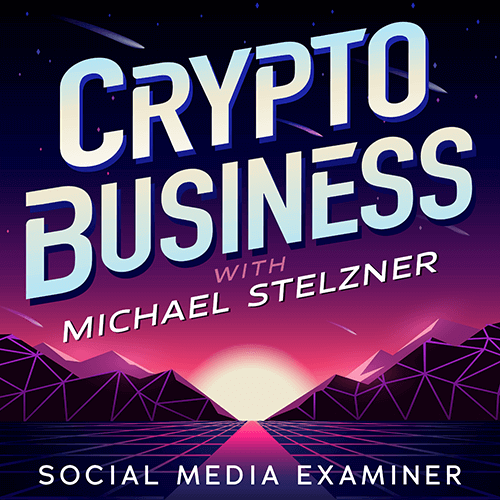 Follow the Crypto Business podcast to find out how NFTs, social tokens, DAOs (and so much more) will affect your business in the near future.

Every Friday, host Michael Stelzner interviews leading industry experts about what works right now in Web3 and what to expect in the future, so you can prepare your business for the shift, even if you're a total newbie.
FOLLOW THE SHOW