Are you thinking of starting a decentralized autonomous organization (DAO)? Wondering how to create and govern a DAO?
In this article, you'll discover what you need to know to start a DAO and the tools to successfully operate one.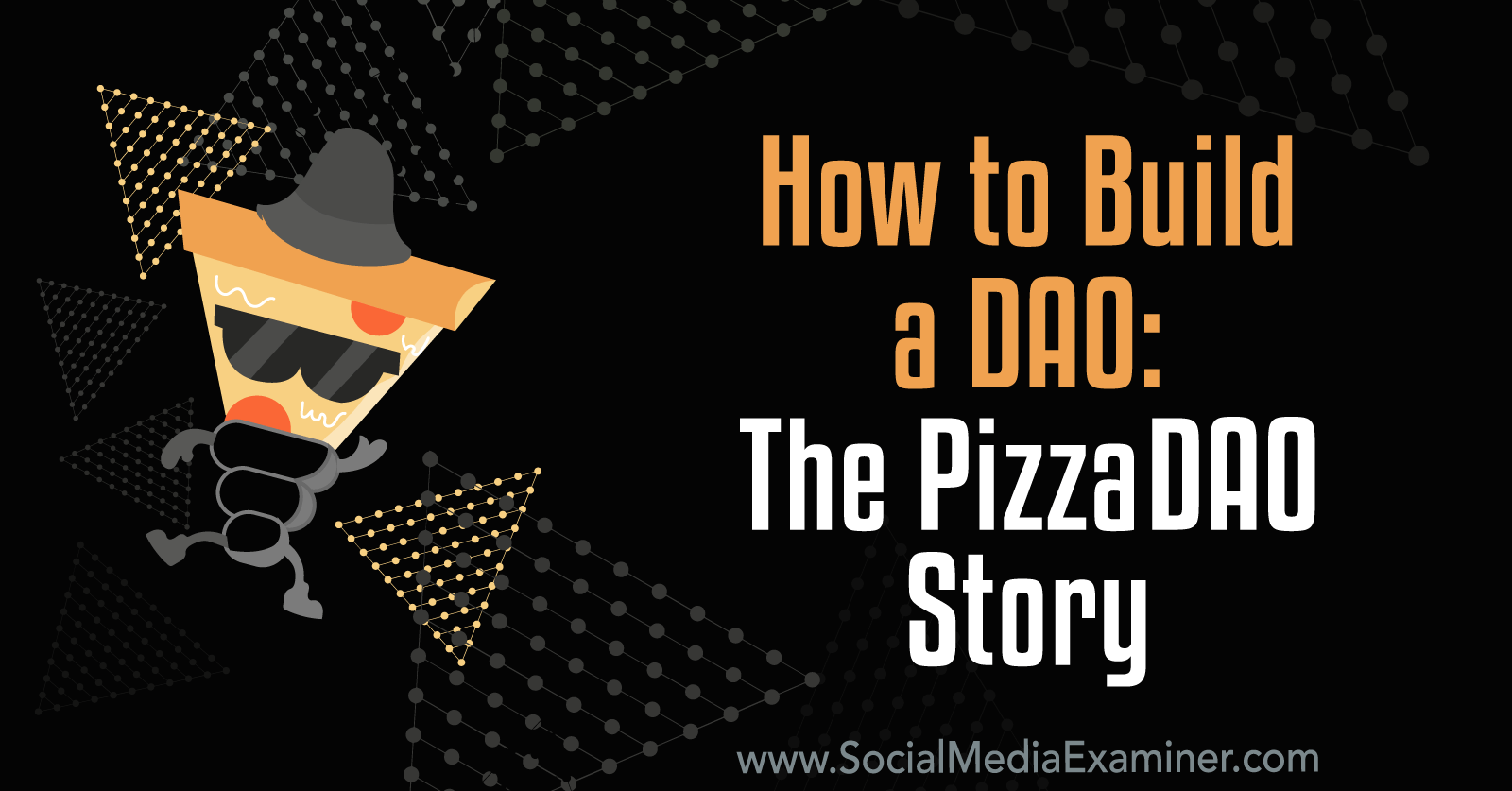 Why Set Up a DAO?
The fundamental premise of a DAO is that it allows you to flatten ownership and distribute responsibility. It might sound counterintuitive but you almost have to work backward in setting up a DAO. You have to get it organized first—then it can be autonomous.
This social technology can work in almost any industry, particularly when you want to align incentives over a broad spectrum of people and enable them to come together to accomplish things that maybe they couldn't agree about before.
In the case of PizzaDAO, they're applying that concept to pizzerias. There are independent pizzerias in almost every city in the world but they don't have access to the same technology as the big pizza chains. PizzaDAO believes that independent pizzerias should have the same kind of technology, supplier relationships, and financial power as the big pizza chains. This is where the blockchain comes in. It allows community ownership of businesses.
When you think about Web2, it's really been about network-building. But it doesn't allow for distributing trustworthy, incontrovertible ownership of these networks to the participants. So participants are less invested in the success of those networks.
Web3 changes that. On February 18, 2021, PizzaDAO decided to throw a global pizza party to celebrate independent pizzerias. They created an NFT, and a month later, put the pizza box, which would later contain the pizzas, up for sale. The launch raised 330 ETH because of the trust the DAO was able to build with its network by promising them a slice of the NFT. Using the proceeds from the launch, the DAO gave away more than $300,000 worth of free pizza in 63 countries.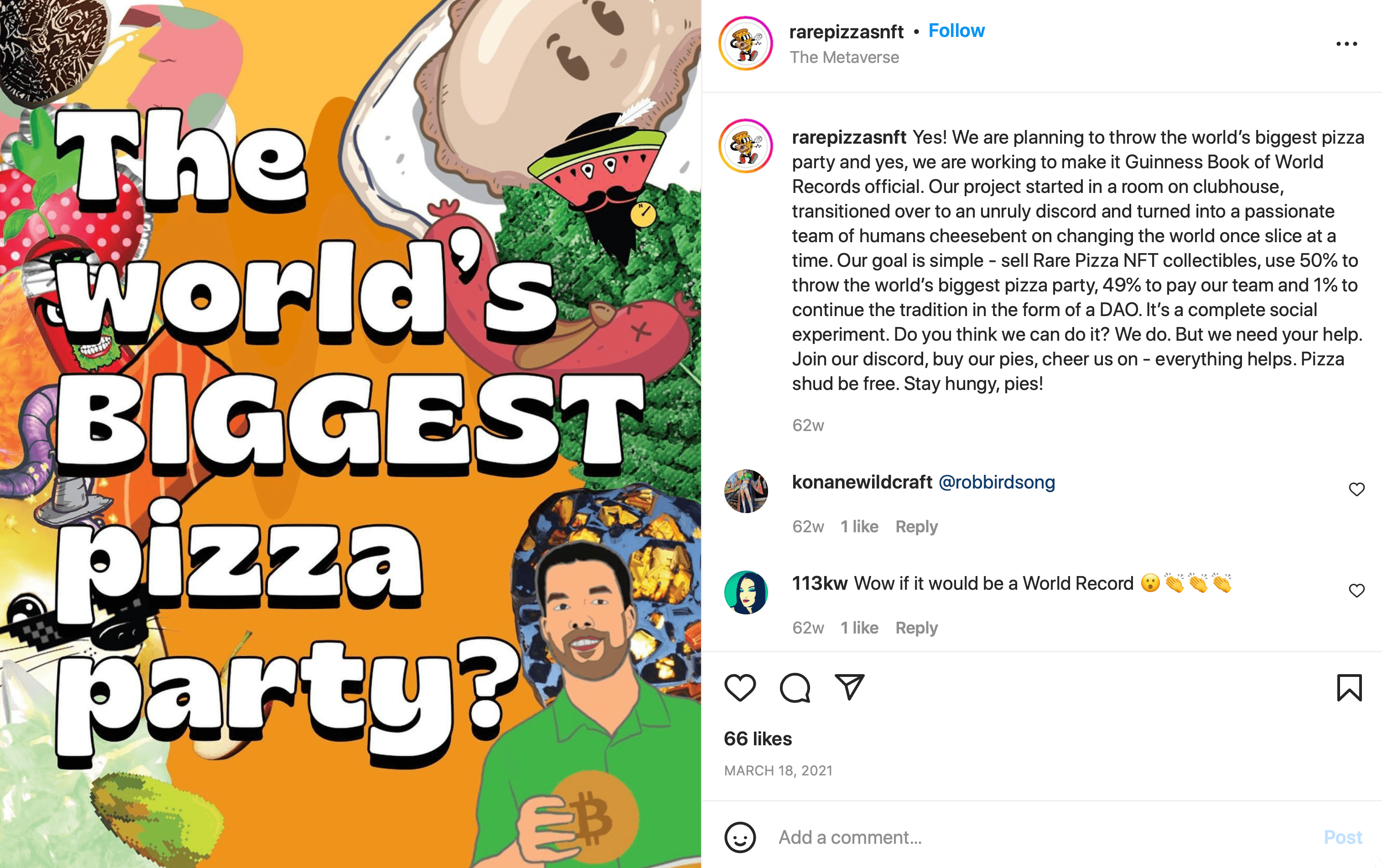 3 Key Considerations When Starting a DAO
If you're thinking about starting a DAO, there are three key considerations you need to address: mission, ownership, and communication.
Mission
One of the first steps when starting a DAO is outlining a clear mission, and ideally, choosing a name implicitly tied to your mission. Once you're clear on the mission of your DAO, you can start planning a community centered around that mission.
PizzaDAO's sticky viral motto is that pizza should be free, which is a clear mission for people to coalesce around. The pitch is to sell digital pizzas as NFTs and use the proceeds to buy real pizza to give away for free.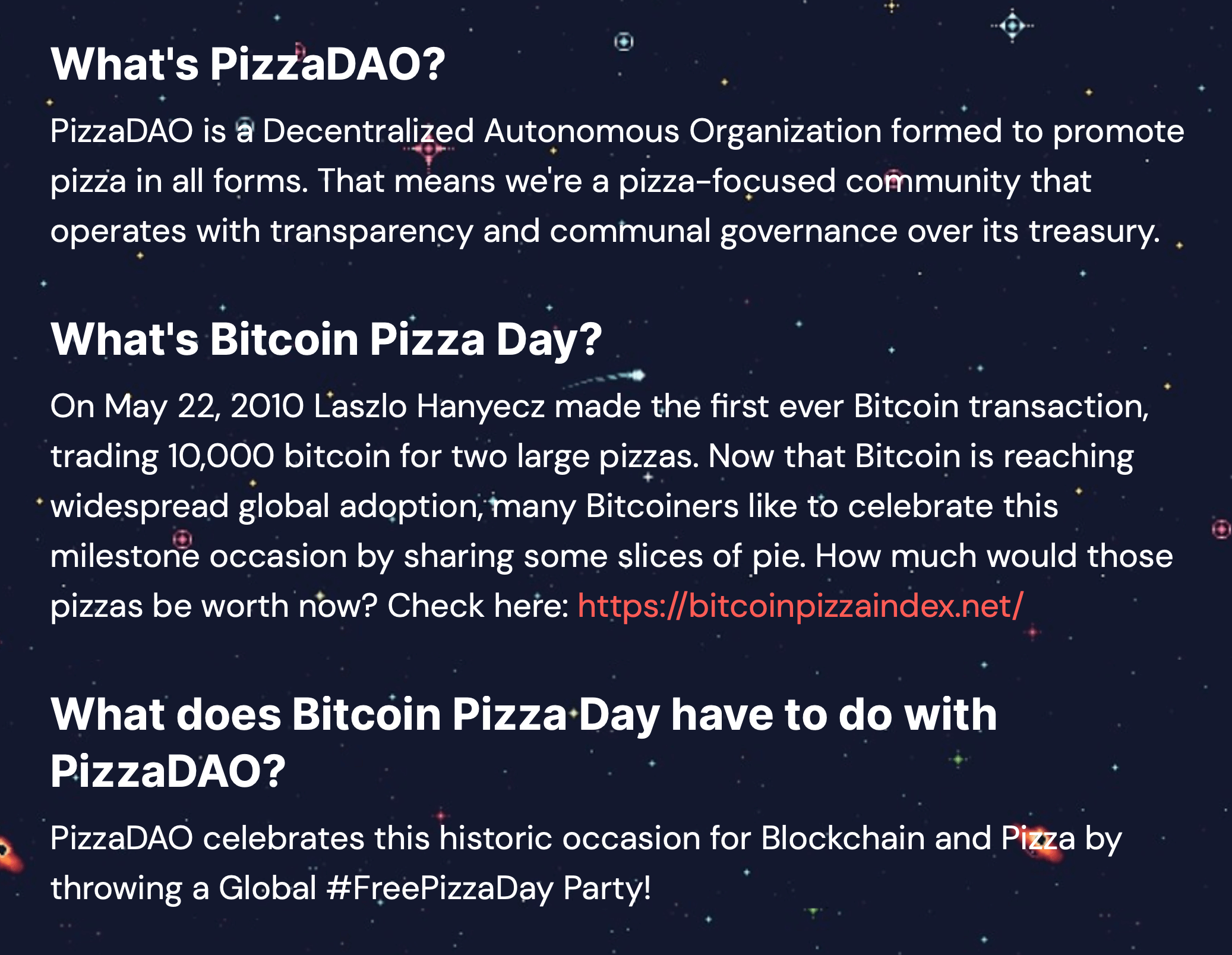 By promising community members they'll get a token that represents the DAO's mission, they feel a sense of ownership in that mission. When the DAO is successful in its mission, each person who holds one of those tokens in their wallet has tangible evidence of their part in that success.
The DAO made itself into the "Federal Reserve of free pizza." Their token represents the belief that the DAO should give away pizza. People said, "Okay, I believe in that mission so I'm going to buy that NFT." Together, the DAO and community breathed life into the belief that pizza should be free. That's what sustained the business model as a DAO.
Ownership
Another key consideration when setting up a DAO is deciding on a voting system.
A lot of DAOs will take an allocation of the initial token—whether it's an NFT or a token—for themselves to sustain operations. PizzaDAO used the funds from the initial NFT sale and the ongoing creator fees from the resale to help fund the DAO.
How voting is allocated is up to the DAO. PizzaDAO opted to go with a model of one vote per person, rather than one vote per token. They wanted to avoid the possibility of the entity being steered by someone who simply buys a bunch of tokens.
In its current proposal system, PizzaDAO has a quorum for different levels of financial outlays. If the vote is contentious, they have a discussion. Typically for their proposals, voters can choose from three responses: let's do it, more discussion needed, or let's not do it.
In PizzaDAO's Discord server, they use a tool called Sesh bot that allows people to vote anonymously. The DAO believes that anonymous voting is important to establishing a democratic system. Otherwise, the one person who votes against some initiative could potentially become a pariah.
The Discord community is a token-gated channel and a tool called CollabLand allows them to dispense "roles" based on token holdings. If someone has a rare pizza box, they get access to the channel and are assigned a role. There's another role called Pizza Mafia for people who contribute a certain amount of value to the DAO and thus deserve to be part of the decision-making process.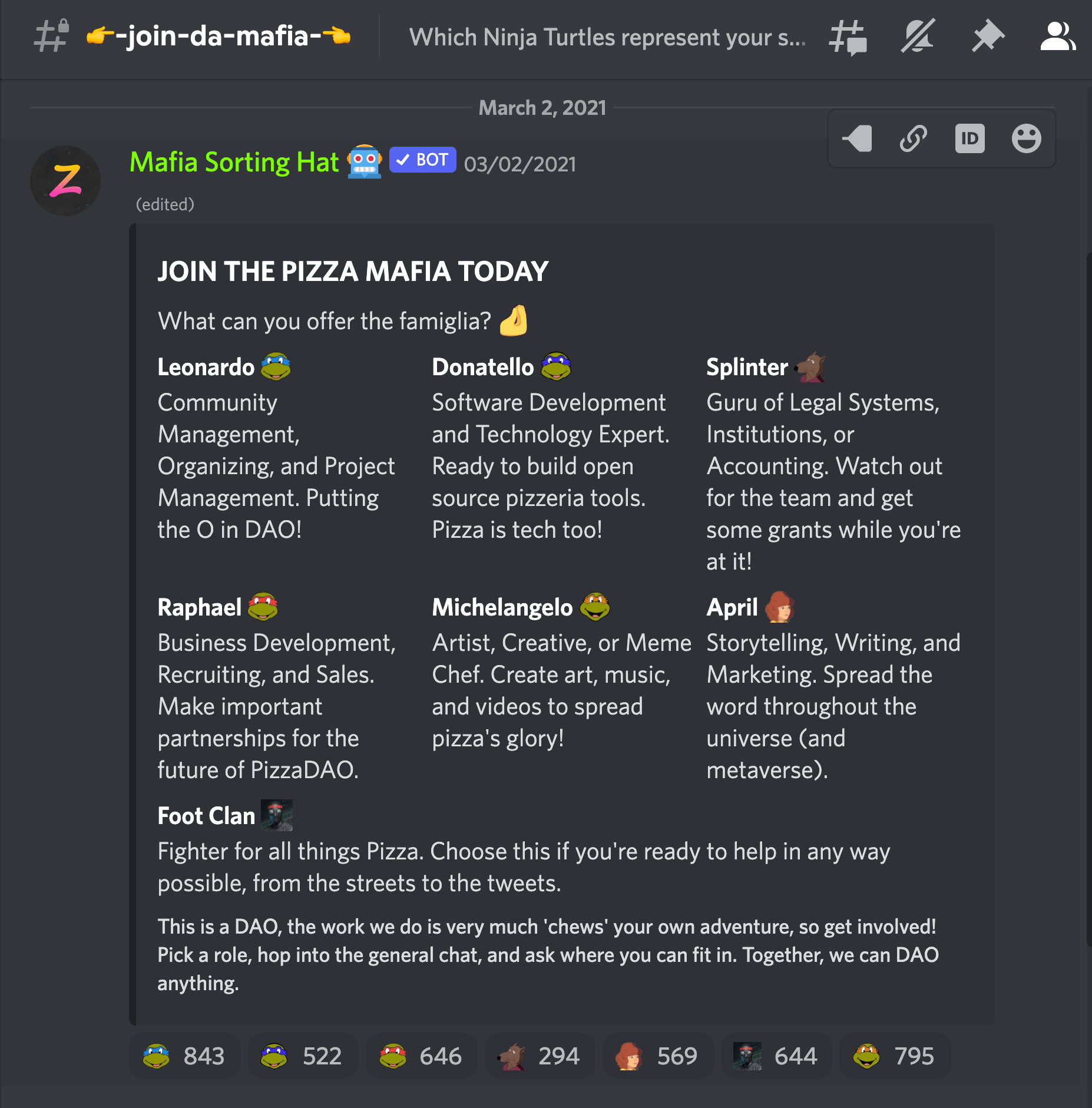 Communication
One of the biggest challenges with managing a community is communication. As with any business or organization, there's a communication stack for a DAO.
For PizzaDAO, Discord is the primary source of truth. However, the DAO recognizes that navigating a Discord server can be difficult for some people, as the interface isn't user-friendly. For this reason, PizzaDAO also disseminates the information shared on Discord to other platforms such as Twitter and Medium. They also plan to start a newsletter to help people in the loop.
3 Tools to Help You Operate a DAO
Now let's talk about some of the tools you might use to operate your DAO.
POAPs
A proof of attendance protocol (POAP) is a badge that says, "I was there" or "I did this," and it's incontrovertible. PizzaDAO gives out a POAP to anyone who attends one of its community calls on Sundays and Mondays. So if you have one of these POAPs, you have proof that you were there—and it gives you a sense of ownership in the community.
POAPs could also be used to incentivize people to take action in a meeting. Every week on their community call, PizzaDAO does a raffle at the end of the call and anyone present at any of the four previous calls is eligible. The POAPs grant them this eligibility. The prizes can be things like an NFT from a friendly community, a free book, or $25 worth of pizza (where you submit your receipt and they reimburse you on the blockchain).
Multi-Sig Wallet With Gnosis Safe
When people buy one of PizzaDAO's NFTs, those proceeds go into a smart contract wallet made by Gnosis Safe.
The multi-signature nature of the wallet allows PizzaDAO to put seven people on the safe. Any outgoing transaction requires four out of the seven wallet-holders to log in and authorize it. So in a sense, they have veto power. It's a final line of defense against the DAO's funds being used improperly. If the community were to be in an uproar about a veto, then they would talk through it.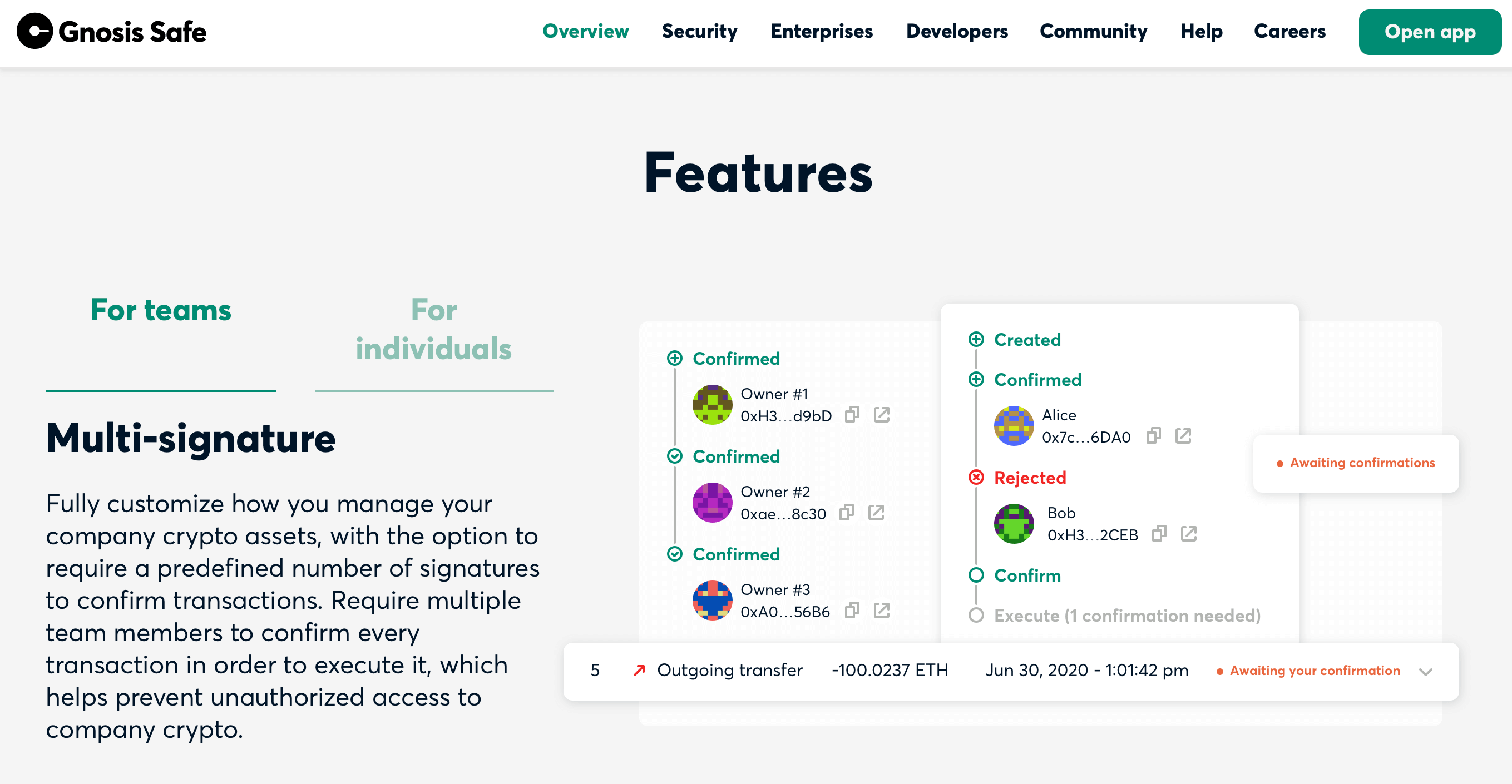 At the onset of the creation of PizzaDAO, they elected seven people the community trusted not to approve poor expenditures. That was a really big part of the trust and ownership at the beginning of this process. This was how a group of strangers from all over the world were able to come together, and in 3 months, spend $300,000 on pizza together.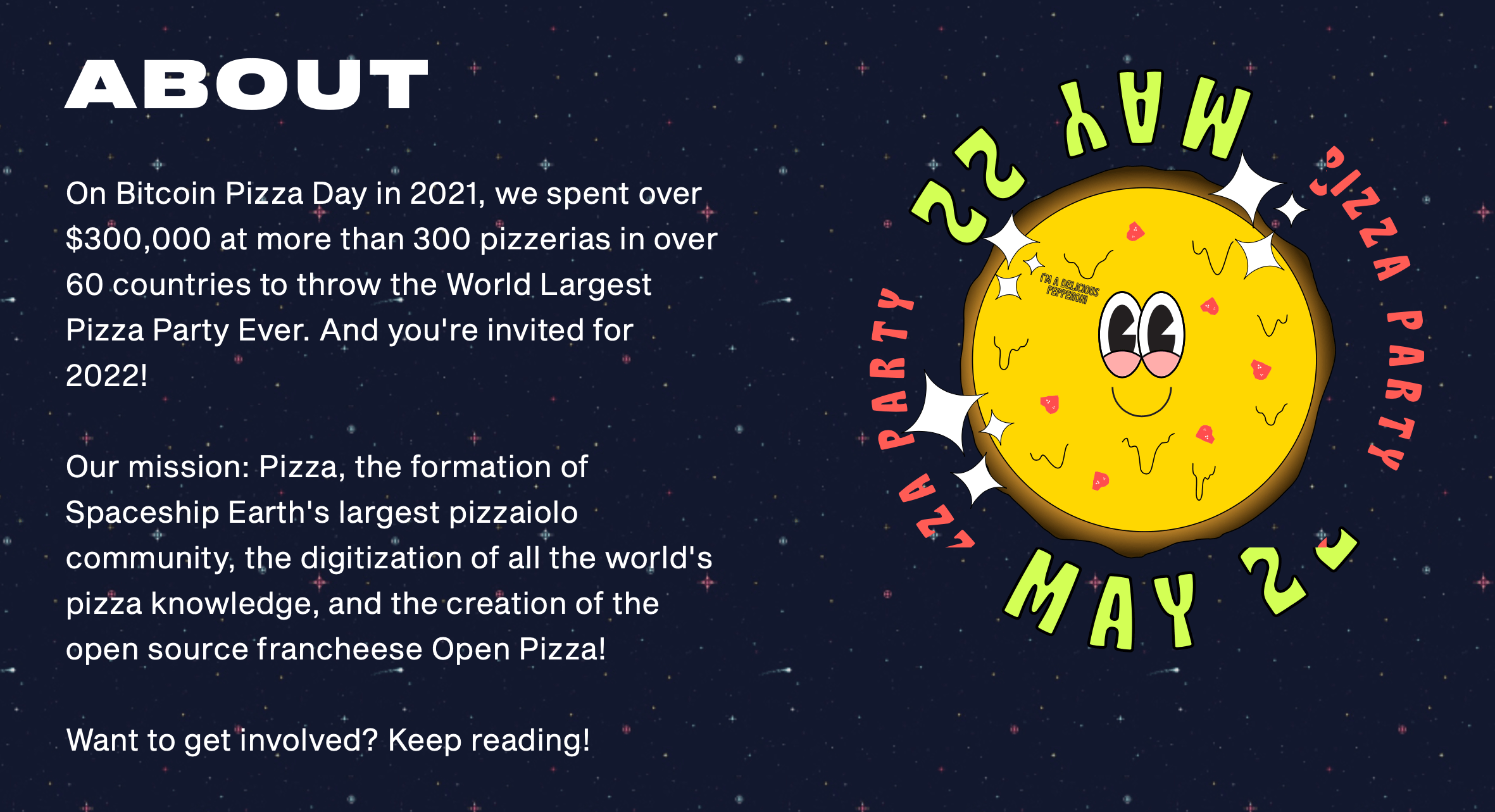 Mercury Debit Cards
There's technology available that allows you to create virtual debit cards that facilitate the use of your DAO's crypto treasury to pay for real-world purchases.
Obviously, at this point, most pizzerias don't take crypto as payment. As a way to get around this, PizzaDAO established an LLC in Wyoming (which some members of the DAO are the managers and members of) and opened an account with a financial technology company called Mercury that allows account-holders to mint virtual debit cards.
PizzaDAO has a global community of people who often need to pay for things associated with the DAO and have earned varying levels of trust within the community. Mercury allows the DAO to set up individual debit cards with set limits so it could set up one debit card with a $1,000 limit for a pizza party in Ethiopia and another for one in Amsterdam. The debit card draws funds from the DAO's account with Mercury.
As with any expenditure for the DAO, each transaction has to go through PizzaDAO's multi-signature approval process. Once the funds are approved, the DAO sends the Ethereum to its exchange account on Kraken (an alternative to Coinbase). At that point, they sell the Ethereum and then transfer the proceeds to the Mercury account.
Snax is the founder of PizzaDAO, a decentralized autonomous organization that's designed to help pizzerias achieve economies of scale. More than 500 local pizzerias across 100 countries are part of PizzaDAO. Find PizzaDAO on Twitter at @Pizza_DAO, on Discord at @pizzadao, and at RarePizzas.com. Find Snax on all social media platforms at @snack_man.
Other Notes From This Episode
Where to subscribe: Apple Podcast | Google Podcasts | Spotify | Amazon Music | RSS
✋🏽 If you enjoyed this episode of the Crypto Business podcast, please head over to Apple Podcasts, leave a rating, write a review, and subscribe.
Disclaimer: The information provided on this website is provided solely for educational purposes and does not constitute any advice, including but not limited to, investment advice, trading advice or financial advice, and you should not treat any of the website's content as such. Social Media Examiner recommends that you independently research any information contained on this Website and that you speak with an investment professional before making any decision to purchase, trade, hold or sell cryptocurrency. Nothing herein should be treated as a recommendation to buy, sell or hold cryptocurrency. Social Media Examiner cannot guarantee the accuracy of any information listed on the website and is not responsible for any missing or wrong information. All information is provided as is and should be used at your own risk. Social Media Examiner disclaims all responsibility and liability for your use of any information found on the website.