Is your business looking ahead to Web3? Wondering how best to plan experiences to reach customers?
In this article, you'll discover why marketing in Web3 requires a shift away from traditional web-based marketing models and learn how to structure a team that will lead your business forward successfully.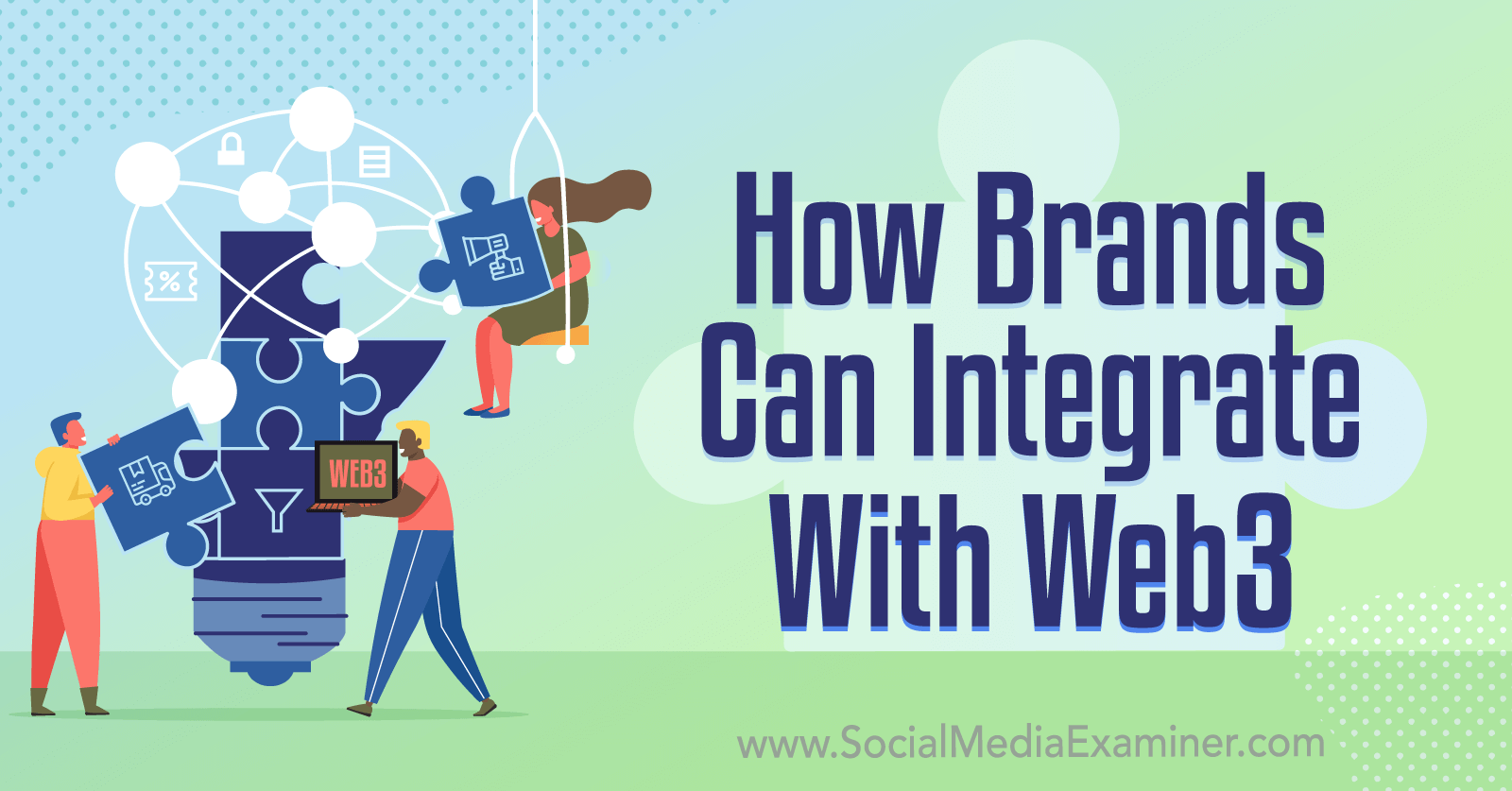 Why Brands and Businesses Should Pay Attention to the Metaverse and NFTs
Web3 technology, metaverse technology, and all of the things both technologies make possible …
Some people will tell you using or banking on these technologies is irresponsible, that these technologies don't have staying power and won't be part of our future.
Many new and novel technologies from recent history were met with the same type of skepticism. Now, the internet, websites, email addresses, eCommerce, and social media are deeply embedded in our daily lives.
True, the metaverse and Web3 aren't yet fully formed. They're both nascent and we need to give them time to evolve around one another. But if you take a measured look at what's happening, you'll see too many signs pointing toward a future version of the internet that includes these technologies.
Mark Zuckerberg changed the name of Facebook to Meta.
Jack Dorsey changed the name of Square to Block.
Starbucks is unveiling its Web3-based rewards program.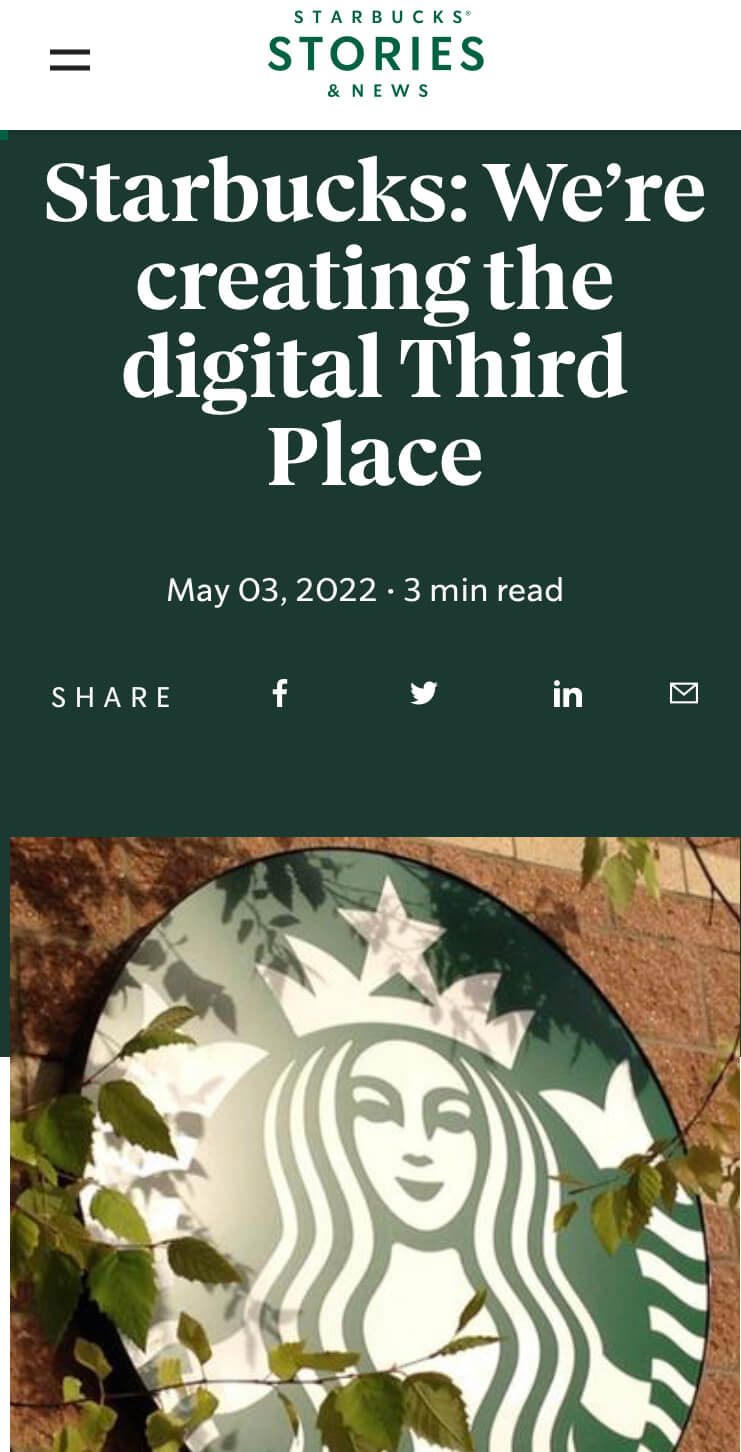 This is an opportunity for us to learn from the recent past. In the early days of social media, most businesses didn't take it seriously. An intern, typically a young person, was directed to set up a Twitter handle or Facebook page and then told, "Control it. Go ahead, go nuts."
Marketing campaigns on social media began to deliver, and people started to pay attention. Budget was allocated for small, lean social teams that were often siloed from the rest of the marketing group.
As social media integrated with how everyone uses the internet, it became a huge part of how we market to people. The social team became part of the overall marketing team. Today, every marketer who's worth their salt understands how to use social media for marketing in some capacity and account for social in their overall marketing plans.
Ten years from now, your business won't be using Web3 and the metaverse solely for marketing. You'll be using these technologies for marketing, sales, human resources, and more.
The most important thing to remember as you step into using these technologies is that everything is being built right now.
Recognize that by using Web3 and the metaverse as they're being built, you're pioneering the space. There isn't a map yet so you have to approach these initiatives with curiosity and an open mind.
This space has the potential to fulfill some of the wildest, biggest dreams marketers and brands have for establishing brand loyalty and enhancing consumer relations. You'll see some runaway successes and some failures because that's part of learning and using something new.
#1: Building Your Web3/Metaverse Team
To get started, you're going to need a team with four distinct skillsets.
You'll need crypto natives. Look for people who genuinely understand crypto, work in that space, and play in it all day long.
You'll need people who know how to think in 3D because the metaverse is a spatial internet. Its virtual experiences are more immersive than anything we've experienced to date, which brings us to…
Gamers. The kids who've been getting grief for playing a video game too much will likely be some of the most employable people in the future. If you have kids who fit this mold, think about bringing them into your department for a summer internship.
Finally, you'll need a steady hand who understands marketing and has been with your business for a considerable time. The metaverse will parallel reality and much of what marketers practice today will also parallel this new world. It's the future of sponsorships, advertisements, licensing, direct to consumer, and eCommerce.
In the same way that experienced, open-minded marketers partnered with younger people who understood social media when it first emerged, the people who ushered in social media marketing now have an opportunity to partner with the people who'll usher in the era of marketing in Web3 and the metaverse.
#2: Web 2.0, Web3, and the Upside-Down Value Model
Consumers have become increasingly skeptical about and frustrated by the internet and Web2 technology over the past few years.
Every day, people spend time creating and engaging around content on Instagram, Twitter, or Facebook. Then, those platforms take money from advertisers to place ads in front of those people. Seemingly, the people creating the content are the commodity being traded.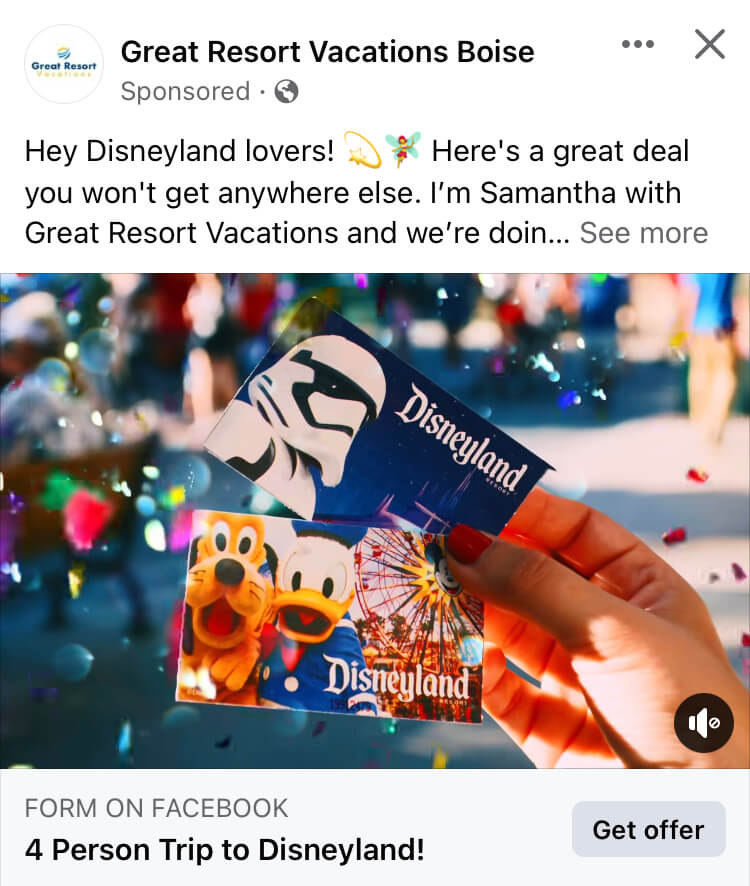 From a marketing perspective, this is an amazing and helpful service. From the perspective of the individuals, however, the model is quite broken. They, the people creating the bulk of the content, aren't rewarded.
Web3 is bringing a new ethos forward and applying a new set of values geared toward finding ways to give back to these creators.
Imagine being rewarded with a digital token for every minute you've spent on Facebook; every like, comment, post, picture… Now imagine that token had inherent value. You could exchange it for money or you could hold onto it.
If Facebook sends a percentage of its advertising revenue back to you, you're continually incentivized to create more content and engage further on the platform because you know you'll be compensated for it.
The Web3 model has implications for influencer marketing, as well. Today, when you pay an influencer to create social media posts that promote your products, they create the content and that's the end of it. They've been compensated and they likely aren't talking about your product to their friends and family.
Imagine if, instead of one-time compensation, that influencer actually owned a part of your early business via a tokenized business model. Rather than walking away after the posts were made, they'd be incentivized to continually promote your products because that token would allow them to share in the financial success of your business.
#3: Planning Your NFT Loyalty Project
NFTs can be the strongest loyalty platform your business ever had. They're the future of fandoms and communicating with the people who are obsessed with your brand.
But you shouldn't launch an NFT project just because you can.
This endeavor is unlike other marketing campaigns that have a launch and end point. Launching your NFTs may seem like the end goal but it's really just the beginning of the project.
The community that gathers around the NFTs your brand launches is where you should focus your attention. Rather than the surface community common to Facebook and other Web2 platforms, a successful Web3 community is deeply invested in growing the project and helping its members by providing value. The exchange is reciprocal and value is continually delivered.
You need a long-term game plan for addressing all points of community at every stage of the project, if you want to see success. Ask yourself how you'll show up for your community. How will you help your community and what value will you provide? How will you incentivize them to tell others about you? How will you keep them engaged and sustain their interest in being a part of the community?
#4: Use Case: The Stella Artois Zed Run NFT Project
In her 2020 thesis on Web3, the metaverse, NFTs, and crypto for brands, Lindsey McInerney stated that brands that parallel what they do best in reality within the virtual world of the metaverse will do well. It's not a stretch to infer that brands that break that parallel will struggle.
The Stella Artois Zed Run NFT project is a great example of how to develop and execute a parallel experience.
Zed Run is a successful premium sporting experience in the metaverse that allows people to buy, trade, and sell digital horses via NFTs. Each 'horse' has its own characteristics and traceable DNA lineage, and can be bred and raced.

In reality, Stella Artois sponsors premium sports such as Wimbledon, an exclusive horse race, so Lindsey felt Zed Run seemed a perfect place for Stella Artois to dip its toes into the metaverse.
In the summer of 2021, Stella Artois and Zed Run partnered to auction 50 bundles of three assets over 3 days. Each bundle included a digital horse NFT, a commemorative art piece, and a Stella Artois skin (a jersey that the horses could wear in the game).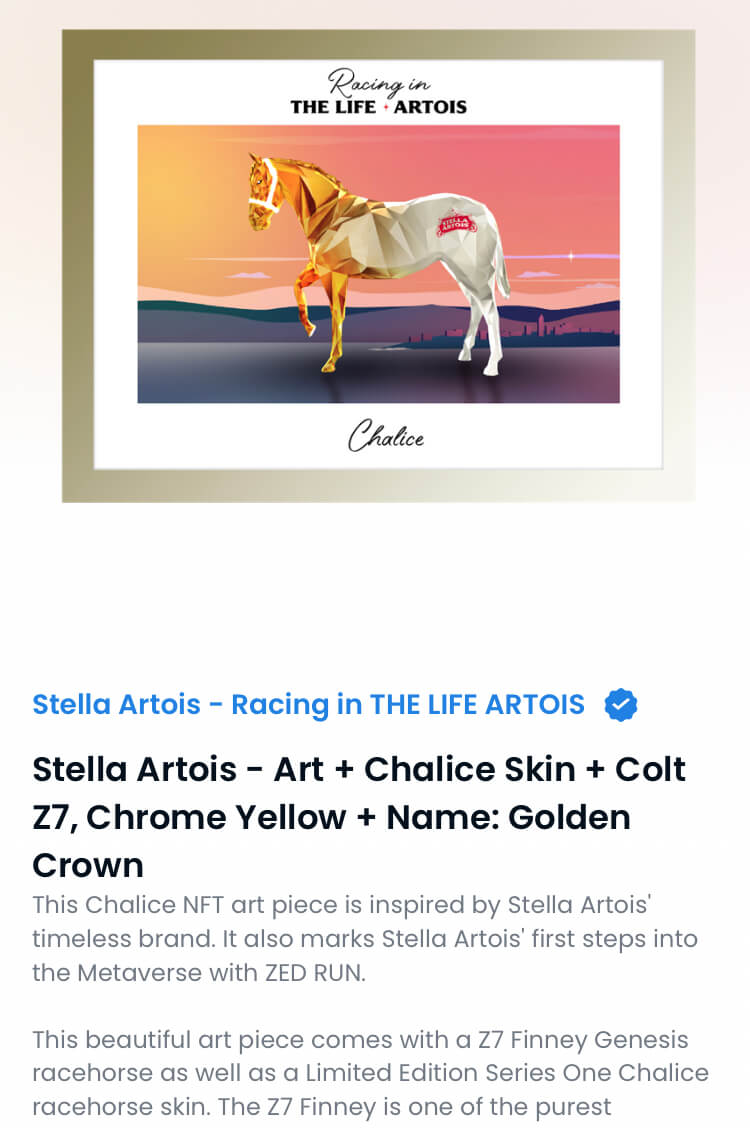 NFT holders were then able to race their horses on a unique 3D track based on the 2D Life Artois dreamscape.
The experience was undeniably successful and validated the theory that these technologies can be leveraged to reach fans and consumers in a way that enhances the consumer-brand relationship.
Garnering hundreds of millions of online and offline media impressions within the first couple of weeks, the Fortune 500 brand was seen as the first to take crypto, the metaverse, NFTs, and Web3 seriously.
Other Notes From This Episode
Where to subscribe: Apple Podcast | Google Podcasts | Spotify | Amazon Music | RSS
✋🏽 If you enjoyed this episode of the Crypto Business podcast, please head over to Apple Podcasts, leave a rating, write a review, and subscribe.
Disclaimer: The information provided on this website is provided solely for educational purposes and does not constitute any advice, including but not limited to, investment advice, trading advice or financial advice, and you should not treat any of the website's content as such. Social Media Examiner recommends that you independently research any information contained on this Website and that you speak with an investment professional before making any decision to purchase, trade, hold or sell cryptocurrency. Nothing herein should be treated as a recommendation to buy, sell or hold cryptocurrency. Social Media Examiner cannot guarantee the accuracy of any information listed on the website and is not responsible for any missing or wrong information. All information is provided as is and should be used at your own risk. Social Media Examiner disclaims all responsibility and liability for your use of any information found on the website.