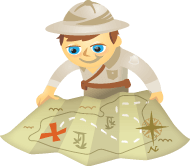 Are you leveraging your community to bring attention to your brand?
Have you asked your customers and fans to contribute pictures and images to your social platforms?
If you're not involving your community in creating and sharing visual content, you're missing out on massive organic reach and engagement.
In this article I'll show you how brands are empowering their fans to create and share visual content about them in really cool ways.
Why Ask Fans to Create Visual Content?
If you want organic sharing and big traffic, you need stunning and remarkable images that stand out in social feeds. But that doesn't mean you have to rely on brand-generated visual content.
There's been a shift in who creates visual content (and how). Mobile platforms have made it easier for consumers to create and share images on the go.
Smart businesses are capitalizing on that and encouraging fans to create visual content about their brand and share it across social networks.
When fans create and share content related to your business, they're providing important social proof to their friends. A friend's stamp of approval has been shown to be a key influence on future purchases and interactions with brands.
Here are three ways you can work with your community to create visual campaigns that give you more visibility, organic reach and traffic.
#1: Put Your Fans in the Driver's Seat
In mid-2011, Tourism Australia chucked its usual Facebook tactics and decided to hand the page over to fans. Who better to tell others about Australia than the people experiencing its beauty?
Tourism Australia invited fans to take and post photos (both on Instagram and the Tourism Australia Facebook page) with the hashtag #seeaustralia. The company tracked the hashtag to find and highlight fan photos (and measure the success of the campaign).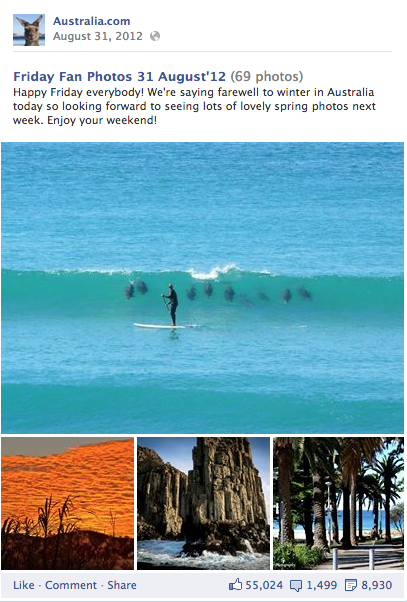 Two and a half years later, fans are posting over 1,000 photos every day! Aussie locals, tourists and professional and semi-professional photographers contribute these photos. Tourism Australia chooses the best ones and creates photo albums to share in the news feed.
An essential part of Tourism Australia's success is bringing attention to others. It features and tags tourism offices, destinations, regions and related small businesses around Australia. This tactic gives wider reach to both sides.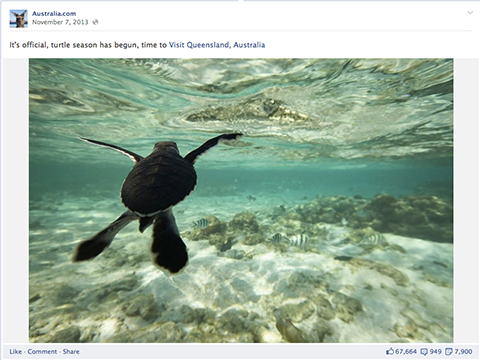 So, how'd the experiment work out? Tourism Australia's Facebook page is now the biggest destination page in the world, with almost 5.5 million fans. Reach and engagement have skyrocketed, all because Tourism Australia put its fans in the driver's seat.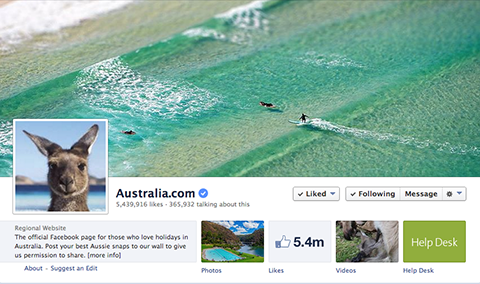 Think only big brands can get this kind of traction? Think again. You can adapt and scale any of these tactics. Tourism Australia even shared its entire visual content strategy in the must-see SlideShare presentation, The World's Biggest Social Media Team.

#2: Spur Real-Time Sharing
When you experience something thrilling, it's natural to want to share it immediately with friends and family. Smartphones and mobile apps mean just about everyone has a camera at all times. You can snap, edit and share a picture in less than a minute.
Diving Company Pro Dive Cairns runs three-day live-aboard dive trips where divers eat and sleep on a premium dive vessel. The company knows it's providing thrilling, shareable moments and it recognizes the value of real-time sharing. Pro Dive Cairns leverages both to actively encourage enthusiastic clients to do as much in-the-moment sharing as possible.
Each dive vessel has free Wi-Fi, so divers and crew can take photos and share them immediately on Instagram, personal Facebook timelines or the Pro Dive Cairns Facebook page.
The crew helps get things started by celebrating the camaraderie of each dive trip with a fun group photo, then encouraging everyone to tag and share the image to show their friends how much fun they're having.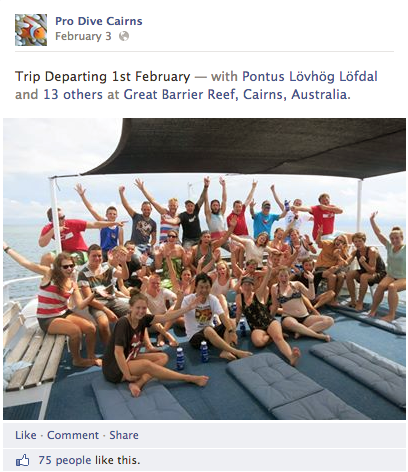 Tagging photos immediately sends them to that customer's friends' news feed, helping the dive company reach an entirely new audience.
It makes sense that the Pro Dive Cairns crew takes advantage of this free advertising. After all, they want their fans (and friends of fans) to visualize themselves on the next live-aboard trip!
The real gold is when clients who are in the thick of the experience tell their friends about it. Having customers share their own content about your brand while they're still engaging with you is powerful social proof.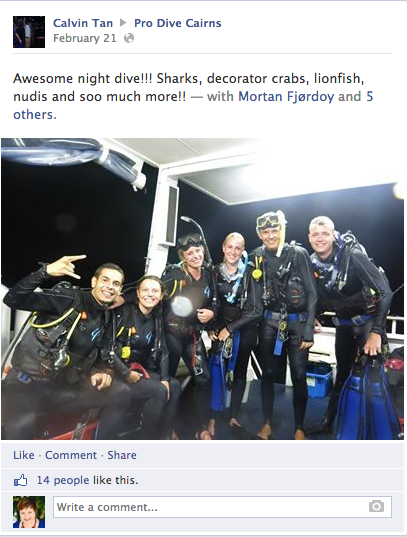 To keep momentum going, Pro Dive Cairns highlights and shares great photos and experiences posted by customers, giving them a virtual high-five.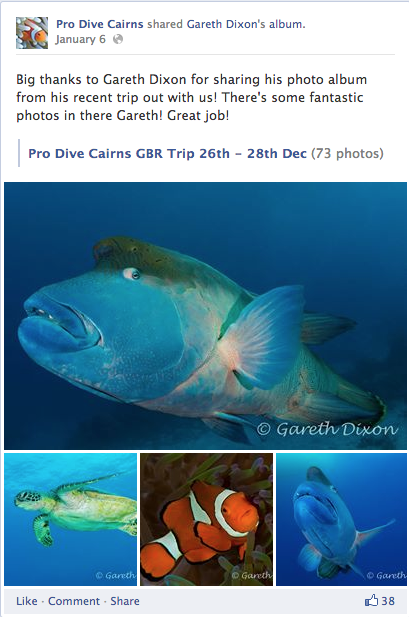 The whole process is organic because people love to share what they're doing.
Your company can encourage sharing experiences by providing the means (free Wi-Fi), modeling the behavior (taking group photos, suggesting people tag themselves or post to your page) and rewarding participation (sharing and crediting your customers' photos).
What changes can you make in your business to encourage your clients to easily post visual content about their experiences "in the moment?"
#3: Follow Your Fans' Lead
Stylist Nikki Parkinson is well-known for her successful blog Styling You and has a large following on Facebook, Pinterest and Instagram.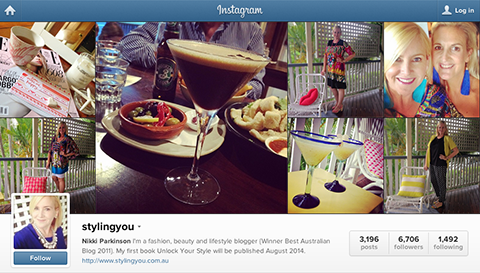 A hugely popular feature on Nikki's blog is The Model and Me, where Nikki shares pictures of both a model and herself wearing the same outfit.
In November 2013, Nikki's fans asked her to post what she wears on a normal day when out and about. What started as a simple photo post in response to her community triggered shares from her readers—not just of Nikki's post, but also of their own everyday style photos.
After a week, it was clear that Nikki's community wanted more from her, and they wanted to contribute more themselves. Nikki invited her fans to join the Everyday Style Challenge and spread the word by using the hashtag #everydaystyle.
As the challenge took off, Nikki made #everydaystyle an established part of her social identity.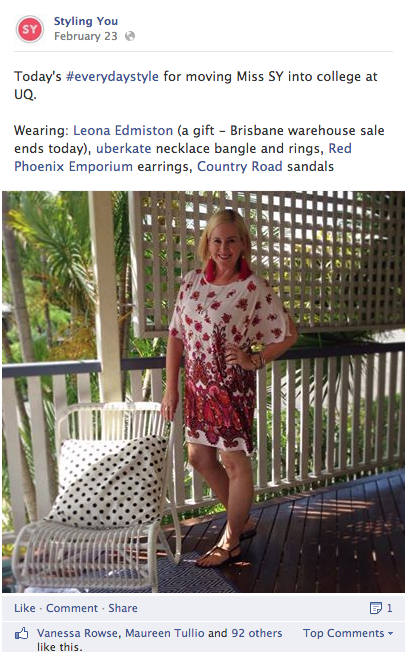 Every week, Nikki creates a collage using outfits she, her fans and other fashion bloggers have put together, then shares that visual content on her blog, Facebook and Instagram (the places her audience gathers most).
In the example below, notice how Nikki uses three tactics to engage her Facebook audience: an established hashtag, a link back to her site and a question for her fans.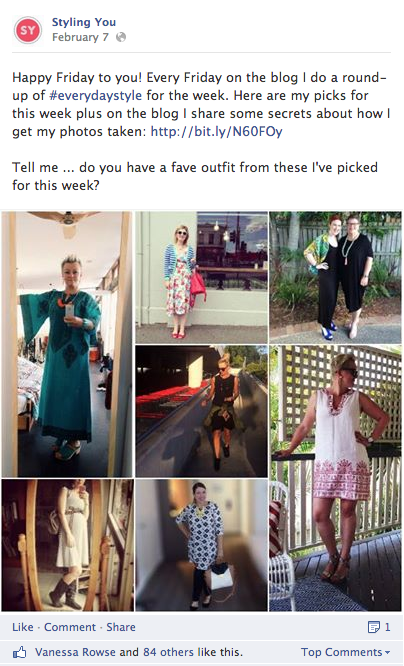 The hashtag puts her posts in front of the larger audience using and tracking it, while the link back to her site drives traffic to her current post and may lead to additional clicks to previous posts. Finally, the question encourages her community to engage with and share her post.
Nikki uses Flipagram video as a creative way to change things up on Instagram. With the video, she's not limited to a single photo, she can show her #everydaystyle outfits for the previous month in about 15 seconds!
Nikki uses a collection of photos to create short videos to engage her fans.
By listening to her fans and acting quickly on their ideas, Nikki saw a massive leap in organic reach across all platforms. In fact, the Styling You Facebook page had an increase in engagement and shares and a 25% increase in number of fans.
Like other successful brands, Nikki isn't keeping the success for herself. She encourages her fans to add other hashtags such as the #snscolour challenge run by Vanessa Rowse from Style and Shenanigans. This potentially expands the reach for both blogs.
Your Turn
If you're already creating visual content, but want to really make an impact, engage your fans in the process. Start out by listening to them.
What lights them up? What content do they love to share about you? Following fans' enthusiasm leads to more reach, engagement and shares!
What do you think? Have you ever worked with your fans to include them in your content creation and marketing? Have you seen any businesses doing this in clever or innovative ways? We'd love to hear your ideas. Please leave your thoughts and comments below!