Curious about the future of social media? Wondering how Web3 will impact social platforms?
In this article, you'll discover how decentralized social media is changing the way creators and audiences connect.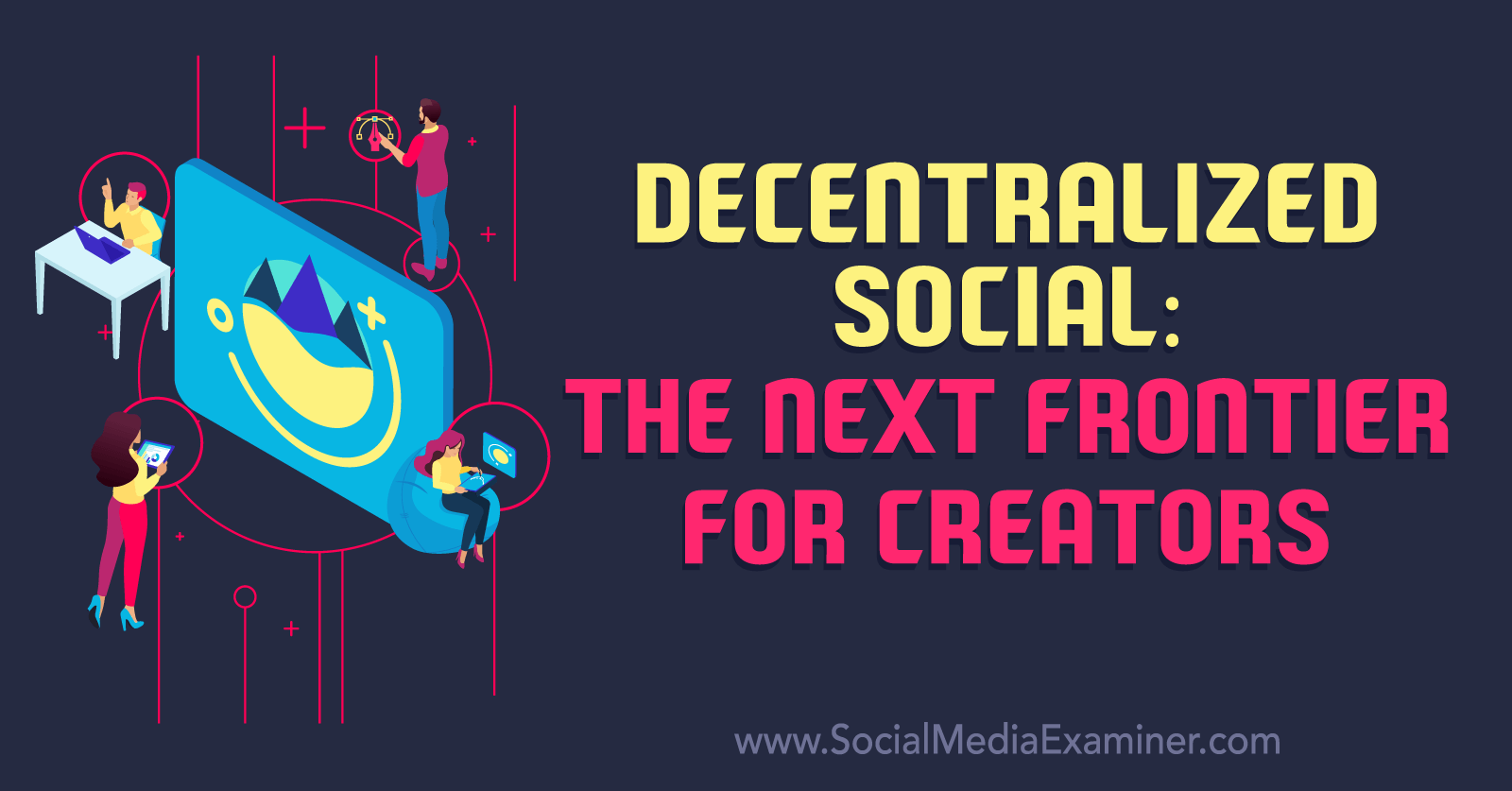 What Decentralized Social Networks Make Possible
The Bitcoin blockchain is arguably the most secure, trusted blockchain in existence. The very security that engenders trust also comes with a drawback; transactions between parties are very slow. That's where the Lightning Network comes in.
The Lightning Network is a second layer on the Bitcoin blockchain that allows for almost instant micro-transaction or micro-payments between parties — by taking those transactions off-chain and removing any middle person.
What does this make possible in the context of the internet, creators, and social networks?
Justin Rezvani realized creators could use the Lightning Network to directly monetize their fans, without a third-party social network in the mix, and 6 months ago he began building a version of the protocol on top of the Lightning Network's open-source code.
In August of 2021, he used the Zion protocol to launch Zion v1 — an app that uses a Lightning node to communicate between two Lightning nodes. Zion v1 is a communication machine that runs on a piece of software you download that allows you to use your Lightning node to make your own social network, send messages, and store your data.
Zion is using Web5 tech to launch v2 of its app soon— with a completely new infrastructure that overcomes the 'broken' building blocks used to create any internet app: identity, data storage and messaging, and money and payments.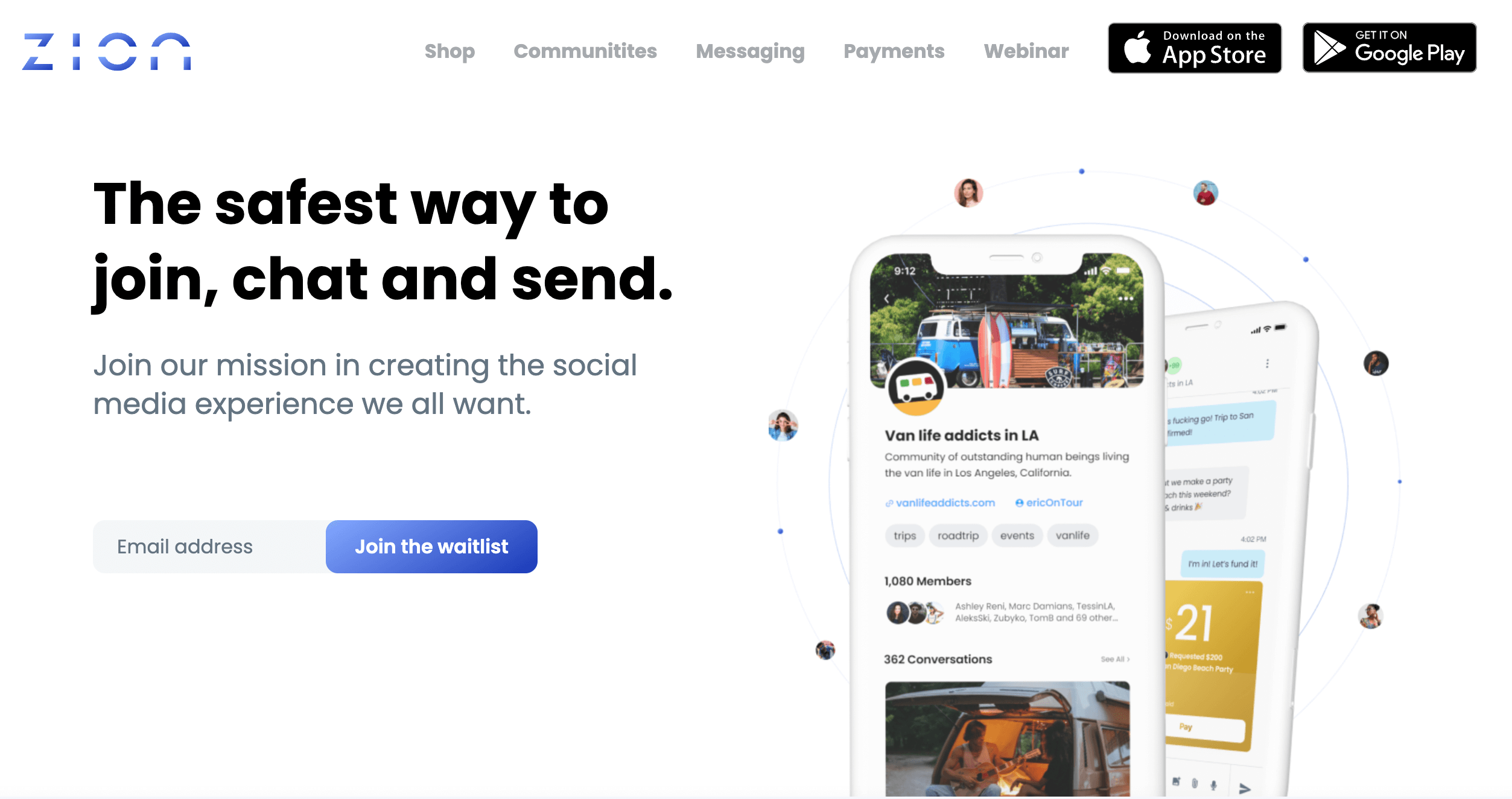 Zion v2 enables each of those building blocks in a new way for the internet without a blockchain or a token.
Everything we know about working with social networks is about to change.
#1: Decentralized Social Networks: Open-Source and Open-State
Today's Web2-based social networks come with serious limitations for their users.
First, centralization means that users (whether consumers, creators, or brands) don't own their profiles, content, audiences, or data. In fact, the advertising-based business model of these networks relies on the sale of that data to brands and businesses who will pay to have their messaging put in front of users. If you don't like that, you can leave but you can't take your content, data, or audience with you.
Second, because the code for these social networks is closed-source you can't change how your content is delivered to your followers nor can you manipulate or change the algorithm. You control nothing.
In Web3, social networks are being built on open-source systems. Soon, they'll be built on systems that are open-source and open-state.
Open-source means the system code is made available so anyone can modify it for their own use case. WordPress is a commonly used open-source code that is often modified to create unique websites.
Open-state will allow anyone to read-write on the actual system. For example, the vision of Web5 is, "We are an application developer on top of that system, but eventually people can build on top of our schemas."
#2: Decentralized Social Networks: Identity and Interoperability
Right now, identity— the way you log into a platform or network, is centralized to the property you're logging into. But what happens if the platform you've built a following on shuts down as Blab or Meerkat did? Or that you decide to leave TikTok. You lose everything you've built.
Internet standards organization W3C Foundation has now approved a new type of identifier—Decentralized Identifier or DID that ameliorates this scenario. Zion is making use of DID in its app.

On your phone, you get a private key (a string of numbers) to a DID. Zion takes the hash of that private key, matches it with your private key, and then writes a transaction to the Bitcoin blockchain. Even if Zion disappears, your identity will always live on the most immutable database ever created.
Why is that important? If you're a creator, you want persistence of identity over space and time.
If you decide to leave Zion and want people to find you elsewhere, you simply reference your DID from the base layer of the Bitcoin blockchain. You take your identity to the next application and your followers stay with you.
There's a second advantage to DID: discrediting impersonation and deep fakes.
In Zion, you sign every piece of content cryptographically with your private key, so what that means is the DID now matches all the content that you're posting on your decentralized web node.
#3: Decentralized Social Networks: Communication and Messaging
Currently, people interested in Web3 are still using a lot of Web 2 technologies such as Twitter and Discord. It's not optimal.
Using a decentralized web node, in the way that Zion does, allows for messaging interoperability and portability. So as other companies begin to use decentralized web nodes for storage and messaging, there will be interoperability of the messenger.
No more segregated walled gardens. You won't use WhatsApp only to send messages on WhatsApp, you will use WhatsApp to communicate on Twitter. Eventually, we'll have a single Web3 messenger app on our phones for secure and encrypted messaging that is stored
Zion will be one of the first.
When you join the Zion app, you have a profile in the network and your DID becomes your identifier inside the network.
The social network layer comes into play with Communities that are created inside the app. Communities have the same features you're used to with traditional social networks; you can post and share all types of content and there's a chat room. And every single thing you post is cryptographically signed by your DID, so everyone can trust your posts come from you.
#4: Decentralized Social Networks: Information and Data Storage
Today, if you send a video to somebody from your iPhone through iMessage, that video lives in the cloud, on your phone, and the recipient's phone. Which makes it easy to find that video, should you need to.
In a decentralized world, all that data will need to be stored somewhere but the question of where doesn't have a clear answer yet.
Possible solutions include using the Interplanetary File System (IPFS) as the storage system. In this scenario, decentralized web nodes store data, shard it across many devices; this is akin to torrenting.
Torrenting sends multiple versions of a single file all over the world, giving different computers different parts of those files, and combining them back to the whole when it's downloaded.
#5: Decentralized Social Networks: Money and Payments
Ultimately, the value exchange of fiat money or legal tender on the internet is highly inefficient because we're using before-the-internet systems to move those currencies on the internet. You have to deal with a central bank and a closing house, and then you move that money on traditional payment rails such as wires and SWIFT.
Additionally, transactions involve 6 to 10 third parties between you and the payee: the credit card, the credit card processor, the hosting site, the bank, the closer, etc. Then there are the fees; credit cards take a minimum of 3% on every transaction that you make.
Finally, there are settlement windows. With PayPal, there can be a 30-day or 60-day settlement window, and credit cards have 60-day windows.
Moving money on these systems is a bit like washing your clothes in a bathtub instead of using a washing machine.
Using an internet-native currency like Bitcoin or Etherium to complete transactions is much more efficient because you never leave the system itself which means that fees go down across the curve.
This new system involves just two Lightning nodes, and two specific wallets, and allows for instant direct settlement with a very low fee of just one to two basis points (one-hundredth of 1%) of the transaction.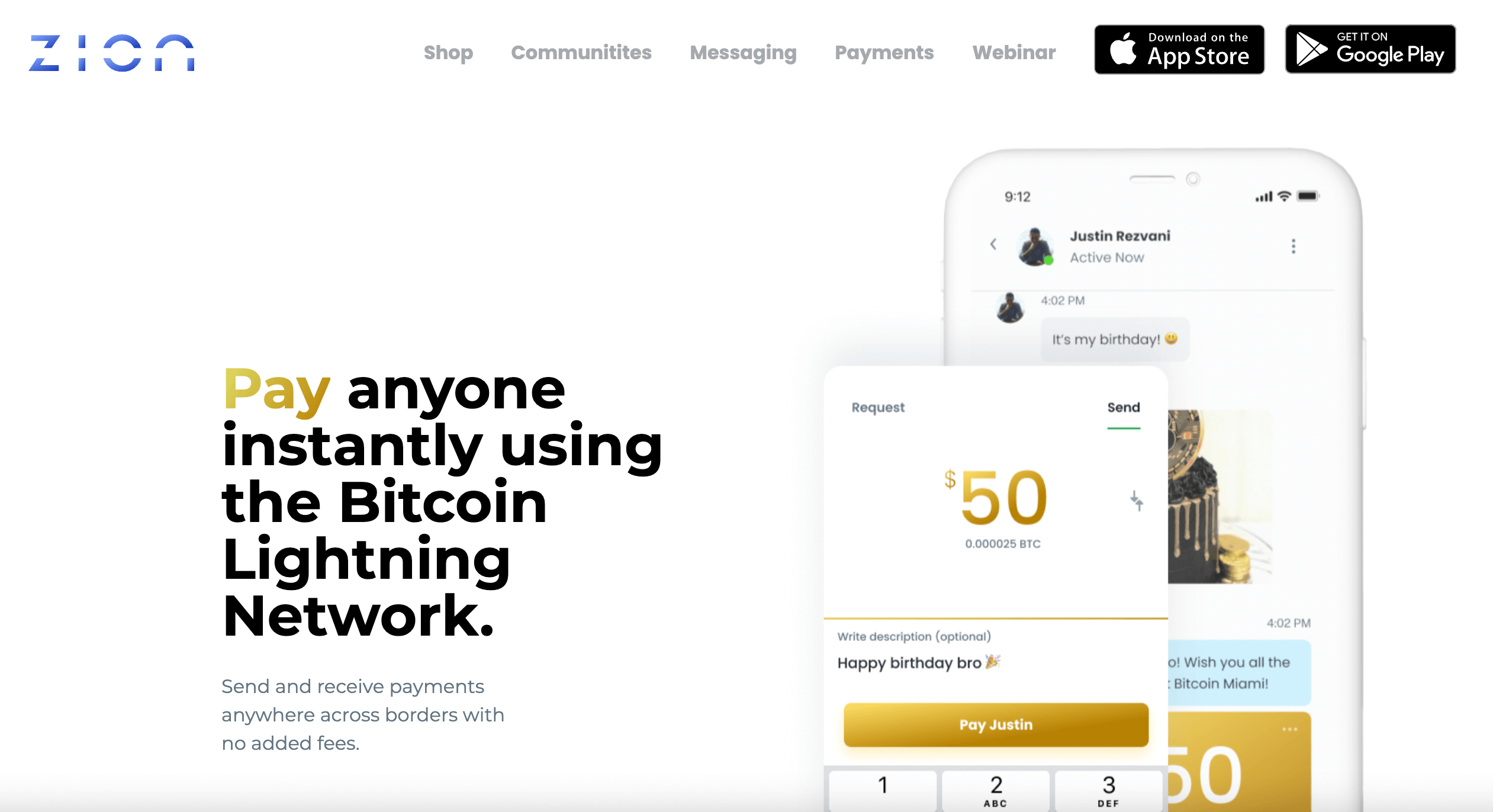 I can send you a Lightning transaction and you can instantly redeem that for Satoshis (Sats); one Satoshi is equal to 0.00000001 of a Bitcoin. You move that currency into your cold wallet and can immediately use it to purchase something with Bitcoin. In El Salvador, for example, you can pay for your meal at McDonald's with Bitcoin.
Justin believes you will soon have the option to complete every transaction in the US with Sats in much the same way you use credit or debit cards today. You'll open the Zion app (because it's a digital wallet as well as a social app), tap Pay, and scan the QR code to instantly transfer and settle the transaction.
#6: Decentralized Social Networks: The Next Layer of the Creator Economy
One could argue that the first layer of the creator economy is actors being paid to act in movies.
YouTube created the second layer of the creator economy by making it possible for regular people to post videos on the internet and get paid for it.
Zion is creating the third layer of the creator economy by building a social network on top of a monetary network and its a game changer.
Creators and the fans of those creators can now be paid for being professional consumers of content on the web because every single piece of content in Zion is an active opportunity for payment; instead of Likes and Hearts, people will reward content with Satoshis.
The fans can pay the creator, the creator can pay his fans and, fans can pay other fans.
If you post a funny meme in the chatroom of a creator and other fans appreciate it, the creator or other fans can send you Satoshis instantly through that piece of content.
A creator can gate their community behind a Satoshi-based paywall, gate specific content behind a paywall, both, or neither. Everything is under the control of the person who owns the community.
Preventing Spam
Spam only works because it's free and can be posted with little to no consequences to the poster.
Every time you post in a community inside of the Zion network, a small amount of Bitcoin is removed from your wallet for a staking period.
If the administrator of the community decides to delete your comment because they think it's spam or off-topic or abusive, you lose that money.
Suddenly, people will be a lot less likely to spam communities with unwanted messages and content.
Other Notes From This Episode
Where to subscribe: Apple Podcast | Google Podcasts | Spotify | Amazon Music | RSS
✋🏽 If you enjoyed this episode of the Crypto Business podcast, please head over to Apple Podcasts, leave a rating, write a review, and subscribe.
Disclaimer: The information provided on this website is provided solely for educational purposes and does not constitute any advice, including but not limited to, investment advice, trading advice or financial advice, and you should not treat any of the website's content as such. Social Media Examiner recommends that you independently research any information contained on this Website and that you speak with an investment professional before making any decision to purchase, trade, hold or sell cryptocurrency. Nothing herein should be treated as a recommendation to buy, sell or hold cryptocurrency. Social Media Examiner cannot guarantee the accuracy of any information listed on the website and is not responsible for any missing or wrong information. All information is provided as is and should be used at your own risk. Social Media Examiner disclaims all responsibility and liability for your use of any information found on the website.