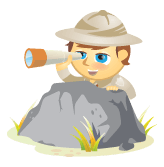 Hello!  Thanks for checking us out.
We're dusting down the place and getting everything ready for our launch on October 12th, 2009.
What used to be science fiction is now reality…  On Monday, Oct. 12th, businesses all across the globe will be throwing their questions about the hottest topic of the day—social media—to live experts who will respond immediately over video, using nothing more than a web browser!
Be sure to check back then!