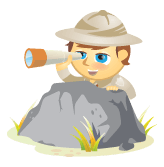 Are you considering including chatbots in your marketing and customer support?
Wondering how consumers are responding to chatbots?
In this article, you'll discover new research that shares consumer reactions to chatbots and the issues businesses should address before integrating chatbots.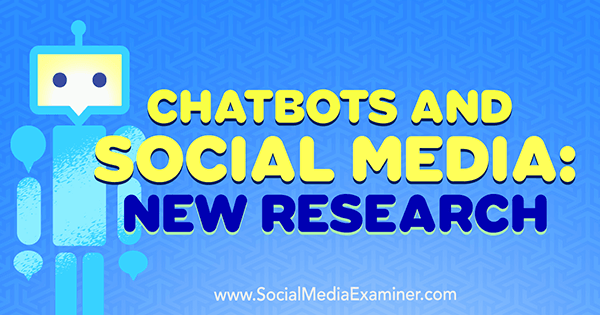 #1: Millennials Are the Biggest Group of Early Chatbot Adopters
According to a recent study by technology company Retale, 58% of the 500 Millennials surveyed have used chatbots. Of the 42% of respondents who had not used them, 53% were interested in using them, 26% had no interest in using them, and 20% were neutral.
It's no surprise that nearly 60% of Millennials have used chatbots. They tend to be early adopters of the latest technological advancements. While chatbots (and artificial intelligence itself) have been around for decades in one form or another, it's only in the last few years that companies have embraced using them in their interactions with customers.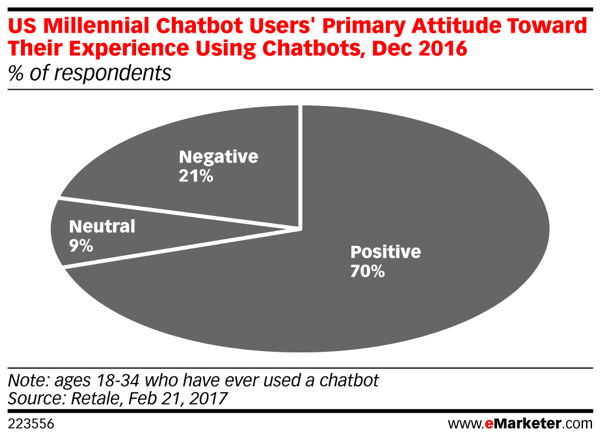 The timing couldn't be better. In the Retale study, 71% of Millennial respondents said they would like to try a chatbot experience from major brands, while just 14% said they had no interest. When asked if they would be willing to purchase products or services using a chatbot, 67% responded affirmatively.
In addition to being early adopters, Millennials are the most connected generation. A recent survey by ReportLinker determined that 66% of Millennials check their smartphones before getting out of bed in the morning and 83% leave their phones on around the clock.
This could be another reason why Millennials are willing to use chatbots. Chatbots are found in the messaging apps Millennials are constantly connected to. Just like with ecommerce, people are more likely to use a service or make a purchase if they don't have to exit the app or website they're already using.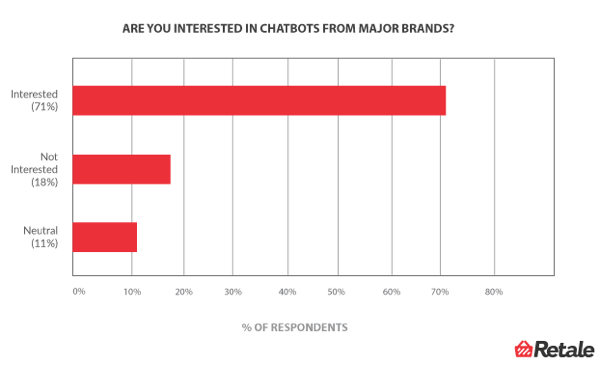 Takeaway
While it's easy to design chatbots with only Millennials in mind, don't forget older users who are slower to adopt new technologies, even though they eventually get on board. Before you roll out a chatbot, test your chatbot on all potential users, especially health and wellness chatbots that older generations may flock to.
Designing chatbots with different audiences (generations) in mind generally means different user experience interfaces and customer service capabilities. It's important to take great care so no particular audience finds the chatbot difficult or unpleasant to use.
#2: Businesses Must Choose Their Chatbot Platform Carefully
Chatbots are found predominantly on platforms that rely on conversation as the primary way to interact with customers, so developers are limited in where their chatbot can reside. But as social media marketers already know, you must go where your customers are.
Because chatbots are an emerging technology, the options have been limited to the larger, more well-known platforms thus far.
Get Your FREE Course: Web3 for Beginners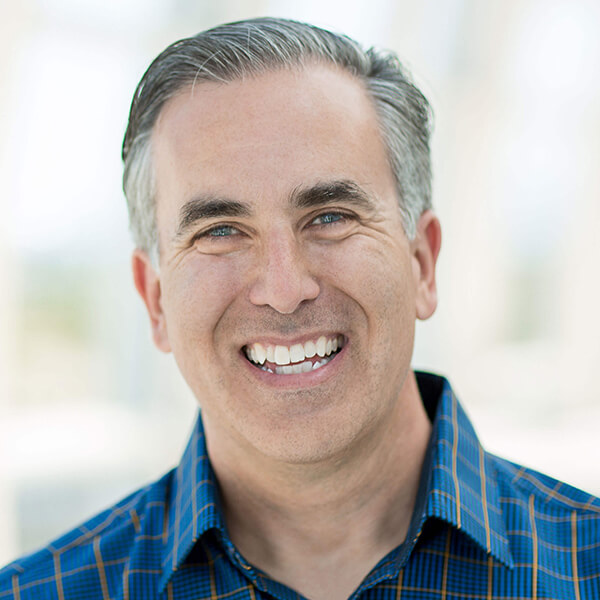 Curious about Web3, but don't know where to start or who to trust?

Introducing Web3 for Beginners, a course taught by Michael Stelzner, the founder of Social Media Examiner.

Learn the basics of Web3 and apply it to your business with this FREE comprehensive course.
CLICK HERE TO GET FREE ACCESS
According to the report "The Chatbots Explainer" by research service BI Intelligence, the top four messaging apps (WhatsApp, Facebook Messenger, WeChat, and Viber) have surpassed the top four social networks (Facebook, Instagram, Twitter, and Snapchat) in total number of monthly active users, with 3 billion and about 2.7 billion, respectively.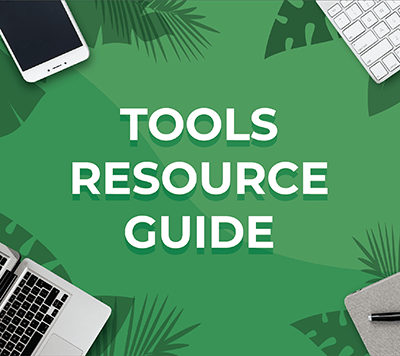 Looking for something to make your life easier?
Discover the tools we recommend to drive engagement, save you time, and boost sales across your entire marketing funnel or business.
Whether you need help planning content, organizing social posts, or developing your strategy, you'll find something for every situation.
FIND YOUR NEXT FAVORITE TOOL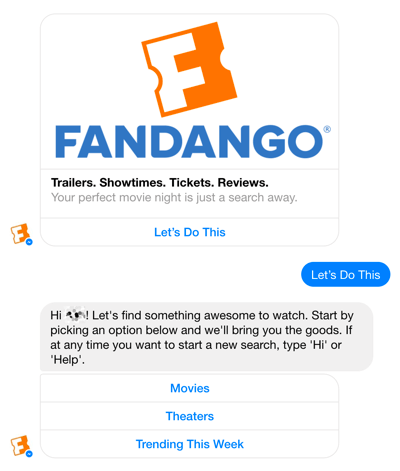 Not surprisingly, Facebook Messenger alone has 1 billion monthly active users that send upwards of 60 billion chat messages a day. Due to the sheer volume of active users, developers have flocked to the platform and Facebook now has a catalog of over 30,000 bots as of Q4 2016. (BotList has a pretty comprehensive list of the available bots on the different platforms.)
Takeaway
Bots run the risk of isolating different social media users if they're not available on all of the most popular platforms. For example, one of the earliest adopters of chatbots is 1-800-Flowers. Though it has enjoyed great success on Facebook, the only other platform where it's available is on Alexa, the artificial intelligence component of Amazon's Echo device.
It's important to research where your audience is hanging out now and think ahead to where your audience could show up in the future. Along those same lines, the platform on which you have a chatbot must make sense for your products and services.
#3: Consumers Have Concerns About the Accuracy, Security, and Privacy of Chatbots
Although 79% of respondents to the Retale survey report their chatbot experiences were positive or neutral, there are still concerns and frustrations among all users.
For example, 55% of Millennial users reported that the accuracy rate (or lack thereof) is something that could be improved and 28% said the ability to have more natural-sounding conversations could be enhanced. That said, the nature of artificial intelligence (the technology becomes "smarter" over time) will go a long way toward addressing this specific complaint.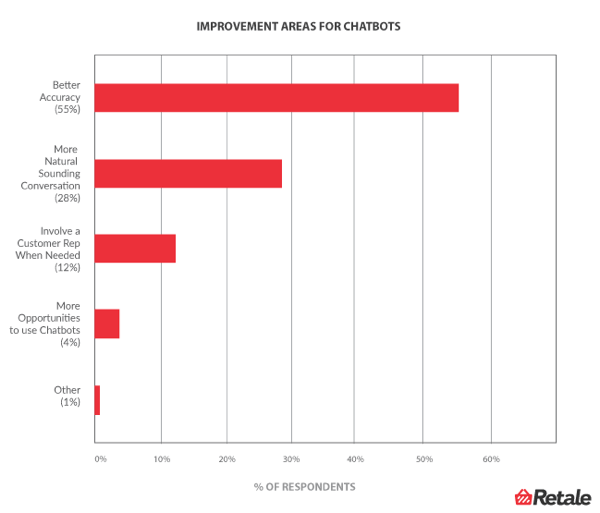 As for marketers and chatbots, Demandbase and Wakefield Research report that while 80% of the marketers surveyed think artificial intelligence technology will revolutionize the way companies interact with customers in the next five years, 60% worry about how to integrate this technology into their existing infrastructure. Also, 54% are concerned with training and on-boarding employees.
Other concerns among chatbot users have to do with the privacy and security of their personal information. As of September 2016, Facebook Messenger chatbots could accept payments natively, instead of sending consumers to outside websites to complete the transaction.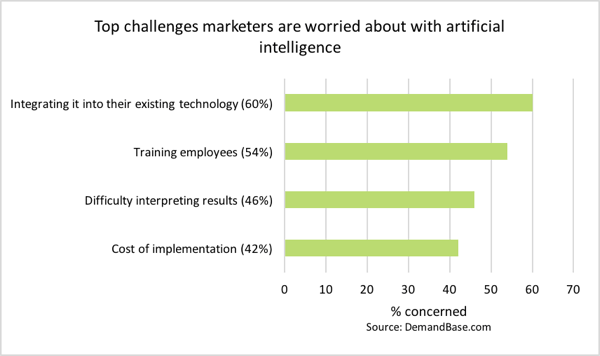 Some consumers may be hesitant to share sensitive information in such an environment. It's unclear what, if anything, developers do to safeguard consumer information when developing their bots. There are currently no standards or regulations to abide by, which leaves customers and their credit card numbers vulnerable.
Takeaway
For customers to feel comfortable using chatbots, developers need to take steps to safeguard sensitive information such as credit card numbers. The responsibility doesn't just lie with the developers, however. The platform on which the chatbot is hosted also plays a part in keeping a customer's information secure.
If your business is thinking about creating a chatbot and you have access to sensitive information, make sure you do plenty of research into which messaging platform has sufficient security protocols in place.
Conclusion
While chatbots are a helpful addition to a company's marketing repertoire, they're just that… an addition. Some people worry that chatbots will take away jobs from those in customer service and sales; however, those fears have been around pretty much as long as artificial intelligence itself.
The bottom line is that a computer is only as smart as the human that programmed it. While computers can become "smarter" with more human interaction, they're not a replacement for assistance from an actual human with reasoning ability.
What do you think? Have you created a chatbot for your business? What has been your experience with chatbots? Please share your thoughts in the comments below.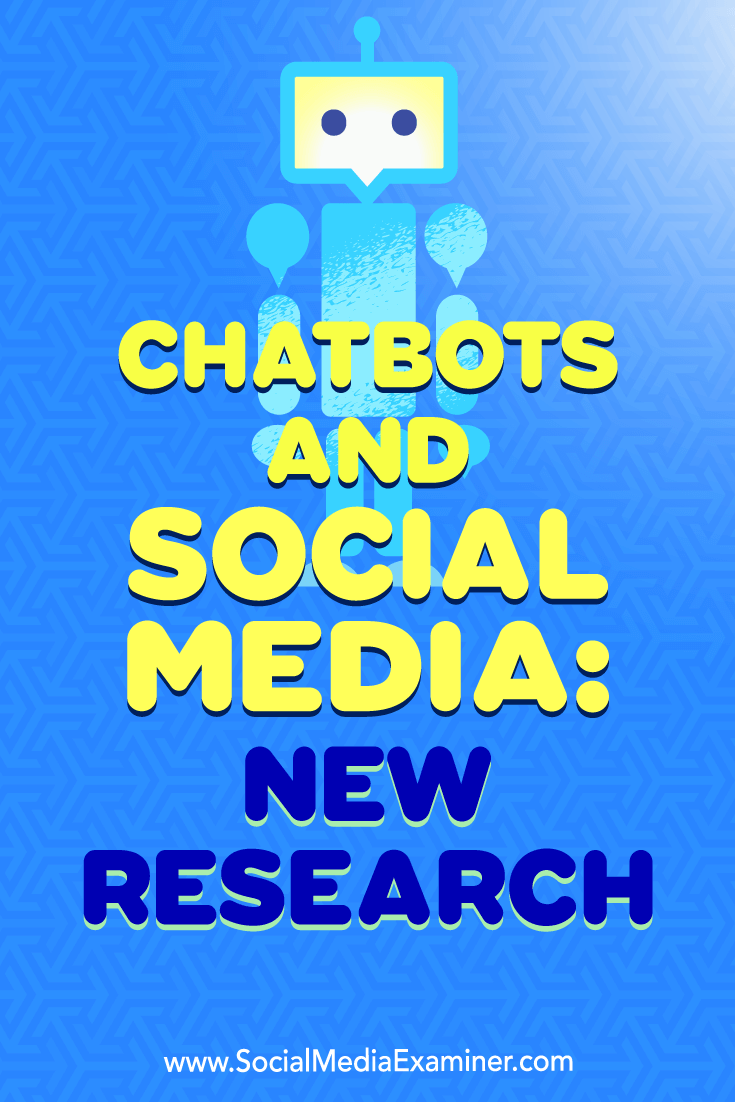 Get Your FREE Course: Web3 for Beginners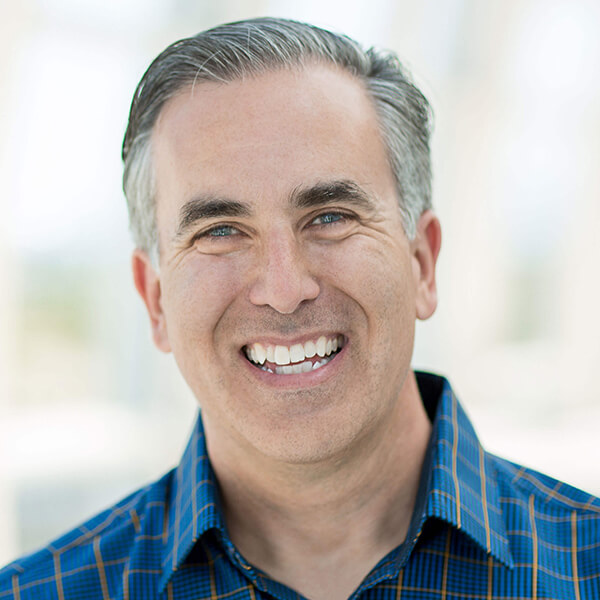 Curious about Web3, but don't know where to start or who to trust?

Introducing Web3 for Beginners, a course taught by Michael Stelzner, the founder of Social Media Examiner.

Learn the basics of Web3 and apply it to your business with this FREE comprehensive course.
CLICK HERE TO GET FREE ACCESS