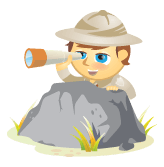 The vast majority of Americans are actively using social media. Has your business acted on this fact?
Are you looking for a way to keep pace with the quickly evolving field of social media marketing?
If so, Social Media Examiner has some exciting news…
But first, consider this story.
Imagine your business competing for your state's "Best Brand" title against huge names such as Target, Dairy Queen and Wheaties.
Now imagine simply leveraging the power of social media and taking the grand prize! Wouldn't that just blow your mind?
Well that's exactly what happened to Creative Memories!
This Minnesota-based scrapbook supplies company beat 64 other brands to take the "Best Brand in Minnesota" title! And they simply relied on social media to make it happen.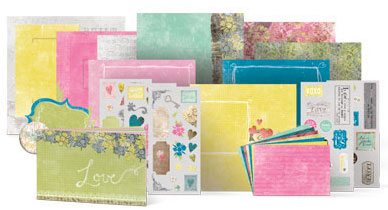 Recognizing the Opportunity
Creative Memories' community manager Kristen Jacobs discovered a single tweet as she was monitoring Twitter for mentions of her company.
It turned out the Minneapolis St. Paul Business Journal was hosting a brand challenge. And one of America's biggest retailers—Target—was in the running! Target had nearly 5 million Facebook fans at the time.
Jacobs' immediate response was to post the article on their Twitter and Facebook pages, calling on their 60,000 fans to vote for them.

Creative Memories' fans not only responded, but also voted for them repeatedly through six rounds of the competition against nationally acclaimed brands until Creative Memories emerged the winner of "Minnesota's Best Brand."
"We learned that we may not be as recognized, have as many customers or make as much money as the brands we were up against, but we do have something none of them have. And that's the ability to use social media to mobilize a passionate fan base to action when needed," said Jacobs.
Now you might be wondering, "How did the community manager know what to do, or how to respond?"
Get Your FREE Course: Web3 for Beginners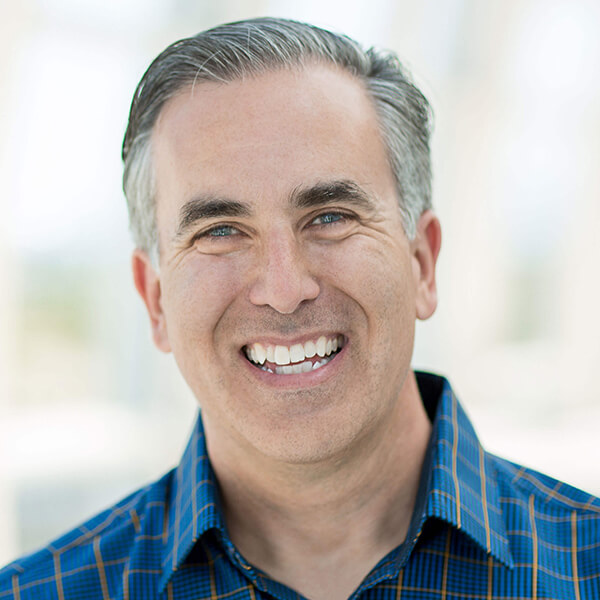 Curious about Web3, but don't know where to start or who to trust?

Introducing Web3 for Beginners, a course taught by Michael Stelzner, the founder of Social Media Examiner.

Learn the basics of Web3 and apply it to your business with this FREE comprehensive course.
CLICK HERE TO GET FREE ACCESS
That's a great question. But think about this: "What would have happened if she hadn't responded or hadn't known what to do?"
To be successful in social media, you need to know what to do when an opportunity knocks.
More than ever, it's critical to keep up with social media changes, to stay competitive and to learn the tactics and strategies that produce the best results and the greatest return for your business.
Has your business tapped the massive opportunities presented by social media marketing?
Recent Statistics on Social Media Adoption
Here are a few reasons why you should invest heavily in social media:
Mass adoption of social media: Nearly 80% of all active U.S. Internet users regularly visit social media sites (Nielsen). And while consumers spend 25% of their Internet time on social sites, Facebook has become the most visited website in the world. Your customers are there.
Social media benefits businesses: Among marketers who include social media as part of their overall strategy, 97% agree that it provides benefits and value to their business (eMarketer).
Social media improves branding: In a survey of more than 700 marketers, 88% of respondents found that social media helps grow brand awareness. Social media also benefited marketers by allowing them to engage in dialogue (85%) and increase sales and partnerships (58%). An additional 41% of marketers said it helped reduce costs (Wildfire Interactive).
These stats are just a sample of the power of social media.
Are you "all in" with your social media activities? Want to fast-track your success?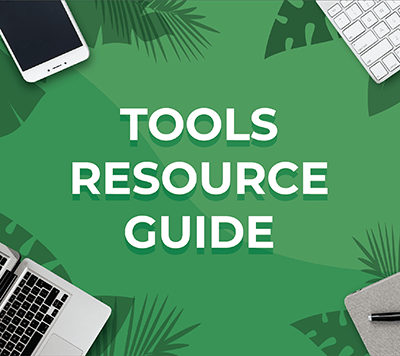 Looking for something to make your life easier?
Discover the tools we recommend to drive engagement, save you time, and boost sales across your entire marketing funnel or business.
Whether you need help planning content, organizing social posts, or developing your strategy, you'll find something for every situation.
FIND YOUR NEXT FAVORITE TOOL
Social Media Examiner Announces Social Media Success Summit 2012
"Social media has changed radically in the last 12 months," acknowledges Michael Stelzner, (CEO and founder of Social Media Examiner). "Google+ entered the stage, Facebook introduced Timeline for pages, YouTube unveiled their new layout, Twitter got a complete revamp and then there's Pinterest. It's a completely different world and there's a need to discover new strategies and new ways to market your business with these platforms."
To equip you with the latest strategies for marketing with Google+, blogging, Facebook, LinkedIn, YouTube, Twitter and Pinterest, Michael Stelzner and the people you trust from Social Media Examiner have recruited 27 of the world's most respected social media experts to share their newest tips and advice at Social Media Success Summit 2012.
If you're not familiar with these events, they're large online conferences (so you don't need to travel).
Typically, thousands gather at Social Media Examiner Success Summits to discover new social media tactics, network with peers and discover how other successful businesses are using social media.
What People Say About Social Media Success Summit
Last year, 3,000 people attended the online summit.
Some of the organizations represented were Coca Cola, Visa, Microsoft, 3M, Honda, Kraft Foods, SAP, Wells Fargo, Disney, AutoDesk, LexisNexis, Four Seasons Hotels, Fuddruckers, EMC and thousands of small businesses.
Here's what some of them had to say:
"Thoroughly wowed by the format and content. I will most definitely attend future summits," Kim Kiefer

"Guaranteed to improve the way you approach social media. I'll be back next year!" Derrick Sweet

"Phenomenal topics and knowledgeable speakers. The ability to 'catch up' on sessions thanks to recordings was a selling point for me due to scheduling," Erin Caples

"This is the most comprehensive training I have yet seen on social media. The lineup of presenters was most impressive and the whole summit exceeded my expectations," Suzanne Kiraly
Meet Your Presenters
Among the 27 social media experts who will be presenting at this summit are:
Jeremiah Owyang, Altimeter Group
Chris Brogan, author of Google+ for Business
Mari Smith, co-author of Facebook Marketing: An Hour a Day
Brian Solis, author of Engage
Scott Monty, head of social media at Ford Motor Company
Frank Eliason, author of @YourService
Michael Stelzner, founder of Social Media Examiner and author of Launch
Jay Baer, co-author of The Now Revolution\
Jason Falls, co-author No Bullshit Social Media
Mark Schaefer, author of The Tao of Twitter
C.C. Chapman, co-author of Content Rules
Dave Kerpen, author of Likeable Social Media
Jesse Stay, author of Google+ for Dummies
Amy Porterfield, co-author of Facebook Marketing All-in-One for Dummies
And experts from Dell, Ford, LinkedIn, Citigroup, Citrix and many others.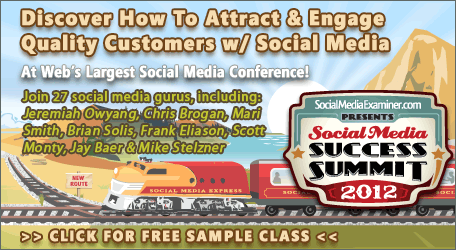 Why Attend Social Media Success Summit?
Here are a few reasons:
Learn the latest and best social media business-building tactics.
Learn about tracking and measuring social media return on investment.
Learn how to sell with Google+, blogging, Facebook, LinkedIn, YouTube, Twitter and Pinterest.
Learn how content marketing fits in with social media.
You'll have the opportunity to network via LinkedIn with thousands of people who are expected to attend.
You'll interact live with experts from big B2B and B2C brands such as Ford, Dell, LinkedIn, Citigroup and Citrix.
Keep learning even after the summit is over—With the session recordings and the transcripts, you can keep studying the material for up to one year from the date of your ticket purchase.
Want to save some money? If you reserve your spot now, you'll save 50%. Click here for details.
What do you think? Would you be interested in learning what the world's top social media experts are doing that makes them so successful? Leave your questions and comments in the box below.
Get Your FREE Course: Web3 for Beginners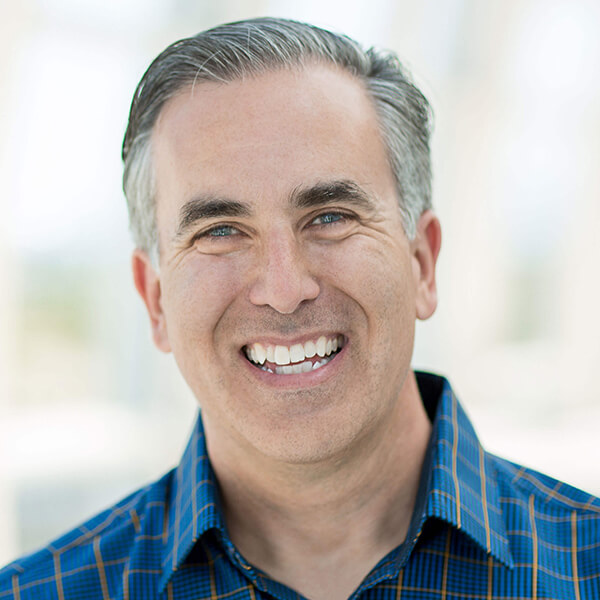 Curious about Web3, but don't know where to start or who to trust?

Introducing Web3 for Beginners, a course taught by Michael Stelzner, the founder of Social Media Examiner.

Learn the basics of Web3 and apply it to your business with this FREE comprehensive course.
CLICK HERE TO GET FREE ACCESS