Want to grow the reach of your Facebook business page? Wondering how to take advantage of Facebook unconnected distribution?
In this article, you'll discover how to optimize your Facebook content for more exposure via unconnected distribution.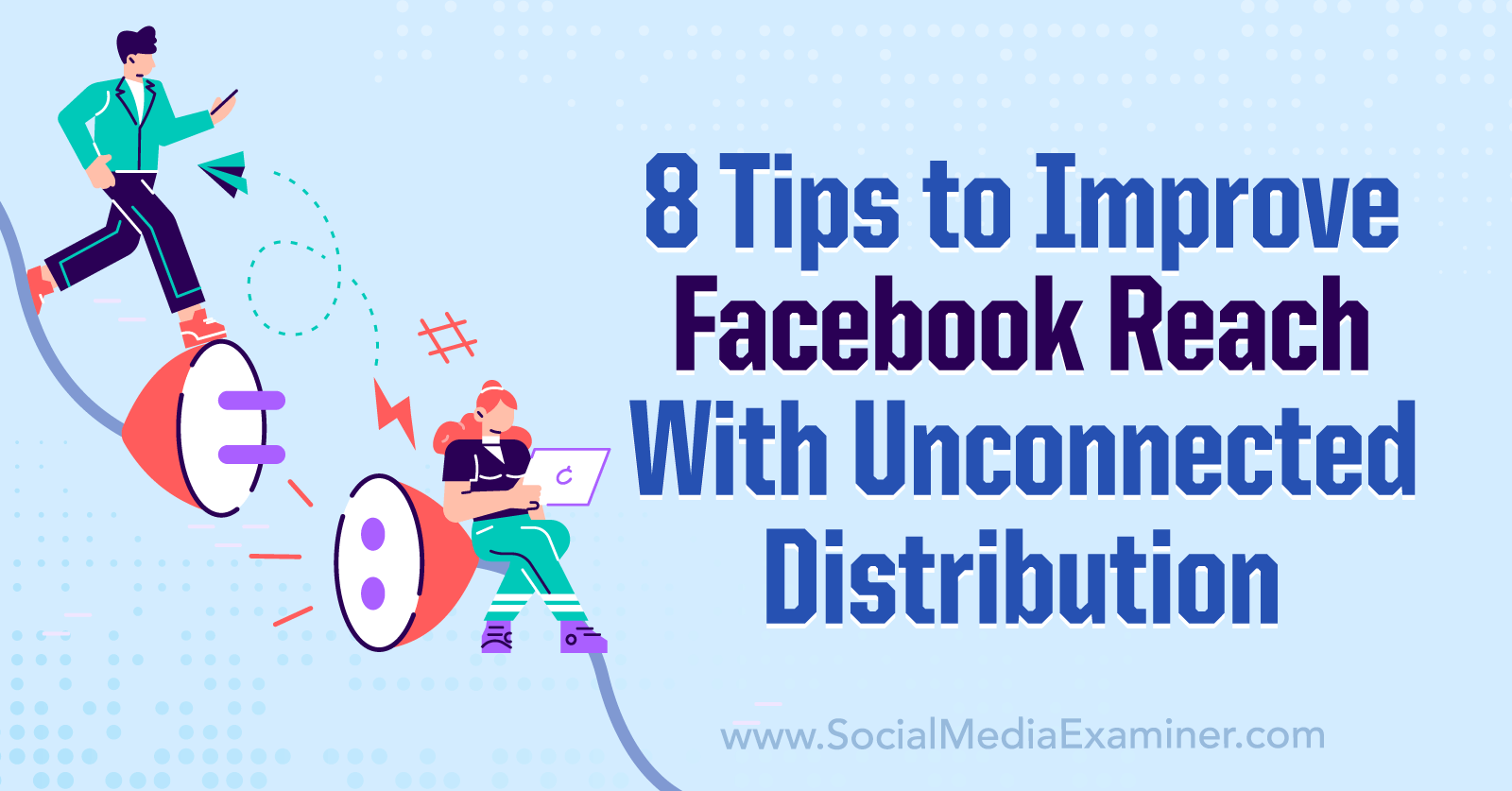 Unconnected Distribution and Facebook Reach
Facebook started as a platform for connected distribution. In other words, users would only see content from profiles and pages that they followed. When Facebook launched ads in 2007, they remained the only reliable opportunity for brands to deliver content beyond their follower base.
For years, Facebook has also used an unconnected distribution system to expand the reach of public organic posts. Historically, this system has delivered content that connected profiles and pages have engaged with. For example, users might see content from a business page they don't follow, prefaced by a note that a person they do follow commented on the post.
Although this unconnected distribution system has its limitations, it's allowed businesses to reach more people like their followers, which is helpful for visibility and brand awareness. However, it's also contributed to an influx of engagement bait. Meta officially discourages engagement bait, which it describes as encouraging followers to react, comment, or share.
In mid-2022, Meta began expanding its unconnected distribution system. Now users can see content from business pages and public profiles that they have absolutely no connection to but that may be of interest, according to Meta.
Content from Facebook's unconnected distribution system may display in a couple of different ways in a user's news feed. Image, video, link, and text content shows a Suggested for You label at the top of the post.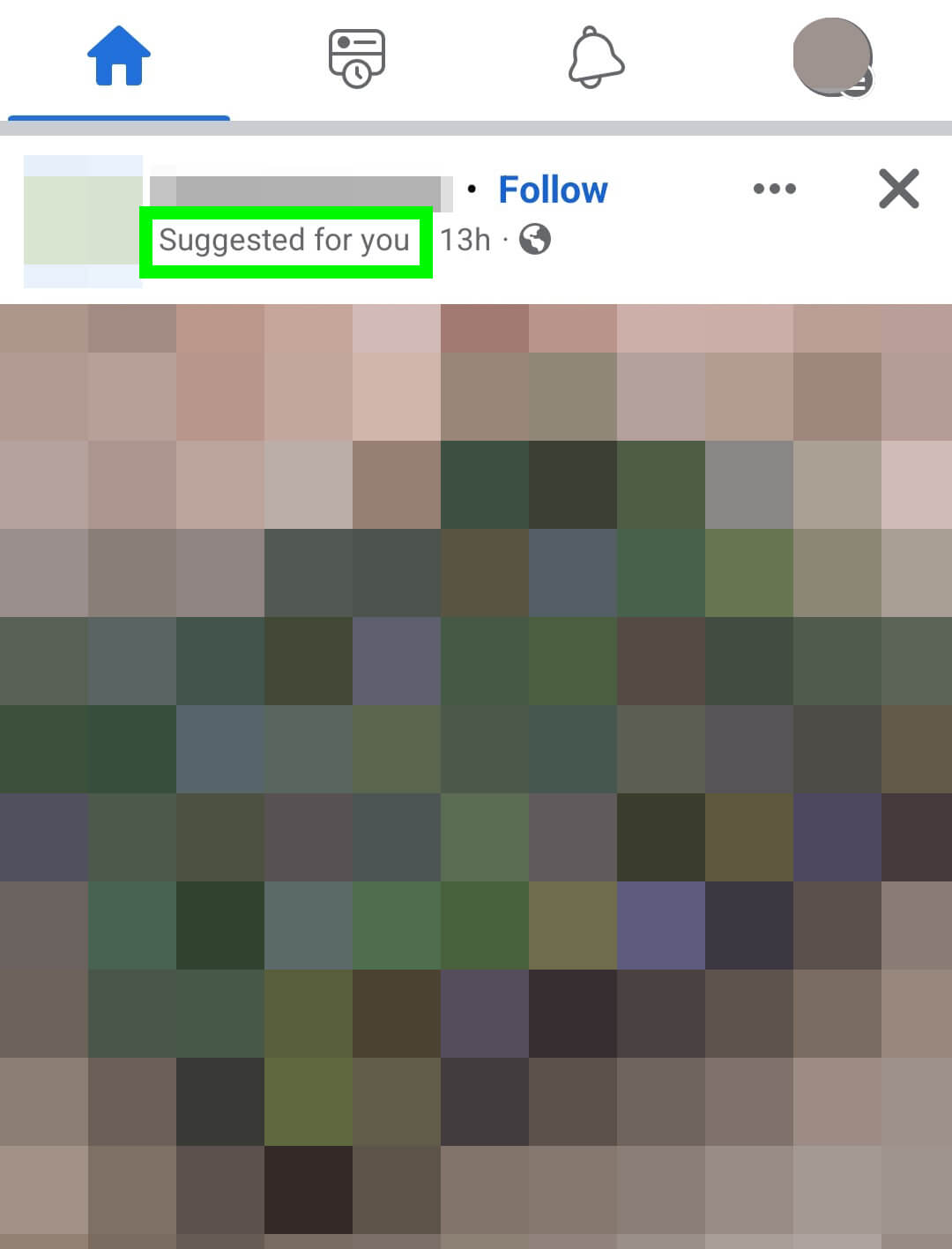 Suggested reels display in a dedicated panel at the top of users' feeds and in reels-only panels that appear randomly throughout users' feeds.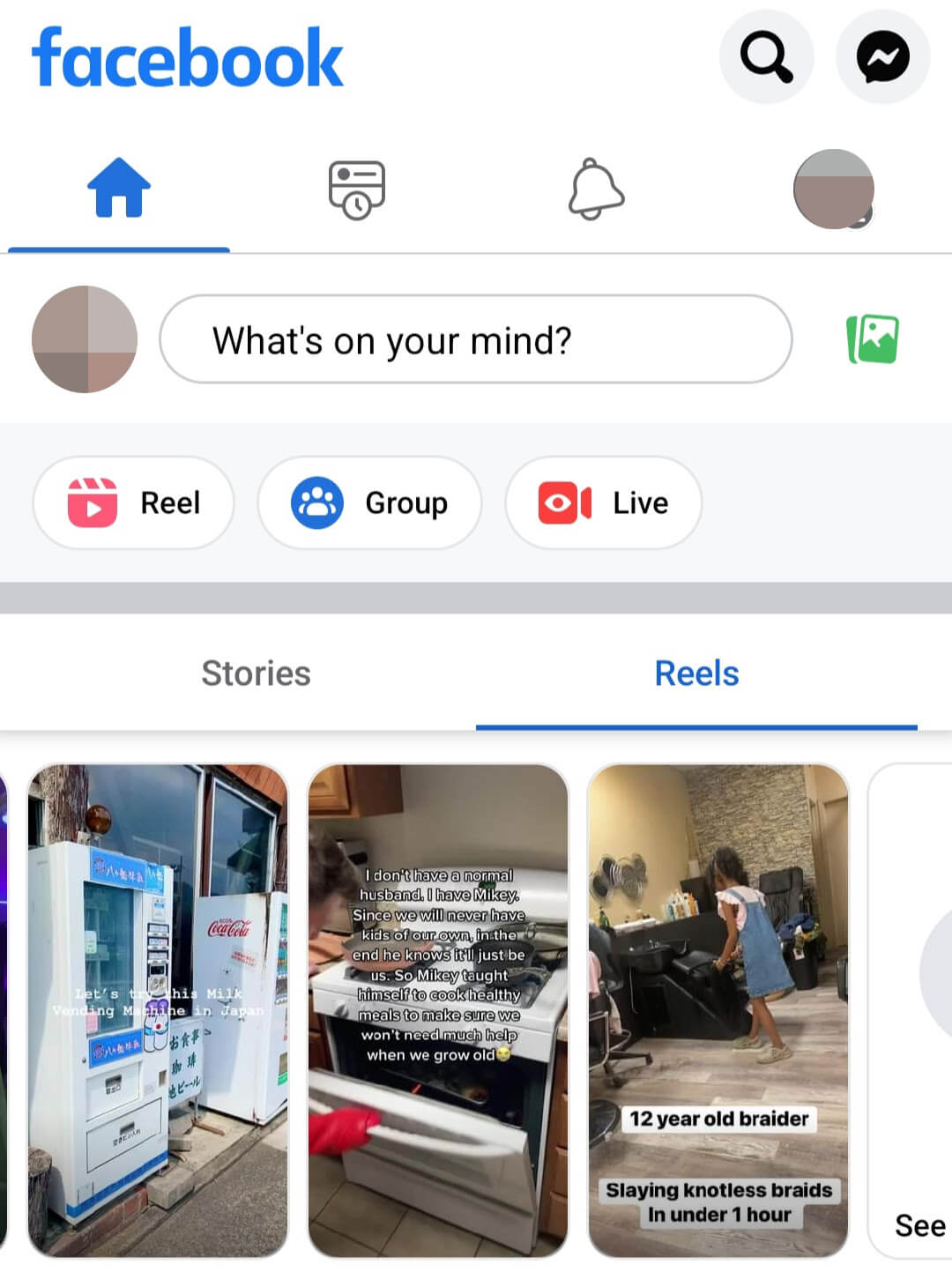 For social media marketers, the struggle to get results from organic tactics isn't new. Studies show that organic Facebook reach has declined for years. In 2022, the average organic reach for a Facebook page post is only 5.2%, down from 7.7% in 2018.
In most cases, Facebook reach is just a small part of marketers' goals. Instead, actions such as likes, comments, shares, messages, and clicks are much more valuable because they can increase Facebook reach and lead to conversions. But the average engagement rate for Facebook pages—0.13%—isn't particularly encouraging either.
It's becoming increasingly clear that continuing to rely on Facebook's connected distribution system won't help marketers improve these rates. Instead, understanding and using Facebook's unconnected distribution system is the most effective way for marketers to generate value and reach their goals.
In fact, reports stemming from a leaked memo about Facebook feed changes suggest that the platform may be developing a TikTok-inspired algorithm to transform its feed. Meta executive Tom Alison has since confirmed that Facebook is engineering a feed designed for discovery, which will ultimately help users find new creators and brands to follow.
In the feed's current iteration, Facebook users have a few options for engaging with suggested content. If they like the content, they can click to follow the business page or engage with the post directly from the feed. If they don't like it, they can click the "X" to remove it from the feed.
In some cases, users may also see a prompt asking if they want to see more content like the suggested post. Users can click either Show More or Show Less to guide the Facebook algorithm. In many cases, users can also tap the three dots in the upper-right corner of the post and select Show More or Show Less from the post menu.
The Conference You've Been Waiting For
As a small business marketer, you can probably only pick one or two events to attend each year. Get back into the game with an unbeatable conference experience and expert training at Social Media Marketing World in sunny San Diego, California—from your friends at Social Media Examiner.
🔥🔥 As a valued reader, you can save $300 if you act now! Sale Ends Tuesday!
CLICK HERE TO LEARN MORE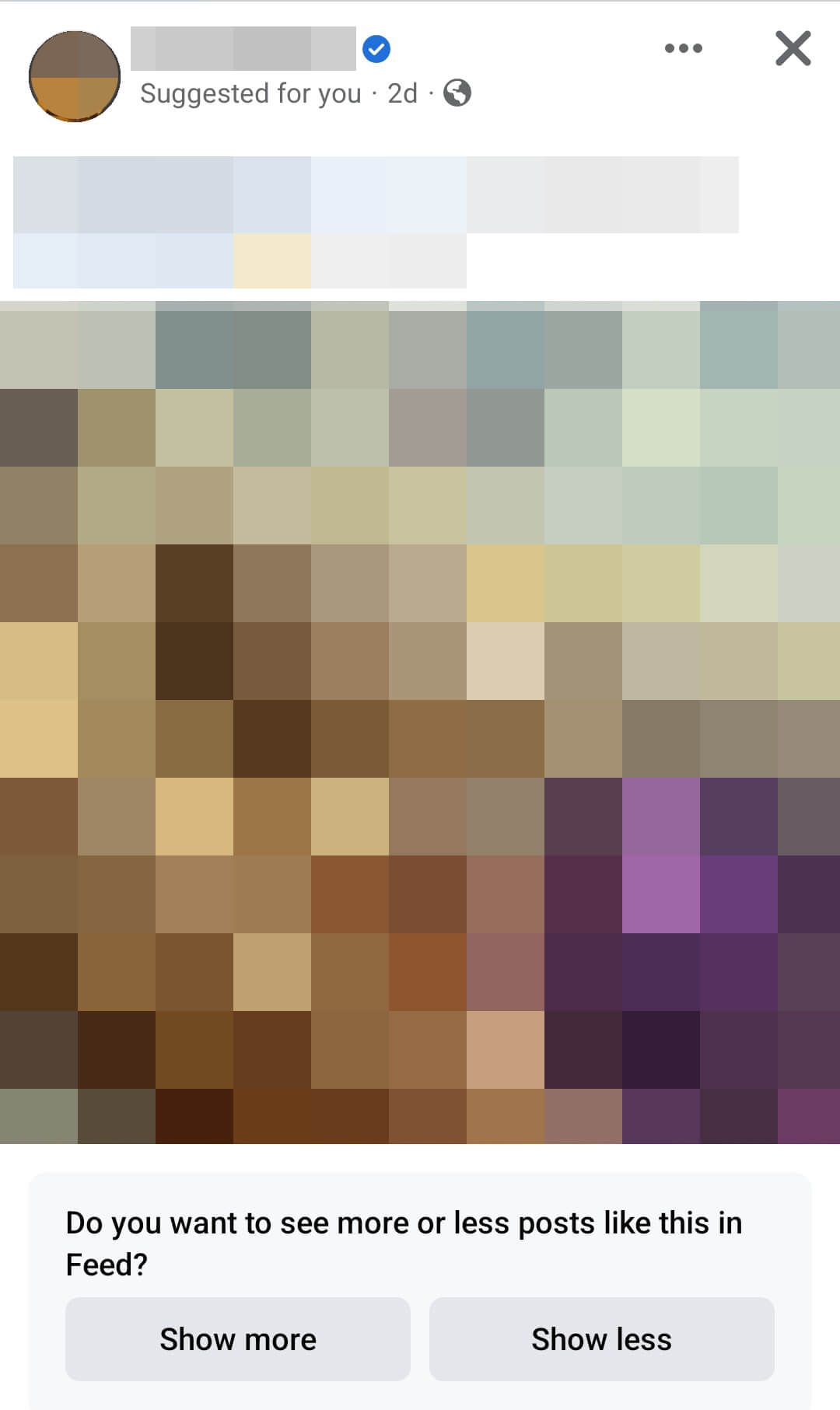 How to Maximize Facebook Organic Reach Through Unconnected Distribution
If you're marketing businesses on Facebook but you're still relying on connected distribution, it's time to revisit your strategy. Use the tips below to adapt to Facebook's unconnected distribution system.
#1: Focus on Publishing Original Organic Content
According to Meta, the most effective way to improve distribution is to create original content. What does that mean exactly? Here are a few suggestions:
Avoid reposting the same content to your page over and over without making changes.
Don't export content from other apps (like TikTok) and upload it without modifications.
Try not to post generic found content (like memes) that your team didn't create.
Can you break the rules above once in a while? Sure, but it's important to note that if Meta determines your page only posts content with what it terms limited originality, the platform will automatically reduce distribution for your page.
So how can you make sure you're publishing original content? First, avoid using stock images or other generic creatives in your content plan. Instead, work with your team to create new content. For example, you might plan photoshoots for products and services, film members of your team behind the scenes, or create lifestyle content that highlights your business.
Do you have to create completely new content for every Facebook post? Not necessarily. To extract maximum value from your Facebook marketing efforts, your team can repurpose existing clips and images. If you go this route, make sure to modify them or add new components.
Note that adding new graphics or creative elements to existing content doesn't qualify as creating original content. Instead, Facebook considers adding voiceovers, video overlays, and other new information to be what the platform terms meaningful enhancement.
#2: Publish Facebook Reels
Producing original images and sharing new text posts with links can help your Facebook page's reach extend to more of your target audience. But when you want to maximize Facebook reach, the best type of content to produce is the format that Meta has been actively promoting: Reels.
To get the most value from your page's reels, avoid exporting the short-form videos you create for Instagram or TikTok and simply uploading them to Facebook. Sharing watermarked content from other apps is likely to trigger Facebook's limited originality flag, which limits distribution.
Instead, create new short-form content using Facebook's native tools. Facebook pages have a couple of options for producing new reels.
If you already have 9:16 video content that you'd like to post as a reel, you can use Creator Studio to make reels. In Creator Studio, click the Create New button and select Create Reel. Upload a vertical video and add a caption.
Although Creator Studio's editing tools are limited, they do let you trim the video to make it more interesting for your audience. You can also use the Resize tool to make sure your video displays with the right aspect ratio.
Creator Studio also lets you opt into remixing. Since Facebook's Remix tool lets others use your video in their own original short-form content (while crediting your page) it's a great way to drive discovery and introduce your brand to new people.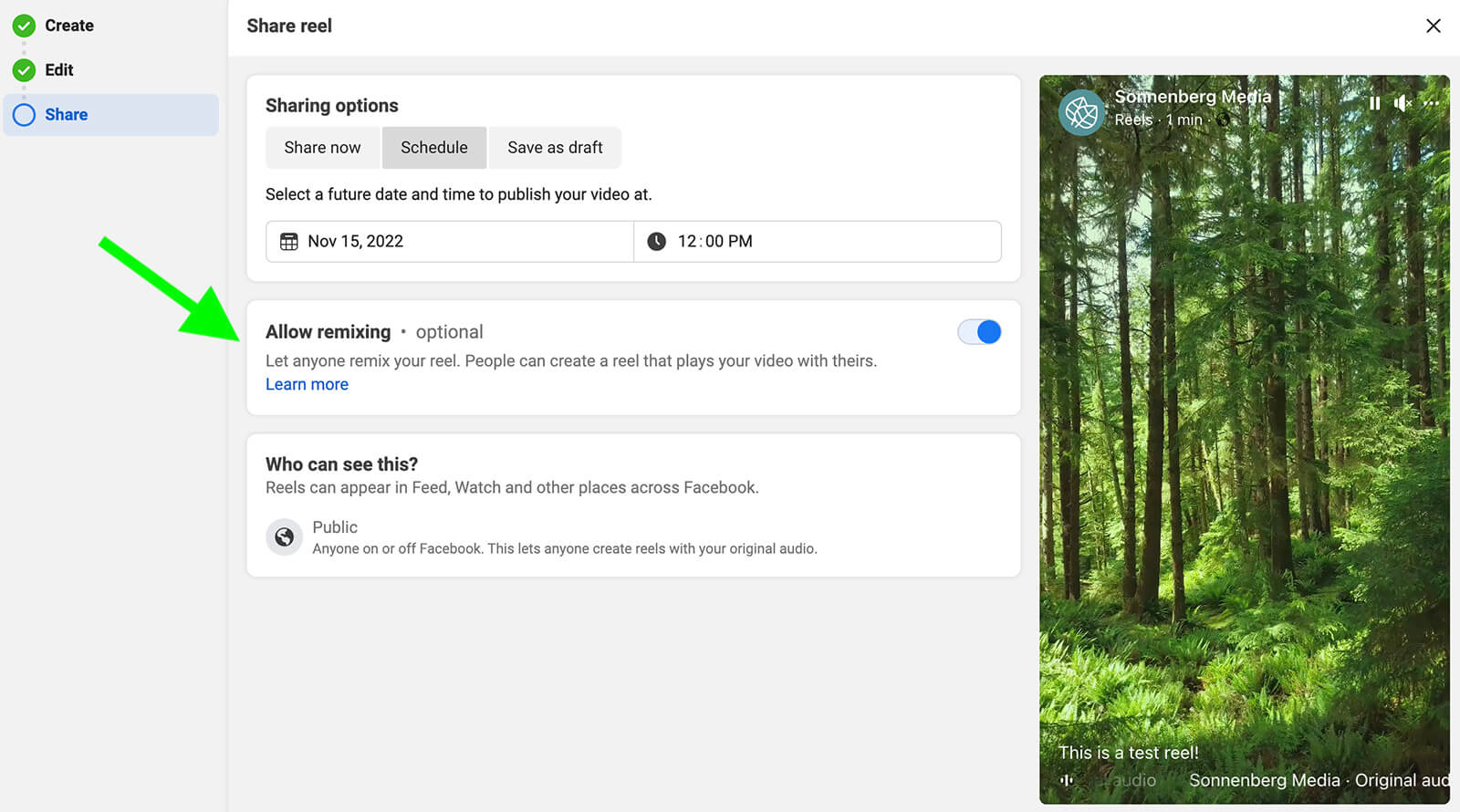 If you want to film new footage for a reel or access more creative tools, use the Facebook app instead. Here, you can include text overlays, apply interactive stickers, and add music or voiceovers. With the Facebook mobile app, you can also enable remixing for reels.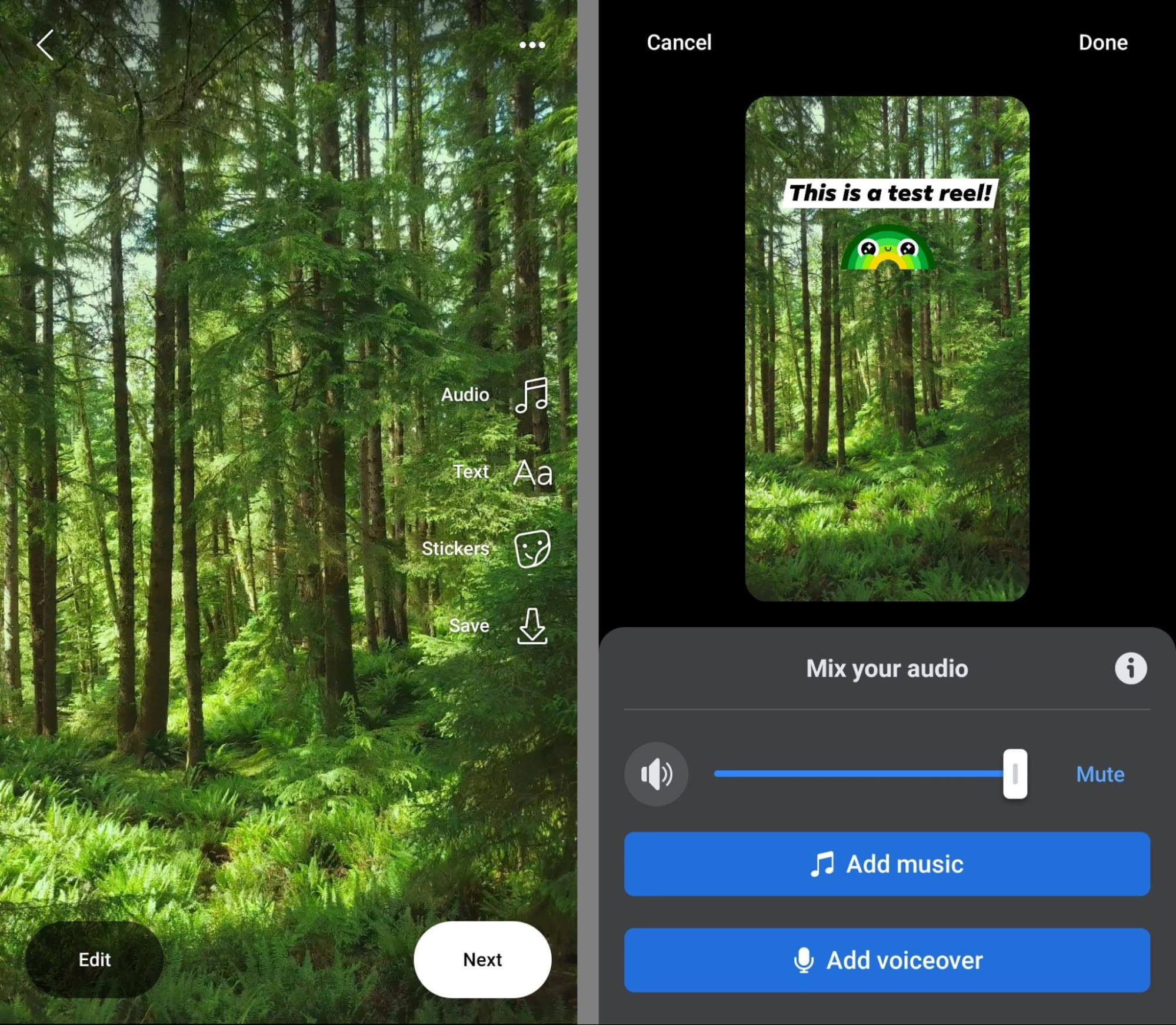 #3: Generate Engagement Without Baiting
No matter what creative format you use, publishing content that gets tons of shares can help boost unconnected distribution. The key is creating content that doesn't outright ask followers to complete a specific action like sharing the post with their friends.
One of the best ways to generate real engagement is to be authentic. First, get to know your audience so you can better predict what will resonate with them. You can find basic demographics by checking your page's audience insights in Business Suite. Here, you can find a breakdown of your followers' age, gender, and top locations.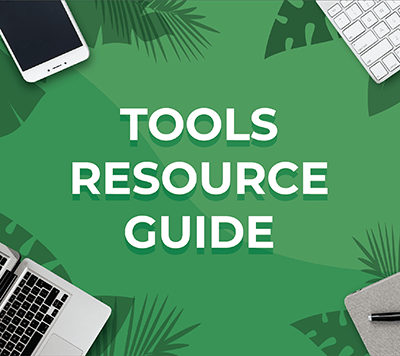 Looking for something to make your life easier?
Discover the tools we recommend to drive engagement, save you time, and boost sales across your entire marketing funnel or business.
Whether you need help planning content, organizing social posts, or developing your strategy, you'll find something for every situation.
FIND YOUR NEXT FAVORITE TOOL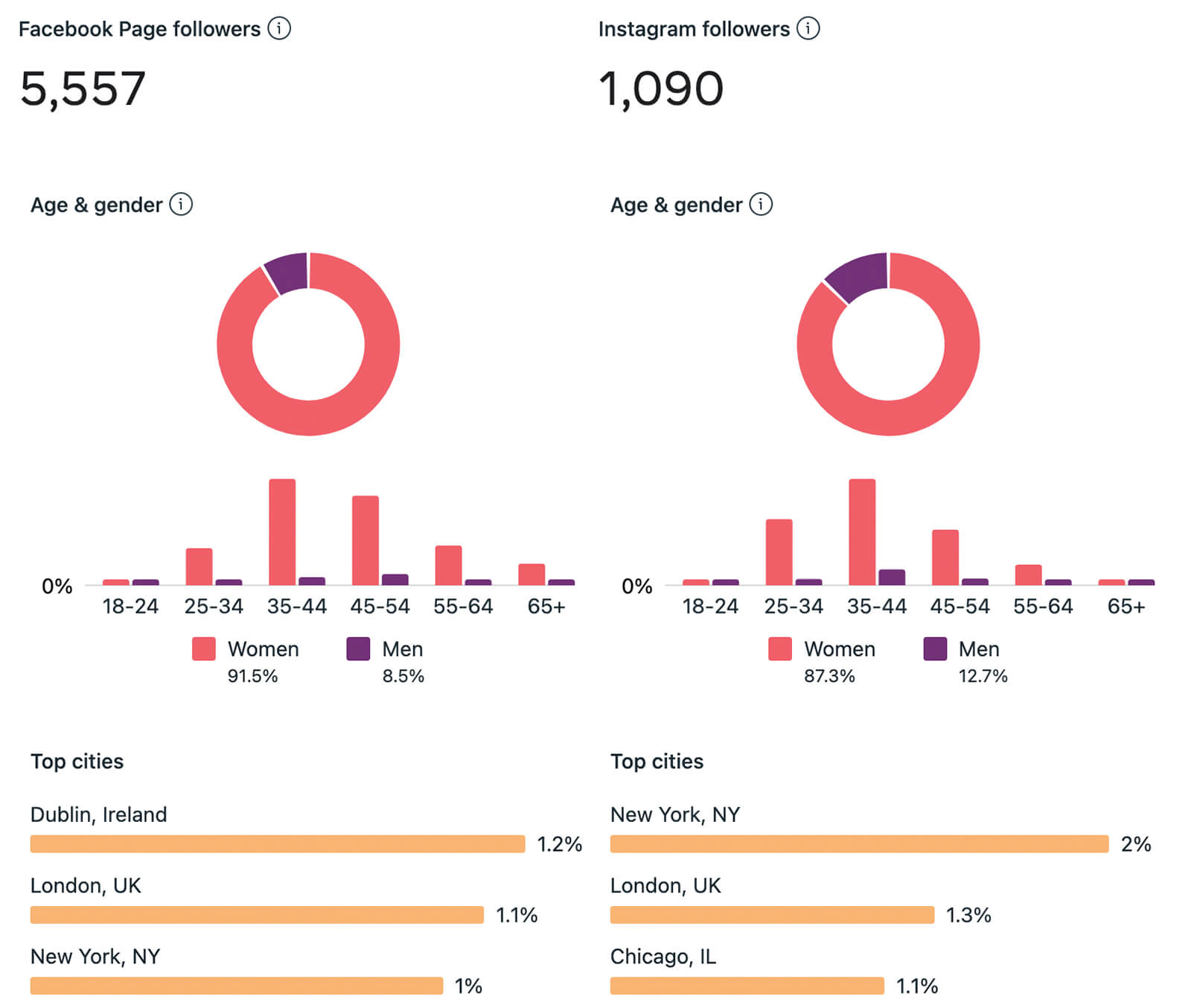 To prompt your audience to interact without baiting them, you can also ask engaging questions. For example, you might ask whether your audience is attending a certain event or what they're planning for a holiday.
You can also use more brand-focused questions. For example, you might ask whether your audience prefers one of your products over another or if they've tried your newest service offering yet.
#4: Publish Content That Reflects Your Facebook Page Followers' Interests
Not sure how to generate engagement organically? Creating more of the content your audience already engages with is a great place to start.
To find the content that works best for your audience, check Business Suite content insights. You can sort by the key metrics that have the biggest impact on unconnected distribution such as shares. You can also track Facebook reach as an indicator of how successfully the algorithm has distributed your content.

But in many ways, Creator Studio is more helpful for measuring Facebook metrics. Creator Studio provides metrics for reels and it also helps you quantify content distribution.
To check content metrics in Creator Studio, open the Published panel. You can check the All tab to review analytics for all of your content or you can focus on a content type like reels. Then scroll to view the Distribution column.
For each post you've published, Creator Studio displays a distribution metric that indicates how widely your content was seen and why. Look for the green metrics, which indicate positive distribution trends.
Then hover over the "i" next to the distribution metric to see why a particular post reached more people. For example, you might notice that a link post received more clicks than normal or a reel got more shares than usual. You can use this data to determine which posts are best at driving wider distribution and then you can create more content with a similar concept.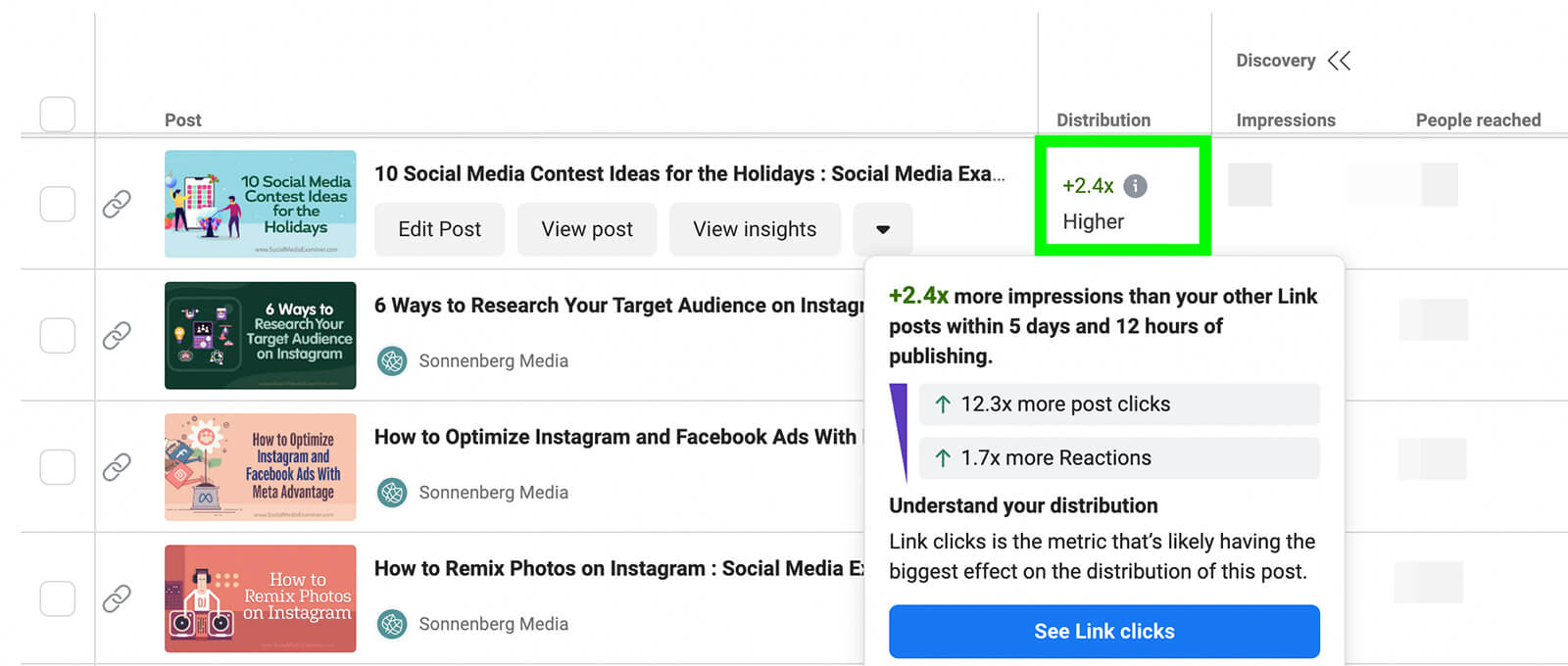 #5: Post Content Consistently
To improve distribution, Meta also recommends posting high-quality content both frequently and consistently. How often should you post to your business page? As a general rule, businesses in most industries should post at least a few times per week and as much as once per day.
Not sure when to post content for your target audience? You can use the post composer in Business Suite to find the best times to publish. Open the Planner panel and click to create a new post. Before publishing, click the Active Times button to see the optimal times for your audience. Then schedule your content for one of the suggested times.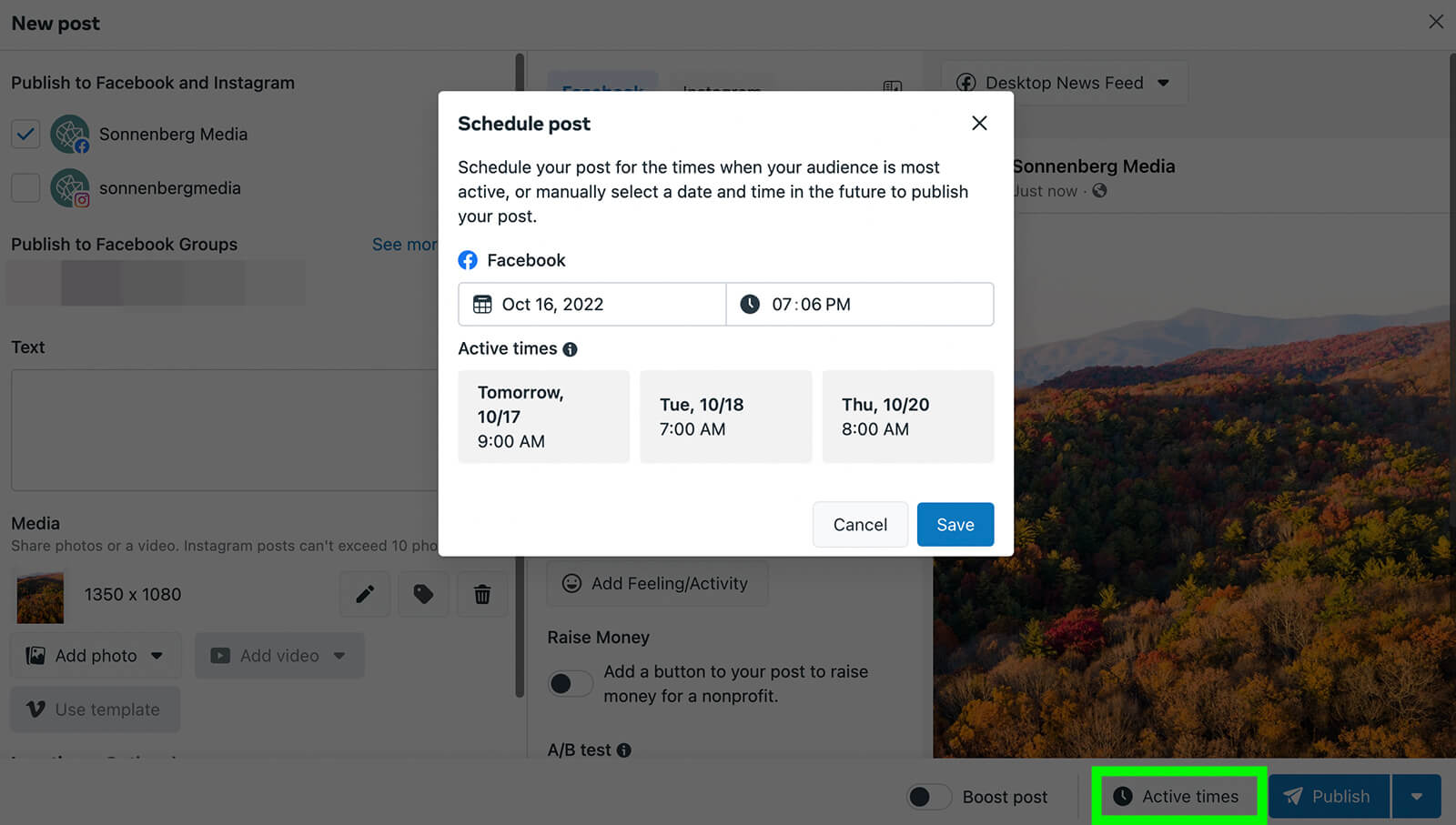 Note that Business Suite only recommends times for a few days from when you create the content. If you want to plan further out, you can look to your insights to find good times or try testing some new times to find what works best.
#6: Cross-Post Content Between Facebook and Instagram
If your business also has an Instagram account, you can use the content you publish there to boost your visibility on Facebook. When you go to publish content on Instagram, tap the Recommend on Facebook option to toggle your settings.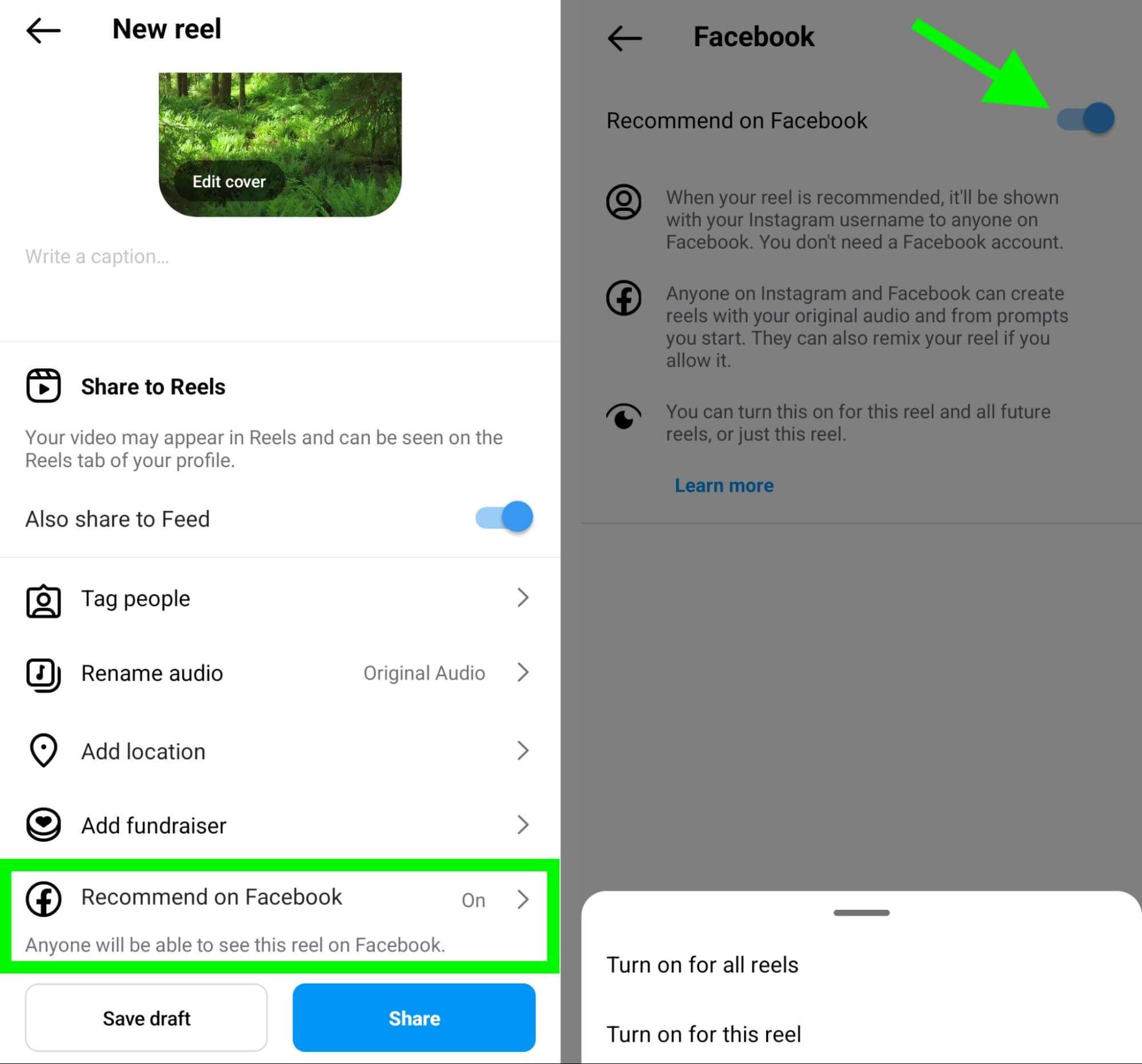 Make sure the Recommend on Facebook switch is on. You can set it for individual posts and reels or change the settings so all of your Instagram content is automatically eligible for recommendation on Facebook.
Even though you're posting the content on Instagram, Facebook will still consider the content original when you use this option. That means if you're short on time or budget, cross-posting between Facebook and Instagram can help you save both.
#7: Build an Engaged Community
While your business can certainly use Facebook as a platform for broadcasting your message, promoting one-sided communication won't help with unconnected distribution. Instead, it's a better idea to use all of the engagement you receive to your advantage.
By responding to Facebook engagement, you can create conversations and further amplify your brand. Over time, you can also build an engaged community that followers proactively share and promote.
Business Suite is your best bet for monitoring comments and messages, and making sure you haven't missed a chance to engage. Don't have time to respond to all of your Facebook engagement? Business Suite has some helpful automation tools that let you respond faster.
In Business Suite, open the Inbox tab and click the Automations button in the upper-right corner. For example, you can set up instant replies to greet your audience the first time they reach out or create answers to frequently asked questions.
You can also use Business Suite's Comment to Message tool, which automatically sends a DM in response to specific comments. Choose the hashtags that you want to trigger this automation and then write automated responses for each hashtag.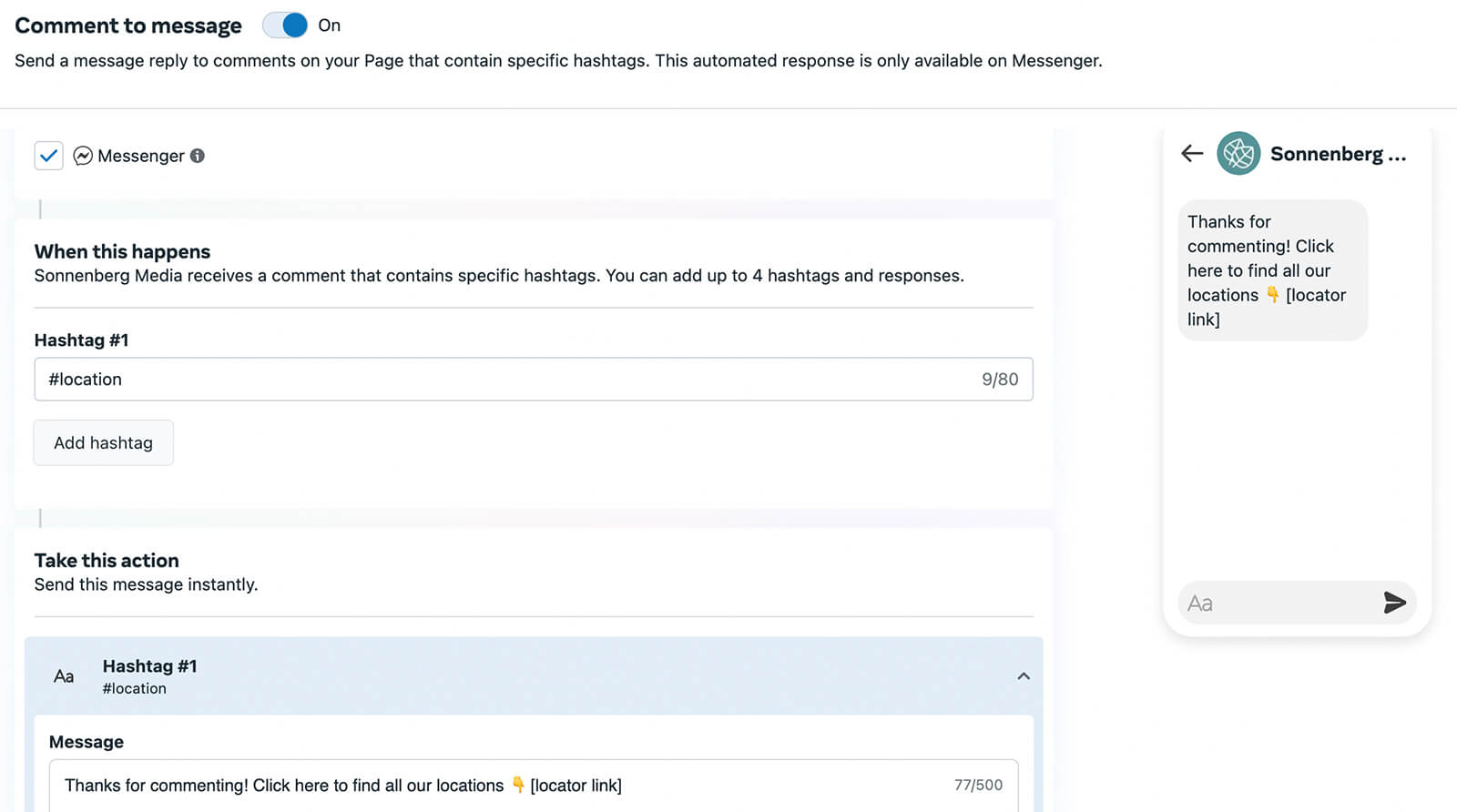 In some cases, the people who comment on your page's content may already follow or like your page. But as your unconnected distribution grows, you're more likely to get engagement from people who don't follow your page yet. You can invite them to follow from your notification tab or the Audience tab in your insights panel.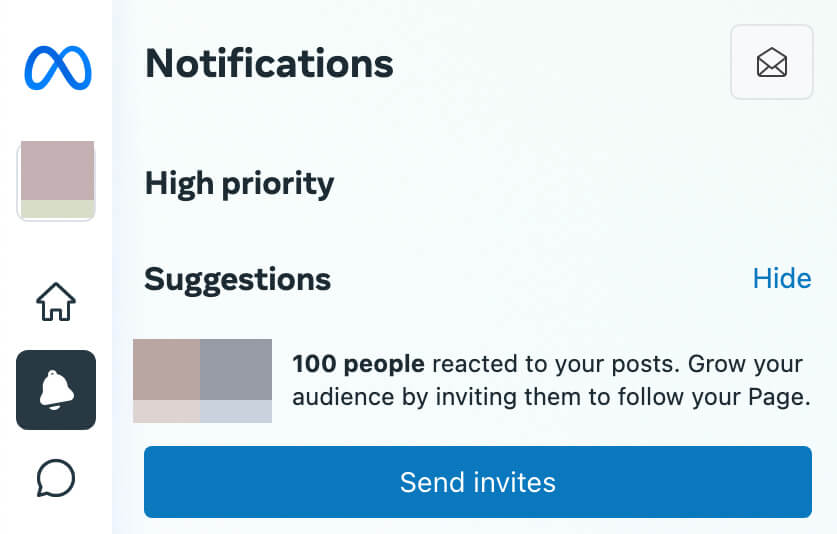 #8: Follow Facebook Guidelines
To increase the chance that Facebook will recommend your page's content to unconnected users, it's also important to make sure that everything you publish follows the platform's guidelines for recommended content. Some of the most important points include avoiding:
Content that creates an unsafe community
Low-quality and unoriginal content
Misleading content or false information
Sensitive content, especially related to health and finance
Conclusion
Adapting to an evolving social media algorithm is never easy. But by taking the steps above, doing more of what's working, and keeping an eye out for best practices from Meta, marketers can successfully leverage unconnected distribution and reach goals more effectively with Facebook.
---
Stay Up-to-Date: Get New Marketing Articles Delivered to You!
Don't miss out on upcoming social media marketing insights and strategies! Sign up to receive notifications when we publish new articles on Social Media Examiner. Our expertly crafted content will help you stay ahead of the curve and drive results for your business. Click the link below to sign up now and receive our annual report!
Get Your FREE Course: Web3 for Beginners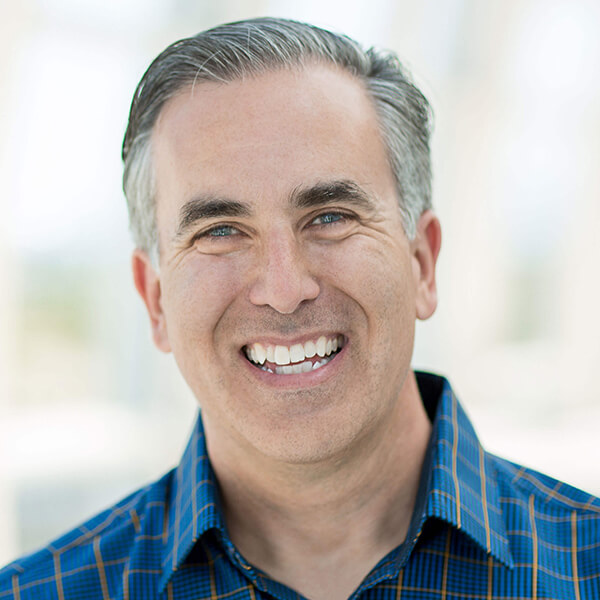 Curious about Web3, but don't know where to start or who to trust?

Introducing Web3 for Beginners, a course taught by Michael Stelzner, the founder of Social Media Examiner.

Learn the basics of Web3 and apply it to your business with this FREE comprehensive course.
CLICK HERE TO GET FREE ACCESS