Shows from Social Media Examiner
Social Media Examiner offers an audio podcast AND a weekly live video show to help boost your marketing skills and keep you up-to-date with the ever-changing world of social media.
Whether you're hungry for in-depth expert advice or want to keep up with the social media news of the week, you'll discover knowledge you need to make your business grow.
LIVE: Social Media Marketing Talk Show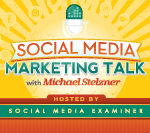 The Social Media Marketing Talk Show is a weekly live video talk show produced by Social Media Examiner.
Each week we bring you expert commentary on breaking social media marketing news.
Where to find the live show: Click here for show details and access information.
Sample show:

Social Media Marketing Podcast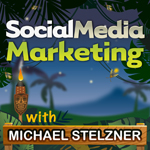 Listen in the car, at the gym or while you're walking the dog.
In this show, you'll discover success stories and expert interviews from leading social media marketing pros in a weekly 45-minute podcast. Discover how successful businesses employ social media, learn new strategies and tactics, and gain actionable tips to improve your social media marketing.
Sample show:
.
Here's how to subscribe:
Click here for detailed show notes.
How to Subscribe to a Podcast on an iPhone
Watch this quick video to learn how to subscribe on your iPhone: