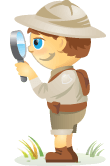 Welcome to this week's edition of the Social Media Marketing Talk Show, a news show for marketers who want to stay on the leading edge of social media.
On this week's Social Media Marketing Talk Show with Michael Stelzner, we explore Twitter expanding to 280 characters with Madalyn Sklar, Vimeo acquiring Livestream with Luria Petrucci, and other breaking social media marketing news of the week!
Watch the Social Media Marketing Talk Show
If you're new to the show, click on the green "Watch replay" button below and sign in or register to watch our latest episode from Friday, September 29, 2017. You can also listen to the show as an audio podcast, found on iTunes/Apple Podcast, Android, Google Play, Stitcher, and RSS.
For this week's top stories, you'll find timestamps below that allow you to fast-forward in the replay above.
Vimeo Launches New Live-Streaming Platform: Vimeo acquired live video streaming platform Livestream and is launching a new live-streaming platform called Vimeo Live. With this new platform, creators will be able to capture, edit, stream, and archive their live events in addition to hosting, distributing, and generating revenue from their videos. Vimeo Live will be offered as a set of annual and monthly paid membership tiers across a range of price levels, similar to Vimeo's other paid membership plans. (6:25)
.
Twitter Tests 280-Character Limit and New Character Countdown: Twitter announced it's testing an expanded 280-character limit for select languages, including English, Spanish, Portuguese, and French, to allow users to share their thoughts without running out of room in the tweet. Japanese, Chinese, and Korean are excluded from this test because these languages generally require fewer characters to express the same thoughts. Expanded tweets are currently being tested with "a small group of people" before Twitter decides to expand it more broadly.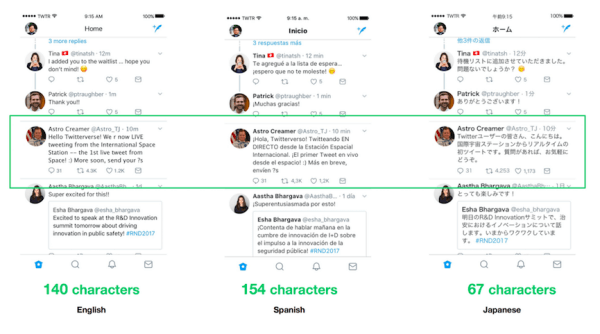 TechCrunch reports that Twitter also updated the user interface such that it will no longer count down the characters until you near the end of a tweet. "Instead, a circle will fill in as you approach the limit, and you won't know how many characters you have left until only 20 remain or 10 for Japanese, Chinese and Korean language users." (20:00)
Facebook Seamlessly Combines Live Broadcasts and Recorded Video Over Weak WiFi Connections: Facebook Live broadcasters can now continue recording a video even when they lose their WiFi connection. Once a WiFi connection is established again, Facebook will seamlessly combine the live broadcast and the recording video and post one entire video as a live broadcast.
Facebook Shows How Long Since a User Has Been Active on Messenger: Facebook Messenger now shows the time since a user was last active on Messenger. It appears that Facebook limits the timeframe to within one hour. Once a user has been inactive on Messenger for longer than one hour, the time marker and flag reportedly disappear from Messenger.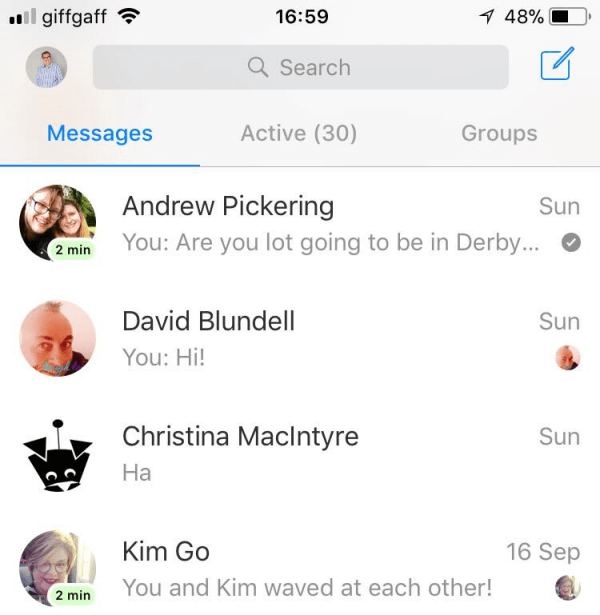 Facebook Highlights and Tags New Members to Groups: Facebook appears to have added a designation to groups that tags and highlights new members. It also features a new prompt that suggests admins "write a post to welcome them" to the group and will automatically tag each individual within the post.
Your Guide to the Future of Business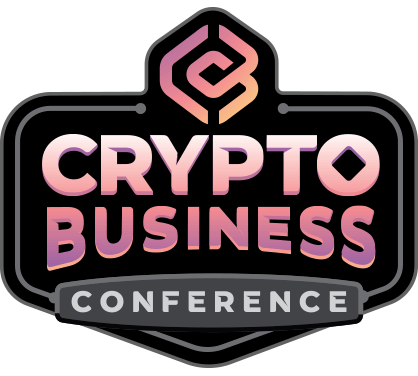 The Web3 renaissance opens up new opportunities for entrepreneurs, creators, and marketers who are ready to embrace the changes. But, who can you trust?

Introducing the Crypto Business Conference; a premium event for anyone who wants to learn how to put Web3 to work for their business.

Join us in sunny San Diego, California, for the first-ever crypto conference for business pioneers…not finance and tech nerds. You'll get actionable, business-building ideas from proven innovators—without all the techie jargon.
CLAIM YOUR SEAT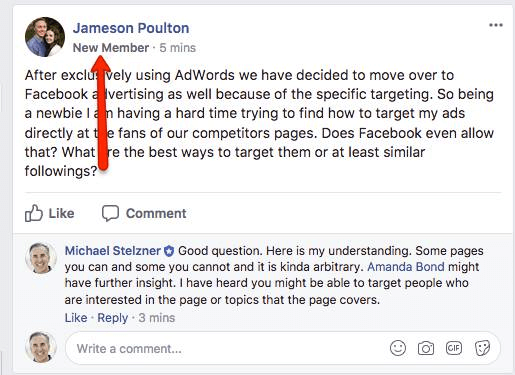 Facebook Adds Option to Include Personalized Notes With Invitations to Like a Page: Facebook allows admins to invite people they know to like their page. Facebook appears to have rolled out the ability to also "write a note to include in your invitation" when you send these requests.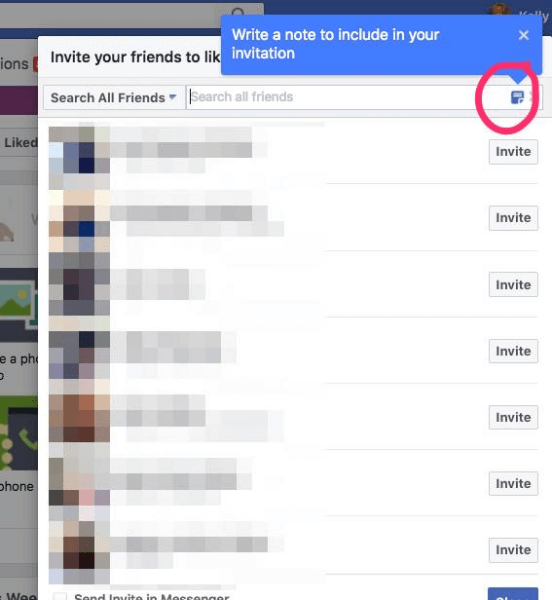 Facebook Expands "Order Food" Option in Main Navigation to More Users: Facebook introduced an option to order food directly through the main navigation menu of the site in May 2017. At the time, this tool was only available to "select users" on both the web and mobile. It appears that Facebook has since expanded this feature to more users. This tool handles the entire takeout process from select restaurant pages "from ordering to checkout," all within Facebook.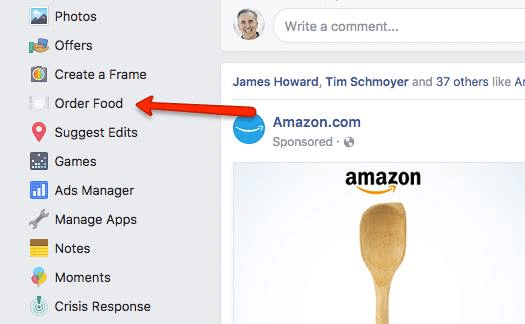 Snapchat Introduces Sponsored 3D World Lenses: Snapchat introduced 3D World Lenses, "a new kind of World Lens that allows you to bring your characters and products to life inside the Snapchat camera." Snap Inc. is betting that 3D World Lenses can help brands drive their business objectives by bringing products or branded characters into Snapchatters' "real-world" environments, drive awareness and favorability, and encourage consideration and intent to purchase.
Snapchat launches sponsored 3D World Lenses, starting with Blade Runner https://t.co/m3fRAyd3x3 by @etherington pic.twitter.com/Tt5ItLQDoS

— TechCrunch (@TechCrunch) September 28, 2017
Snapchat Introduces New Sky Filters: In celebration of its sixth birthday, Snap Inc. announced it will be adding new Sky Filters, which bring "an entirely new set of filters… designed to detect the sky in your photos and offer a carousel of effects that can then alter the sky's appearance" in the Snapchat app. This update is available for iOS and Android this week.
Snapchat is celebrating its sixth birthday with 'Sky Filters' and more 3D Bitmoji Lenses https://t.co/z62nJ6cRKX pic.twitter.com/1iAHA8qMG8

— TNW (@TheNextWeb) September 25, 2017
Instagram Gives Public Accounts More Control Over Comments and Rolls Out Other New Tools: Instagram added new features that allow public accounts to limit comments to "people you follow and your followers," only "people you follow" or "your followers," as well as the ability to block certain accounts from commenting at all. Instagram is also adding new mental health resources and support during live broadcasts, expanded comment filtering to more languages, and introduced new "kindness" stickers.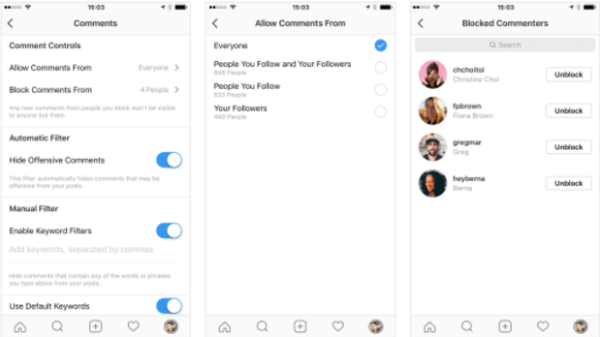 Instagram Monthly Active User Count Increases by 100 Million in Four Months: Instagram announced that it now reaches 800 million monthly active users, up from 700 million as reported in April 2017, and currently boasts 500 million daily active users. CNBC reports that "time spent watching video on Instagram is up more than 80 percent year over year… and four times as many videos are being produced every day on Instagram compared with a year ago."
Launch Social Projects Faster and Easier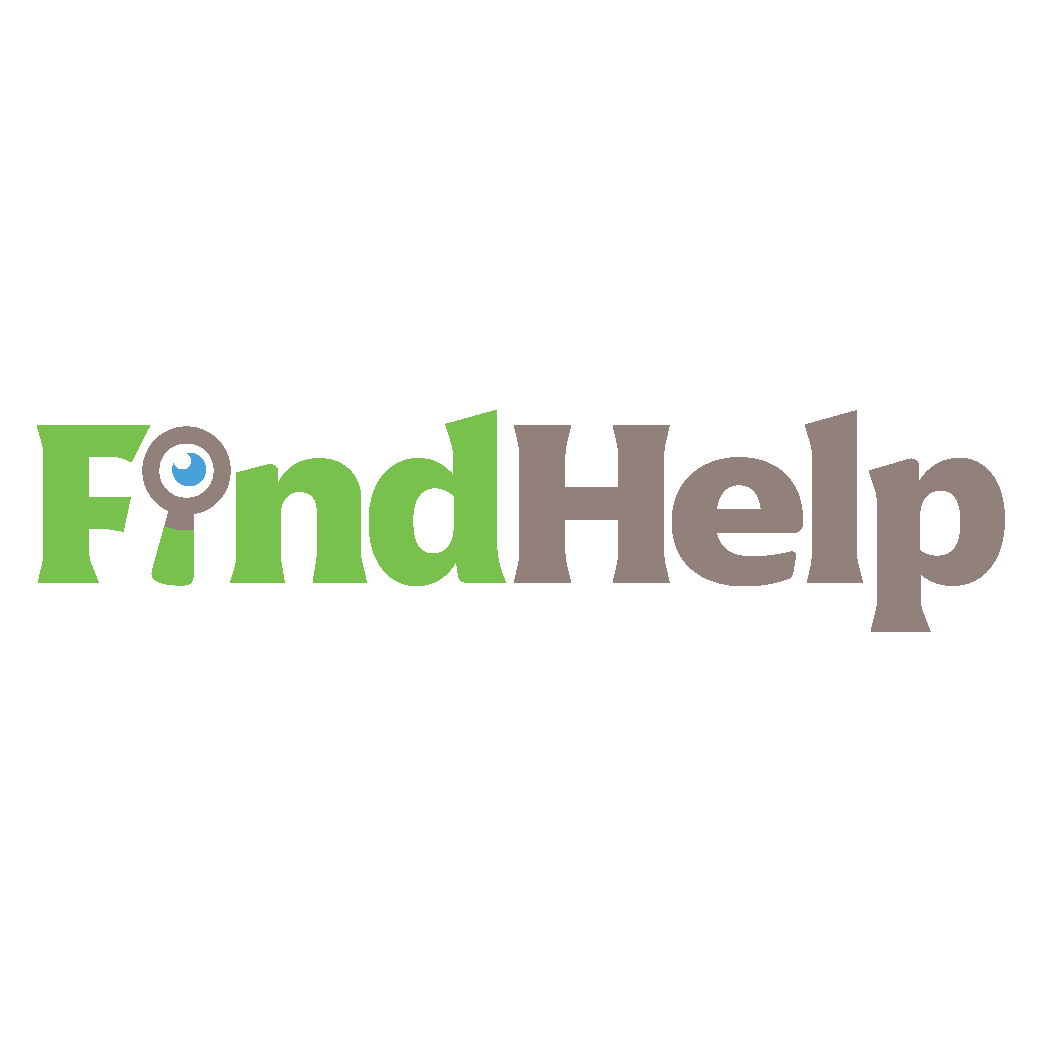 Looking for a content creator, campaign manager, or strategist for your social channels or a special project?

Find the right expert for even the most complicated project or campaign in just a few clicks with our new FindHelp marketplace. You'll have more time to focus on other areas of your business without sacrificing your social presence. Browse highly qualified Facebook and Instagram experts today.
FIND HELP TODAY
Instagram Doubles Advertisers Base to 2 Million in Five Months: Instagram also announced that it has doubled the number of advertisers on its platform since March 2017, growing its advertiser base to 2 million. The Instagram Business blog highlights how some of its most successful marketing campaigns have leveraged Instagram Stories to "captivate and inspire" Instagrammers.
Instagram Adds Face Filters to Live Video: Instagram is rolling out the ability to add face filters while sharing a live video broadcast. Face filters in live video will be available globally "over the next several weeks."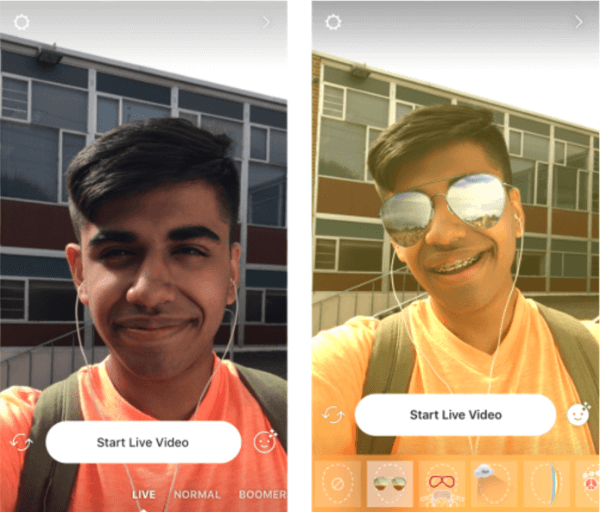 Facebook Messenger Adds More Advertising Objectives for Brands: Facebook is rolling out additional advertising objectives for brands using Messenger to promote branded chatbots and other "conversational campaigns." These objectives include the ability to target users based on increasing brand awareness, lead generation, and driving store visits. Adweek also reports that Facebook is currently testing these new goals with "nearly a dozen objectives… [such as] increasing reach, engagement, traffic, and video views" and hopes "to get large and smaller advertisers onboard that want to reach the more than 1 billion people on the Messenger platform."
Facebook is adding more advertising objectives for brands that use messenger: https://t.co/dwi97KHf7y pic.twitter.com/EAfSSpqd1p

— Adweek (@Adweek) September 26, 2017
Facebook M Now Shares GIFs, New Quick Replies, and Movie Ticket Recommendations: Facebook Messenger announced that its in-app virtual assistant, M, now offers new suggestions that will make "your everyday conversations better and help you get things done." M will now surface suggestions for GIF responses to common expressions like "good morning," "I love you," and "thank you," and offer quick replies to agree or disagree questions in a one-on-one conversation. M also recognizes when people are discussing movie tickets or showtimes in either group or one-on-one conversations in Messenger and will present a button to purchase tickets directly through the new Fandango Chat extension. Facebook notes that these new M suggestions are only available to U.S. users at this time.
LinkedIn Integrates Profile Cards With Microsoft Office 365 Profile Cards: LinkedIn and Microsoft are "bringing personalized LinkedIn insights directly into your Microsoft Office 365 experience" by integrating LinkedIn and Microsoft Office profile cards. By connecting LinkedIn and Microsoft accounts, members will be able to "seamlessly discover more insights within the Profile Card in your Inbox, your calendar and contacts lists… such as where they work, what they do, and where they went to school." This integration will start rolling out "in the coming weeks" on Outlook on the web, SharePoint, and One Drive for Business. It will be available to Outlook.com customers "soon" and on Outlook for Windows, Outlook for iOS, and other Office products "in the coming months."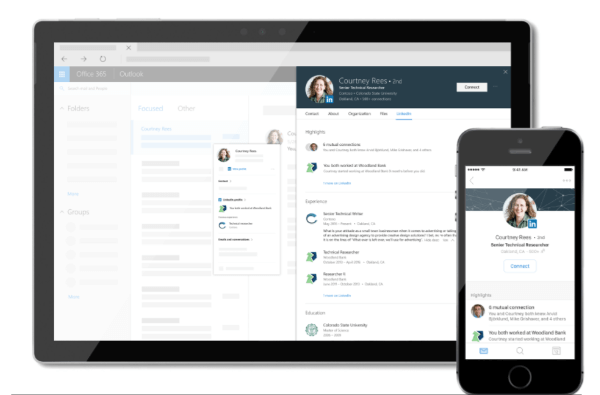 Facebook Watch Features NFL Game Recap and Highlights: Facebook signed "a multi-year, global deal with the National Football League that allows the social platform to host highlights from games." The new NFL Game Recaps will share highlights from the 256-game regular season and content from the playoffs and the Super Bowl. Facebook will also feature NFL Turning Point, which will "break down the pivotal moments from Sunday that defined the outcome of each game," and Sound FX featuring "the best on-field sounds from players and coaches wired for sound."
Facebook Watch will now be home to NFL highlights: https://t.co/mmGWIbNtnK pic.twitter.com/12yvuIv164

— Adweek (@Adweek) September 26, 2017
YouTube Studio Update Features In-App Scheduling Tools and Subscriber Stats: The YouTube Creator Studio app has been renamed YouTube Studio and now includes the ability "to schedule posts right from your phone" and "a prominent subscriber count card right at the top of your YouTube Studio app dashboard." YouTube also announced that it plans to roll out the ability to use creator hearts and pin comments "in the coming months."
Goodbye, Creator Studio App; Hello, YouTube Studio App: https://t.co/SkbmXBY0Ug #youtube pic.twitter.com/Kh7dxRj1vK

— Social Pro Daily (@SocialProDaily) September 22, 2017
YouTube Debuts New Ad Tech Tools for Brands and Marketers: YouTube rolled out four new ad tech tools to help advertisers "capture the attention of [their] audience on YouTube." These new tools include Director Mix, a new technology that allows a company to "simplify the process of creating different versions of the same creative tailored for each audience," and an expansion of YouTube's Custom Affinity Audiences offerings, which allows marketers to "reach people based on the kind of searches they do or the kind of places and apps they like." YouTube also introduced Video Ad Sequencing "to help you architect an ad experience that unfolds over time" and a new, global approach to measuring sales lift with Nielsen MPA (Matched Panel Analysis).
Amazon Introduces Six New Alexa-Enabled Devices: Amazon debuted six new Alexa-enabled devices this week. These include a second-generation Echo and new the Echo Plus with a dedicated smart home hub. Amazon also introduced a compact Echo Spot featuring a built-in camera and screen, the Echo Connect which turns your Echo into a voice-controlled speakerphone, and Echo buttons for "even more fun and play" with Alexa. Amazon also rolled out a new Fire TV with 4K Ultra HD, high dynamic range (HDR) support, and an Alexa voice remote.
Here's everything Amazon announced today https://t.co/Bb72IeIy33 by @grg

— TechCrunch (@TechCrunch) September 27, 2017
Google Pulls YouTube Access From Amazon Echo Show: The Verge reports that "Google has apparently decided to stop allowing the Amazon Echo Show to access YouTube." Both companies issued contradictory statements about this move with Amazon claiming "there is no technical reason for that decision" and Google expressing otherwise. Google claims that "Amazon's implementation of YouTube on the Echo Show violates [its] terms of service, creating a broken user experience," but expressed hope that the two companies will be able "to reach an agreement and resolve these issues soon."
Google pulls YouTube off the Amazon Echo Show https://t.co/TQI2nVdxil pic.twitter.com/dMWeRDudus

— The Verge (@verge) September 27, 2017
Want to catch our next show live? Click here to subscribe or add our show to your calendar.
Curious about NFTs, DAOs, and Web3?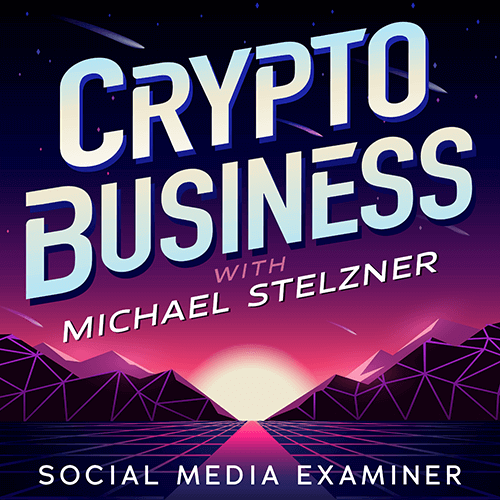 Follow the Crypto Business podcast to find out how NFTs, social tokens, DAOs (and so much more) will affect your business in the near future.

Every Friday, host Michael Stelzner interviews leading industry experts about what works right now in Web3 and what to expect in the future, so you can prepare your business for the shift, even if you're a total newbie.
FOLLOW THE SHOW