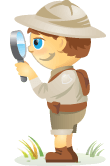 Welcome to our weekly edition of what's hot in social media news.
To help you stay up to date with social media, here are some of the news items that caught our attention.
What's New This Week
Facebook Rolls Out Facebook Stories and Other Snapchat-like Camera Features Globally: Facebook rolled out a new in-app camera for iOS and Android that's "packed with dozens of effects like masks, frames and interactive filters that you can apply to your photos and videos." These include dynamic objects, artistic filters, and branded masks for some upcoming movie releases. Facebook plans to introduce a way for users to create their own Facebook camera frames and effects "over the coming months."
Facebook also announced the global release of Facebook Stories on the main Facebook app. This new feature allows users "share multiple photos and videos as part of a visual collection atop [the] News Feed." Similar to the stories features previously released for Messenger and Instagram, Facebook Stories can be shared with specific users or as part of "Your Story" and will disappear 24 hours after being posted. Facebook also notes that "stories won't appear on your Timeline or in News Feed unless you post them there too."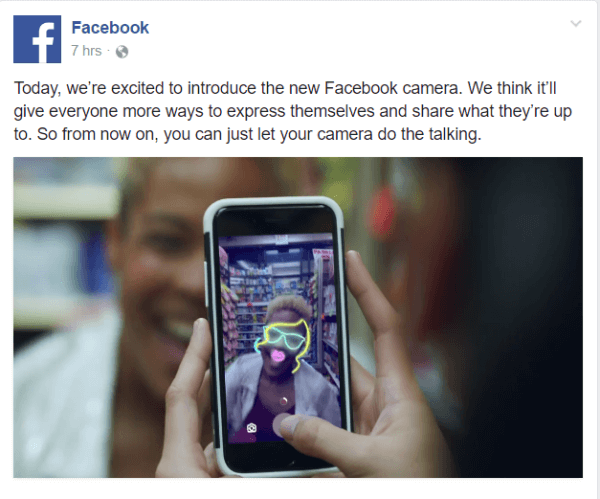 Facebook Messenger Introduces Live Location: Facebook rolled out a new Live Location feature, which "makes it simple and seamless for you to choose to share where you are with your friends and family" in Messenger. Users have the option to share their current location with a group or with just one other user within a Messenger chat. The shared map will be visible for up to 60 minutes and offers each person an estimated time of arrival to get to the others' locations by car. Messenger Live Location is now available globally on both iOS and Android.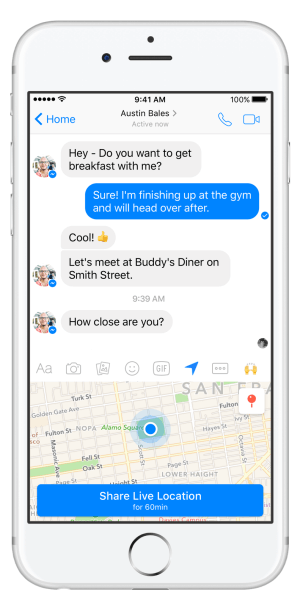 Facebook Expands Live 360 and Spatial Audio to All Profiles and Pages: Facebook announced that Live 360 and spatial audio are now available globally to all profiles and pages. While "anyone with a 360 camera can go live in 360 degrees on Facebook," the site integrated with several leading 360 camera manufacturers to make going live "easy, reliable, and fun." A list of compatible camera brands and models can be found on the Facebook Media blog. The company also provides a helpful, step-by-step guide and offers best practices for "getting the most out of Live 360" on the Facebook 360 site.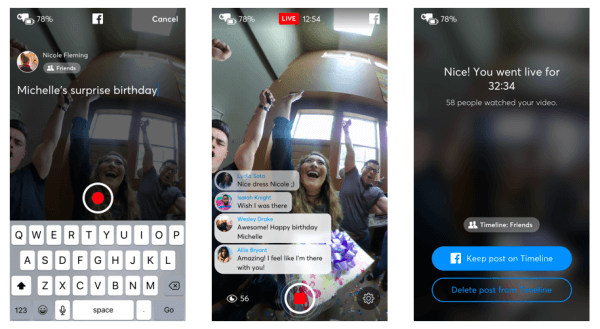 Our Take on Top News This Week
In this week's show from Friday, March 31, 2017, Michael Stelzner and guests discuss the top news in social media. Topics include Facebook Stories (7:54), Facebook Live Location (23:45), and Facebook Local Search and Discovery (32:40). Subscribe to future shows here.
More News to Note
Snapchat Introduces Search in Stories: Snap Inc. announced that Snapchat users can now "search over one million unique Stories on Snapchat," from professionally curated stories to clips of a local basketball game, the scene at your favorite bar, and more. TechCrunch reports that the new search feature "allows users to find Stories relevant to their interest by keyword, from a large number [of Stories] shared publicly by users and brands." Search in stories is starting to roll out "in select cities" and will be gradually released more broadly.
https://www.youtube.com/watch?v=XyqQtm4wETA
Facebook Enables Branded Content From More Pages: Facebook announced three significant updates on the use of branded content on its platform. Facebook now allows more pages to share branded content. Prior this latest change, only verified pages and profiles could share branded content on Facebook. Now any page can apply to gain access to the branded content tool and begin sharing paid posts once they're approved. This feature is currently only available on iOS and the web, but will be rolling out to Android "in the coming weeks."
Facebook also updated the branded content tag to include the word "Paid" in the post and made changes to its policy and enforcement guidelines for logos, watermarks, graphic overlays, and more. Page admins can read the Facebook Branded Content Policies to get more information on this program.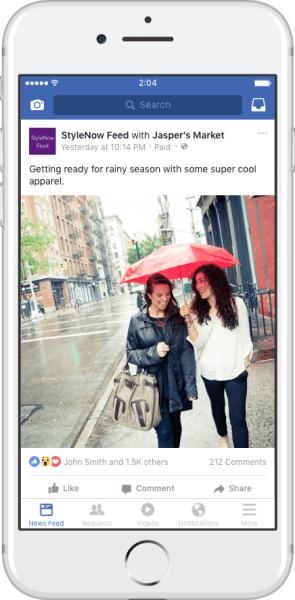 Periscope Adds More Audience Insights: Periscope rolled out two new ways to give broadcasters more insights into their audiences. These updates include a new Activity tab, which "brings forward different types of community engagement" such as new followers or replay alerts and a new analytics dashboard that provides an "in-depth look at their viewership and engagement on their videos over time." The Activity tab is rolling out on both Android and iOS "in the next few days." The analytics dashboard is available now by logging into Periscope.tv and on the web.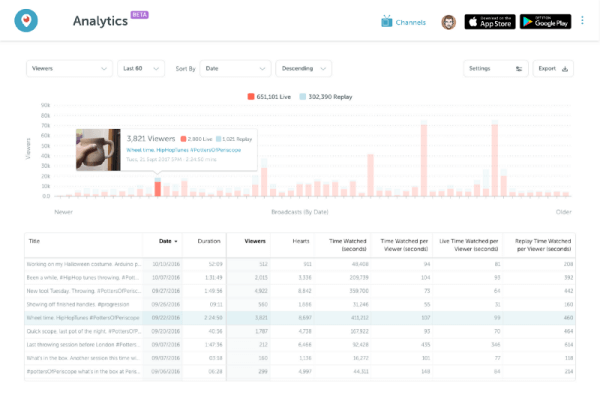 Google Makes Google Optimize Available Globally: Google announced that Google Optimize is now available "for everyone to use in over 180 countries around the world" for free. According to Google, "Optimize helps any business test and deliver better website experiences" and it's now easy to understand and implement through a native integration with Google Analytics.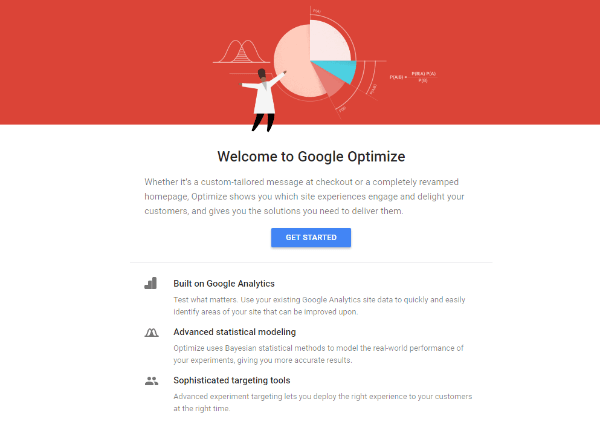 Pinterest Announces Pinterest Propel Program: Pinterest created Pinterest Propel, a new program providing one-on-one marketing support to businesses and agencies that are unfamiliar with advertising on Pinterest. According to Pinterest, Pinterest Propel was created to help companies quickly "build effective campaigns, gain new customers, and analyze [their] traffic, sales, and online actions" and provide direct access to Pinterest advertising experts, training, custom images, and more. This program is currently limited to marketers in the U.S. and Canada.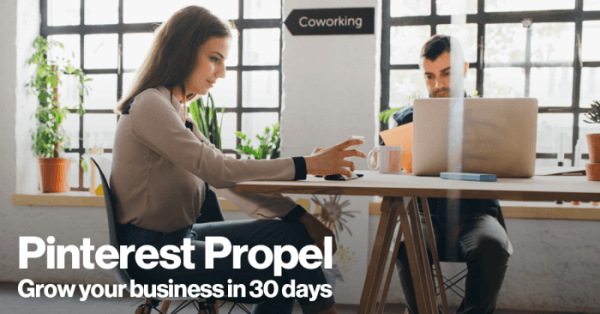 Facebook Expands Charitable Giving Tools to Personal Users and Facebook Live: Facebook initially rolled out charitable giving tools to help non-profit organizations use the platform to gather funds and support. Facebook has expanded these tools to personal users and certain Live broadcasters. Personal Fundraisers on Facebook allow people to raise money for themselves, a friend, or another person or pet within six specific categories: education, medical expenses, pets, crisis relief, personal emergency, and funeral and loss. Personal Fundraisers are currently only available to U.S. adults (age 18 years or older) as a beta test but they are expected to be available more broadly in the future.
Facebook also announced that verified pages for public figures, brands, businesses, and organizations can now add Donate buttons to their Live broadcasts and raise money for the non-profits they support. Page admins can add the new Donate button to their broadcast so anyone viewing has the option to "donate as they watch or give once the broadcast has ended and is posted on the Page."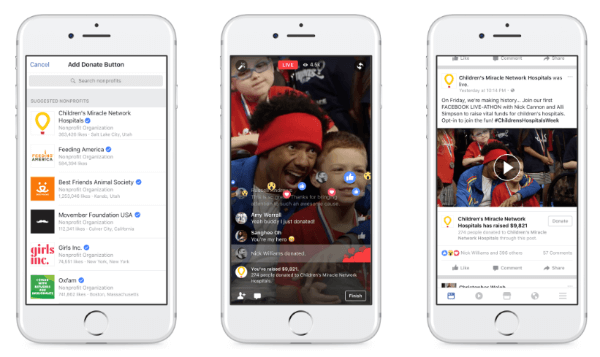 Twitter Rethinks Default Profile Photo: Twitter revealed a new default profile photo that it hopes will "prompt more self-expression" and limit abuse on the platform. The new human figure replaces the egg image which has been a staple on new Twitter accounts for the past seven years. Twitter expressed that its refreshed default image goes along with the brand's "new look and feel" and highlights "the diversity and expressiveness of the people around the world who make up the Twitter community."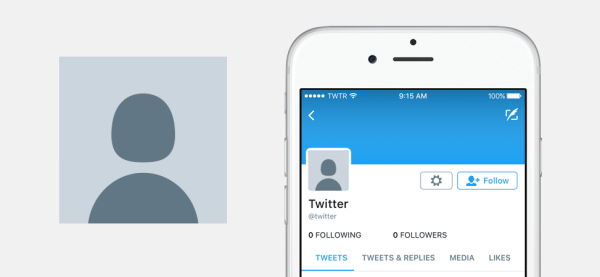 Twitter No Longer Counts @names Toward 140-character Limit: The Next Web reports that "@usernames won't count towards your characters within a reply" on Twitter. Now the other users' names will appear above the tweet text for a "cleaner" look and more simplified approach to conversation management. Twitter has been testing this update with select users and will begin rolling it out more widely.
Twitter will no longer count @-names in replies as part of its 140 character limit https://t.co/SwQM6l4w33 pic.twitter.com/JzzOqdF0zr

— TNW (@TheNextWeb) March 30, 2017
YouTube Invites Community Members to Translate Video Titles and Descriptions: According to YouTube, its "creators and viewers speak nearly every language under the sun – 76 languages to be exact." For this reason, YouTube has built a number of translation tools that allow creators to "easily connect with audiences who don't speak [their] native tongue" such as access to community-contributed subtitles and closed captioning. YouTube just announced that community members are now invited to also translate video titles and descriptions into other languages. This update means "you're only a few clicks away from having viewers translate your videos so more people around the world easily discover, understand, and ultimately fall in love with your content."
Pinterest Rolls Out New Search Features for Spanish-speaking Pinners: Pinterest reports that Spanish is "one of the quickest growing languages" on the site and accounts for over five million searches every day. In light of this discovery, Pinterest released new search tools and a new blog specifically aimed at enhancing the experience of Spanish-speaking pinners. It also released new Pinterest Explore and profiles specifically for Mexico and Argentina.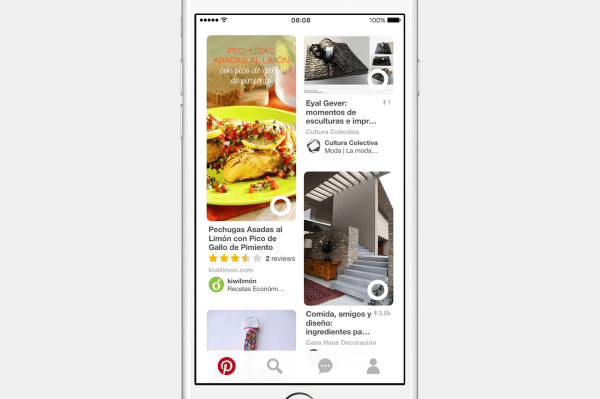 Upcoming Social Media News Worth Following
Amazon Quietly Launches Amazon Influencer Program: Amazon unveiled the Amazon Influencer Program, a new affiliate program "exclusively designed for social media influencers with large followings and a high frequency of posts with shoppable content." This influencer program is currently in beta mode and only open by invitation. Social media influencers who are interested in joining the program can get more information and apply on the Amazon Influencer Program page.
Twitter Tests Pre-roll Ads on Periscope Video: Twitter is working with "select advertisers through custom Amplify packages" to test pre-roll ads on Periscope video within Twitter. Ads on Periscope video offer publishers and creators an opportunity to monetize their content and for brands to advertise against it. Twitter plans to roll out this new product offering more broadly "in the coming months."
Expanding Pre-Roll Ads to Periscope Video https://t.co/kkgg2rwgct

— Twitter Marketing (@TwitterMktg) March 28, 2017
Facebook Experiments With Second News Feed on Mobile: TechCrunch reports that Facebook is testing "an alternate News Feed… that consists of posts, articles, photos and videos from sources you haven't followed, like Facebook Pages or posts news media organizations, for example." The second news feed can be accessed by clicking on a "rocket ship" icon found on the bottom or top of the screen, depending on the type of device and features content based on your or your friends' likes or interests. Facebook confirms it has been testing this new feature on both iOS and Android with "select users worldwide."
Facebook tries a second News Feed headed by a rocket ship icon 🚀 https://t.co/5nswlNv7bu

— TechCrunch (@TechCrunch) March 30, 2017
Facebook Messenger Chatbots Expected to Roll Out to Groups: Facebook is expected to introduce Messenger chatbots to groups at its upcoming F8 Facebook Developers Conference. TechCrunch reports that the new group bots will "keep users informed about real-time news such as a sports game's progress, e-commerce deliveries and more." Facebook hasn't confirmed any details about this project.
Facebook will launch group chatbots at F8 https://t.co/2XLNsVLzZO by @JoshConstine

— TechCrunch (@TechCrunch) March 29, 2017
Some Interesting Studies to Note:
Facebook Ad Benchmarks by Industry: A new report from Wordstream reveals that the average click-through rate (CTR) for Facebook ads across all industries is 0.90% and the average cost per click (CPC) for Facebook ads across all industries is $1.72. Using data from its U.S.-based clients' accounts across 18 industries including B2B, retail, technology, and more, Wordstream also provides insights on the average conversion rates and cost per action for Facebook ads. The article includes a helpful infographic with a breakdown for each of these metrics by industry.
The Infinite Dial 2017 Report: The Infinite Dial Report from Edison Research and Triton Digital is reported to be "the longest-running survey of digital media consumer behavior in America." In this latest edition, researchers explore mobile behaviors, Internet radio, podcasting, social media, smart speakers, and more. According to the findings, podcasting awareness, familiarity, and audiences have grown steadily over the past decade, particularly among those in the 25-54 age range. Respondents were also asked to identify the social media brands that they use most often. Facebook was the top choice among 12- to 24-year-olds, cited by 39% of those surveyed. Close behind was Snapchat (31%) and Instagram (20%).
U.S. Media Quality Report H2 2016: The latest media quality report from Integral Ad Science explores the state of online advertising media across a variety of display and video ad inventory and multiple media metrics. This guide provides key insights based on the hundreds of billions of impressions analyzed monthly in the second half of 2016.
What do you think of Facebook Stories? Have you tried the new Live Location feature in Messenger? Please share your comments below.