Welcome to this week's edition of the Social Media Marketing Talk Show, a news show for marketers who want to stay on the leading edge of social media.
On today's show, we explore the ramifications of Facebook's upcoming Clear History tool and Instagram expanding Stories into the Explore tab with special guests, Jenn Herman and Amanda Bond.
Tune In to the Social Media Marketing Talk Show
Watch this week's show:
Listen now or find the Social Media Marketing Talk Show podcast on iTunes/Apple Podcast, Android, Google Play, Stitcher, and RSS.
About Our Special Guest
Jenn Herman is an Instagram-loving writer, speaker, and social media consultant. You can learn more from her at her site, Jenn's Trends

.

Amanda Bond is the owner of The Ad Strategist and the creator of The StrADegy System. Read her article to see if the current Bro-Marketing culture is tanking your ads.
For this week's top stories, you'll find timestamps below that allow you to fast-forward in the replay above.
Instagram Expands Stories to Explore Tab and Updates Explore Tab Navigation: Instagram is rolling out a redesigned navigation bar for the Explore tab. The new navigation bar will feature pinned shortcuts to Shopping and IGTV first, followed by channels for topics like Travel, Food, and Design. (2:08)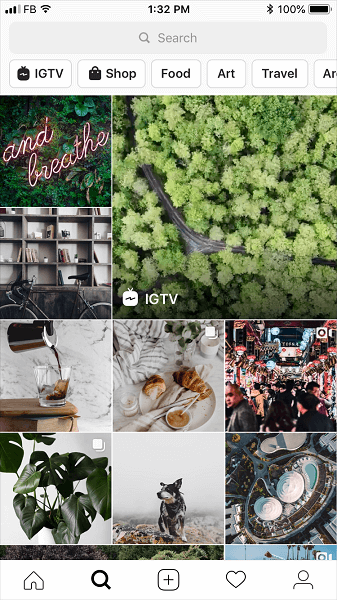 Instagram also announced that stories are now eligible to show up in the Explore tab for the first time, "giving creators a way to get discovered through their intimate, silly, behind-the-scenes content instead of just their manicured feed posts." Instagram will personalize which stories you see on Explore by showing accounts similar to those you already like and follow.
Facebook Shares What Marketers Should Know About the Upcoming "Clear History" Tool: Facebook plans to release its Clear History tool "in the coming months." Once released, this new feature will allow users to see, manage, and disconnect their off-Facebook activity from their user profile. (23:40)
While Clear History offers users greater transparency and control over the use of their personal data, it could also effectively stifle advertisers' ability to target on the platform. Facebook issued a statement on its Facebook Business blog that outlines what this update will mean for marketers and what businesses ought to keep in mind when it rolls out.
Facebook Changes Algorithm to Promote Worthwhile and Close Friends Content: Facebook announced two ranking updates based on surveys Facebook conducted. One prioritizes the friends someone might want to hear from most and the other prioritizes the links a person might consider most worthwhile. (44:10)
Other News Mentioned

Want to catch our next show live? Click here to subscribe or add our show to your calendar.