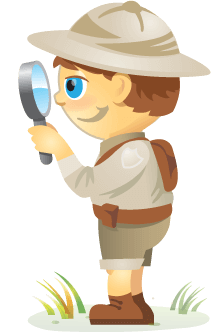 Welcome to our weekly edition of what's hot in social media news.
To help you stay up to date with social media, here are some of the news items that caught our attention.
What's New This Week
Facebook Announces Upcoming Changes to News Feed Rankings: Facebook announced upcoming changes to the news feed ranking that favor updates from your friends and family, but "may cause reach and referral traffic to decline for some Pages," depending on the sharing habits of their unique audience. According to the Facebook Newsroom site, "the specific impact on your Page's distribution and other metrics may vary depending on the composition of your audience. For example, if a lot of your referral traffic is the result of people sharing your content and their friends liking and commenting on it, there will be less of an impact than if the majority of your traffic comes directly through Page posts." Facebook recommends that page owners simply continue to "post things that their audience are likely to share with their friends," citing its publishing best practices as a guide for this.
Pinterest Introduces New Shopping Products: A year after rolling out buyable pins on mobile, Pinterest claims that it has "learned a lot about how people on Pinterest shop" and have used these insights "to develop some new products" that make shopping from the site much easier. In addition to making buyable pins available on the web, Pinterest is adding a versatile new Shopping Bag feature where customers "can add multiple products from different merchants" and rolling out two new ways for pinners "to discover new products that fit their tastes." These include merchant profiles for businesses and the ability to "tap the visual search icon at the top of any Pin and explore the dots to see similar Pins."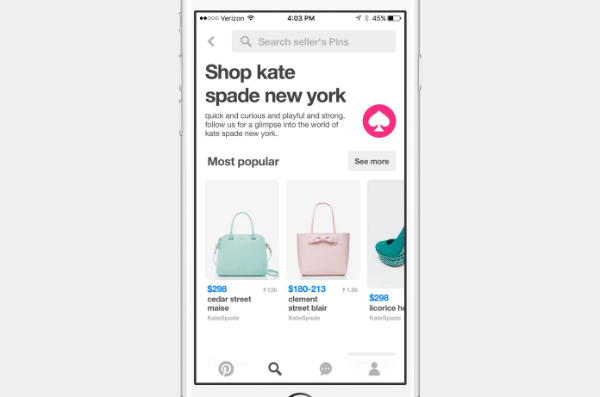 Twitter Introduces Twitter Dashboard: "Twitter Dashboard is a powerful tool designed to help businesses connect with their customers and community." According to Twitter's company blog, this free tool "offers a single destination" where business owners can get "a clear picture of what's being said about their businesses, lets them schedule Tweets and offers insights about their Tweet performance." A beta version of the Twitter Dashboard is currently only available to U.S.-based businesses as an iOS app and on the web.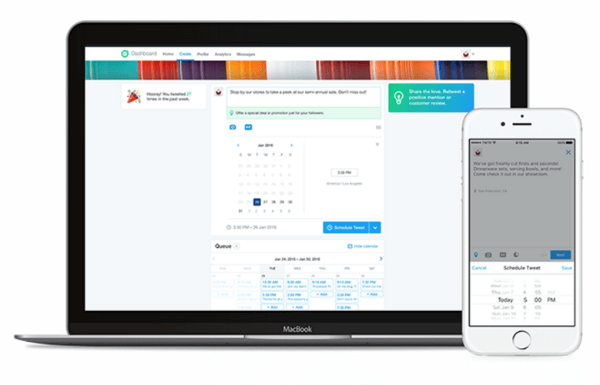 LinkedIn Launches Programmatic Buying for LinkedIn Display Ads: LinkedIn introduced "programmatic buying as a way to access LinkedIn Display Ads." According to the LinkedIn Marketing Solutions blog, "you can now work with your preferred buying platform to buy highly visible ads that help you reach and engage the right buyers and build your brand in the premium context of LinkedIn." This new update will give LinkedIn customers "more flexibility" and "expand the ways [the platform] can partner to meet their marketing goals."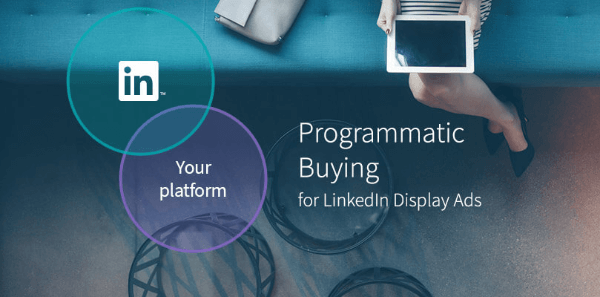 Twitter Adds Searchable #Stickers to Photos: Twitter introduced #Stickers, "a fun new way to add creativity to your photos and connect them to the world on Twitter." Twitter announced that "soon, you can browse [its] rotating sets of stickers to join in on real-time conversations, and select from the library of hundreds of accessories, emoji and props to make your photos more fun." After your photo has been shared on Twitter with the new stickers, your photo becomes searchable "in a new, visual spin on the hashtag. Tapping on a sticker in a Tweet takes you to a new timeline, where you can see how people all over the world use that sticker in different ways."
Coming soon! Unleash your creativity by adding fun #Stickers to your photos on Twitter: https://t.co/Ph92Oivyhy pic.twitter.com/NZoM6nHenD

— Twitter (@twitter) June 27, 2016

Social Media Marketing Society (Ongoing Online Training)

Want to gain marketing confidence and accelerate your career? Try the Society to discover new marketing ideas, improve your results, get support, and become indispensable. Join us for ongoing training, insight from pros, and a community of supportive marketers who understand you.

START YOUR TRIAL MEMBERSHIP
Pinterest Launches Videos Series on How Businesses Can Use Pinterest: Pinterest acknowledges that "you juggle a lot of different platforms for your marketing" and wants "to make it easier for you to understand what makes Pinterest stand out and how you should use it to drive business results" with "a series of educational videos that dive deep into [its] products and how Pinners use it." The videos include tips on how to make pins that build awareness, increase clicks, and drive engagement. Pinterest plans to continue developing "more ways to educate businesses of all sizes on how to use Pinterest to see results for their businesses" in the future.
Facebook Adds Audience Network Block List to Business Manager: "Brands and agencies using Facebook's Business Manager now have the option of blocking their ads from running on specific applications or websites." AdWeek reports that Business Manager users can create a block list when choosing an Audience Network placement. This new feature is rolling out gradually and may not be available to all Business Manager account holders yet.
Put Google Analytics to Work for Your Business (Online Training)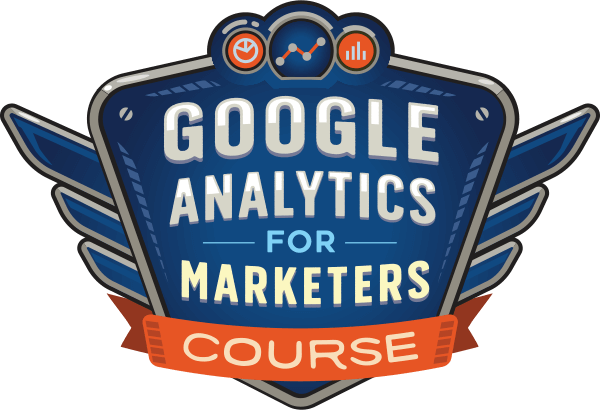 Ever thought, "there's got to be a better way" when it comes to tracking your marketing activities? Are you forced to make decisions based on limited data? With the right training, you can use Google Analytics to measure all of your marketing efforts with certainty.
You'll stop the leaks in your ad spending, justify your marketing spend, gain the confidence you need to make better marketing decisions, and know what's working at every step of the customer journey. Let the world's leading analytics pro show you the way. Check out our new Google Analytics for Marketers course from your friends at Social Media Examiner.
CLICK TO LEARN MORE: ANALYTICS TRAINING
Our Take on Top News This Week
In this week's show from Friday, July 1, 2016, Michael Stelzner and guests discuss the top news in social media. Topics include Facebook News Feed changes (04:12), Twitter's new dashboard tool and stickers (18:15), and Pinterest's new buying features (34:00). Subscribe to future shows here.
.
More News to Note
Facebook Redesigns Like Button and Rolls Out New Ways to Save and Share Content: Facebook introduced "several new ways for developers to help people improve their sharing and saving experience. This includes two new Chrome extensions, as well as updating [its] full suite of Social Plugin buttons to make it even easier to share, save and engage with content on Facebook." Facebook's new Like button and other social sharing buttons are now mobile-friendly and backwards-compatible. They will also feature a "cleaner design" and integrate seamlessly with instant articles.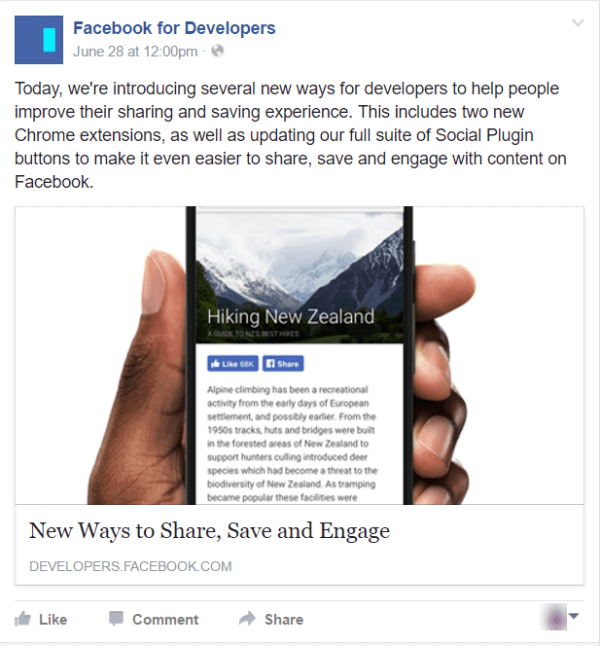 Facebook Rolls Out Slideshow Feature for Facebook for iOS: "A new [Facebook] feature coming to its iOS app this week, called Slideshow, takes your mobile photos and videos and turns them into a short clip you can customize with different themes and music." The Verge reports that Facebook borrowed this feature from its stand-alone Moments app, which launched a year ago, and is "placing it prominently in the main Facebook app." A move that the publication suggests is "another step in [Facebook's] campaign to turn its social network into a video-first destination."
Facebook Rolls Out Human-Curated Featured Events to Limited Cities: Facebook for iOS users in 10 U.S. cities will start seeing "the option for Featured Events in a carousel atop their list of upcoming soirees." TechCrunch reports that "Facebook's curators will peruse each city's top art, entertainment, family, festival, fitness, food and drink, learning, community, music and sports events and select a few with the capacity to accept some extra foot traffic." The first cities with access to this new feature include Boston, Chicago, Dallas, Houston, Los Angeles, Miami, New York City, San Francisco, Seattle, and Washington, D.C. A wider rollout is anticipated if the feature works well. 
Upcoming Social Media News Worth Following
Facebook Debuts New Tool to Help Users Fundraise on Behalf of Non-profits: Facebook will roll out "a new tool to enable people to raise money for U.S.-based 501(c)3 nonprofits directly on Facebook." TechCrunch reports that "initially, only 1% of people in the U.S. will be able to create fundraisers, but the product will roll out to everyone in the U.S. in the next few weeks."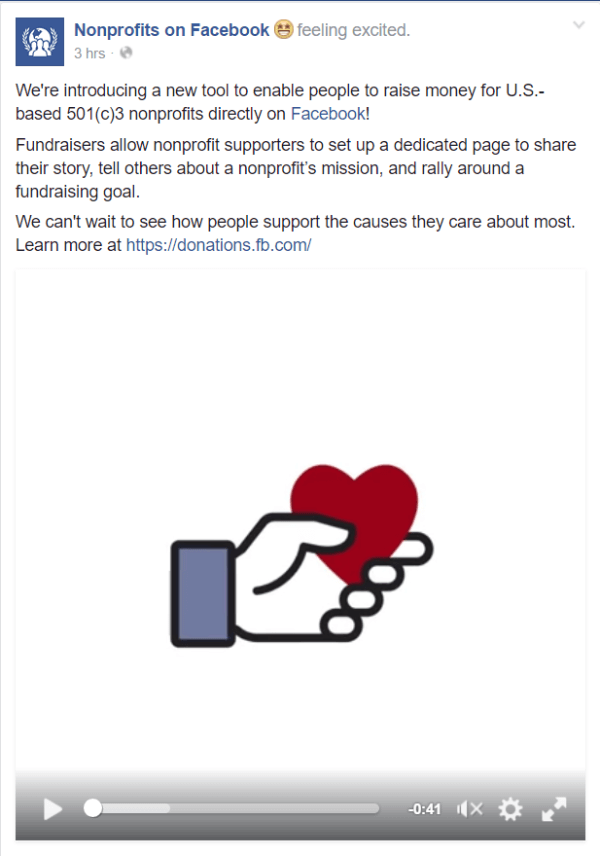 Facebook Continues to Test Payments in Messenger: "Facebook is testing a new option designed to highlight the company's ability to handle person-to-person payments through its Messenger chat application." A new "Send or Request Money" option, found in the Facebook app's main navigation, prompts users to move "into Messenger in order to manage payments or… sends them over to the App Store to download Messenger if it's not already installed." Facebook is currently only testing this feature in the U.S. as "Messenger's support of peer-to-peer payments is only available in the U.S. for the time being."
Facebook Shuts Down Paper App: This week, "visitors to the [Paper] app received a message saying the app would no longer function after July 29th." In a statement to The Verge, Facebook says that its "goal with Paper was to explore new immersive, interactive design elements for reading and interacting with content on Facebook." Since the Paper app's introduction in 2014, Facebook has "learned how important these elements are in giving people an engaging experience" and "ideas from Paper have made their way into other Facebook apps" such as Instant Articles.
Some Interesting Studies to Note:
Reach Matters: Driving Business Results at Scale: Facebook Marketing Science conducted a study that explores how efficient reach is in driving real business results at scale for brands and advertisers. This new white paper from Facebook IQ demonstrates how reach continues to be an important driver to campaign effectiveness and offers key insights on how to optimize your digital marketing.
Deliver Peak Experiences From Interactive Content: A new study from Content Marketing Institute and Ion Interactive explores the value of interactive content in terms of garnering attention, participation, and repeat visits from readers and enhancing retention of brand messaging. This report also shares the most common types, placement, and measurement methods of interactive content. One key finding suggests that interactive content enables brands to educate an audience in a way that lets the audience participate in the experience, which is a vital means to secure engagement.
URL to IRL: How Digital Marketing Drives Conversation, Online and in Real Life: According to a new report from Engagement Labs, nearly one in four face-to-face conversations about brands reference some piece of information seen online. Not surprisingly, the biggest growth in digital content referenced is seen with social media. Branded social content is now referenced in 5.4% of all word-of-mouth conversations, which is estimated at about quadruple its share from 2008 (1.3%). The study suggests that all digital content references have grown since 2008, with consumer reviews (4%, up from 1.6%) also seeing a strong increase. However, brand websites (6.3%) are the leading source of digitally referenced content.
What do you think of the upcoming changes to the Facebook news feed? Have you tried using the new Twitter Dashboard? Please share your comments below.