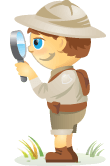 Welcome to this week's edition of the Social Media Marketing Talk Show, a news show for marketers who want to stay on the leading edge of social media.
On this week's Social Media Marketing Talk Show, we explore Facebook's New subscription service for creators and pausing Messenger chatbots with Luria Petrucci, Facebook privacy updates, and other breaking social media marketing news of the week!
Watch the Social Media Marketing Talk Show
If you're new to the show, click on the green "Watch replay" button below and sign in or register to watch our latest episode from Friday, March 30, 2018. You can also listen to the show as an audio podcast, found on iTunes/Apple Podcast, Android, Google Play, Stitcher, and RSS.
For this week's top stories, you'll find timestamps below that allow you to fast-forward in the replay above.
Facebook Tests Monthly Subscription Service for Creators: Last week, Facebook announced that it's currently building a range of new monetization and audience tools for creators. One of these new monetization options is being described as a Patreon-like system where users can sign up for a monthly subscription to their favorite creators in exchange for exclusive content and a fan badge. TechCrunch reports that the subscriptions will begin at $4.99 with Facebook and either Google Play or the iOS App Store taking a cut. However, custom pricing could come later. Facebook is expected to launch the program next month with 10 creators across the U.S. and UK. (6:00)
Facebook builds Patreon, Niche clones to lure creators with cash by @joshconstine https://t.co/8WRMXhaosM pic.twitter.com/eLejCYEnhp

— TechCrunch (@TechCrunch) March 19, 2018
Facebook Temporarily Pauses Chatbot and App Reviews: Along with a number of platform changes intended to protect user data and prevent its misuse, Facebook is currently pausing all app reviews. This means developers won't be able to launch any new apps or new chatbots on the Facebook platform while the company reviews its current privacy and data policies. (18:09)
Facebook assures developers and users that existing Facebook Messenger bot experiences that have already been approved and connected "will continue to function as is." Developers are also cautioned not to clear cookies, sign out, or attempt to reconnect their bots through any third-party tools such as ManyChat or ChatFuel until Facebook updates its policies.
Facebook Announces Upcoming Platform Changes and Stricter Developer Policies: In addition to pausing its app and chatbot review process, Facebook announced several other platform updates that will take effect in the "upcoming days and beyond." There will be stricter policies and terms for B2B app development and more user control over what data those apps are permitted to access. Facebook is also conducting a full audit of any app with suspicious activity and making it simpler for users to report any misuses of data they find. Facebook promises to ban developers that misuse personally identifiable information and notify users if an app is removed for this reason. (25:55)
Facebook Establishes New Privacy Tools: Facebook announced a new set of changes to its user-facing privacy settings and is rolling out the ability to manage, download, and delete any data that has been previously collected by Facebook across its platform. Facebook redesigned and streamlined its account settings to a single page on mobile, added a new Privacy Shortcuts menu, added extra layers of security, and much more. These updates will be available to all users "in the coming weeks." (29:49)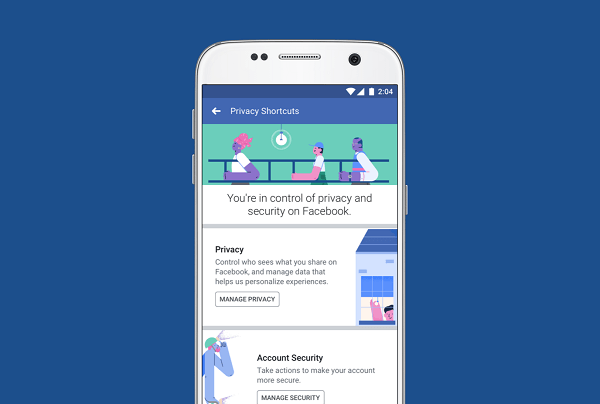 Facebook Unveils New Comment Privacy Feature: Facebook appears to be testing a new privacy feature for comments. A new Lock icon allows users to toggle two privacy settings for comments on public posts: open to the public or only visible to you and the profile or page owner. This possible new feature was spotted in the UK and shared by Matt Navarra. (33:04)
Facebook rolling out its Comment Privacy feature?

Now available to me in the UK… pic.twitter.com/MYb3vP7ntc

— Matt Navarra (@MattNavarra) March 28, 2018
Facebook Plans to Shut Down Third-Party Ad Data: In a separate statement, Facebook announced plans to shut down Partner Categories soon, a product that enables third-party data providers to offer ad targeting data directly on Facebook. Recode reports that Facebook currently allows advertisers to target groups of people based on a mix of offline data such as offline purchasing activity collected by companies like Experian and Acxiom, user activity and profile data collected by Facebook, and a company's own customer data. Facebook will wind down the practice of including third-party ad data "over the next six months" in a continued effort to improve and protect privacy on Facebook.
Facebook is changing what data advertisers can use to target you with ads https://t.co/N0cJsS1lgG pic.twitter.com/qKOvLsKprQ

— Recode (@Recode) March 28, 2018
Facebook Temporarily Drops Audience Reach Estimates From Custom Ads: In an email to brands and advertisers, Facebook stated that after identifying a new technical issue with reach estimation for custom audiences that could "potentially allow misuse of the functionality," it's removing the ability to see reach estimates for all custom audiences across all of its interfaces until the issue can be resolved. Facebook will also limit how many custom audiences an advertiser can create during this time.
Exclusive: Facebook will no longer show audience reach estimates for Custom Audiences after vulnerability detected by @ginnymarvin https://t.co/8vP68D2MwT

— Marketing Land (@Marketingland) March 23, 2018
Facebook Prioritizes Local News Globally:  Earlier this year, Facebook announced plans to prioritize news items from users' local towns or cities in the news feed. This update initially rolled out in the U.S. but has now been expanded to "people in all countries, in all languages." Facebook states that this update will help "local publishers who cover multiple, nearby cities reach audiences in those cities" and "[connect] people to local publishers from those cities."
News Feed FYI: More Local News on Facebook, Globally https://t.co/ekEo5M6boh

— Facebook Newsroom (@fbnewsroom) March 26, 2018
Facebook Expands Local News Section to More U.S. Cities: In January, Facebook began testing a new section of the mobile app that connects users to a separate feed entirely dedicated to local news, events, and announcements. This new section, called Today In, was being vetted by local publishers in six U.S. cities. Due to the positive response to this experimental feature, Facebook plans to expand the test to 25 additional U.S. cities over the next few weeks. The list of cities and how to find Today In can be found on the Facebook Media blog.
Along with this rollout, Facebook is starting a small test with some first-responder pages "to help them communicate local alerts on Facebook" and determine if posts are an effective way to support established emergency alert systems. The local alert indicator will appear in both the news feed and Today In in a select number of cities, where Today In is currently available.
LinkedIn Introduces Native Video for Sponsored Content and Company Pages: LinkedIn is rolling out autoplaying native video ads that will be featured as stand-alone posts in the LinkedIn news feed. LinkedIn is also introducing the ability for businesses and publishers to include native video on their company pages. Both of these capabilities are rolling out now and will be available to all businesses "in the next few weeks."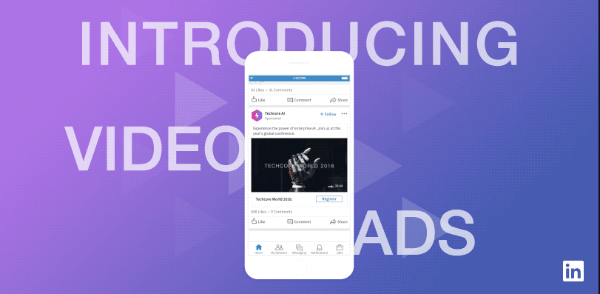 Facebook Tests Expiring Friend Requests: Facebook is testing 14-day time limits on accepting friend requests with a small subset of users. TechCrunch notes this new feature is "a way to assist people with managing unwanted friend requests by eventually deleting those people [they] saw but didn't accept."
Facebook fights creeps and apathy with expiring friend requests https://t.co/kiRZc0AnUH by @joshconstine pic.twitter.com/p9m8TWxI2X

— TechCrunch (@TechCrunch) March 26, 2018
Facebook Adds Video Cover Image Options for Profiles: Facebook now allows users to select a video for a profile cover image from the Cover Artwork library. Previously, Facebook only offered static images in this gallery.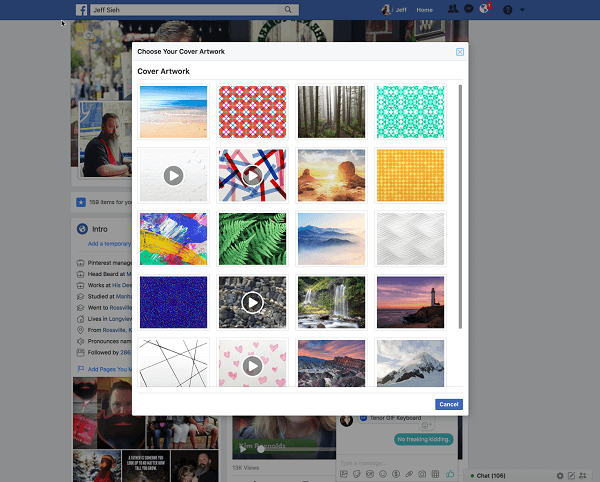 Pinterest Rolled Out New Following Tab: Pinterest announced it's rolling out a new way to discover ideas from the people and brands you already follow on the platform. The new Following tab makes it "easy to see the latest Pins from all the people you follow, in the order they save them." This new feature is available on the web and on mobile for both iOS and Android.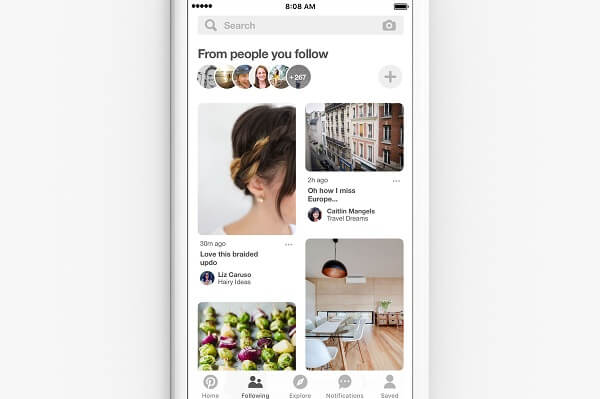 Twitter Adds New Companies to Official Partners Program:  In 2015, Twitter launched its Official Partner Program, which features an "elite set of companies… [that can help brands] increase returns on advertising campaigns, gain brand insights, scale customer care, and more." This week, Twitter announced that it's adding six new partners to this program. These companies include Curalate, Jebbit, VidMob, Vidsy, Animoto, and Social Native.
Today we're expanding the @TwitterMktg toolset with six innovative solutions that deliver memorable, high-quality #creative for brands.

Welcome new Twitter Official Partners! @Curalate @Jebbit @vidmob@VidsyHQ @Animoto @socialnativehttps://t.co/xsQM2QDd1w

— Official Partner (@OfficialPartner) March 27, 2018
Want to catch our next show live? Click here to subscribe or add our show to your calendar.