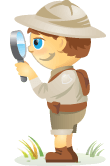 Welcome to our weekly edition of what's hot in social media news.
To help you stay up to date with social media, here are some of the news items that caught our attention.
What's New This Week
Facebook Introduces Recommendation Engine and New Call-to-Action Buttons for Local Events and Businesses: Facebook introduced "a variety of new features that help you… discover new things in the world around you, decide what to do or where to go and connect with local businesses in easier and faster ways." Facebook rolled out a new Recommendations feature that makes it easier to gather, map, and organize local business or service recommendations from your friends, and will revamp the Events bookmark to simplify searching for and getting the latest information on local events. The newest version of the Events dashboard will be available in the U.S. "in the coming weeks."
In addition, Facebook introduced several "new ways for people to take action faster once they've found something they want to do or a place they want to go." With new call-to-action buttons rolling out on Facebook, users can now order food, request an appointment, get a quote, or purchase tickets to a movie or event without ever leaving a business's Facebook page. These new experiences are currently only available in the U.S., but more ways to "communicate directly with businesses on your time and terms" are expected to be announced in the "coming months."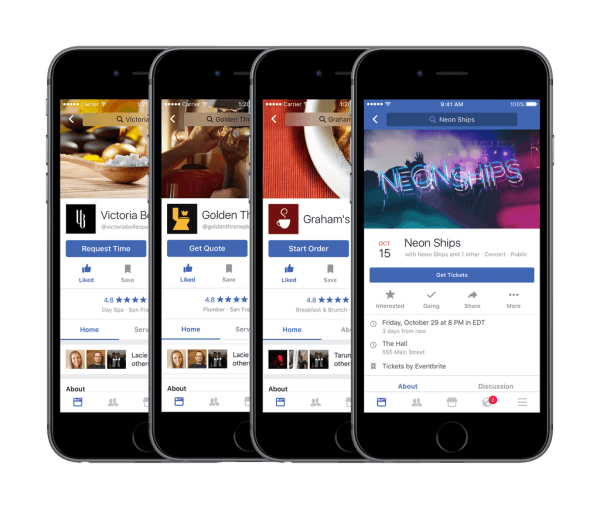 Facebook Live Introduces Broadcast Scheduling Tool for Verified Pages: Facebook rolled out "the ability for Verified Pages to schedule live broadcasts, starting with live videos published via the Facebook Live API." This new feature allows page admins "to build anticipation and buzz with your audience before your broadcast begins, so you can start strong with an audience already assembled." Live broadcasts can be scheduled up to "one week in advance" and the audience members can "join your lobby" up to three minutes before your broadcast is set to begin. Once a broadcast is scheduled, Facebook provides a link to it that can be shared and embedded on other websites or blogs. This new scheduling feature is currently only available on verified pages, but Facebook confirms that it will be available to all pages and third-party tool developers "in the weeks to come."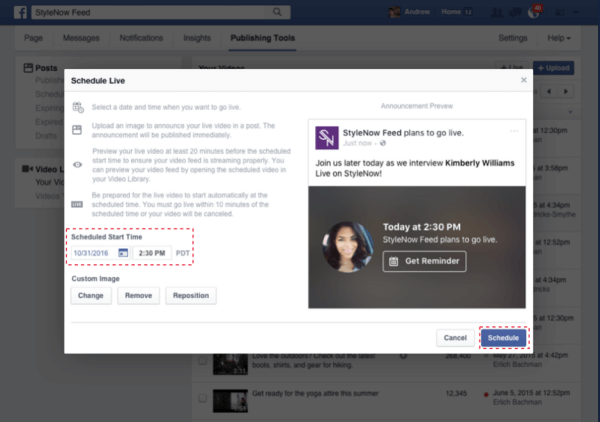 Pinterest Unveils the Pin Collective: Pinterest introduced the Pin Collective, a new initiative that "connects businesses with Pinterest's best content creators" and provides an opportunity for brands to partner with these experts "to create content that simultaneously delights Pinners and drives business results." The Pin Collective is comprised of a hand-selected group of "publishers, production shops and independent creators who know the nuances of what makes content successful on Pinterest." Their role is to provide "end-to-end production for everything from Pins to videos to larger creative initiatives." Pinterest works directly with businesses to select "the right partner for their specific needs." Advertisers who are interested in working with the Pin Collective should reach out to their Pinterest partner manager or contact Pinterest directly through the email provided on the Pin Collective site.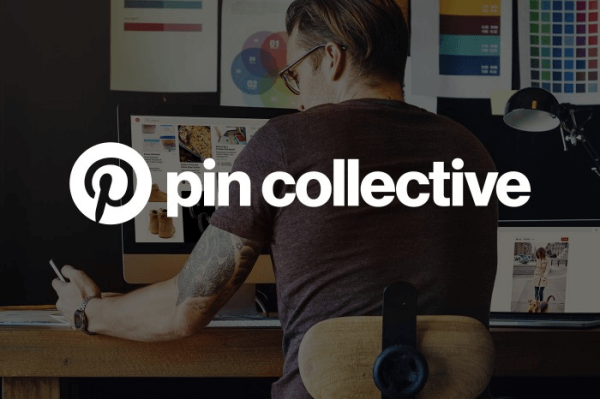 LinkedIn Updates Skills and Endorsements Features: LinkedIn revamped the Skills and Endorsements features on the site and "now when someone views your profile, they'll only see the most relevant endorsements for the skills you want to highlight." Endorsements are "smarter by highlighting endorsements that matter most to the viewer so you always look your best" and offer "improved targeting" that requests endorsements from your connections who might best know your skills and work. LinkedIn rolled out the new Endorsements feature globally on the mobile app and will make it available on its newly redesigned desktop experience "soon."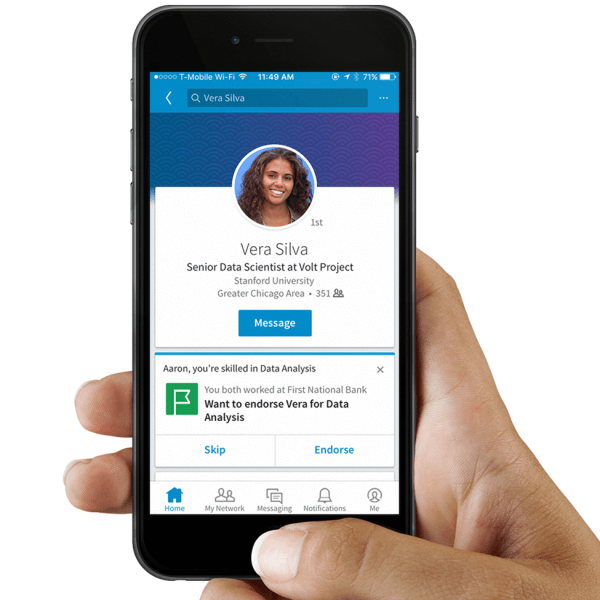 Facebook Adds Option to Set Initial View on 360 Photos: Facebook rolled out "the ability to set the initial field of view on your 360 photo on iOS, Android and Chrome for desktop" with a swipe of your finger on mobile or by clicking a button. In addition, Facebook previewed two additional updates coming soon to 360 photos on Facebook. These include the ability to post 360 photos to albums and the ability to add them to multimedia posts.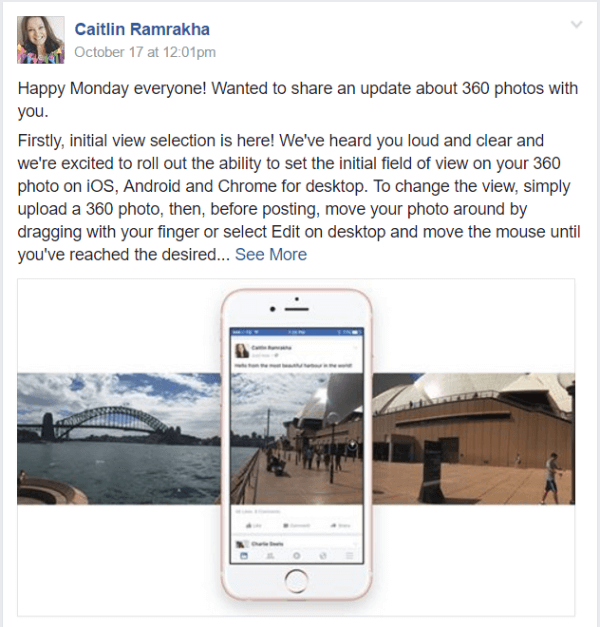 Vimeo Rolls Out New Profiles and Looping Cover Videos: Vimeo redesigned its user profiles "to give you more control over how it looks and how you showcase your videos online." Overall, profiles appear to have a "cleaner, less cluttered layout" and now feature a new cover video that loops silently at the top of the page. Users can further customize their profiles by choosing "up to 10 videos to feature on the front page of [their] profile, and pick the order in which they appear." Vimeo members "regardless of membership type" have access to all of these updates with "even more profile customization tools" being released "in the coming weeks – including a slick new Videos page, with extra control for you – designed especially with creators like you in mind."
.
Our Take on Top News This Week
In this week's show from Friday, October 21, 2016, Michael Stelzner and guests discuss the top news in social media. Topics include Live video scheduling on Facebook verified pages, Google's new and improved search index strictly for mobile, and new recommendation and customer service updates coming to Facebook pages. Subscribe to future shows here.
More News to Note
Facebook Instant Articles Adds Support for 360 Videos and Photos: Facebook announced that "360 videos and photos are coming to Instant Articles." According to the Facebook Media blog, "journalists and storytellers can share richer stories and paint more vivid scenes by joining 360 content with other Instant Articles elements that publishers are using to deliver their written, filmed and spoken narratives." This experience is available now to instant article publishers and readers using the latest versions of Android and iOS. Facebook also announced that there will be more interactive features and storytelling tools being released for instant articles "in the coming months."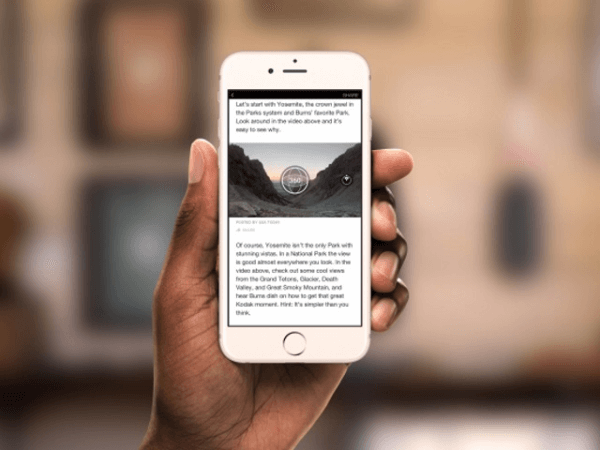 Instagram Adds Instagram Stories to Explore Tab: Instagram announced that users will "begin to see Instagram Stories on Explore." The Instagram Stories feature was released in August "for sharing everyday moments." According to Instagram, the new Suggested Stories section "highlights the most interesting stories from across Instagram's vast global community – and like the rest of Explore, the stories you'll see are personalized to your interests." This new feature makes it "easier than ever to discover new stories you'll want to watch."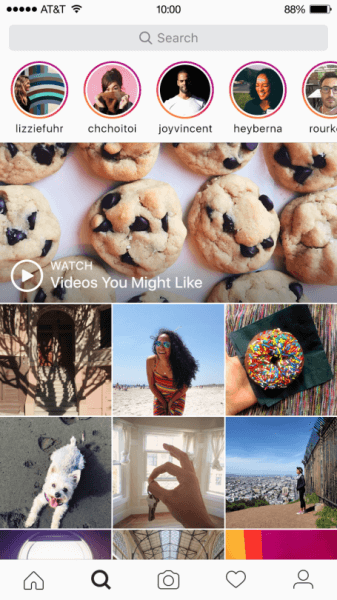 Facebook Shutters Storyful-Powered FB Newswire Service: Business Insider reports that Facebook shut down FB Newswire, "a page designed by Facebook as a resource for journalists looking for newsworthy social content shared publicly on Facebook by individuals and organizations." Facebook included a column for Facebook Live videos to its Signal tool for journalists that "will take the place of the FB Newswire/Politicswire column populated by Storyful." According to Facebook, "the [FB Newswire] feed isn't going forever." It's only being "recrafted." No further explanation for the decision to shut down FB Newswire has been provided.
Facebook Adds New Measurement Partners to Facebook Marketing Partner Program: Facebook added 16 new measurement partners to the Facebook Marketing Partner program. Each new partner offers "unique capabilities and [will] help advertisers measure the audience outcomes, brand outcomes, and sales outcomes that matter to them" and "make it even easier for marketers to drive real business results." These new partners will be grouped into three new subspecialties underneath the overall measurement umbrella, "Audience Measurement and Audience Viewability," "Brand Measurement," and "Lift Measurement, Advanced Attribution, Basic Attribution, and Marketing Mix Modeling."
Social Media Marketing Society (Ongoing Online Training)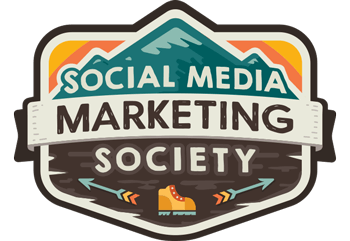 Want to confidently secure your future? Is your mission to bring in more revenue, attract better leads, or increase exposure for your company or clients? The Society Media Marketing Society is the ultimate resource for marketers—a place where you can discover new marketing ideas, improve your results, get support, and become indispensable. Join thousands of your peers and receive ongoing training, support from pros, and access to a community of supportive marketers who understand your struggle.
JOIN NOW - SALE ENDS MARCH 5TH!
Facebook Adds Customizable Push Campaign Option to Analytics for Apps: Facebook Analytics for Apps introduced a new push campaign tool earlier this year and launched it as a public beta last month. This week, Facebook announced that "push campaigns have come out of beta, and are now available to all businesses." The new ad tool includes fresh features such as a redesigned audience targeting section that makes it "easier than ever before to send push notifications to specific audience segments for a smoother and quicker workflow" and in-app notifications that "can send rich media cards that appear to people directly inside your app." Facebook's new customizable push campaign options are available to all Android and iOS app developers.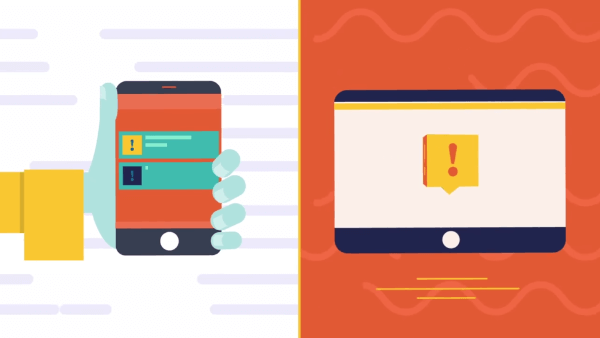 LinkedIn Releases Global Job Skills Report and Announces Week of Learning: LinkedIn released the Global Top Skills of 2016, an annual report on the top skills employers from around the globe need most in job candidates. This report identifies several trends in the global job market, including a decreased supply of marketing jobs and an increased need for data and cloud computing professionals. According to LinkedIn's findings, "data has become central to many products, which has created a need for people with user interface design skills who can make those products easy for customers to use."
Along with the release of this new report, LinkedIn Learning announced a Week of Learning from October 24-30, 2016. During this week, LinkedIn Learning will offer over 5,000 free courses, "including the courses that can teach you the Top Skills of 2016."

Google Analytics Rolls Out Google Surveys 360: Google Analytics announced "a major addition to the Google Analytics 360 Suite and a big step toward bridging brand and performance marketing – the arrival of Google Surveys 360." Previously called Google Consumer Surveys, this updated tool provides enterprise marketers with "fast, accurate market research – in combination with their marketing performance and analytics data – to help them make key business decisions at the speed of today's digital world." Google Surveys 360 is available for purchase in the U.S. and Canada as part of the Analytics 360 Suite.
IAB Tech Lab Releases Dynamic Content Ad Standard for Public Comment: The IAB (Interactive Advertising Bureau) Technology Laboratory publicly released the IAB Dynamic Content Ad Standard, "a schema that will increase the relevancy of ads delivered to consumers across desktop and mobile screens, ultimately providing marketers with greater digital advertising efficiency and effectiveness." According to the IAB blog, "the new standard will enable digital ads – whether display, video, audio, native, or social – to render differently depending on the viewer, allowing a varied set of assets to be deployed on the fly in response to predetermined data triggers and business rules." The public is invited to provide feedback and comments on the new standard through November 28, 2016, after which time the IAB will "evaluate the comments received, make any necessary revisions and release a final version."
Upcoming Social Media News Worth Following
Pinterest Developing New Explore Section for Publishers and Brands: AdAge reports that "Pinterest is building a new media channel for publishers and brands to create videos and multimedia posts." The new media section, called Explore, will be "similar in concept to how publishers work closely with Snapchat, Twitter, Facebook and Instagram… [but] the design and content would be uniquely Pinterest" and "there will be places for advertisers to buy into media sections."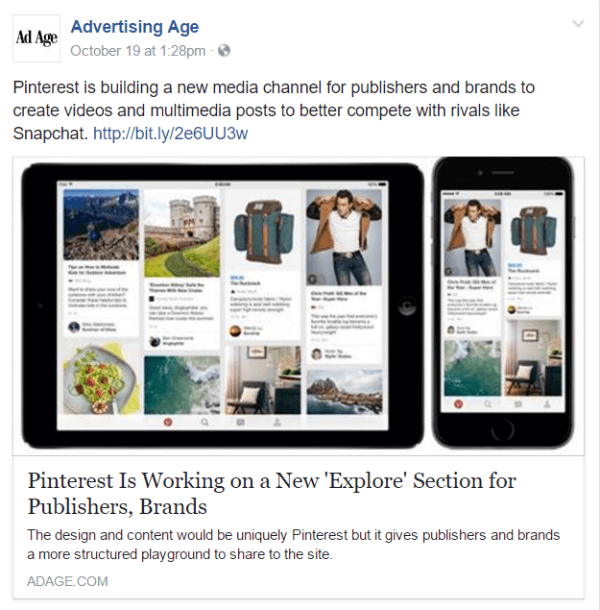 Snapchat Proposes Changes to Ad Revenue Terms for Discover Content Partners: Snapchat proposed "a major change in the way it works with companies that supply it with content for its 'Discover' section." Recode reports that Snapchat is looking to move from the current ad revenue sharing model to paying content partners "a flat license fee up front," which is the same model that TV networks use when they buy programming. Since Discover launched last year, publishers have been able to sell ads against their own content while Snapchat's sales team also sold ads against the same content. The new terms mean that Snapchat will have "full control over its ad inventory." In exchange, publishers will have "a guaranteed payday when they create custom content for the app," but may not be able to make as much money on their own content as before.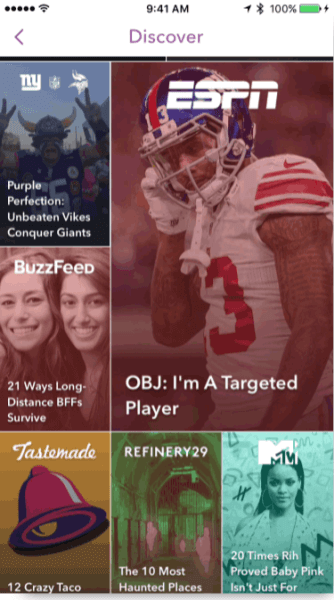 Facebook Announces Upcoming Updates to Audience Network: Using data and insights from conversion signals and real outcomes from advertising campaigns, Facebook announced plans to release updates to its Audience Network that will "significantly improve [its] ability to value different ad placements." Facebook warns Audience Network publishers that they "may see fluctuations in their CPMs in either direction," but hopes that "these updates will encourage publishers to develop high-quality placements that are not optimized solely for click-through rates."
Facebook Messenger Tests Data Saver Mode: The Next Web reports that Facebook Messenger is testing a Data Saver mode that changes "how the app downloads any media content the user receives, such as photographs and videos." The Data Saver feature is currently being tested in the beta version of the Facebook Messenger Android app and is expected to roll out widely "pretty soon." Interested users can sign up to become testers for the unreleased version of the Messenger app in the Google Play Store.
Facebook Adds Ability to Add Products to Facebook Dynamic Ads via URL: Ad Week reports that "brands using Facebook's dynamic ads can now add product images via URL, rather than solely via product catalogs on the social network." No details or announcements about this update have been confirmed by Facebook.
Facebook Expands Test of Snapchat Stories Lookalike for Messenger: Facebook Messenger is expanding its test of a new "Snapchat Stories clone feature" to a new market. This new feature is called Messenger Day and "lets people share illustrated filter-enhanced photos and videos that disappear in 24 hours, just like on Snapchat." Messenger Day initially rolled out as a small test in Poland and has expanded to Australia. Facebook has not confirmed any plans to expand this test beyond these two small markets.
Facebook Tests Conversation Starters in Messenger: Ad Week reports that Facebook has started testing "Conversation Topics" within Messenger. In a screenshot provided by a reader, "conversation topics appear beneath their friends' names in the app's new section with potential topics including places those friends have visited, songs they have listened to via streaming services or events they have expressed interest in."
Some Interesting Studies to Note:
The Power of Choice: Rapt Media surveyed 2,000 consumers on how they interact with online video content. The results show that having choice and control over online content increases user engagement. According to this new report, 89% say they want control over the ads they're shown online and 57% want to discover content on their own rather than have it delivered via advertising. Sixty-four percent will spend more time watching a video if they can participate in it.
2017 B2C Content Marketing Benchmarks, Budgets, and Trends – North America: MarketingProfs and Content Marketing Institute issued the newest installment of the annual content marketing Benchmarks, Budgets, and Trends report. This report focuses on B2C content marketing in North America and examines organizations' approaches, successes, and strategies for content marketing. A companion report on B2B content marketing in North America was released at the end of September.
Conversion Rate Optimization Report: Econsultancy, in association with RedEye, released its 8th annual report on conversion rate optimization, which examines the strategies and tactics organizations are currently using for improving conversion rates. The report also explores the most effective tools, processes, and methods being implemented to improve conversion rates, as well as what methods organizations plan to explore in the future.
What do you think of the new Facebook populating business details in friends' comments? Have you signed up to work with the Pin Collective? Please share your comments below.