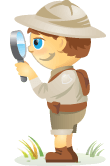 Welcome to this week's edition of the Social Media Marketing Talk Show, a news show for marketers who want to stay on the leading edge of social media.
On this week's Social Media Marketing Talk Show, we explore Instagram's new in-app checkout and polling in sponsored stories with our special guest, Rebekah Radice.
Watch the Social Media Marketing Talk Show
Watch this week's show:
Listen now or find the Social Media Marketing Talk Show podcast on iTunes/Apple Podcast, Android, Google Play, Stitcher, and RSS.
For this week's top stories, you'll find timestamps below that allow you to fast-forward in the replay above.
Instagram Launches In-App Checkout Feature: Instagram rolled out the ability to shop and make purchases directly within the app. At the moment, the new Checkout on Instagram feature is being introduced as a closed beta for select businesses and buyers in the U.S., but "more will be coming soon." (2:36)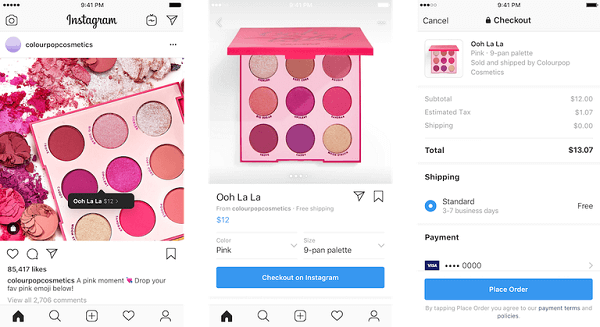 Instagram Introduces Interactive Polling to Sponsored Stories: Instagram added the option to include interactive elements to sponsored stories, beginning with the Polling sticker. Instagram plans to continue innovating in Stories ads and rolling out new tools for businesses on Instagram. (15:40)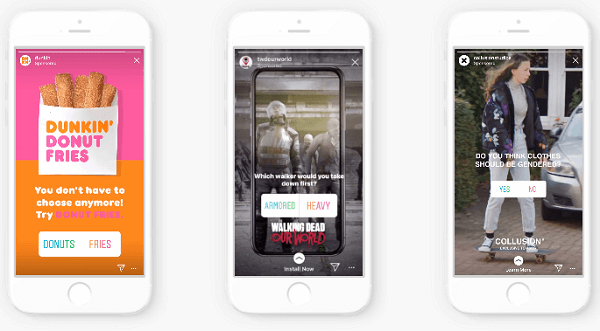 Social Media Marketing Workshops (Online Training)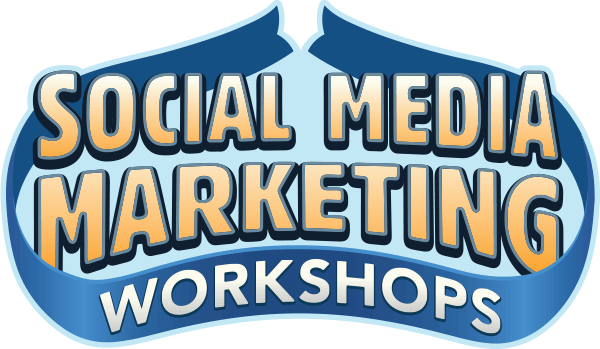 Want to improve your paid and organic marketing on Instagram, Facebook, YouTube, or LinkedIn—and secure your future? Get ready to be coached by 14 of the world's best social marketing pros in the most comprehensive social marketing training we've ever offered. You'll receive step-by-step live instruction so you can increase your reach, create amazing engagement, and sell more with social media. Become the marketing hero for your company and clients as you implement strategies that get proven results. This is a live online training event from your friends at Social Media Examiner.
LEARN MORE - SALE ENDS JANUARY 26TH!
Instagram Adds More Transparency to Influencer Campaigns: AdAge reports that Instagram is developing a new type of ad called "branded content," which will allow brands to sponsor posts created by celebrities, influencers, and publishers, and promote them as they would any other ad. This is part of the company's broader strategy to connect advertisers and creators in more formal partnerships. Branded content ads were introduced last year and are still being tested. (23:49)
Instagram has a new ad format for branded content, and it lets brands work more closely with influencers. https://t.co/E3tTVe2fUy pic.twitter.com/KQS6nNID2p

— Ad Age (@adage) March 5, 2019
Instagram Tests Lockout on Old Usernames: It appears that Instagram is developing an experimental feature that locks old usernames for a 14-day grace period after a user changes their Instagram handle. Developer and researcher Jane Manchun Wong, who's known for uncovering new and unreleased features in apps and social media platforms, discovered this feature. (28:25)
Instagram will start locking old usernames for 14 days after changing so the previous owner can revert to it within the grace period

This is the end of username grabber bots 😀 pic.twitter.com/mAAgbDYny2

— Jane Manchun Wong (@wongmjane) March 20, 2019
Instagram Tests Video Co-Watching Tool: TechCrunch reports that Instagram is testing the ability to co-watch videos inside Instagram Direct Messaging. This tool would be similar to Facebook's Watch Party feature, which rolled out globally last year. (32:00)
Instagram prototypes video co-watching https://t.co/rgj74LvWT6 by @joshconstine pic.twitter.com/zvGnDS0KZ7

— TechCrunch (@TechCrunch) March 7, 2019
Other News Mentioned
Want to catch our next show live? Click here to subscribe or add our show to your calendar.