Wondering how to get more marketing tasks done in a day? Looking for some fun tools to try?
In this article, you'll find 24 mobile apps and desktop tools from the Social Media Marketing podcast's Discovery of the Week.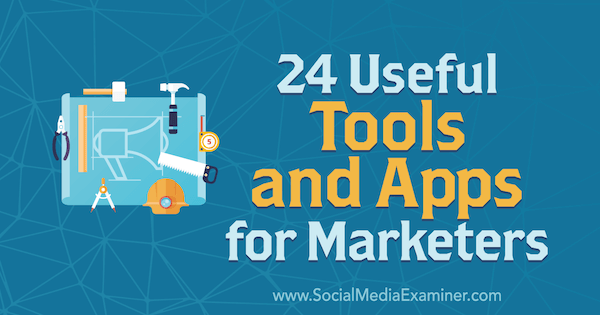 #1: Stories Creator
Stories Creator helps you create batches of images for Facebook or Instagram Stories. Creating a bunch of stories content isn't efficient on a smartphone. Stories Creator, a desktop browser-based tool from Buffer, solves that problem (although it works only with images, not video).
You can upload and design images on a larger desktop computer, download the final images, and send them to the person who will be posting the stories.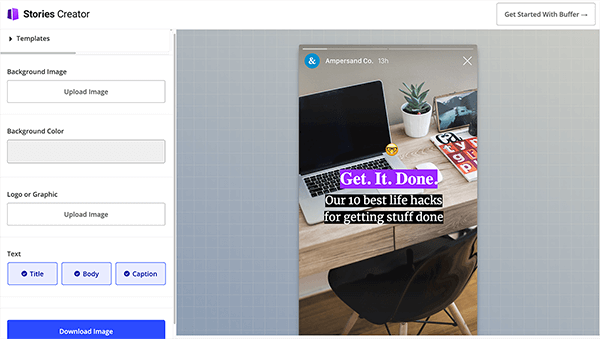 To create images in Stories Creator, begin with a template. Customize the background with your own image or a solid color. You can also add a logo or graphic that appears over the background. In each template, you can customize three types of text: title, body, and caption. Click the type of text you want to edit and editing options appear. In the left pane, toggle off any element to hide it.
After you've edited the template to your liking, click the Download Image button to download it and you can move to the next one.
Stories Creator is free and available for any desktop computer that has a web browser.
#2: PhotoUtils
PhotoUtils is great for basic editing of images you post on social media. You edit photos with PhotoUtils in a desktop browser. Simply visit the website, upload your image, and decide how you want to edit it.
PhotoUtils lets you make the most common edits: resize, crop, compress, rotate, flip, or convert the image to a different file format. PhotoUtils is especially convenient for social media managers because the resizing options include a comprehensive list of image sizes from major social media platforms.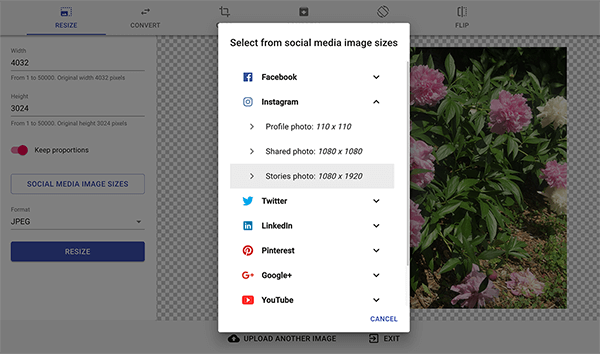 Although PhotoUtils isn't a comprehensive image editor, it's a great free tool when you need to make a few quick changes or if a team member who doesn't have software needs to make basic image edits. For example, anyone can easily resize a square image to 110 x 110 pixels and export it as a PNG file.
#3: LumaFX
The LumaFX app for iOS is a robust editor for recorded or imported video. Basic features include the ability to crop, color-correct, and rotate video. The filters are similar to Instagram's, and you can combine them to create unique presets for video clips.
The effects library is exceptional, especially the fast-, reverse- and slow-motion effects. To illustrate, the slow-motion effects support up to 244 frames per second and you can create slow-motion animations.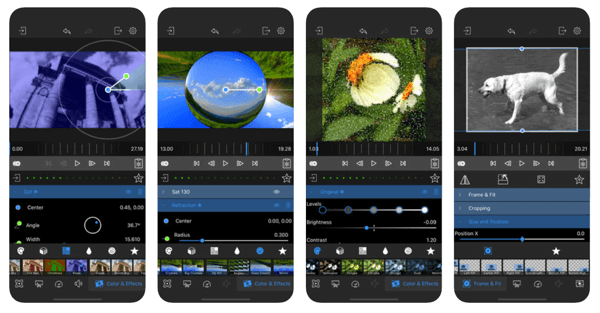 Get Your FREE Course: Web3 for Beginners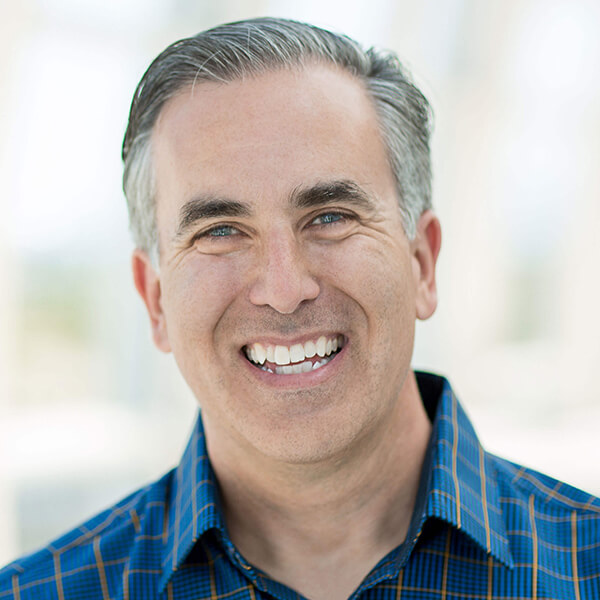 Curious about Web3, but don't know where to start or who to trust?

Introducing Web3 for Beginners, a course taught by Michael Stelzner, the founder of Social Media Examiner.

Learn the basics of Web3 and apply it to your business with this FREE comprehensive course.
CLICK HERE TO GET FREE ACCESS
The app is easy to use and costs $2.99. You can find it in the App Store or at luma-touch.com.
#4: removebg
removebg can remove an image background automatically in 5 seconds. To perform this magic, the web-based tool lets you upload an image or provide an image URL. Then removebg's artificial intelligence gets rid of the image background for you.
Say you have a picture you want to use on a website but the background doesn't look right with your website's color palette. Use removebg to generate a transparent PNG that you can put over any background color you want. Although many image editing programs can remove a background, it can often be a more complicated or time-consuming process than it is with removebg.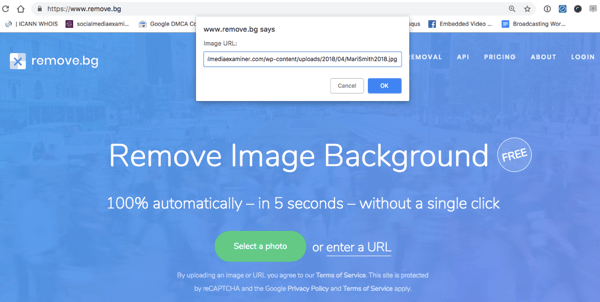 You can upload a photo from the image library on your computer or mobile device. If you provide an image URL instead, a new window appears with the original image on the left and the image with a transparent background on the right. After removebg processes your image, you can download the file and continue editing it in another image editor.
#5: Sticker Mule
Sticker Mule offers an easy way to make branded stickers, magnets, buttons, or packaging. Simply upload the photo or graphic you want to use and Sticker Mule takes care of the rest. Prices vary depending on the project type and quantity of materials, but low-quantity runs are affordable. For instance, die-cut stickers start at $57 for 50 stickers.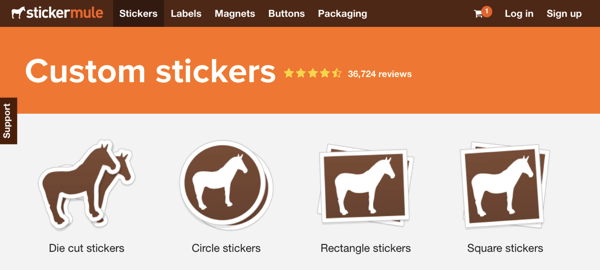 #6: Airstory
Airstory is a clipping tool that helps you save ideas and sources for your content. Content marketers who work with lots of different content for articles may find Airstory essential.
After you add the free Airstory browser extension to the Chrome or Firefox browser, you can highlight something you find online and then clip the content you want to save by right-clicking and selecting Save Text to Airstory. Airstory also saves the URL automatically so you don't have to worry about saving the source of your clipped content. To organize clips, save them to a project and add keyword tags.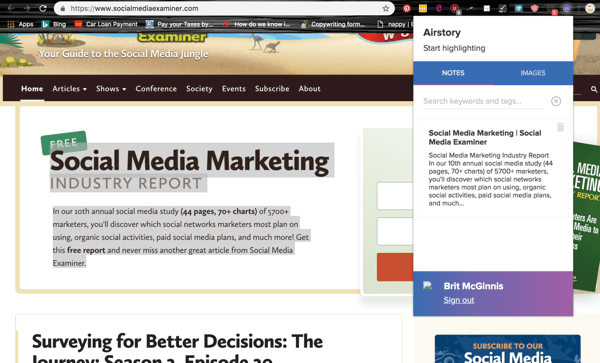 Later, when you're writing content for your social media marketing, you can refer to your Airstory clips and even drag them right into whatever app you use to write. To visualize this, if you write in Google Docs, you simply click the Airstory icon in your browser and drag the clip you want into your Google Doc. Airstory also works with Gmail, WordPress, and Zapier.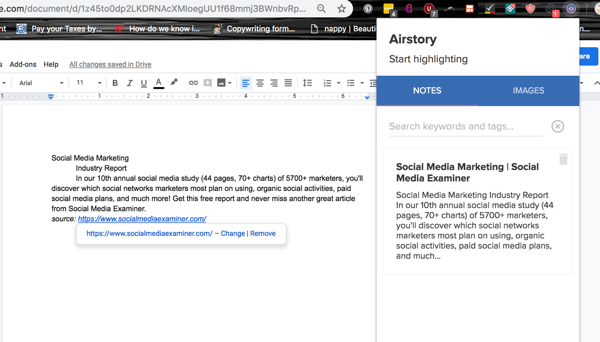 #7: Infogram
Infogram helps marketers create professionally designed infographics. To get started, create an account and then you can customize a template or build your own infographic by dragging and dropping the items your report needs to show.

If you have data in a spreadsheet file, Google Sheet, or other source, you can upload it to the browser-based template editor. You can also customize the template with text, charts, maps, and graphics. The built-in options can help you save time creating great-looking infographics, but you still have enough flexibility to make the graphics reflect your company's branding.
The free version includes a limited number of templates and allows you to share your graphic online. With a subscription, which starts at $19 per month, you have access to more templates and privacy controls and can download your image in a range of formats. You can also use the tool to create reports, slides, and more.
#8: Teleprompt.me
Teleprompt.me is a free Chrome browser tool (not an extension) that acts like a teleprompter you can refer to while reading a script aloud for video or audio.
Open the tool on your computer and grant access to your microphone. After you copy and paste your script into the box in the upper right, your text appears in the browser, large enough to read like it's on a teleprompter. Then, as you speak the words, they're grayed out so you know exactly where you are.

Because the words progress as you do, you can easily follow along, even if you sneeze or need to pause for a reaction from a live audience. You can also adjust the size of your text for better legibility.
Teleprompt.me is free and accepts donations of $19 per year.
#9: Scrola
Scrola is a motion screen-grab tool that turns a scroll through a web page into a video. These videos can be great for showing off products, product features, or a special area of your website.
To create a video with Scrola, you need to create an account. Then you can paste a URL into Scrola, select the device view you want (phone, tablet, desktop), and choose the scroll speed (slow, medium, or fast). Scrola then processes everything and emails you a video file you can embed on your site or send to anyone.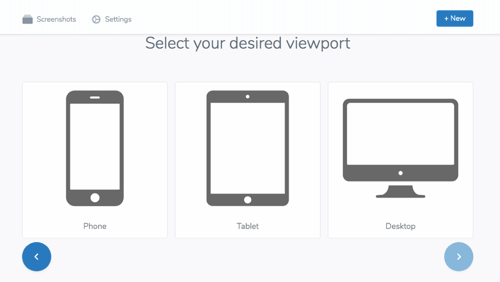 Scrola has a free version and a paid version that gives you unlimited monthly use and removes the watermark.
#10: SCRL
SCRL is a free iOS app that helps you build a panorama with images and text and then slices your panorama into Instagram-friendly segments that are easy to swipe. The resulting images can create a visual story that users can flip through.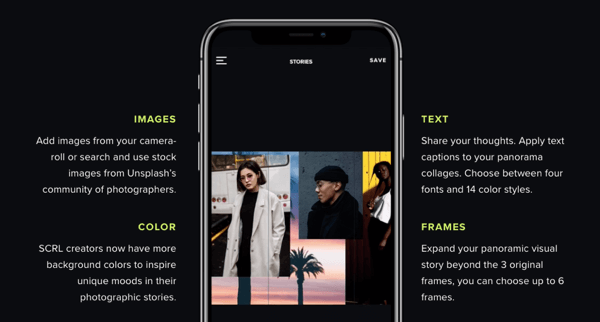 SCRL also lets you add different photos, text, or backgrounds. You can choose photos on your smartphone and arrange them in a collage or sequence. Video options and in-app purchases are also available.
#11: Podchaser
Podchaser is a handy free tool for researching podcast appearances and topics. You can showcase your own appearances and browse a directory of all of the podcasts someone has published and been a guest on.
To illustrate, if you look up Michael Stelzner, Podchaser lists the Social Media Marketing podcast episodes he's hosted and episodes of other podcasts on which he's been a guest. You can also search podcast show episodes by topic to create a curated playlist of all episodes that pertain to that topic.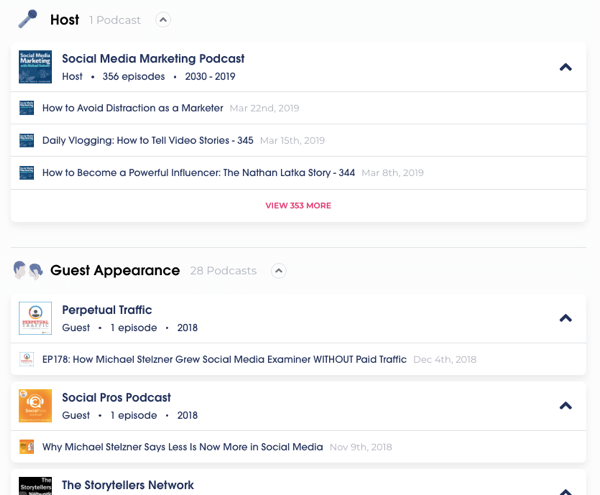 #12: Password Checkup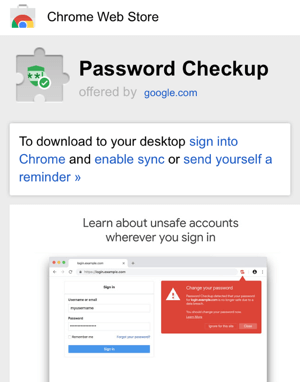 Password Checkup by Google is a free Chrome extension that helps you re-secure accounts on sites that have been recently affected by a data breach. When you sign into a website via the Chrome browser, Password Checkup alerts you if the site has had a recent data breach known to Google and reminds you to update your password.
The extension is similar to 1Password's Watchtower, which notifies users to change a password because of a data breach. Password Checkup is a bit more proactive because the extension alerts you as you visit a site from inside Chrome.
If you're not up to date with which sites have had data breaches recently, this is a good tool to help you stay ahead of things. Security is no joke.
#13: Excerpt – The Book Highlighter
Excerpt – The Book Highlighter is a free iOS app that helps you save and organize passages from the books you read. You can take screenshots of physical books or eBooks, store them on your phone, share the passages on social media, or have easy access to notes and quotes you want to review while you're writing.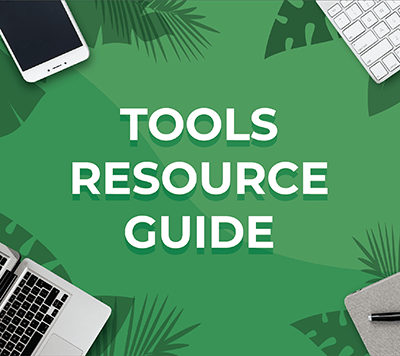 Looking for something to make your life easier?
Discover the tools we recommend to drive engagement, save you time, and boost sales across your entire marketing funnel or business.
Whether you need help planning content, organizing social posts, or developing your strategy, you'll find something for every situation.
FIND YOUR NEXT FAVORITE TOOL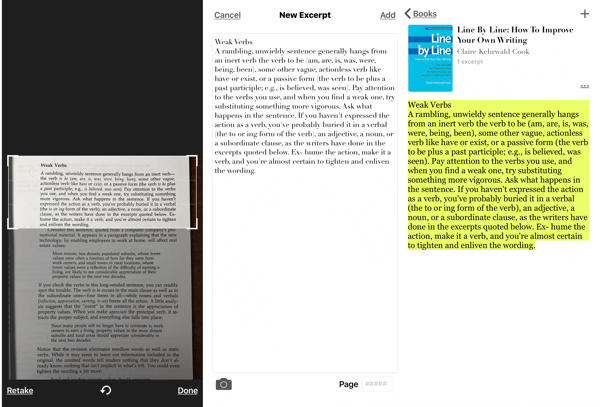 To keep track of which book a passage is from, take a picture of the book cover and save it to Excerpt, which creates a folder for the passages you highlight. To save a passage, take a screenshot and add the image into the book's folder. To narrow down the text you want to save, crop your screenshot to a specific paragraph or highlight text.
Excerpt converts the passages you save to text on your phone. You can then share the saved text on a social platform or in an email or document right from the app.
#14: Songclip
Songclip is a free website and iOS app that lets you share GIFs paired with licensed song clips and create your own GIF and music combinations. Open Songclip, and you see a large selection of trending GIFs and popular categories. You can also search by keyword or song title so you can start with either the imagery or the audio.
If you see an image you like but don't want the song, you can change the song clip. The clips last from 5–30 seconds and reflect many popular music genres and top hits. Songclip is free to use.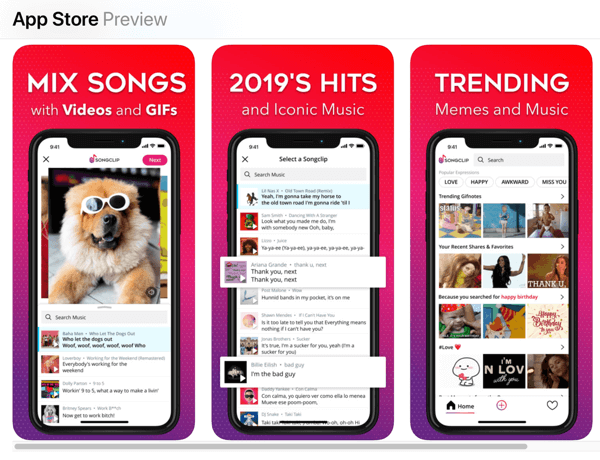 #15: Instaspacer
Instaspacer allows you to add line breaks and white space in your Instagram photo captions. The app is free and provides a great alternative to workarounds like dots, dashes, or other characters. After you compose your caption in Instaspacer, tap the Convert button and paste the text into your Instagram post. (Editorial Note: Instaspacer app is no longer available.)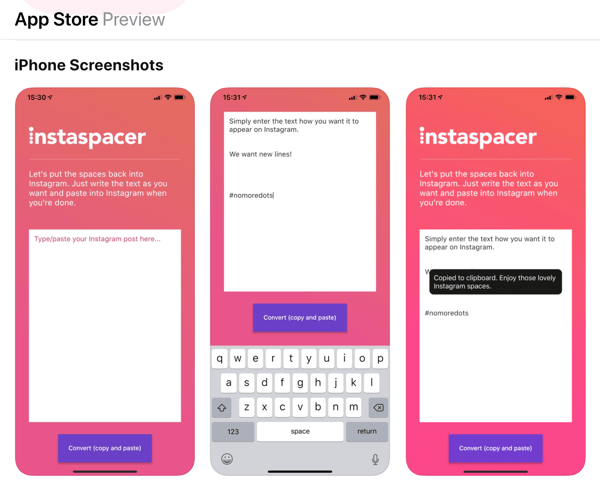 #16: PreTube
PreTube is a free Google Chrome extension that displays a helpful preview of your YouTube video in the Up Next sidebar—before you post the video to YouTube. Because the images and text in the sidebar are so small, imagining how eye-catching your thumbnail and text are can be tricky. PreTube lets you check how things look so you can make any needed changes.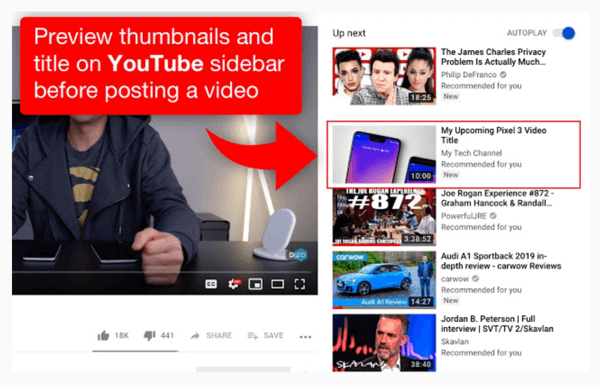 With PreTube installed in your browser, you can upload an image, add your channel name, and add a description for your YouTube video. Then PreTube shows how your video looks in the YouTube sidebar.
#17: Spectre Camera
Spectre Camera is an iOS app that helps you capture stunning long-exposure photos. In an otherwise still image, like a nature photo or cityscape, long exposure blurs moving water or lights. However, you have to keep the camera extremely steady to make the effect look good. Spectre Camera's built-in AI has a stabilization feature that makes taking long-exposure photos much easier.
The app can also remove crowds from busy scenes, which can help you take photos of busy places for your marketing.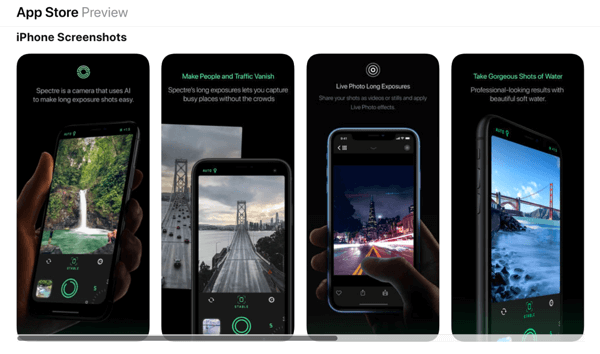 In the Spectre Camera app, which costs $2.99, you can capture a video or a still image. In an example the developer provides, cars move across a bridge, and as the app records a video, the cars begin to blur and then disappear from the shot. You can save and share the video or a still image with the long-exposure effect.
#18: Swish
Swish is an iOS app that helps you create video ads. The templates make producing a professional ad simple and easy. For social media, you can create video ads in vertical, landscape, or square format using stock footage, videos you've recorded, or live photos. Swish helps you customize the video ads with animations, music, transitions, text, a logo, color schemes, and more.
When you're done creating your video in Swish, export and post it to any social media platform.
With the free version, you can explore the Swish app's basic features. To unlock additional tools and templates, you need to subscribe via an in-app purchase. Subscriptions cost $9.99 per month or $59.99 per year. You can also make a one-time purchase for $119.99.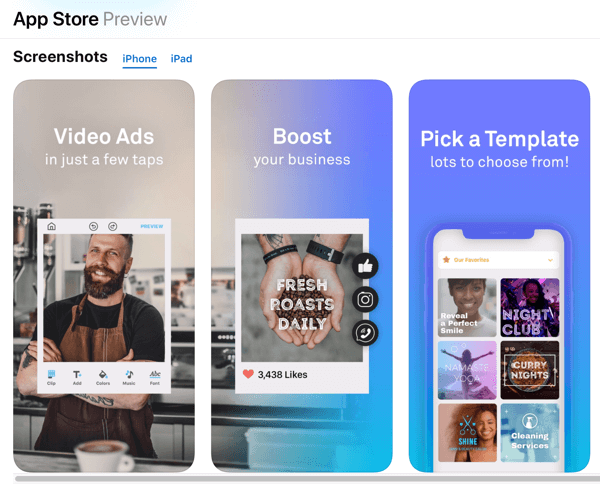 #19: Google Results Previewer
Google Results Previewer is a free Google Chrome extension that lets you preview search results by hovering your mouse over links. You can use it to discover the information you need without opening lots of links in separate tabs.
The preview appears in the bottom right of the search results page. You can even scroll through a web page within the preview window. When you find a link worth opening, click the search result to open the page.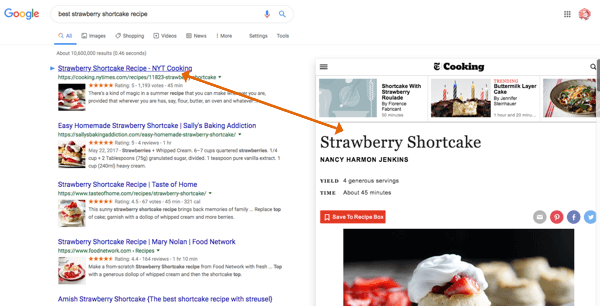 #20: Speechify
Speechify reads text to you using AI-based text-to-speech. After you add or scan the text you want to hear, Speechify reads it aloud in a high-quality, natural-sounding voice. Created by a college student with dyslexia who struggles with reading, Speechify is a great tool for anyone who prefers listening to reading. The app can read aloud online text, books you've scanned, or even your email.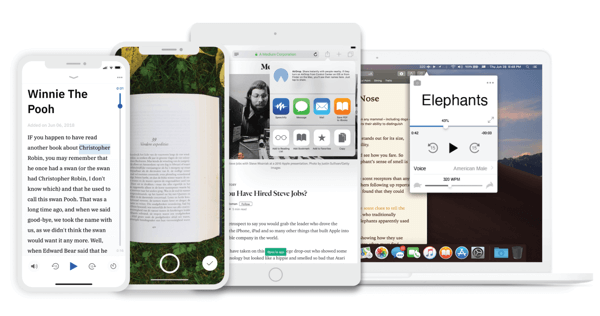 Speechify offers a few helpful options. Speed up playback or slow it down and select different voices. Each word is highlighted as it's read and shown on-screen. If you use both the desktop app and mobile app, you can sync files among your devices for more flexibility and mobility.
Speechify is available for free as a desktop app for Mac and Chrome. It is also a mobile app for iOS or Android.
#21: Timeshifter
Timeshifter helps you overcome jet lag. The free mobile app, available for iOS or Android, analyzes your sleep patterns and suggests how to prepare for an upcoming time shift or reacclimate to your regular time zone. To do this, the app prompts you on when to be exposed to or avoid bright light, have or avoid caffeine, go to bed or wake up, and so forth.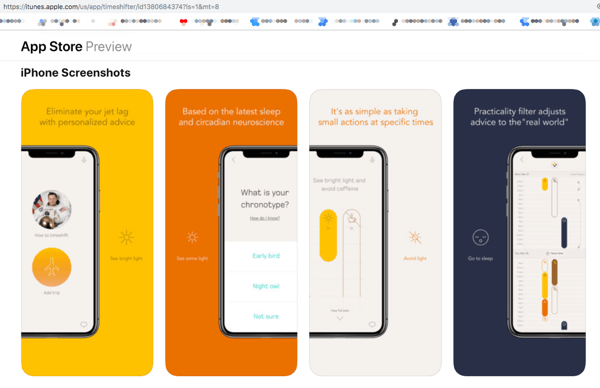 #22: Life Lapse
Life Lapse is a stop-motion camera for iOS or Android. To create the stop-motion effect, the app strings together a series of photos that gives the appearance of motion. Then you can export the sequence of images as a video you can share on social media.
To help you create a stop-motion video, Life Lapse provides a ghosted image of the last thing you shot as a still image. This provides a reference point and allows you to adjust and reposition the subject for the next image as if it's moving, changing, or growing. The result is a seamless stop-motion GIF that looks polished and professional.
Life Lapse offers a limited free version, which will include a watermark on your videos. Life Lapse Pro is available as a 7-day free trial, and after the trial is up, you can purchase a Life Lapse Pro subscription for $35.99 per year.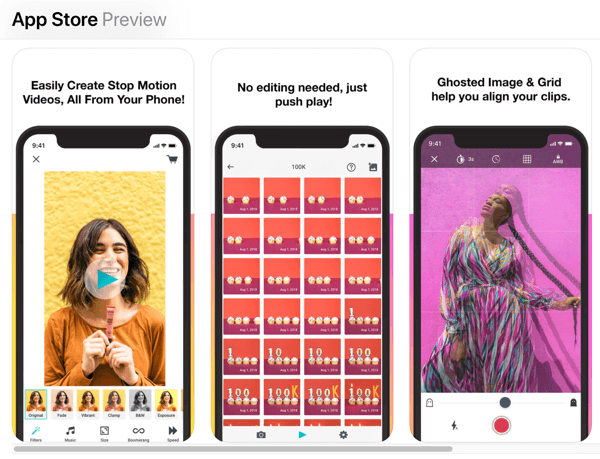 #23: Swoot
Swoot is a podcast listening app that stands out by sharing what your friends are listening to. Swoot can import your podcast subscriptions from other mobile apps, and you can ask the Swoot app to find Facebook and Twitter connections, as well as phone contacts who also use Swoot. You can then see each other's podcast subscriptions.
Swoot also lets you share episodes you've listened to with your connections. Your Swoot friends can then download that specific episode to check it out without subscribing to the whole show.
Swoot is free and available for iOS and Android so you won't exclude any connections based on the type of smartphone they use.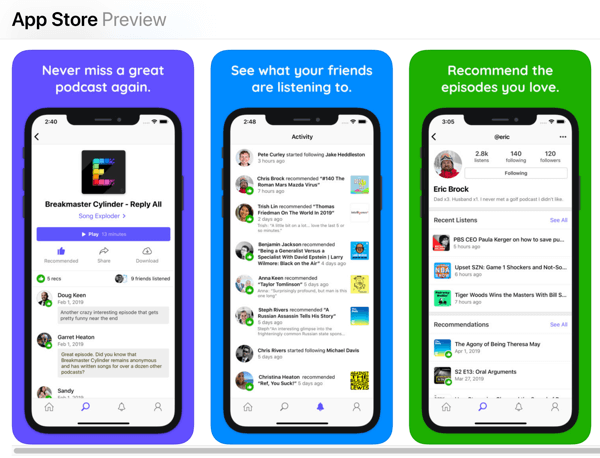 #24: Fireflies.ai
Fireflies.ai takes notes from your virtual meetings by recording and transcribing the audio. After you connect this tool to your calendar, it works with several virtual meeting tools, such as Zoom and WebEx. When the meeting starts, Fireflies.ai asks for permission to join the meeting as an attendee and starts recording.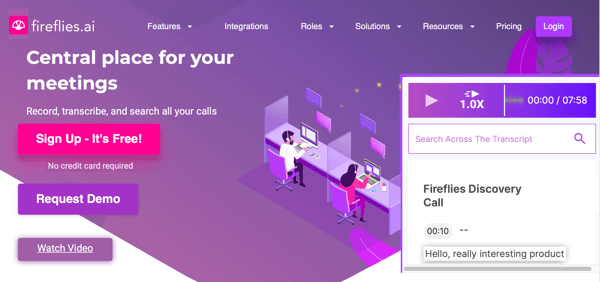 When you're done, Fireflies.ai can store your calls and transcriptions so you can replay the meeting and search the text. The transcriptions are mostly accurate. If your meeting covers something like a training, you might even want to repurpose the text into an article or guide.
Fireflies.ai offers a free version that lets you record unlimited meetings and does unlimited transcribing; however, meetings are limited to 60 minutes and you can store audio and search transcriptions for only 30 days. After 30 days, the files go away.
The free option works for most people, but you can subscribe to Pro ($40 per month) or Business ($80 per month). Depending on your subscription, you can store and search unlimited calls, control who can access calls, use additional transcription services, and integrate additional tools such as your CRM or Slack.
What do you think? Which of these social media tools will you try? Share your thoughts in the comments below.
More articles on helpful tools and apps for marketers:
Get Your FREE Course: Web3 for Beginners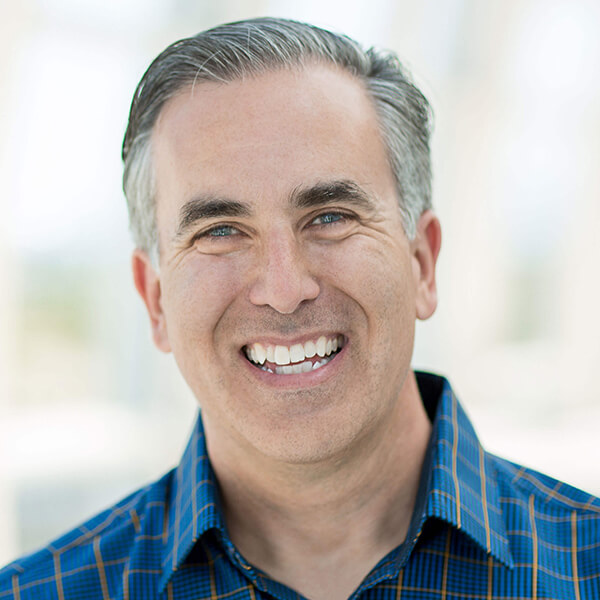 Curious about Web3, but don't know where to start or who to trust?

Introducing Web3 for Beginners, a course taught by Michael Stelzner, the founder of Social Media Examiner.

Learn the basics of Web3 and apply it to your business with this FREE comprehensive course.
CLICK HERE TO GET FREE ACCESS