Here's what you need to know
Social Media Success Summit® 2016 is a live online conference that will empower you to use social media to gain more exposure, increase traffic, cultivate loyal fans and grow your business. The world's leading social media pros will show you how.
This event was designed by marketers for marketers. That means we built it to accommodate your busy schedule. We've spread the summit out over 4 weeks, with multiple sessions each week.
You don't have to stop working to attend (AND you can begin applying what you'll discover immediately). The audio and video from each session are recorded, and transcripts are included for further study.
How It Works
Studies frequently show people who attend such professional development events are more successful, reach their business goals faster, enjoy their work more, build better relationships and earn a higher income!
Here's how this event works:
1. Though this summit will take place online, it will be a live event.
The instructors will be presenting their sessions live in real time, right on your computer screen. You can listen and watch their presentations, and ask the experts questions and get instant answers.
When you register, you'll be given a link and access information for each session. When the date and time arrive, you simply pull up your web browser, go to a web page, type in your login information, and voilà, you're "there." It's the virtual equivalent of walking into a room at a live conference and sitting down! To sample a session go here.
2. You can interact with the presenters.
During each session, you'll hear and see the lessons (so be sure to turn on your computer speakers!). The virtual room also offers interactive capabilities beyond what's possible at live conferences. You can participate in our live tweet chat room and download presentation slide decks to print out for note-taking.
Just like regular conferences, sessions last 45 minutes, and offer an opportunity for questions and answers.
You also get a downloadable mp3 recording and transcripts with each session with transcripts!
Session recordings are streamed online using a computer, iPhone, iPad or other HTML-5–enabled device.  Live sessions require a computer.
3. Of course, networking is a big part of this event… 
We also provide a private LinkedIn group where you can interact with presenters and fellow attendees.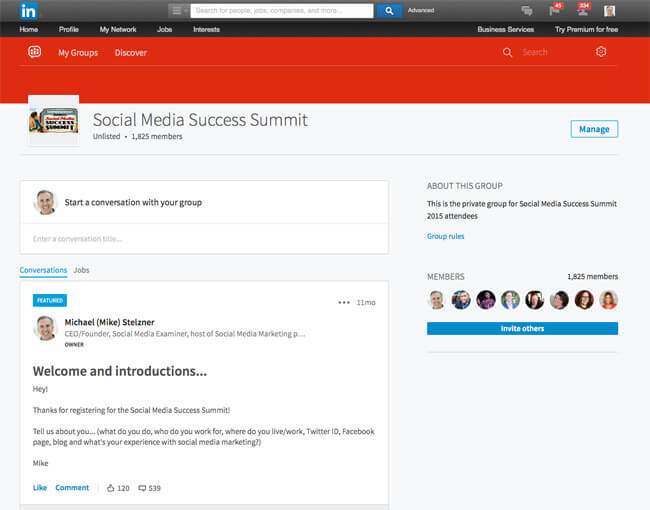 Our summits have active private LinkedIn groups for discussion and networking.
Many people who attend our professional development summits report that the relationships they establish with fellow attendees are priceless… relationships that often continue to be a source of advice and support for years to come.
Between sessions, you can network with other summit attendees in the exclusive Social Media Success Summit 2016 LinkedIn group—available ONLY to event registrants. At one of our prior events, more than 1200 messages were generated in our private group.
You also get access to Twitter-based chat rooms where you can interact live with your peers..
Home | Agenda | Speakers | REGISTER
Networking | Testimonials
Convince Boss | About | FAQ