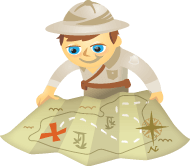 Do you need help getting started with your social media marketing strategy?
Do you know what to include?
Goals and objectives guide your social media strategy to help you successfully connect with your customers.
In this article I'll share what you need to include in your social media marketing strategy so it works from day one.
#1: Identify Business Goals
Every piece of your social media strategy serves the goals you set. You simply can't move forward without knowing what you're working toward.
Look closely at your company's overall needs and decide how you want to use social media to contribute to reaching them.
You'll undoubtedly come up with several personalized goals, but there are a few that all companies should include in their strategy—increasing brand awareness, retaining customers and reducing marketing costs are relevant to everyone.