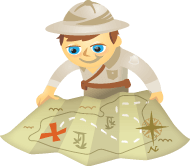 Is your company's social media as stale as last month's bread?
Would you like to get more people-to-people interaction and begin a real conversation with your audience on social media?
No matter your company's industry or size, you can encourage these deeper connections and improve your social media engagement.
Here are some tips to help you encourage people-to-people interaction, whether you are on Facebook, Twitter, Google+, LinkedIn, Pinterest, Foursquare or Instagram.
#1: Use Facebook to Highlight Employees and Reach Out to Fans
Your company is only as good as your hardworking employees—so don't be afraid to highlight them.
SEOmoz uses Facebook photo albums to highlight their employees.
The SEOmoz Facebook Page does an excellent job of this. Two examples in particular really jump out.
The "Then and Now" photo album: Employees provided photos from their youth along with recent photos of themselves. This is a great way to show fans the human side of SEOmoz. Plus, the baby pictures are adorable.
The "What are Mozzers listening to?" photo album: All it took was snapping photos of employees with their headphones on and asking them what they were listening to. The result is an inside look at company culture.