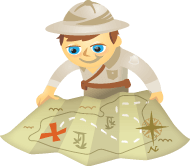 Do you need to blog while on the go?
Would you like to have the ability to blog from your mobile device?
In this article, I'll show you what you need to run your blog from your mobile device.
Why Blog From a Mobile Device?

OK, so you're not going to build a robust blog entirely on mobile.
But once you've launched your blog using a platform like WordPress, a computer is no longer required to continue posting, engaging and building your brand online.
In today's mobile, 140-character world, more readers prefer their content in bite-sized chunks—which makes quick-hit and multimedia posts from a mobile device ideal in some cases.
"Every day you have to be communicating; that's the important thing," said rock star video blogger Gary Vaynerchuk, when asked what today's businesses are lacking online. "Long-form blogging was the big thing in years back. Microblogging is now the big thing. It's changed the dynamics a bit."
And microblogging doesn't have to be just a Twitter thing. Many new WordPress themes have custom content types baked into the editor and design for short blurbs, photos and even asides.
In fact, a standardized list of these "short-form" post formats has been recognized since WordPress 3.1, and bloggers can now customize their themes around these specific, shorter-than-normal posts. That standard list of post formats includes Aside, Audio, Chat, Gallery, Link, Quote, Status and Video.