Enhance your marketing skills
Below you'll find the professional development workshops that were presented at Social Media Marketing World 2018.
You'll get a similar lineup with a 2019 All-Access ticket!
Workshops are exclusively for All-Access attendees and take place on Wednesday, March 20, 2019!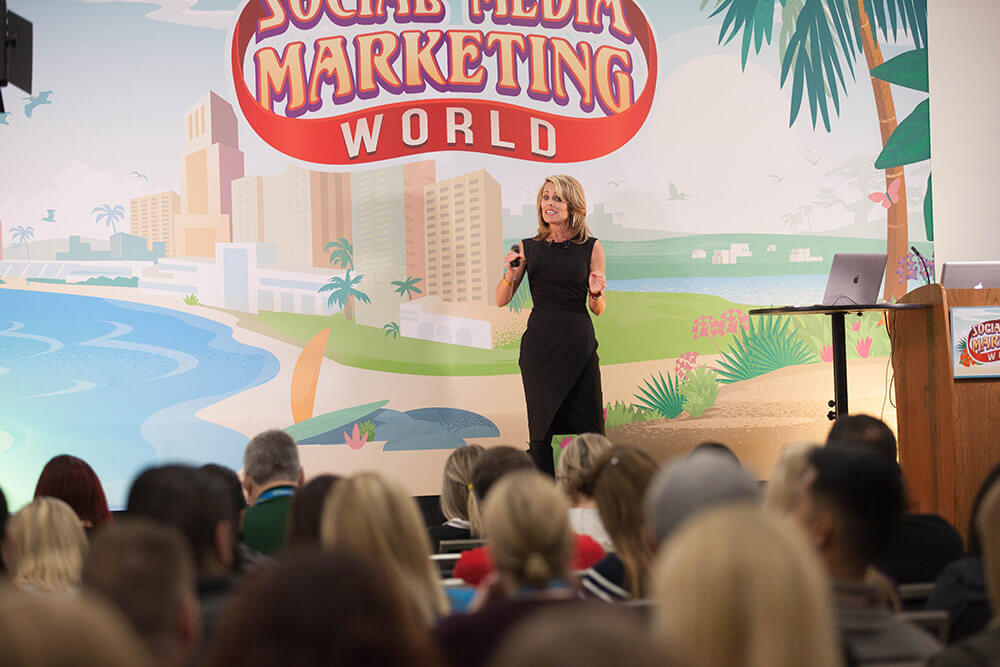 2018 Workshops
Our 90-minute workshops focus on content creation, business building, agency growth, and more.

How to Clarify Your Brand Story to Amplify Your Impact and Simplify Your Life
By Park Howell

Topic: Storytelling Workshop

How to Create High Quality Videos With Your Smartphone
By Justin Brown

Topic: Video Production Workshop

As Easy as a Phone Call: How to Shine On-Camera
By David H. Lawrence XVII

Topic: Video Creation Workshop

How to Write Copy That Sells Without Being "Salesy"
By Ray Edwards

Topic: Copywriting Workshop

How to Grow a Highly Profitable Consulting Practice Without Adding Overhead
By John Jantsch

Topic: Agency Building Workshop

Augmented Reality and the Future of Marketing: What Marketers Need to Know
By Cathy Hackl

Topic: Augmented Reality Workshop

How to Innovate by Thinking Differently: The Disney Way
By Duncan Wardle

Topic: Innovation Workshop

How to Double Your Email Engagement and Double Your Sales
By Jason Van Orden

Topic: Email Marketing Workshop

Magic Words: The Art of Using Persuasion, Psychology, and Nuance in Your Copy
By Mike Kim

Topic: Persuasive Writing Workshop

How to Make Visual Content Your Social Media Secret Weapon
By Rebekah Radice

Topic: Visual Marketing Workshop

How to Build a Digital Marketing Plan
By Rich Brooks

Topic: Digital Marketing Plan Workshop

How to Convert More Traffic With Split Testing
By Chris Dayley

Topic: Conversion Rate Optimization Workshop

Photo Storytelling: How to Create Emotional Connections With Your Fans
By Jenna Kutcher

Topic: Photography Workshop

Selling With Webinars: How to Make Webinars That Convert (and Your Attendees Love)
By Tim Paige

Topic: Selling With Webinars Workshop
How to Automate Your Business to Get More Clients Without Working More Hours
By Greg Hickman

Topic: Marketing Automation Workshop

How to Build and Monetize Your Personal Brand
By Chris Ducker

Topic: Personal Branding Workshop

Relationship ROI: How to Grow Your Business by Focusing on Repeat and Referral Relationships
By Jessika Phillips

Topic: Relationship Marketing Workshop

A Blueprint for Running a Successful Mastermind
By Aaron Walker

Topic: Mastermind Creation Workshop

How to Get Traditional Media Exposure Using Social Media
By Josh Elledge

Topic: PR for Small Business Workshop

How to Use Speaking to Build Your Business Online and Offline
By Pete Vargas
Topic: Public Speaking Workshop


Conference Networking for Introverts: Ninja Tricks and Tips
By Mike Bruny and Jillian Vorce
Topic: Conference Networking
All-Access Tickets: Recordings Included!
Can't make all the Social Media Marketing World sessions you want to?
What if you could catch ALL 120+ keynotes, conference sessions, and workshops at your convenience—without the need to replicate yourself? The good news is now you can!
With your All-Access ticket, you'll get full access to the recordings of EVERY session and workshop. Yes, every keynote, all the panels, and each great session will be at your fingertips to study after the conference.
You get them all at no added cost with your conference ticket.
You'll have 12-month access to online recordings of everything. You can watch playbacks from your computer, tablet, or smartphone at your leisure.

Click play above to see what others have to say about Social Media Marketing World.
Home | Agenda | Networking | Speakers | Travel | Hotel/Venue | About | FAQ | REGISTER