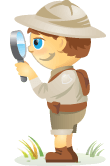 Did you know you can broadcast LIVE on YouTube in a few simple steps, right from your webcam?
This is great news for businesses. Imagine what this could do for you or your brand!
YouTube is a social media heavyweight, so you should give live broadcasting on this popular platform careful consideration for your social media marketing plan.
Keep reading to find out why you should consider live streaming on YouTube.
The Google+ Back Door to Live YouTube Broadcasting
Regular readers of Social Media Examiner will remember Mike Delgado's excellent article "Google+ Hangouts On Air: What Marketers Need to Know." In it, Mike walked through all of the steps needed to do a Google+ Hangout On Air.
Here we're going to look deeper into the power and position that your business can achieve by using these same features to publish on YouTube.
The popular web series GeekBeat.TV (part of the Revision3 Network) does a live show almost every Friday afternoon that broadcasts on YouTube. Here's a direct link to a playlist of the archives of many past episodes.
At the time this was written, their YouTube channel boasted more than 2.7 MILLION VIEWS—and YouTube isn't even their primary channel of distribution.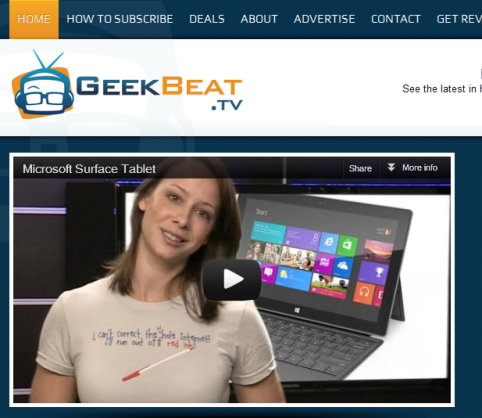 YouTube Opens a Whole New World for You
Why should you care about getting your videos on YouTube?
You can be sure that a sizeable portion of your audience is on YouTube. YouTube is reporting 3 billion hours of video streamed per day. And you can now broadcast live, inside of that stream. Who wouldn't want a piece of that for their business?
Live YouTube streaming is not just on a computer platform. Most modern smartphones can take a YouTube live stream and more and more smart television sets are coming with that capacity as well.
Not only can you partner with the biggest video network in the world, but you can also broadcast, through them, to every screen that can take a live Internet video feed. Google's billions in profit is making that possible for you.
Live streaming, even free, is not new to the Internet. But it's now much easier and allows more businesses the opportunity to reach a wider audience by integrating live streaming into their marketing plan.
Consider leveraging this infrastructure for your business now.
Get Your FREE Course: Web3 for Beginners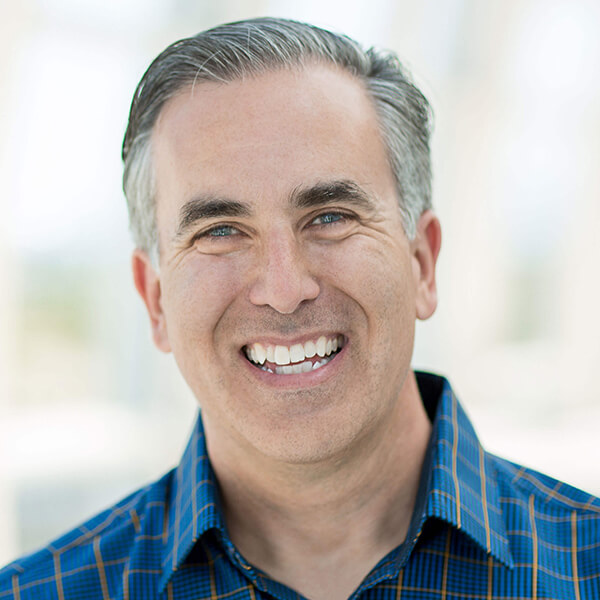 Curious about Web3, but don't know where to start or who to trust?

Introducing Web3 for Beginners, a course taught by Michael Stelzner, the founder of Social Media Examiner.

Learn the basics of Web3 and apply it to your business with this FREE comprehensive course.
CLICK HERE TO GET FREE ACCESS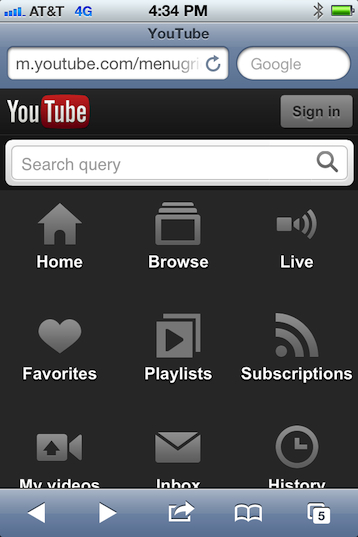 Consider your live-streaming content options.
Spend some time to find the right live-streaming strategy to suit your personality and needs. You are about to share your video content on a social media platform that could potentially bring lots of exposure to you and your business.
In addition to live streaming while you are directly in front of the camera, you can also share your desktop content.
Does the idea of a camera pointed at your face broadcasting to the world scare you bit? Don't worry. There are a variety of tools that exist to help you.
For example, you can use a PowerPoint presentation or a Keynote slide deck to share content on your desktop during your live-streaming broadcast.
And you're not even limited to these pricey office suites. Products like Prezi or Mind Mapping products all make for compelling screen presentations.
Embedded below is a quick video that shows the live broadcasting process using the free Google Docs Presentation app.
Don't let your fear of the camera get in the way.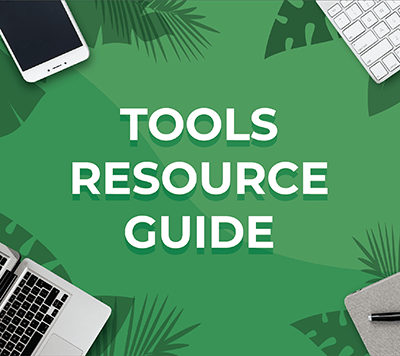 Looking for something to make your life easier?
Discover the tools we recommend to drive engagement, save you time, and boost sales across your entire marketing funnel or business.
Whether you need help planning content, organizing social posts, or developing your strategy, you'll find something for every situation.
FIND YOUR NEXT FAVORITE TOOL
5 Steps to Stream Live on YouTube
Here's what you need to do.
Step 1: Log into Google+. If you want to broadcast as yourself, stay in your own personal stream. If you'd like to stream as one of the Google+ pages you administer, switch to that page.
Step 2: Click the "Start a hangout" button. At the time of this writing, that button is in the upper right-hand side of the screen; but as Google is always updating Google+, the position might change.

Step 3: Check the "Enable Hangouts On Air" checkbox in the "Start a Hangout" screen. This simple checkbox tells Google that you want to simultaneously broadcast your Hangout on YouTube.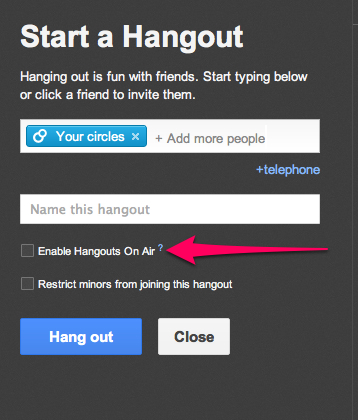 Step 4: Verify With Google That All Is OK. If it is your first time with Hangouts On Air, you'll need to link your account with the appropriate YouTube channel and promise Google you won't abuse the system. They'll walk you through everything.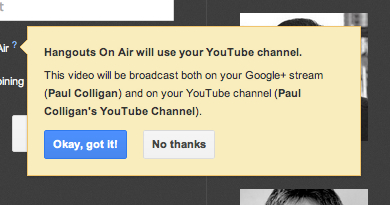 Step 5: Click the "Start broadcast" button on the screen. Once this is done, you're live on YouTube. As an added bonus, you'll have a link and an embed code that you can share through all of the other social networks.

You're now live! Say something awesome—the world is watching.
Make This About YouTube, Not Google+
Technically you're broadcasting on both Google+ and YouTube. So it would be a tremendous marketing mistake to only focus on the Google+ side of things.
First let's take a look at what happens on Google+. Anyone who has circled you or the page you are broadcasting from on Google+ will automatically see your Hangout in their streams.
But you want to leverage your social media platforms more than this. Don't forget those who haven't circled you on Google+!
The reality today is that the majority of your social media audience is more likely to follow a link to a YouTube page than anything else. So offer them one.
Use the YouTube Embed links mentioned in Step 5 above and share it throughout your social networks.
The choice of which platform to share with your audience, Google+ or YouTube, isn't about which social network is considered best. It's simply about marketing and positioning your content.
The brand recognition of YouTube surpasses Google+ many times over and the bigger the platform you are associated with, the bigger the impact that association is going to make.
Take Advantage of the Great SEO Value
You get a bonus the second you end your broadcast. YouTube will start encoding your broadcast to archive it on your YouTube channel. This is great because over time, you'll build up a library of content and this archive is there forever.
YouTube does the first step of putting your live broadcast video automatically in your YouTube archive for you. But you'll still want to retitle the video and add a good description and tags to optimize your video for search.
Of course you can choose to delete your video. But I recommend you don't, because the more videos you or your brand has on YouTube, the better. Over time, you're sure to appreciate the SEO value of building your video archive on this powerful social media platform.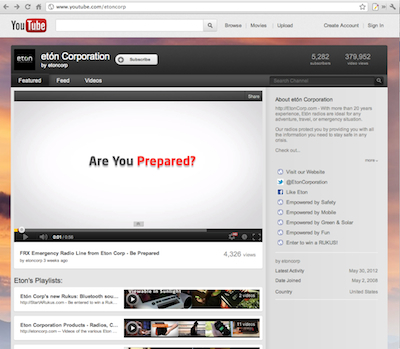 What do you think? Does the ability to broadcast to the world on YouTube change your streaming video strategies? Is there a reason why you haven't added it yet? Comment in the box below and let's get this discussion going!
Get Your FREE Course: Web3 for Beginners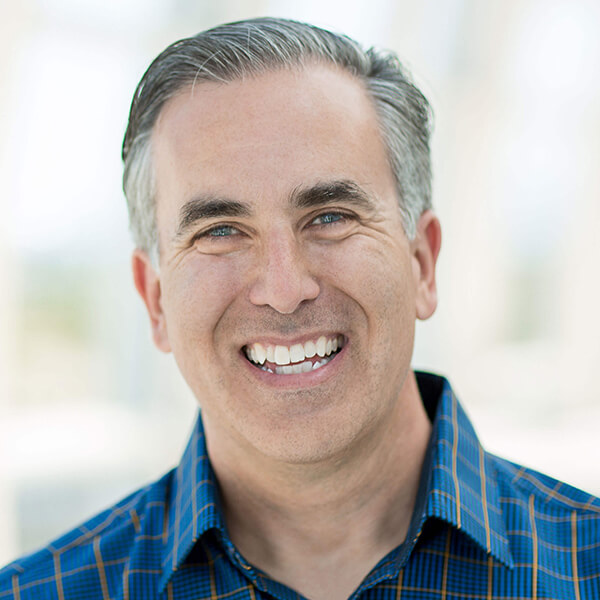 Curious about Web3, but don't know where to start or who to trust?

Introducing Web3 for Beginners, a course taught by Michael Stelzner, the founder of Social Media Examiner.

Learn the basics of Web3 and apply it to your business with this FREE comprehensive course.
CLICK HERE TO GET FREE ACCESS