Wondering if YouTube can help your business? Looking for tips to generate leads and sales on YouTube?
To explore YouTube for marketing, I interview Nick Nimmin on the Social Media Marketing Podcast.
Nick is a YouTube expert. His YouTube channel has more than 650K subscribers and is dedicated to helping YouTube content creators thrive on the platform. He's also host of Comments Over Coffee—a podcast focused on YouTube.
You'll learn why you should consider YouTube over Facebook and discover a system for generating leads and sales with value-based videos on YouTube.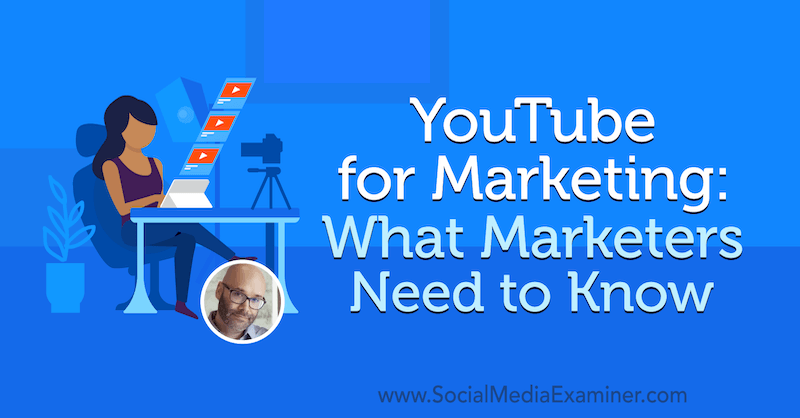 There are four main reasons Nick believes marketers should consider YouTube as a content distribution channel today.
First, YouTube is the second-largest search engine. That fact alone makes it an extremely powerful platform.
Second, when you upload video content to YouTube, you're not only tapping into the power of Google's search engine, you're tapping into the power of other search engines such as Bing and DuckDuckGo—and they all index YouTube videos in their results. Even though some of those search engines are comparatively smaller than Google, people do use them. By uploading a video to YouTube, your content is distributed across all of those discovery channels.
In addition, you can create a unique channel on YouTube that will help you get in front of the right audience and keep them coming back. Not by creating content to communicate how awesome you are but by becoming a resource people value and return to.
To visualize this, most real estate agents will take the marketer's approach and upload videos in which they talk about their business and share testimonials. But by being the person-about-town and focusing on local festivals and attractions—by sharing entertaining content and only referring to real estate in side mentions—you can build a unique channel.
Through the parasocial relationship formed when people watch that content, people begin to know and trust the agent. When the need for real estate services arises, that agent is top of mind. (A parasocial relationship is formed when the person who views or listens to your content begins to consider you as a friend, despite never having met you or having limited interactions with you.)
Finally, another point in YouTube's favor is the way content is organized on the platform. On a Facebook page, for example, people have to really dig around to find what they want from you. On YouTube, your content can be sorted by most popular or by date range. And you, as the content creator, can structure your channel in a way that funnels viewers toward the content that's most important to them.
3 Days of World-Class Training—Zero Travel!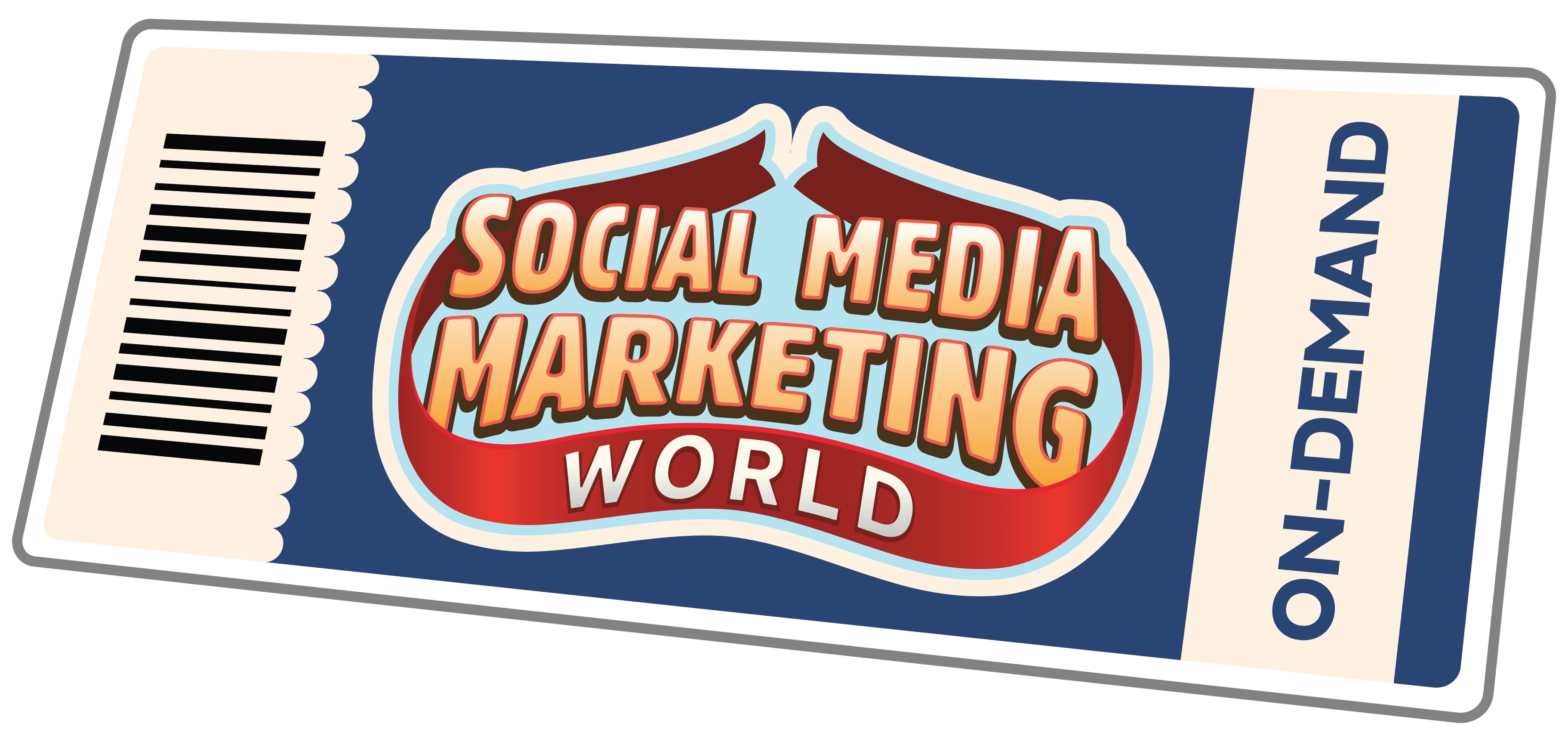 Travel to Social Media Marketing World off the table? Get all of the great content at a fraction of the price with an On-Demand ticket.

That's full access to recordings of every keynote, workshop, and session—the ones people travel thousands of miles to see. Don't wait. Get your On-Demand ticket and enjoy actionable content that you can watch anytime, anywhere.
GET YOUR ON-DEMAND TICKET NOW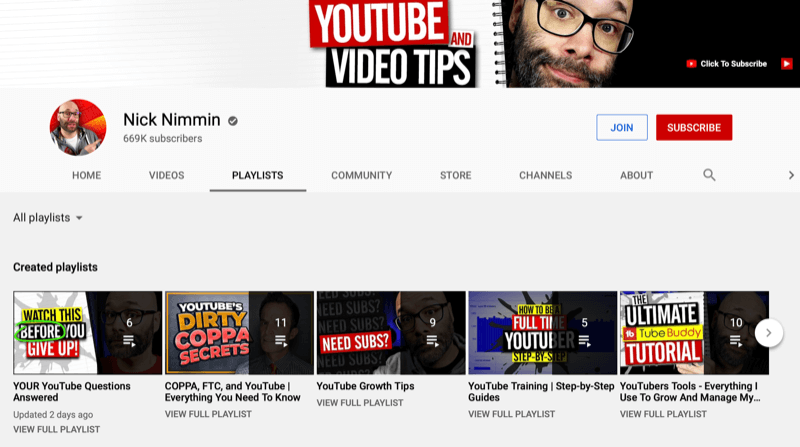 Common Mistakes Marketers Make on YouTube
No one opens YouTube and thinks, "Man, I really hope a good testimonial gets recommended to me on my home page."
Unfortunately, people often upload a lot of testimonials thinking that will make them and their services look great. What they're not thinking about is that YouTube will initially recommend that video—until it dies because nobody responds to it. In uploading that type of content, you've missed the opportunity to get in front of viewers with content they'll respond to and find valuable. The same scenario plays out when you upload content that focuses on, "This is our company and this is what we can do for you."
Instead, think about how you can become a regular part of your audience's life. What do they actually care about? What problems can your product or service help them solve? How can you add value to their lives so they begin to know, like, and trust you?
Another mistake is when marketers assume that someone who's watched one video has watched all of their past videos. They'll reference other videos or rely on language from past videos without providing context or explanations for new viewers.
Nick avoids this by using simple language, as though he's talking to a buddy. When he uses industry language—such as click-through rate (CTR) or audience retention—in a video, he doesn't assume that all of his viewers know what the terms mean. He explains and does his best to keep everything as simple as possible because his goal is to connect with his viewers so they come back to his channel.
That said, Nick notes that if you're sure the people you're trying to reach are at a certain level of understanding, that insider language will help exclude the people you're not trying to reach. Just make sure you don't complicate things for the people you're speaking to. If you do, you risk losing them in the process of communicating with them.
Then there are the people who put a bunch of videos up on YouTube without having a plan. They spend time creating a plan for using Pinterest or Facebook to reach a goal but not for YouTube. They don't consider who they need to reach, how often to put a video up, which events to create content around so they can take advantage of those tempo situations, and so on.
Building on that last mistake—marketers don't understand how to effectively deliver calls to action (CTAs). A marketer's job is to spread awareness and create conversions so everyone puts CTAs in their videos—often calling viewers to leave the platform. What those marketers fail to account for is that YouTube wants to keep people on their platform.
To illustrate, at the beginning of a video, they'll welcome people, introduce themselves, and share their website URL. Then they'll say something like, "Before we get into today's content, I put together these 10 steps to X, Y, Z. You can download that PDF through the link down in the description."
They're likely looking at their retention graphs and seeing that they have the most viewers during the first 30 seconds of their videos so that's where they decide to deliver their CTA pitch.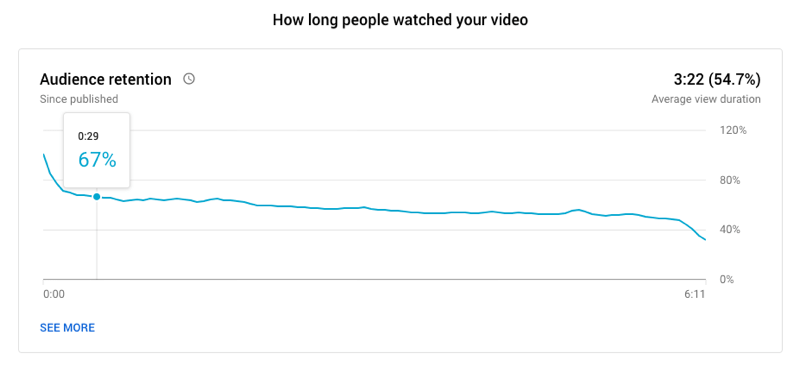 In fact, what they've done is effectively killed the video's performance. They've exchanged a short-term gain (the few conversions attached to the download) for long-term loss rather than accepting a short-term loss for long-term gain (more watch time).
The better your videos perform on YouTube—the longer people watch them—the better your entire channel is going to do. Rather than delivering that CTA at the beginning of your videos, put it at the end. Or even better, include videos that don't even contain a CTA.
Think of it like email marketing. Rather than constantly hammering subscribers with sales emails that push them to unsubscribe, marketers build automated sequences that deliver a value email, then a sales email, followed by a couple of value emails, and then another sales email.
Apply the same model to your YouTube content and you'll reap the rewards for a very long time. Nick shares that the very first video he uploaded (in 2014) is still delivering leads.
Advantages of Marketing on YouTube vs. Facebook
One of YouTube's attractive qualities is that the platform doesn't run on the same pay-to-play for exposure model that Facebook does. In fact, the platform limits the ability to run ads to channels with at least 1,000 subscribers and 4,000 hours of watch time. It's entirely possible to have high-performing videos that don't have ads running in front of them because YouTube wants to dominate the market by simply keeping users on their platform. And because YouTube is a search engine, the opportunity for organic growth is pronounced.
The really important thing about YouTube, though, is that it's a prediction/recommendation engine.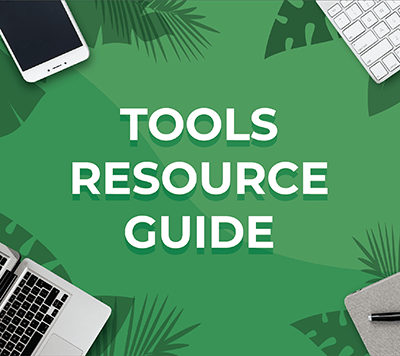 Looking for something to make your life easier?
Discover the tools we recommend to drive engagement, save you time, and boost sales across your entire marketing funnel or business.
Whether you need help planning content, organizing social posts, or developing your strategy, you'll find something for every situation.
FIND YOUR NEXT FAVORITE TOOL
YouTube notices the type of content people respond to positively. If viewers who typically respond well to the type of content you produce haven't been exposed to your content, YouTube will begin recommending your videos to those viewers. For instance, if you typically watch only videos that are in 4K, YouTube will begin to recommend a higher percentage of 4K-quality videos to you.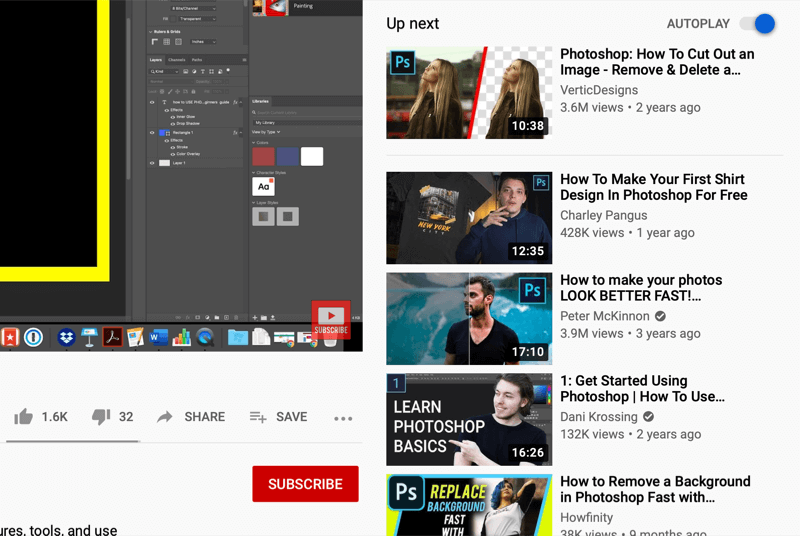 If your videos do well with those viewers, YouTube uses the markers of those viewers to find more customers for you. And if you're leaning into a strategy in which you deliver opt-ins in some—not all—of your videos, those people will stay on your videos for longer. This generates serious momentum for your channel and raises your discoverability. Then, all you have to do is take note of which videos people are responding well to. You can use the audience retention reports to see where you can deliver an even better viewer experience.
When you post content on Facebook, only a fragment of your audience will ever see it in the news feed and only for about 24 hours. There are exceptions, but most content on Facebook has a shelf life of minutes and hours, not days.
To take full advantage of YouTube's recommendations, you want to be sure your content stands out from other suggested videos. Make sure your titles and thumbnails feature keywords and are compelling enough to grab a viewer's attention while communicating that your content is for them.
Is It Unwise to Build Your Video Content Home on Rented Land?
To view it as a huge loss to put content on a particular platform only to have that platform disappear is incorrect thinking according to Nick.
It's true he's spent years putting more than 400 videos up on his YouTube channel, and if his channel were to die tomorrow, he acknowledges that it would be a horrible thing to wake up to. But the skills and knowledge he's developed, the influence he's generated, and the overflow of that influence to other social media platforms would allow him to regain his footing elsewhere. He's even retained the original files of the videos he's uploaded to YouTube so he could repurpose most of them for use on another platform.
Nick is quick to note, however, that pretty much everything you build on the internet uses rented or leased land. Your website can be hacked. Email lists took a hit when Google introduced filtering. So take advantage of any platforms you're interested in. Just make sure what you're doing aligns with and embraces the mission of the platform and learn the skills you need to thrive there.
How to Market With Video on YouTube
Understanding that your YouTube content should keep people on the platform, how can you develop video that allows you to get any marketing done?
Simply clarify what you're trying to accomplish. Then figure out who you need to be in front of to accomplish that goal and what type of content will get in front of that audience. That leads us to the actual videos. Think of YouTube video as less of a marketing tool and more of a community-building/awareness tool.
Instead of using the first part of your video trying to drive people to an opt-in right away, introduce yourself. To illustrate, "I'm Mike from socialmediaexaminer.com, and today we're talking about X." Include that brief introduction in every video and you spread a little bit of awareness in every video that's opened.
The next step is to deliver value (not a pitch). The more value you deliver, the more often people will come back for more. And what you want is for people to watch as many of your videos as possible so YouTube can show your videos to more people. That's where the real wins come from.
Toward the end of your videos, don't use any language to cue viewers that the video is coming to an end because they typically won't stick around for that last 60 seconds. Make sure there's something on the screen that viewers can click on to watch another of your videos, and if applicable, deliver your CTA.
Generating Organic Off-Platform Leads and Sales
Nick has developed a CTA delivery system built around what he calls money-videos. He creates one video (the money-video) he uses to deliver a CTA that drives traffic off of YouTube.
He then creates multiple value-based videos around the topic of the money-video. In each of the value-based videos, he uses an end screen to link to the related money-video. While he sacrifices the initial performance of the money-video, he improves that performance by driving traffic to the money-video via the value-based videos.
Generating Organic On-Platform Leads and Sales
Your value-based content doesn't have to be limited only to building awareness—it can also be used passively to generate leads. Simply make your service the topic of your content and say, "With one of my clients, we did X and we got Y results." Because it's a passive CTA, many people won't even notice. But those who are actually looking for the service you offer will notice. If you've seeded your contact information correctly on YouTube, they'll reach out to you by email.
Where should you put your contact details? On the About tab, you want to be sure to add a paragraph that explains a little of who you are and what you offer, and include a business inquiry email. Getting to the About tab requires more clicks from your prospect so a better idea is to lower the barrier to entry by adding contact details directly to the video's description.
The key is to mention in the video that people can find your contact details in the description. If you don't actively push people to click on and read your description, a majority of people won't.
Nick is also experimenting with putting links to additional videos and his contact details in a pinned comment on his published YouTube videos.

He isn't using pinned comments to drive traffic off-platform, though, because it's a gray area. YouTube's community guidelines prohibit creators from making posts specifically to drive people off the platform but Nick has two friends who say they've talked with YouTube and were told they can use a pinned comment to send people directly to offers or to their website. Still, it's not something Nick is willing to roll the dice on.
Generating Paid Leads and Sales
When your channel hits the 1,000-subscriber milestone and 4,000 hours threshold of watch time, you're eligible to run YouTube ads and connect your channel with your website. This enables you to put a clickable element in your end screen that sends people directly to your website.
While you're also able to place that same type of clickable element in a YouTube card, Nick strongly recommends holding that clickable element to the end screen so you're not sending people off of YouTube too quickly.
Putting It All Together
Regardless of which tactics you use to generate lead and sales, it's important to preview the viewer's journey from your own devices. Use your phone, your computer, and possibly your TV to check your video watch page for the description and comments, your channel page, and your About tab to get an idea of what people have to do to find additional information you refer to in your videos.
Key Takeaways From This Episode
What do you think? What are your thoughts on generating leads and sales on YouTube? Please share your comments below.
Get Your FREE Course: Web3 for Beginners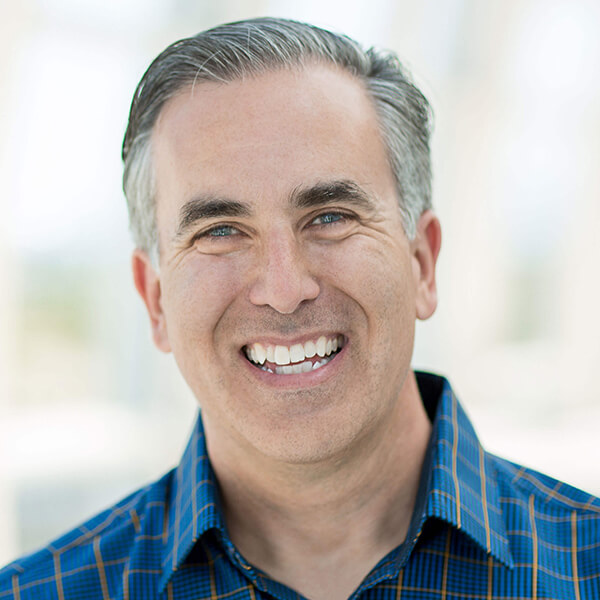 Curious about Web3, but don't know where to start or who to trust?

Introducing Web3 for Beginners, a course taught by Michael Stelzner, the founder of Social Media Examiner.

Learn the basics of Web3 and apply it to your business with this FREE comprehensive course.
CLICK HERE TO GET FREE ACCESS