Discover how Web3 will impact your business & how to get on board!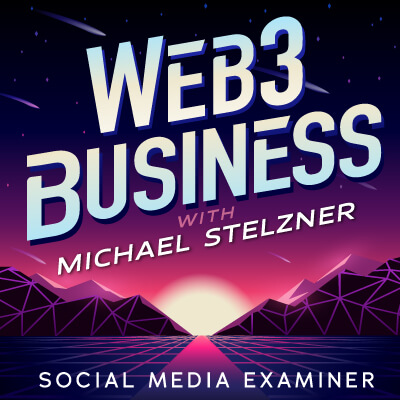 The Web3 Business Podcast is a weekly show—hosted by our founder Michael Stelzner—that explores the new frontier of Web3 in easy-to-understand terms.
Each week, Michael demystifies the business side of Web3, NFTs, decentralized autonomous organizations (DAOs), and beyond by interviewing leading experts.
Designed for businesses, entrepreneurs, and creators, you will learn how Web3 can help you grow your business in ways you never thought possible. This show was previously called the Crypto Business podcast.
Where to find it: Apple Podcasts | Google Podcasts | Spotify | YouTube | Amazon Music | RSS 
Click here to find past episodes/show notes. Other shows from Social Media Examiner.
Disclaimer: The information provided on this website is provided solely for educational purposes and does not constitute any advice, including but not limited to, investment advice, trading advice or financial advice, and you should not treat any of the website's content as such. Social Media Examiner recommends that you independently research any information contained on this Website and that you speak with an investment professional before making any decision to purchase, trade, hold or sell cryptocurrency. Nothing herein should be treated as a recommendation to buy, sell or hold cryptocurrency. Social Media Examiner cannot guarantee the accuracy of any information listed on the website and is not responsible for any missing or wrong information. All information is provided as is and should be used at your own risk. Social Media Examiner disclaims all responsibility and liability for your use of any information found on the website.