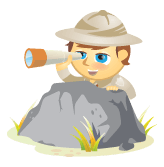 Washington Redskins fans are some of the most devoted when it comes to supporting their team, donning full Native American headdresses, painted faces and hog noses.
These loyal fans now have an arguably easier way of showing their support—and connecting with each other—through Foursquare.
In a pilot for the 2010 football season, the NFL team rolled out Foursquare as a way to reward fans for attending home games or rallies during out-of-town games.
The results beat expectations. By December, Redskins fans had logged more than 20,000 check-ins at the home stadium FedExField and tens of thousands more at venues across the D.C. metro area.
"It's pretty impressive given that Foursquare is so new and not as readily embraced as other social media tools," said Shripal Shah, Sr. VP, Digital Strategy at Washington Redskins.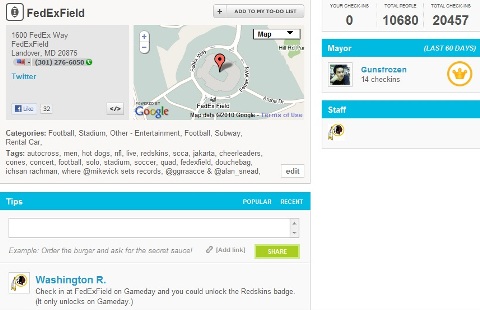 Organization
: Washington Redskins
Social Media Handles & Stats
:
Website: www.redskins.com
Foursquare: 12,800 followers; 20,457 check-ins at FedExField
Twitter: 14,909 followers
Facebook: 429,510 fans
Highlights:
The Redskins scored 20,457 check-ins at FedExField across seven home games.
Foursquare followers nearly number Redskins Twitter followers, though the team has been on Twitter much longer.
Nearly 30 metro area bars and restaurants received a total of more than 30,000 check-ins over the season so far.
Rewarding Fans Who Show Up
In the past couple of years, the Redskins have built their fan bases on both Facebook and Twitter. But Shah saw Foursquare as a different kind of connection with fans – as a way to reward those who show up in person. In establishing a Foursquare presence, the Redskins became the first NFL team to have a badge on the location-based social networking site.
"We picked Foursquare for a couple of reasons," Shah said. "A, it has the largest user base [among location-based services], and B, it allowed us to do a bunch of things, yet keep it really simple for our fan base. We didn't want to make it too complicated. We wanted to make it fun and reward fans for coming to our games or watching the games."

Get Your FREE Course: Web3 for Beginners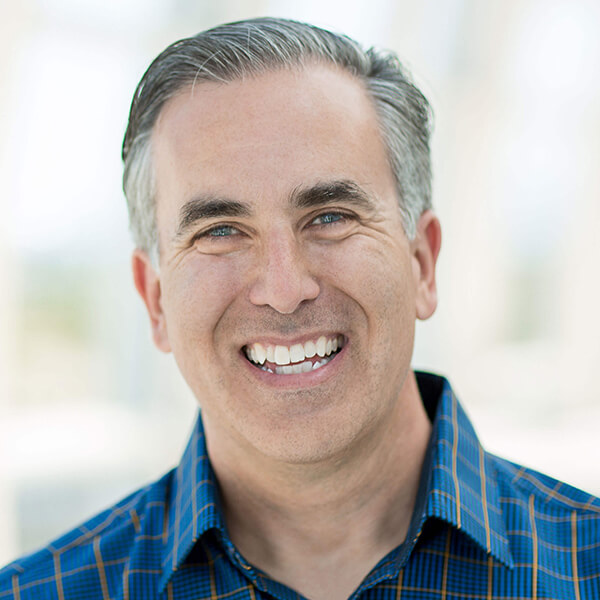 Curious about Web3, but don't know where to start or who to trust?

Introducing Web3 for Beginners, a course taught by Michael Stelzner, the founder of Social Media Examiner.

Learn the basics of Web3 and apply it to your business with this FREE comprehensive course.
CLICK HERE TO GET FREE ACCESS
To unlock the Foursquare badge for FedExField, fans must check in within three hours before or three hours after each home game ends.
The team also established nearly 30 different "Redskins" bars and restaurants around the city where fans can get together and watch the games, and of course check in on Foursquare as they arrive. At once, the Redskins organization promotes those establishments that host its fans and gives fans a way to connect with each other.
A Simple Sweepstakes
The Redskins kicked off the Foursquare pilot by promoting it at preseason games on the Jumbotron and with preseason TV advertising. Additionally, it teased special Foursquare promotions through email and on its website.
In a major promotion this fall, fans were automatically entered into a sweepstakes and could win prizes by simply unlocking the Redskins badge at FedExField or at participating establishments. In a drawing of all entrants, the winner took away two loge tickets for a home game on Nov. 15 against the Philadelphia Eagles, and the experience of tailgating with the GEICO caveman beforehand.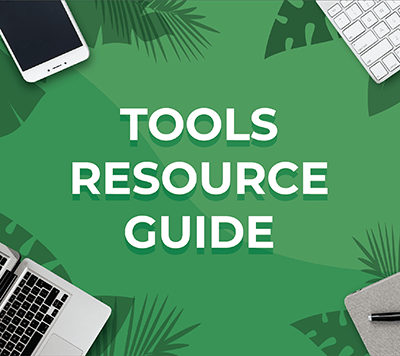 Looking for something to make your life easier?
Discover the tools we recommend to drive engagement, save you time, and boost sales across your entire marketing funnel or business.
Whether you need help planning content, organizing social posts, or developing your strategy, you'll find something for every situation.
FIND YOUR NEXT FAVORITE TOOL
Shah feels Foursquare offers an easier way to manage promotions, as opposed to trying to do a similar offering with Twitter or Facebook.
"Through Twitter, this would take more steps," Shah said. "It's a simpler way to do it for the average football fan. We reward people for following or finding our stadium or venue and give them the opportunity to win tickets to Monday night's game."
Running a couple of months, the contest succeeded in building awareness of the Redskins' Foursquare presence and growing followers and check-ins.
"The contest exceeded our expectations," Shah added. "At our last game we had 3800 check-ins alone."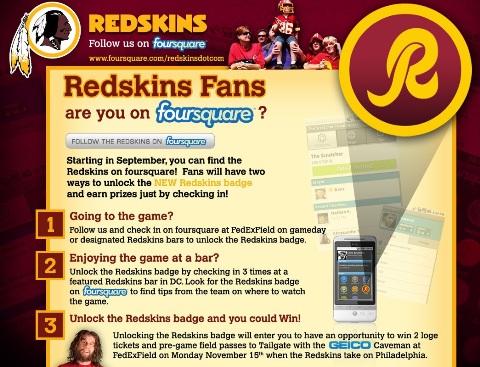 Giving Fans Home Bases During Away Games
When the Redskins play away games, the organization holds a series of rallies at partner establishments. There, fans can check in and unlock a badge after three visits to a venue. Further encouraging them to join in, the Redskins give away prizes onsite and bring in Redskins cheerleaders. To date, Redskins fans have checked in at participating Foursquare restaurants more than 30,000 times this season alone.
In tying in Foursquare, Shah feels the Redskins are simply adding an interactive dimension to activities that fans are already participating in. They engage with the Redskins organization in a whole new way.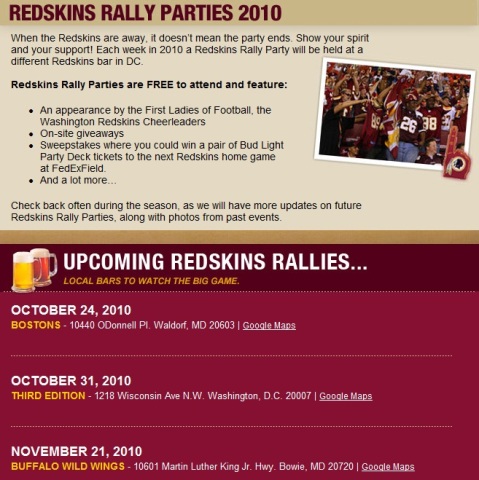 "We use Foursquare as a way to extend the reach of how we're promoting rallies," Shah said. "We're adding a layer on top of it. We're really trying to connect fans together."
Toward that end, fans have connected with each other on Foursquare, with hundreds sharing tips such as where to find the best parking deals at FedExField, where to sit at establishments and whether to order the Philly cheesesteak or grilled cheese.
A Winning Trial
So far, the Redskins consider the Foursquare trial a success based on the high – and growing – level of engagement during the season. Already, Shah is considering how to take Foursquare and location-based services a step further.
"We're trying to open ourselves up to all the elements that this platform can allow us to do," he said.
For now, the organization remains very satisfied with the level of participation, especially given the lower-profile nature of Foursquare compared to other social media tools.
"@redskinsdotcom has over 12,800 followers on Foursquare. This is close to total followers on Twitter. So growth – based on the total Foursquare user base being smaller than Twitter – has been great," Shah added.
The Redskins Foursquare Playbook
Keep it simple
– Don't ask fans to do too much or they won't participate in promotions. A check-in automatically entered them into a drawing for tickets.
Start small and build – The Redskins started with a promotion or two this year and will add more for the next season, such as special rewards for the mayor of FedExField.
Find partners – During away games, fans could check in at 27 D.C. metro area bars and restaurants and unlock a badge after three visits.
Offer incentives – Fans enjoy being fans, but give them even more reasons to check in. Fans were entered to win sweet tickets just by checking in.
What's worked for you in increasing your Foursquare followers and check-ins? As an individual, what types of promotions would make you more likely to check in? Leave your comments in the box below.
Get Your FREE Course: Web3 for Beginners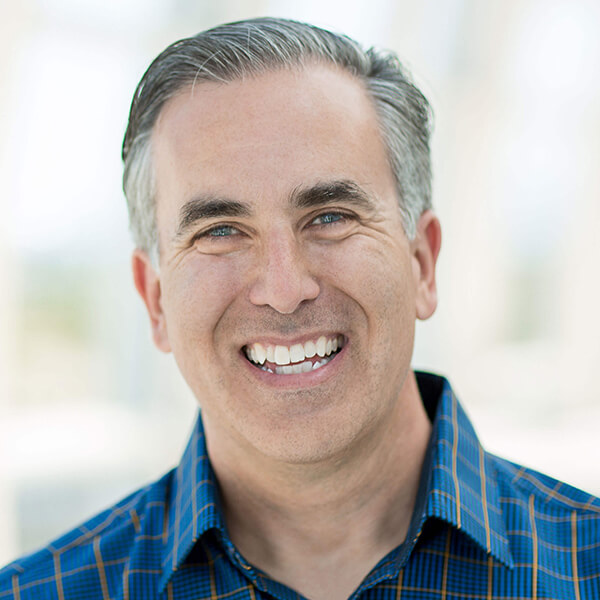 Curious about Web3, but don't know where to start or who to trust?

Introducing Web3 for Beginners, a course taught by Michael Stelzner, the founder of Social Media Examiner.

Learn the basics of Web3 and apply it to your business with this FREE comprehensive course.
CLICK HERE TO GET FREE ACCESS