Want to raise funds for a business idea? Wondering how NFTs could help you, without having to give away a portion of your business?
In this article, you'll discover how to use NFTs to fund a business venture.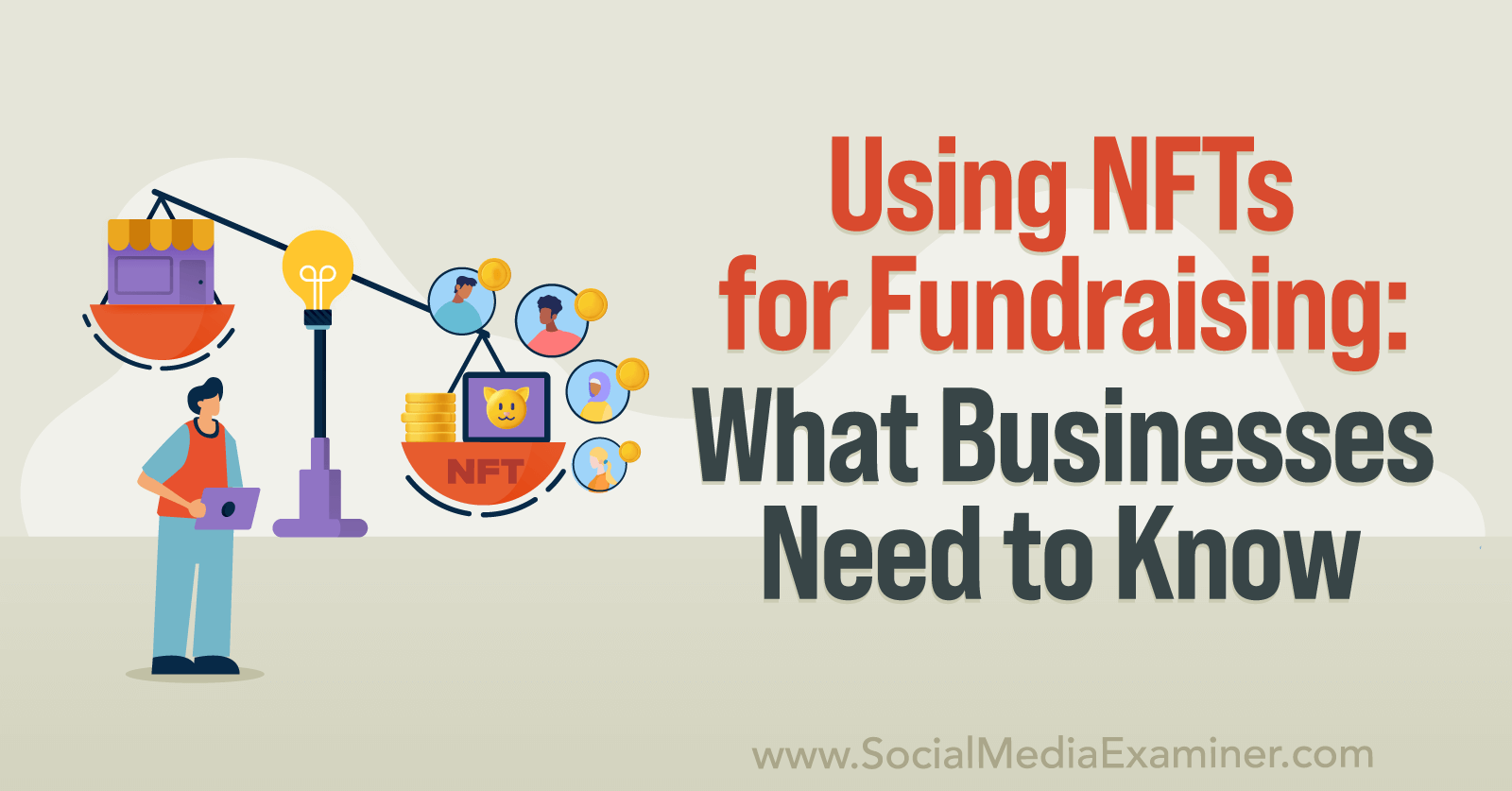 #1: Using NFTs for Fundraising: Unique Advantages
Fundraising via NFTs offers distinct advantages to parties on both sides of the venture: entrepreneur and investor.
Entrepreneurial Advantages to Using NFTs for Fundraising
One of the biggest problems with the traditional way businesses raise seed funds is that it forces entrepreneurs to sell part of their company to raise funds which almost always puts the business on a path to pursuing acquisition or an Initial Public Offering (IPO).
The biggest advantage to raising funds through NFT sales relates to the dilution of ownership. Entrepreneurs who construct their projects so that the NFTs go up in value as the business succeeds can raise money without relinquishing ownership of the startup.
Another advantage is that the investor pool instantly becomes global rather than being constrained by proximity to one of the geographic startup hub locations such as Silicon Valley, London, or Buenos Aires.
Investor Advantages to Using NFTs for Fundraising
Investing in a startup is risky. There's no way to know whether a hiccup five years down the road will derail the business. What's more, the funds you invest can be locked in the startup for years without delivering a return on your investment.
When you invest via NFTs, your investment is inherently liquid from the start. This means two things. One, you're not committed to the entire journey of the startup and you can exit if you decide it's not right for you.
Two, the liquidity of NFTs means you can recycle funds at any stage in a startup's journey and reinvest them in another startup much more quickly.
#2: NFT Fundraising: Cautions for Entrepreneurs and Investors
The period between the summer of 2021 through January 2022 saw a number of NFT projects rocket in terms of growth in the NFT space.
Before you pattern your own project's growth plan on the tactics used by these early NFT projects, recognize that the ecosystem in which these projects grew was contextually unique.
Hype
A lot of work goes into bootstrapping a business or building a business with funding. The bulk of that work doesn't happen on Twitter.
Some perception management and marketing can and should be done on Twitter and in Twitter Spaces, but if you're spending all day on Twitter, you aren't building a business.
You're building hype. And hype isn't inherently valuable or sustainable in the long term.
Staking
Staking is the process that allows individuals to participate in the validation of transactions on a Proof-of-Stake blockchain. Because this validation is how the network ensures security, staking earns validators rewards. Staking makes sense for Ethereum.

When you stake an NFT, you attach it a platform or a protocol.
There are some legitimate uses for staking but more often staking of NFTs is implemented to restrict supply and drive up the floor price.
If you're trying to build a genuine business, is manipulating the floor price of your NFTs rather than building something of sustainable value worth your time?
Shares
Attaching shares of your business and a profit motive such as dividends to your NFTs is problematic from a few perspectives.
The first applies to you as the entrepreneur: the SEC is likely to consider that you're breaching securities laws by selling unregistered securities on the internet.
The second applies to investors. While genuine shares offer some legal protections and guarantees via binding contracts, NFTs do not offer the same protections. The value of the NFTs is reliant solely on the ethics, honesty, and integrity of the startup's founder. Be careful about which founders and startups you back.
The third also applies to investors. There's a false belief that as a business grows and becomes successful, a substantial amount of money will be shared with every stakeholder. The reality is, by the time a business is that big there are a lot of stakeholders involved. You need legal protections in place to receive substantial returns at that stage.
#3: NFT Fundraising: Models That Work
We've covered considerations to be wary of. Now, let's look at the right way to go about raising funds for a start-up or an existing business.
Before you begin planning your NFT fundraising campaign, you must have an idea that will grow into a solution for an existing problem. It's business building 1O1.
Now you can consider whether you can construct an NFT fundraiser in a way that links its value to the success of the business. If you as the founder don't think about the NFTs at all and don't spend any time hyping them up, will the NFTs grow in value?
NFT Fundraising Value Model: Lifetime Access
Say you're building a competitor to Adobe Creative Cloud which costs around $60 per seat per month. You sell your NFTs for $500 each, stipulating that each NFT provides lifetime access to the product you're building. When you price your product at $50 per seat per month, the NFT will be worth much more than the initial $500 investment.
That value is directly linked to the value of the business rather than any airdrops, tokens, or staking rewards. As your business succeeds, the NFT becomes more valuable and your investors are made whole by the fact that they hold a token, which can be resold to someone else at the current market price.
Permissionless Permies NFTs are a great real-world example. Permies give holders lifetime access to Permissionless conferences. The founders won because they received funding to build their business, and the investors won because the investment in a Permie delivers real value when compared to the price of tickets to all future events.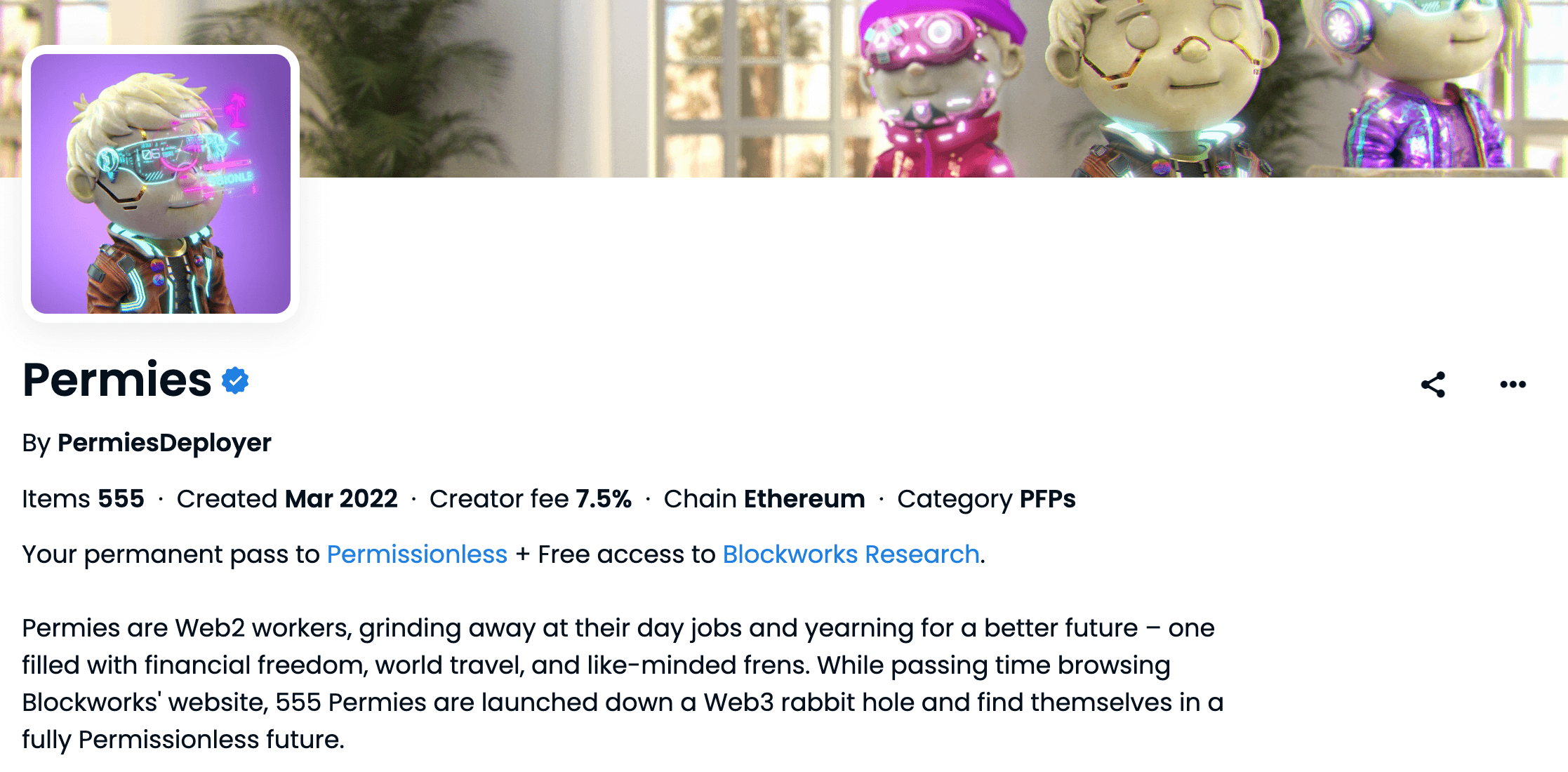 The lifetime access NFT fundraising model is ideally suited to a business with subscription costs at play, such as software as a service (SaaS).
NFT Fundraising Value Model: Premium Access
Because consumer products don't typically have subscription costs, the NFTs' value can be tied to some kind of special access to a feature.
Imagine if Twitter had used NFTs to raise seed funds, back in the day. That NFT could have provided holders with access that allowed them to edit tweets.
Or, if Apple had sold an NFT for funding, NFT holders could purchase a device in a color that is exclusive to them.
If you're building a game, NFT holders could access special in-game skins or weapons that are limited in direct proportion to the number of NFTs in your collection. As the mainstream player base grows, the scarcity of these in-game items will make the NFTs an even more precious commodity.
Special access doesn't have to be tied to product features, though.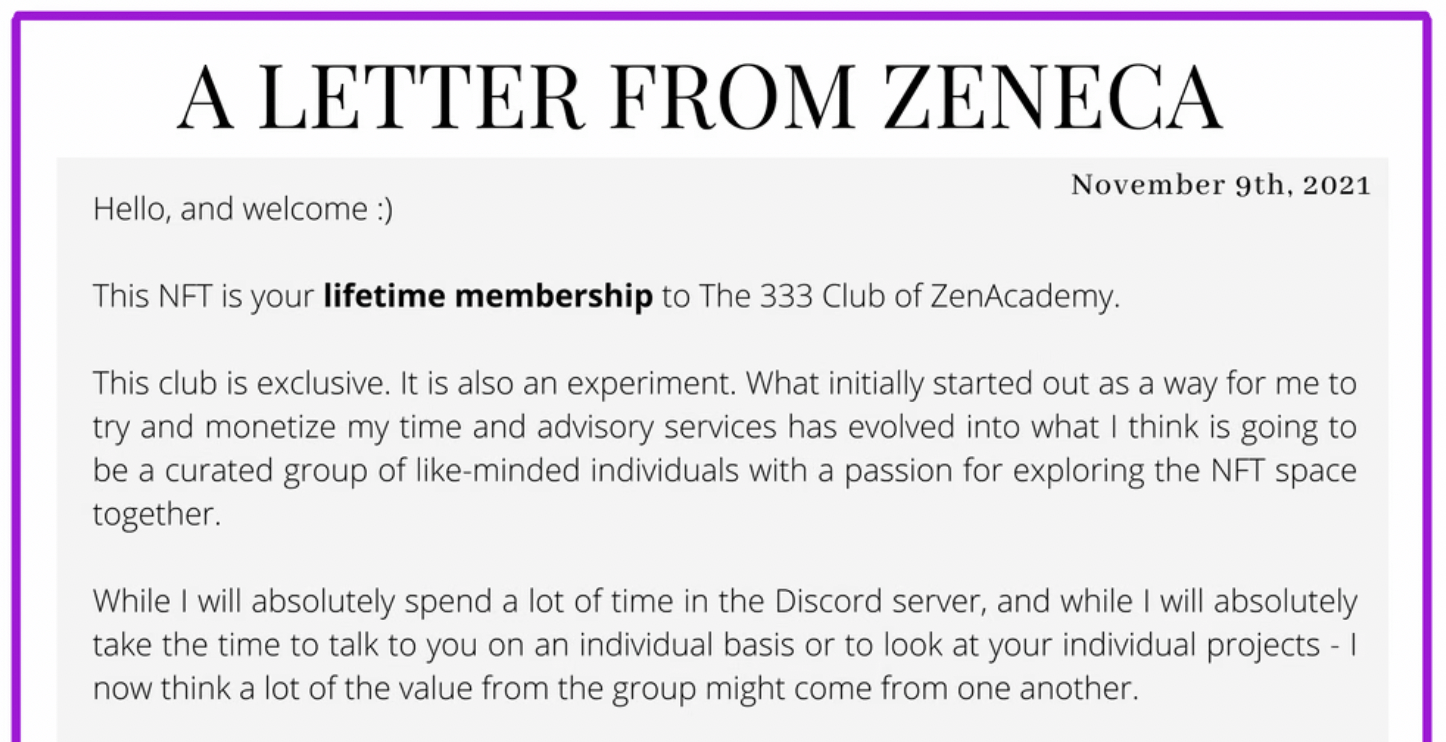 It can also be tied to a person—possibly the founder, via a gated community the founder agrees to frequent, in person, on a schedule. This would work well for book authors or coaches/consultants who sell information products.
Other Notes From This Episode
Where to subscribe: Apple Podcast | Google Podcasts | Spotify | Amazon Music | RSS
✋🏽 If you enjoyed this episode of the Web3 Business Podcast, please head over to Apple Podcasts, leave a rating, write a review, and subscribe.
Disclaimer: The information provided on this website is provided solely for educational purposes and does not constitute any advice, including but not limited to, investment advice, trading advice or financial advice, and you should not treat any of the website's content as such. Social Media Examiner recommends that you independently research any information contained on this Website and that you speak with an investment professional before making any decision to purchase, trade, hold or sell cryptocurrency. Nothing herein should be treated as a recommendation to buy, sell or hold cryptocurrency. Social Media Examiner cannot guarantee the accuracy of any information listed on the website and is not responsible for any missing or wrong information. All information is provided as is and should be used at your own risk. Social Media Examiner disclaims all responsibility and liability for your use of any information found on the website.