Do you want to drive free traffic to your offers and content with Instagram? Are you looking for fresh ideas to transform your stories with link stickers?
In this article, you'll learn everything you need to know about link stickers for Instagram Stories. You'll get a step-by-step how-to guide for link stickers and discover how to update your Stories workflow to include them. Plus, you'll see examples of how brands are already implementing this feature.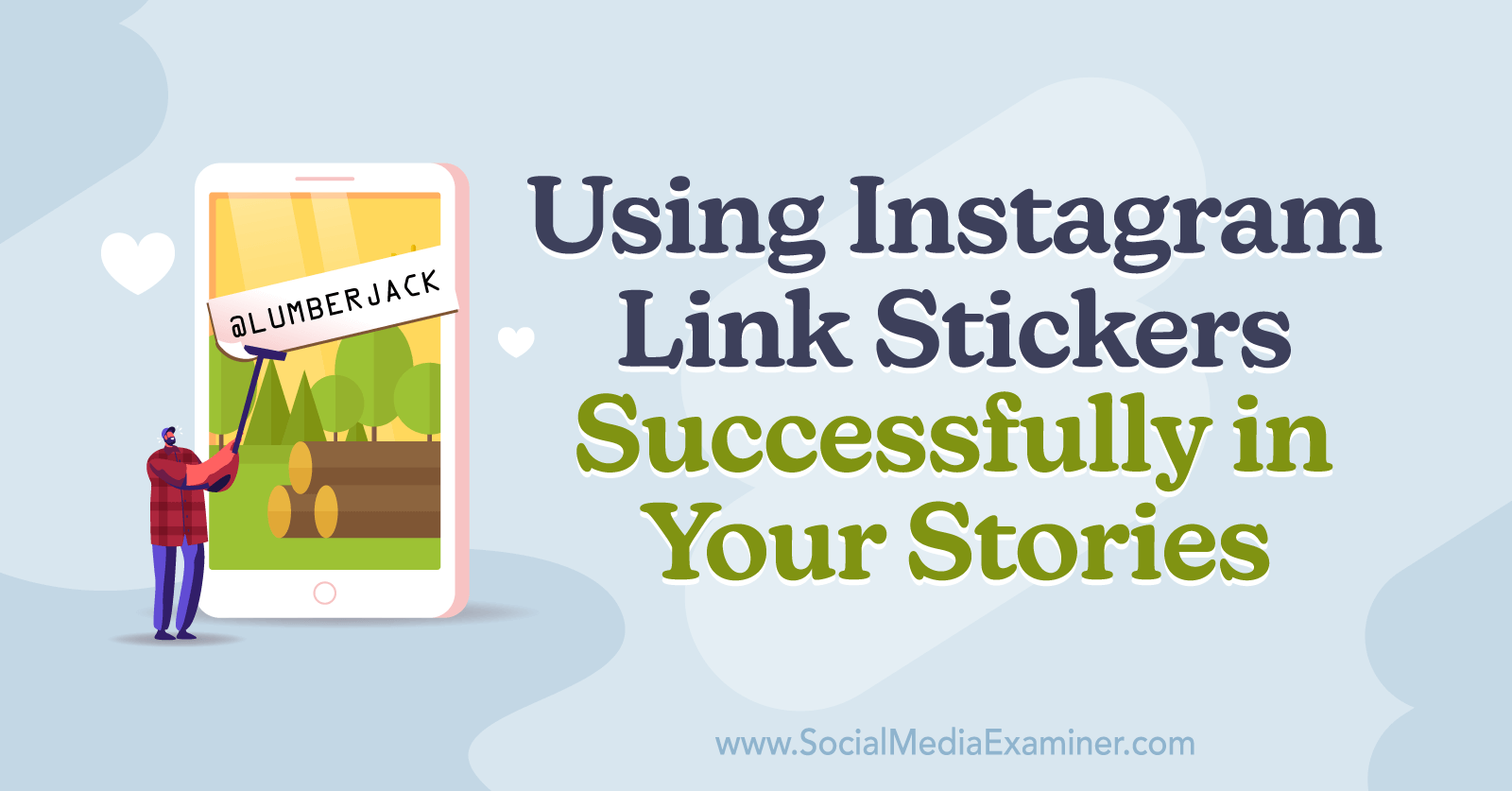 What Are Instagram Stories Link Stickers?
Link stickers are interactive elements that you can add to stories via the Instagram app. Like other interactive story stickers, they have a pretty uniform appearance. They feature a link icon and the domain of any URL you choose against a white background.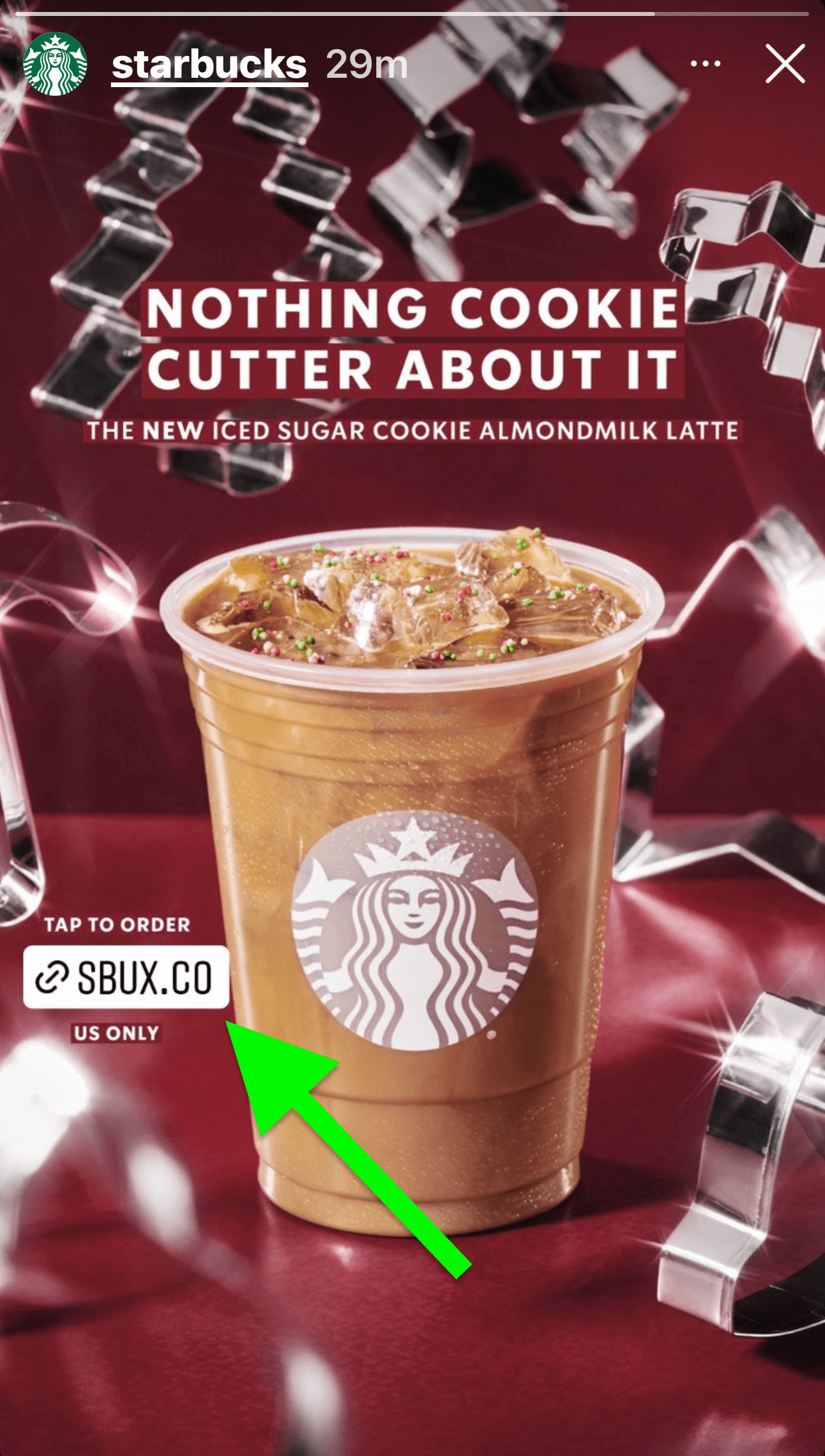 Like other Instagram story elements, link stickers are easy to modify. You can move, angle, and resize them so they align perfectly with your content or stand out and grab attention.
When users tap on your link sticker, they see a pop-up inviting them to visit the URL you specified. If they tap the Visit Link pop-up, the linked page automatically loads in the Instagram browser.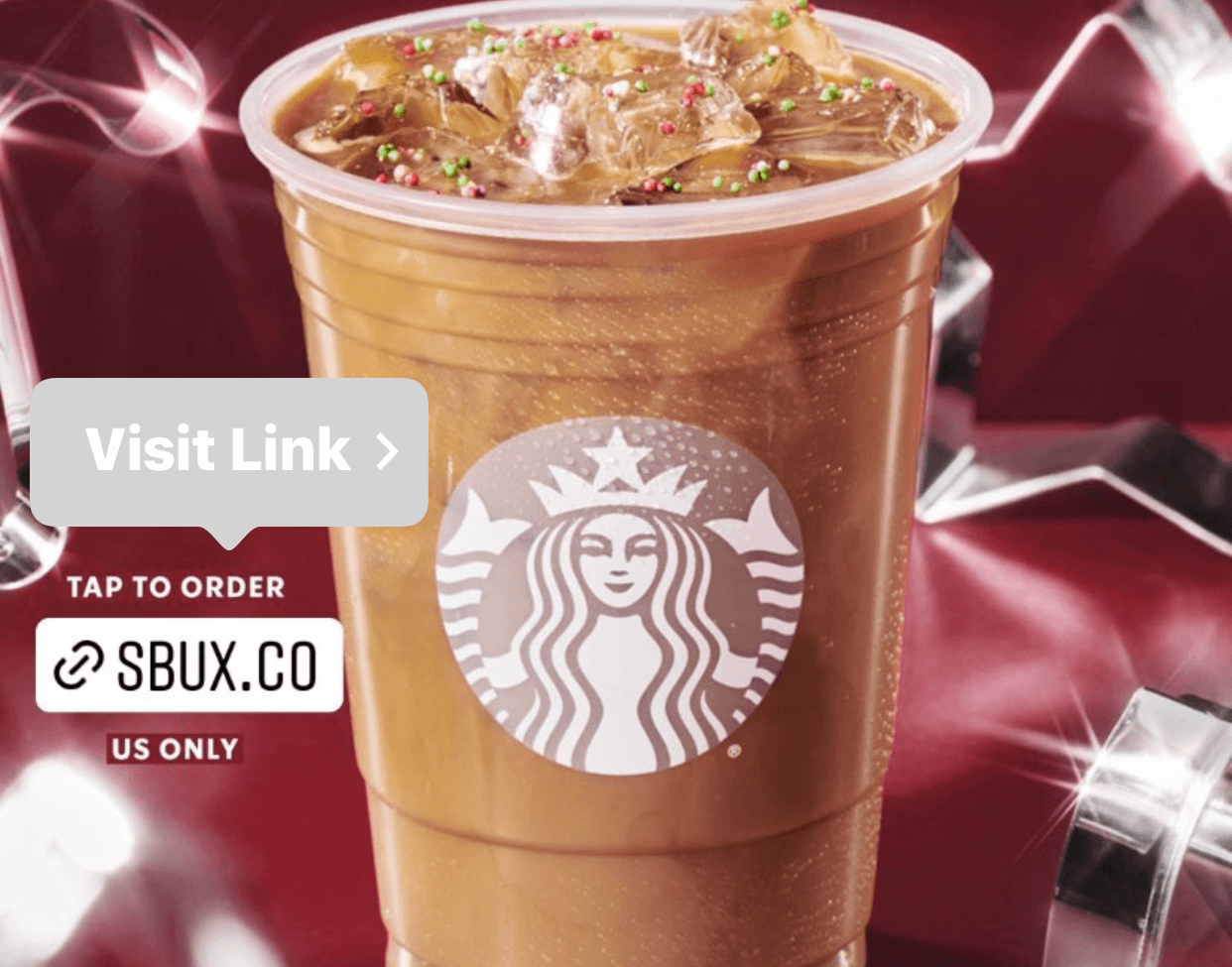 Instagram began teasing link stickers in June 2021, when Product Director Vishal Shah announced that the feature was undergoing testing. In August 2021, a small group of users began reporting seeing the feature in their accounts.
But it wasn't until late October 2021 when Instagram announced that the channel was rolling out link stickers to all accounts in the very near future. As of early November 2021, the feature appears to be widely available.
Link stickers are big news for two reasons. First, they make it significantly easier for businesses and creators to link to content outside of Instagram. They eliminate the need to prompt users to swipe up—and they completely replace swipe-up links.
In addition, link stickers are now available to all Instagram accounts. Prior to the October 2021 rollout, the social channel allowed only accounts with verified status or at least 10,000 followers to add swipe-up links to their stories.
Now you can use stickers to link out from stories, whether you have 5 or 5 million followers. If it sounds like that could completely change the story landscape, you might be onto something.
What Marketers Need to Know About Instagram Link Stickers
Link stickers are likely to have a huge impact on the way marketers create and manage stories. As you get accustomed to this new feature, here are a few points to keep in mind.
Story Templates Require Updates
Maybe you run a big account that's always had access to swipe-up links. Perhaps you have a small account that can now link out from stories for the first time. Either way, this new Instagram sticker could completely change how your stories look.
In fact, one of the first steps you should take is to update your story templates:
Do your usual templates include swipe-up text or GIFs? You'll want to remove these elements right away to take advantage of the new functionality and avoid confusing followers.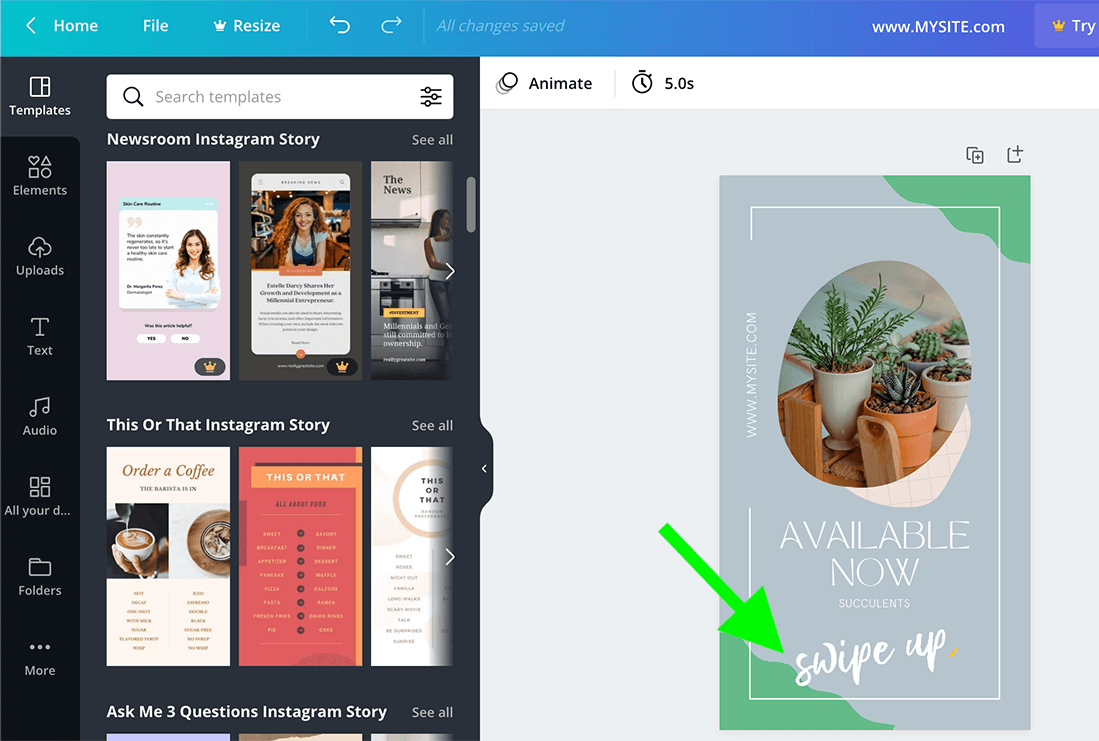 Do you typically leave space for Link in Bio GIFs? You don't necessarily have to replace these calls to action (CTAs). After all, bio links aren't going away. But now that link stickers are available for every account, you'll want to prioritize the interactive option rather than sending followers to your bio.
Are your link stickers visible enough? As you redesign your story templates, consider leaving a spot for stickers and GIFs that draw extra attention to your links. Taking this extra step can help your followers get used to the stickers and start tapping to visit your links.
Story Highlights Need Rethinking
The new link sticker should be easy to incorporate into future stories. But what about all your Instagram Stories highlights and archived stories that use the swipe-up? Will they no longer work as intended?
🌟 Ready to Supercharge Your Social Marketing Strategy? 🌟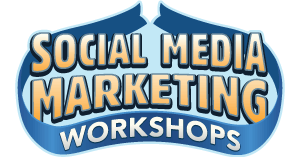 Struggling with your social marketing? You're not alone. The solution? The Social Media Marketing Workshops!

During these live 2 hour deep-dive workshops, you'll discover what's working now on Instagram, Facebook, TikTok, YouTube, and LinkedIn. Skyrocket your engagement, broaden your reach, and amplify your sales.

Become the marketing hero your company and clients need—without leaving your home!
🔥 Save $670 on an All-Access Ticket! Sale Ends Tuesday! 🔥
GET YOUR TICKETS NOW
Because Instagram doesn't allow you to edit published stories, you can't retroactively add link stickers to your archives. That means you won't be able to swap out swipe-up links for stickers in older highlights.
Although Instagram has confirmed that link stickers are the new norm, the app hasn't made an official announcement about pre-existing swipe-up links. As of now, swipe-up links in story highlights still appear to work correctly so there's no need to redo all of your highlight albums.
Pro Tip: When you create highlight albums from now on, include stories with link stickers only. That way, you'll leverage the new feature effectively and avoid any potential issues with swipe-up link functionality.
Link Stickers Can Amplify Interactivity
If you're no stranger to Stories, you know that Instagram has plenty of interactive sticker options. For example, you can add clickable hashtags and mentions or include responsive polls and questions. You don't have to choose just one option, either. Instead, you can combine multiple sticker types to add more interactivity to your content.
Link stickers work the same way. When you add a link sticker to a story, you can also mention another account, ask a question, add a quiz, or include other interactive elements. That means you aren't limited to adding only link stickers to your content.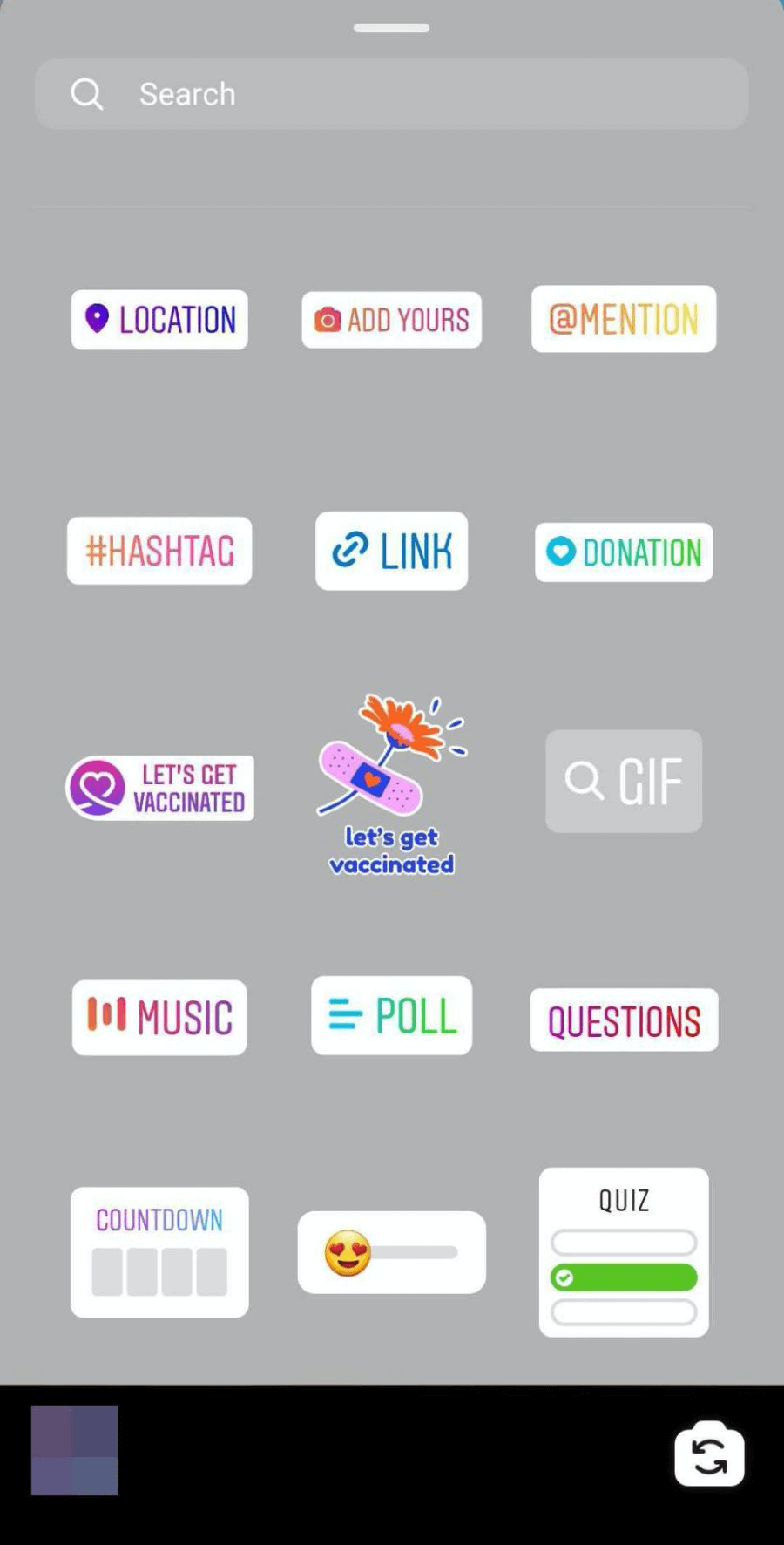 Should you combine multiple stickers or would it be better to stick to a single CTA? There's no clear answer to this question yet but it's likely that there isn't one ideal solution for every account. Instead, you should plan to test various ways to combine stickers to find what works best for your account and your followers.
Optimal Link Placement May Call for Testing
Speaking of testing: It's also going to be important to experiment with various link sticker placements. After all, one of the biggest perks of link stickers is their versatility.
While swipe-up links never offered much flexibility, link stickers give you tons of options. To find what drives the best results for your brand, try changing up where you place them, how you orient or angle them, and how large they are in comparison to other elements.
How to Add Link Stickers to Instagram Stories
You can add a link sticker to your Instagram story in five straightforward steps.
#1: Create an Instagram Story
Open the Instagram app and tap the plus icon in the upper-right corner. Select Story from the pop-up menu and create new content by adding photos, filming a short video, or using the text tool to write a message.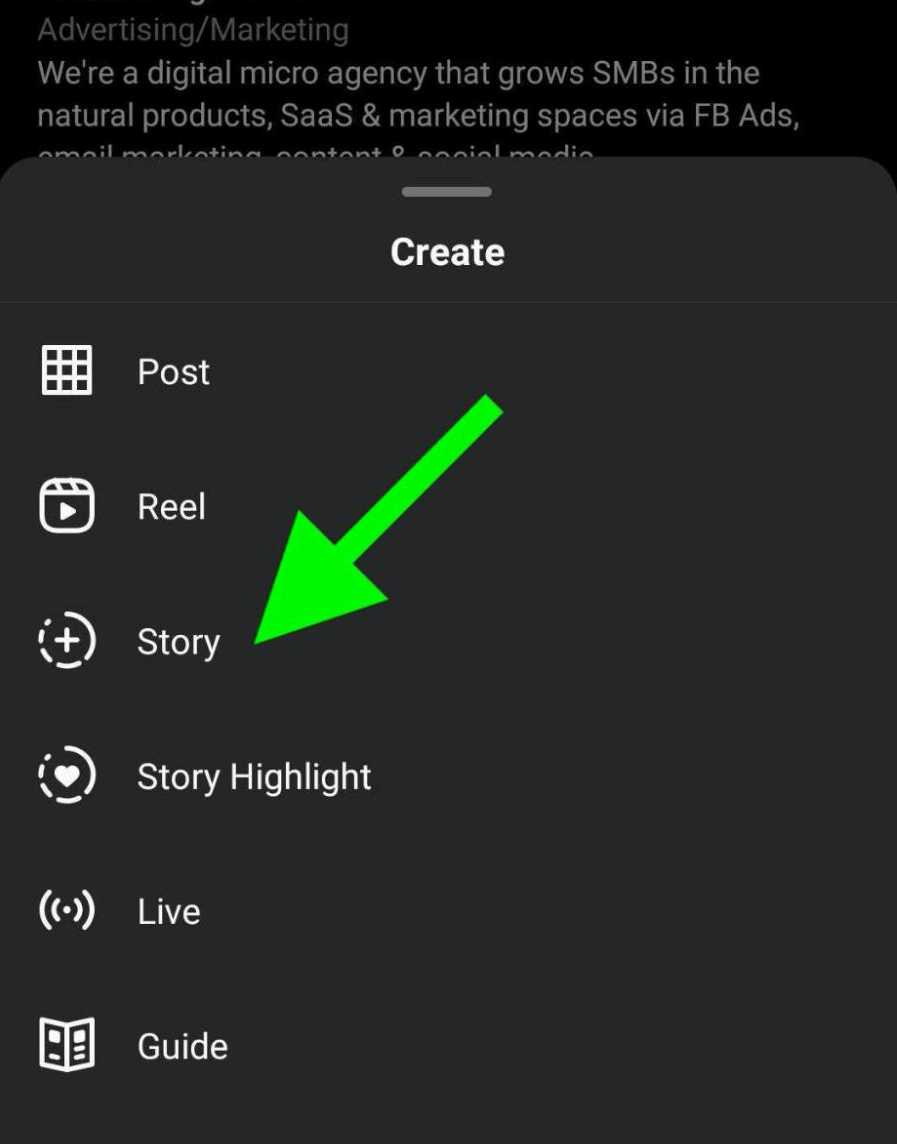 Alternatively, find an Instagram post that you want to add to your story. Tap the paper airplane icon underneath the post to start creating a story.
#2: Add a Link Sticker to Your Story
After setting up your story, tap the sticker icon at the top of the screen. Search or scroll through the options until you find the link sticker.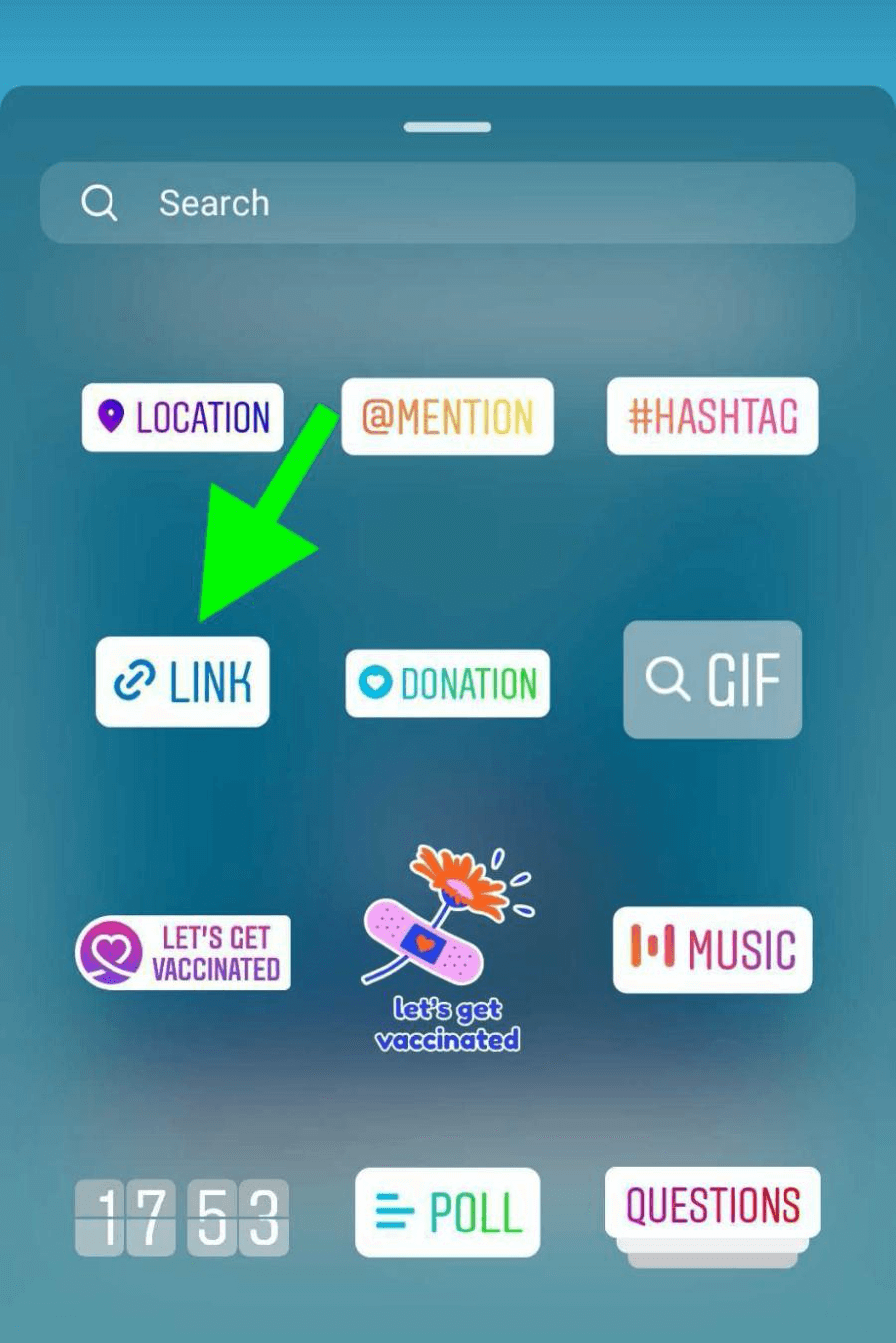 Tap the link sticker to add it to your story and type or paste the URL you want to include. Proofread the link and tap Done to move to the next step.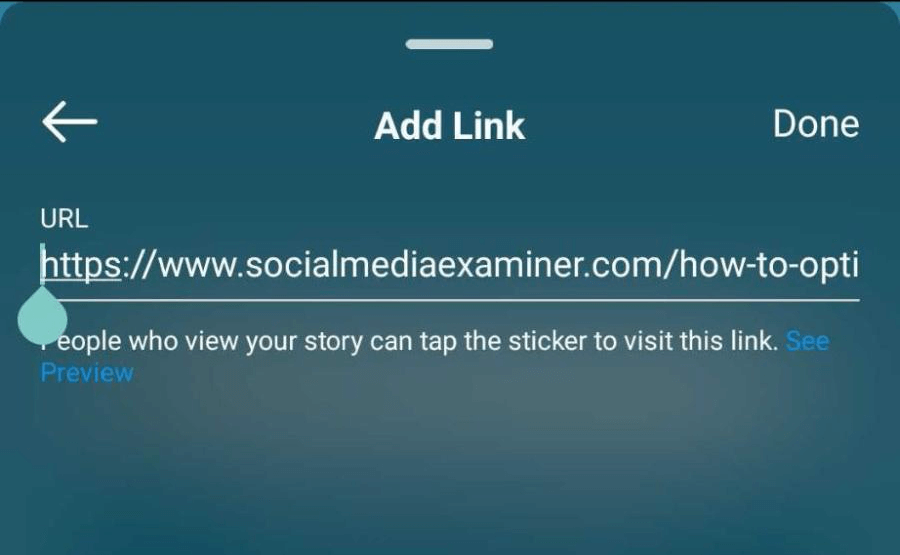 #3: Place and Resize the Link Sticker
Link stickers automatically appear in the center of your story layout. To move yours to another spot, tap and drag it to anywhere on the screen.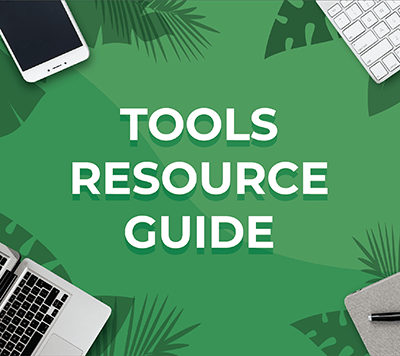 Looking for something to make your life easier?
Discover the tools we recommend to drive engagement, save you time, and boost sales across your entire marketing funnel or business.
Whether you need help planning content, organizing social posts, or developing your strategy, you'll find something for every situation.
FIND YOUR NEXT FAVORITE TOOL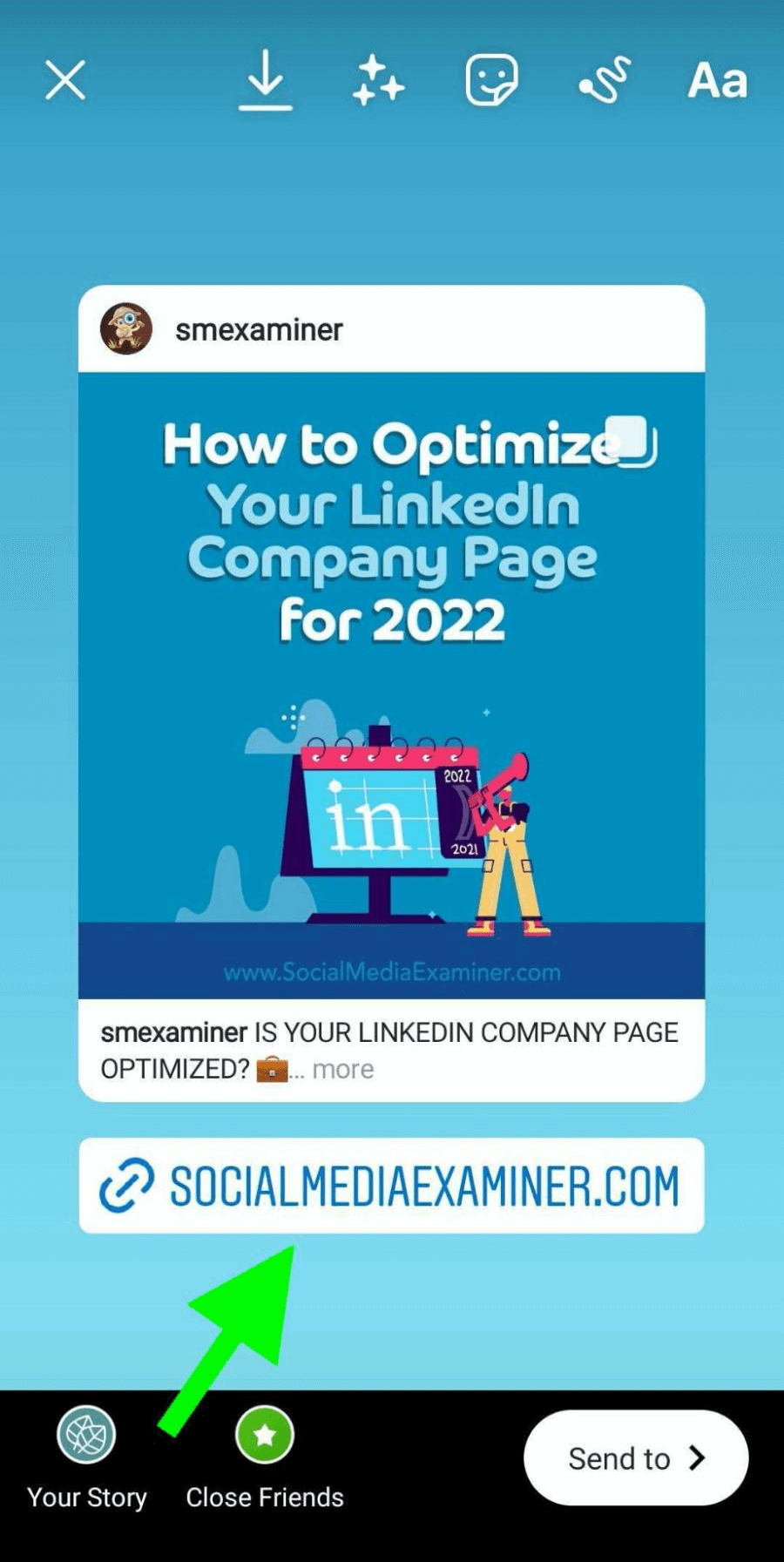 To resize a link sticker, use two fingers to increase or decrease the size. You can also use the same gesture to orient the sticker at any angle you choose.
Then you can continue to add or adjust stickers, GIFs, and other elements until you're ready to share your story. Once it's live, Instagram users can tap the link sticker and tap the Visit Link pop-up to go to the URL.
#4: Share Your Story in DMs
If you made your Instagram story public, then everyone can see it for the next 24 hours. But you can still share it privately in DMs, especially if you want to make sure certain users don't miss it. For example, you might want to share it with a prospect who's interested in your products or a follower looking for the resources you shared.
To share a story, open it and tap the three dots in the lower-right corner. Tap Send to… and enter any Instagram username. Tap the blue Send button and your recipient will see it in their DMs instantly.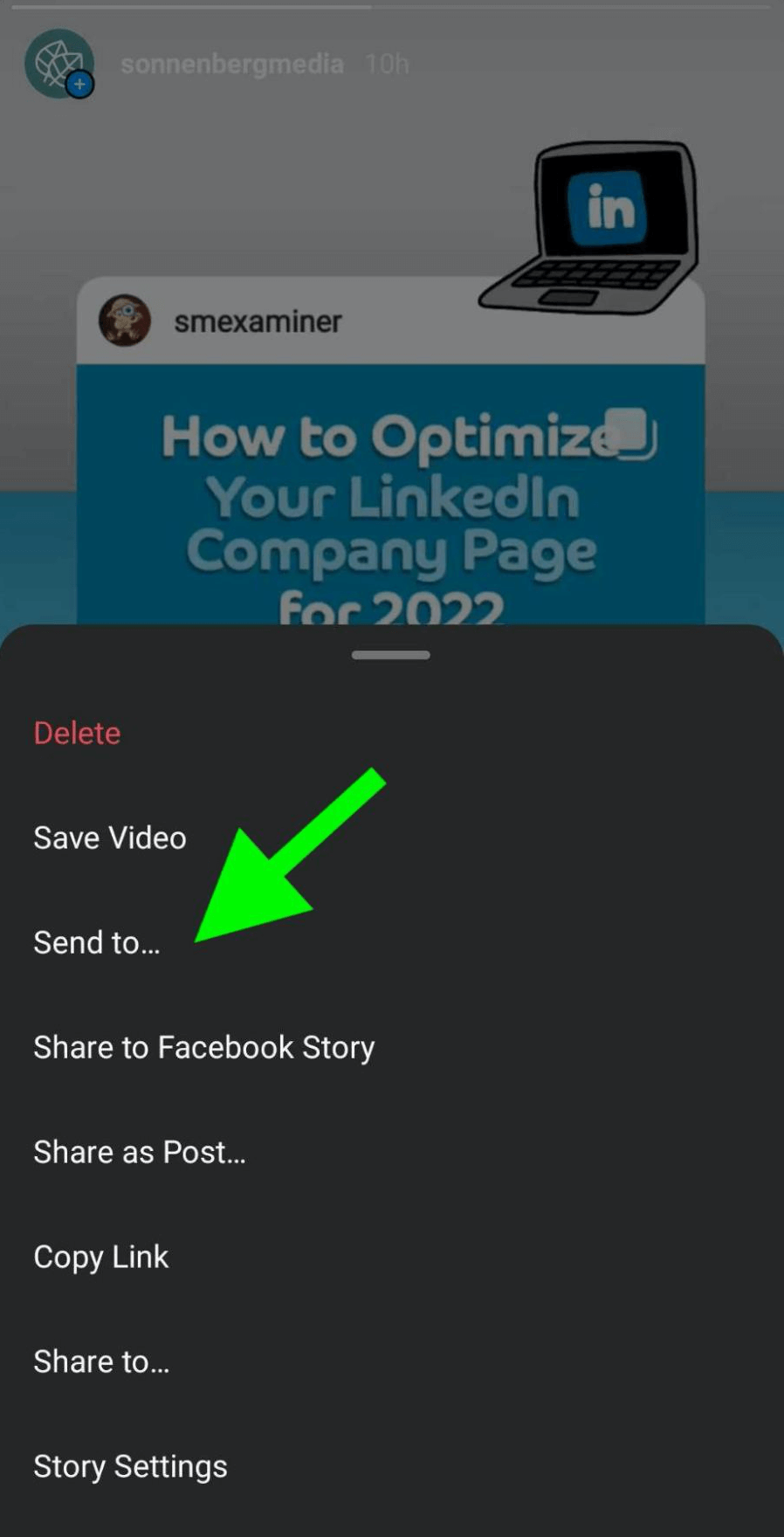 #5: Add Your Story to a Highlights Album
Do you want to get more mileage out of your link sticker? After publishing your story, add it to a highlight so it can continue to appear on your profile.
Tap the plus icon at the top of your Instagram profile and select Story Highlight from the menu. Scroll through your story archives to find the one you want to add to your album.
Alternatively, tap on your profile icon to view your current story. Tap the heart icon in the lower-right corner to create a story highlight. Give the highlight a name and tap the blue Add button.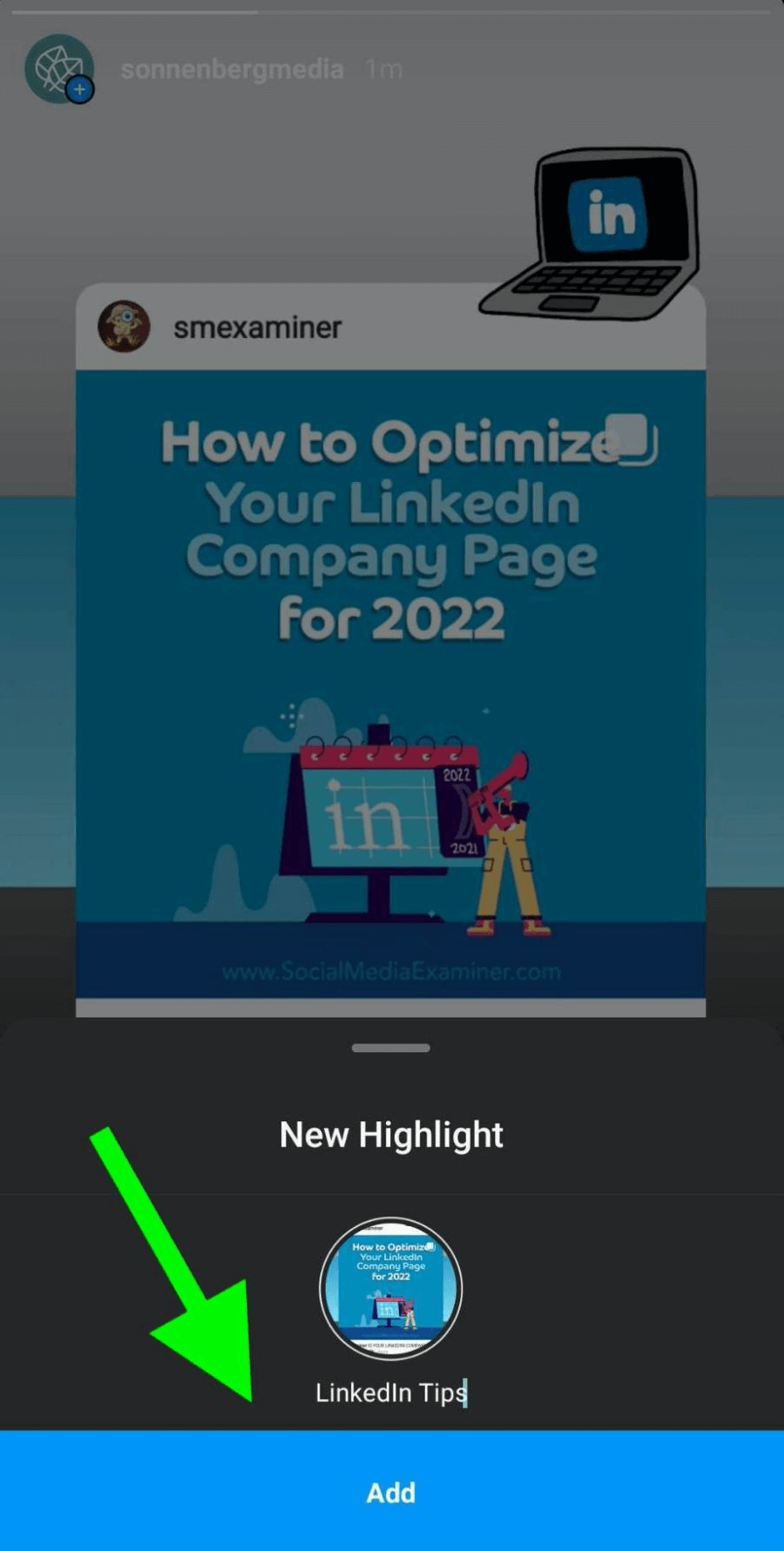 To edit a highlight, navigate to your Instagram profile and tap the highlight you want to update. Tap the three dots in the lower-right corner and select Edit Highlight from the menu. Then you can change the name, upload a cover image, and add or remove story panels.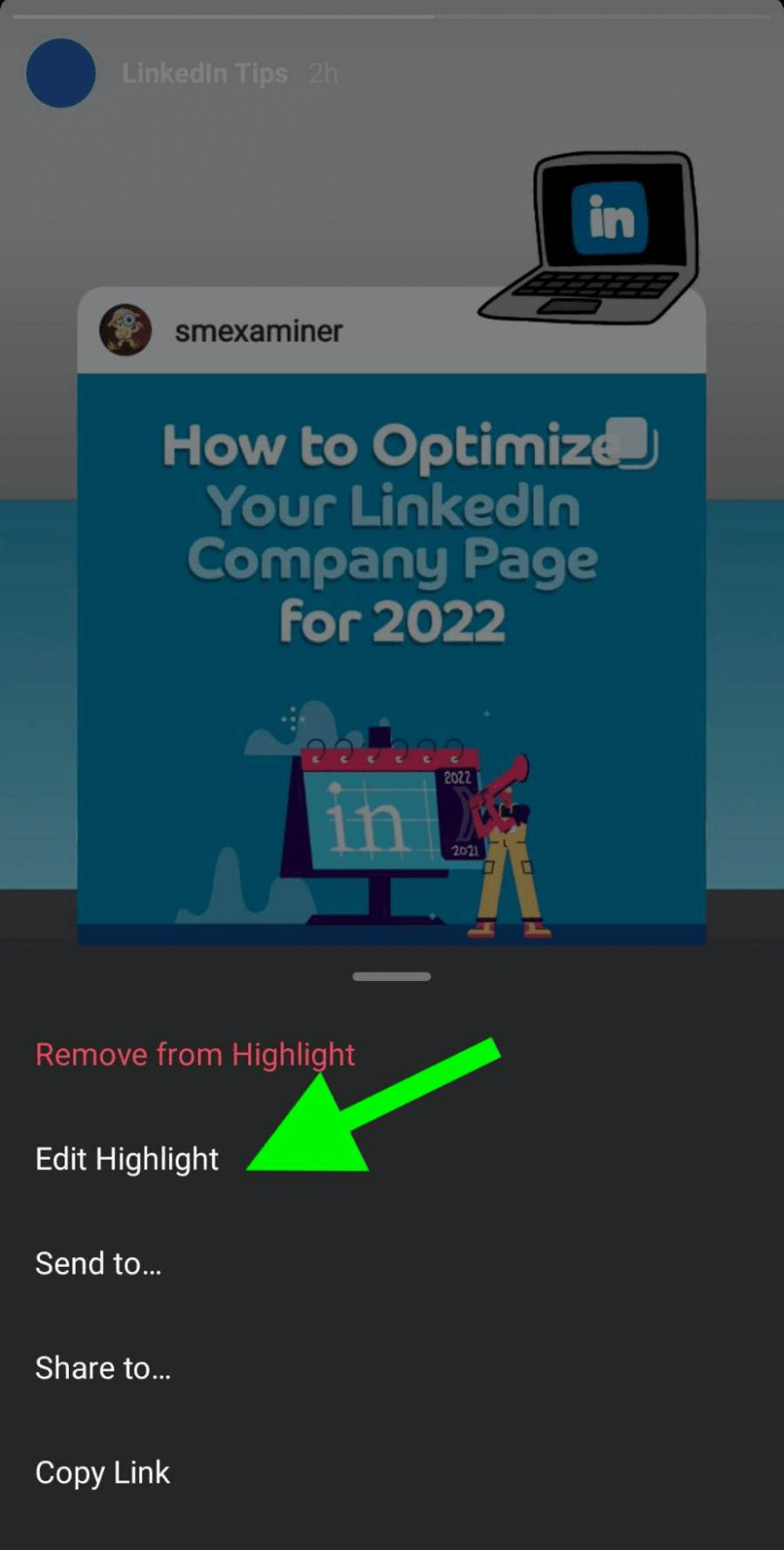 6 Ways to Use Link Stickers With Instagram Stories
Whether you're preparing to add your first external link to a story or getting used to the switch from swipe-up links, you may need a few ideas to get started with link stickers. Here are six ways brands are already putting link stickers to good use.
Show Off a Blog Post
Sharing blog posts via Instagram Stories has always posed a challenge, especially if you never had access to swipe-up links. After all, Link in Bio stickers can only do so much to push traffic to your website. With link stickers, however, getting fans and customers to click through to your blog should be much easier
For example, this @latermedia story seamlessly promotes one of the brand's newest blog posts. The link sticker takes users directly to the brand's blog—no profile link necessary—and combines a CTA with colorful graphics to encourage clicks.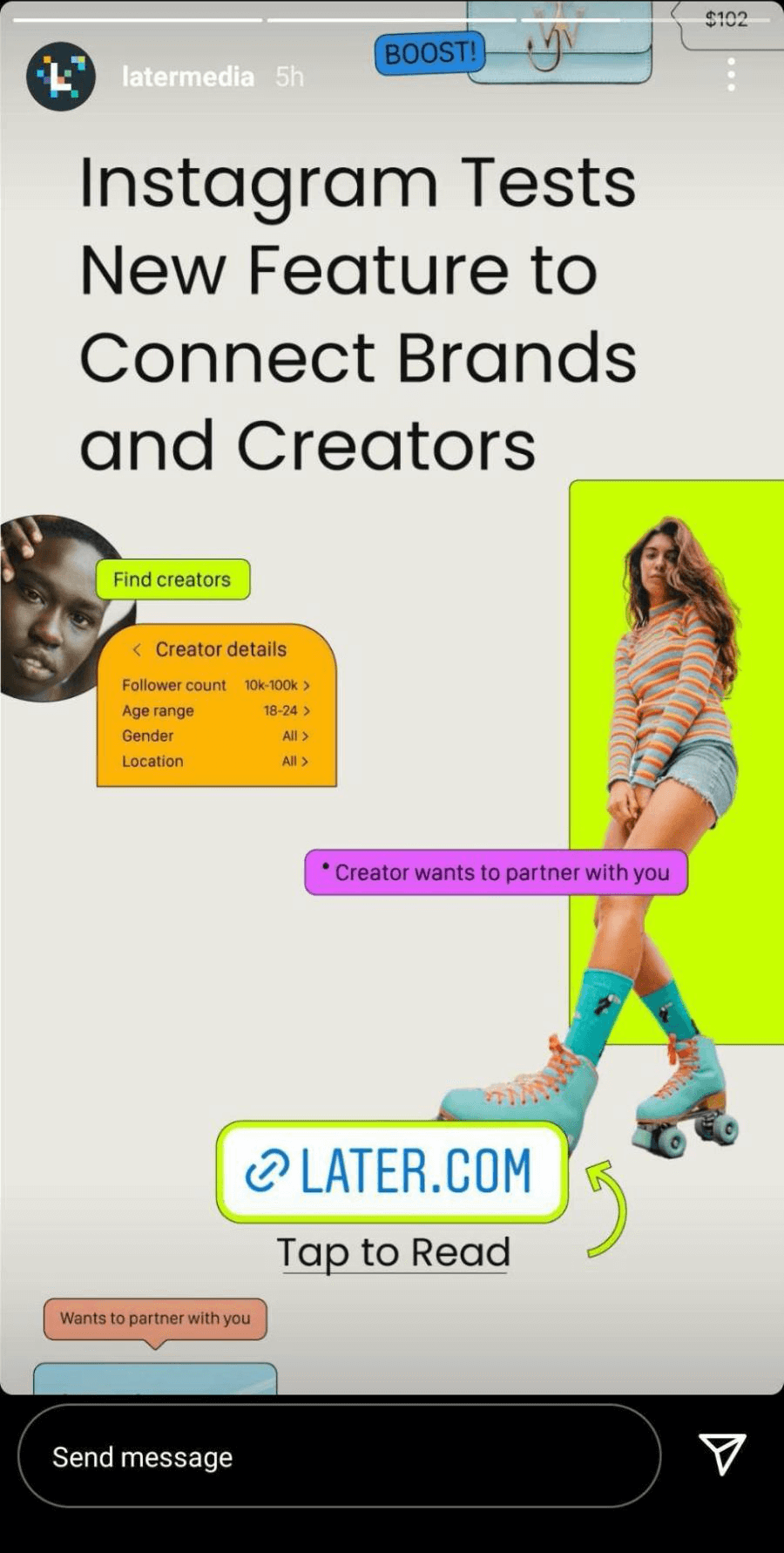 Share Seasonal Content
When you have timely content to share, getting the promotion right is critical. Naturally, you only have a limited window of time to reach your goals. With link stickers, you can more effectively share seasonal content, even if it requires users to click out of Instagram.
In the story below, @squarespace highlights the brand's holiday selling guide. The link sticker directs users right to the web-based content, using a Tap to Learn More CTA to encourage readers to click through.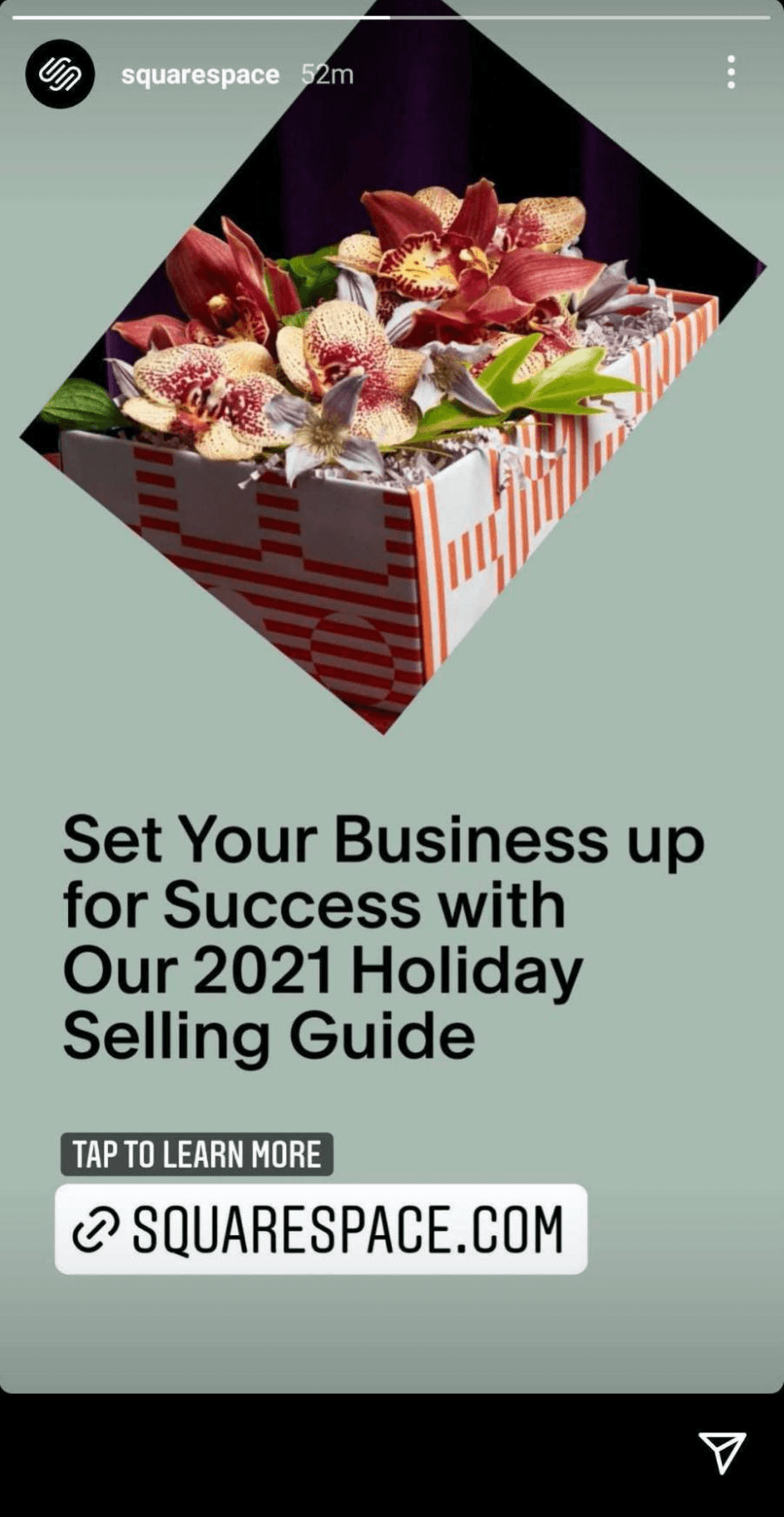 Build Your Community
If you have a long list of highly specialized content to share, promoting it on Instagram can be even more complicated—unless you use link stickers. By creating separate panels and individual link stickers for each piece of content, you can capture your community's attention and guide traffic effectively.
In the example below, @zapier showcases a series of community posts or forum-style content geared toward the app's more engaged users. Each panel links to a different community post, helping customers find useful resources and highlighting the app's wide-ranging functionality.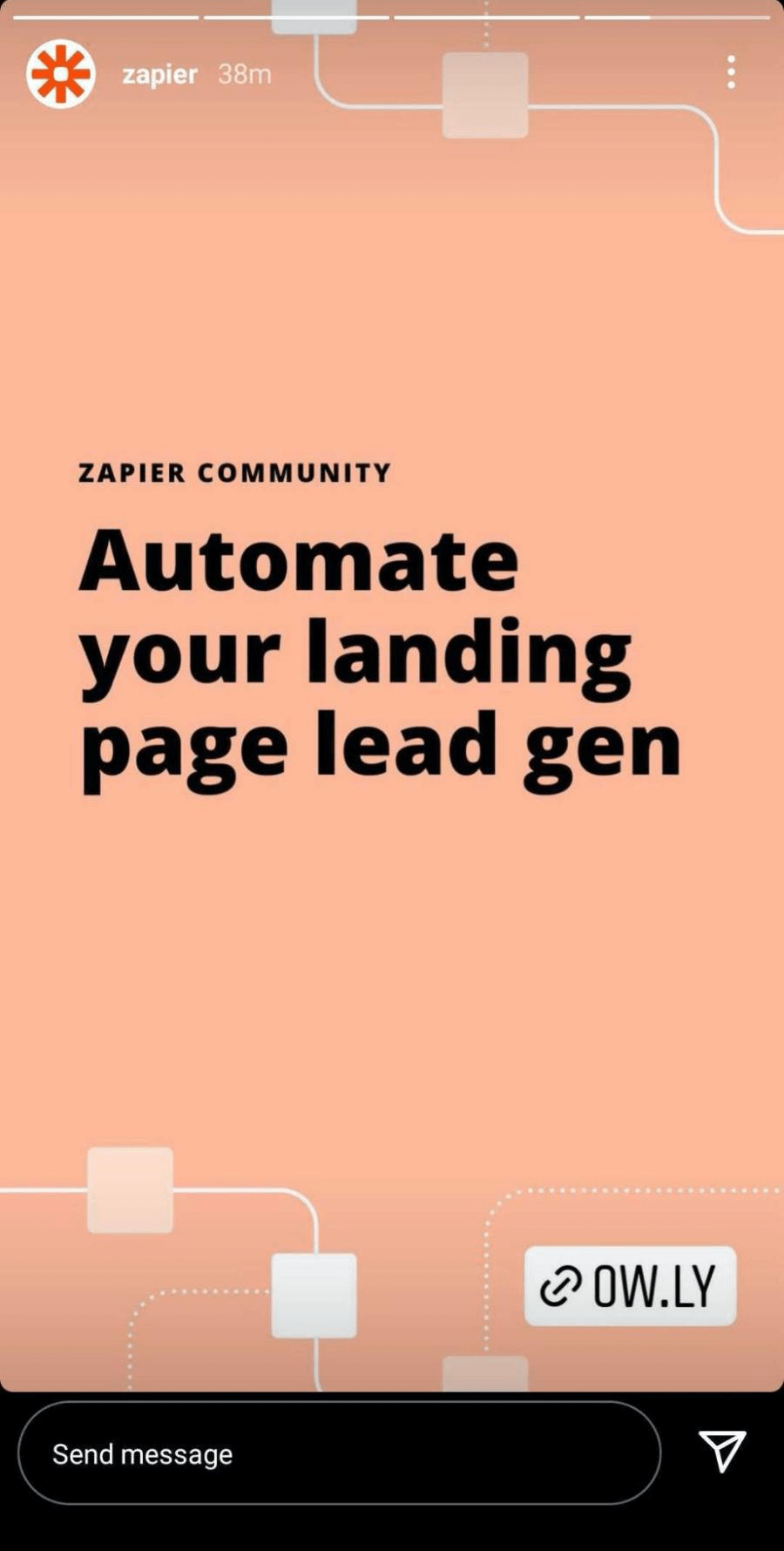 Promote a Time-Sensitive Event
Because they're so short-lived, Instagram stories are great for time-sensitive happenings. They also work well with events that don't require more permanent content like posts or reels. Now that you can add link stickers to stories, this type of content can help you create even more effective promotions.
For example, this @canva story announces the app's newest design challenge and uses a link sticker to provide the terms of the contest. Stories allow the brand to get the word out about its weekly challenges without creating potential clutter in its Instagram feed.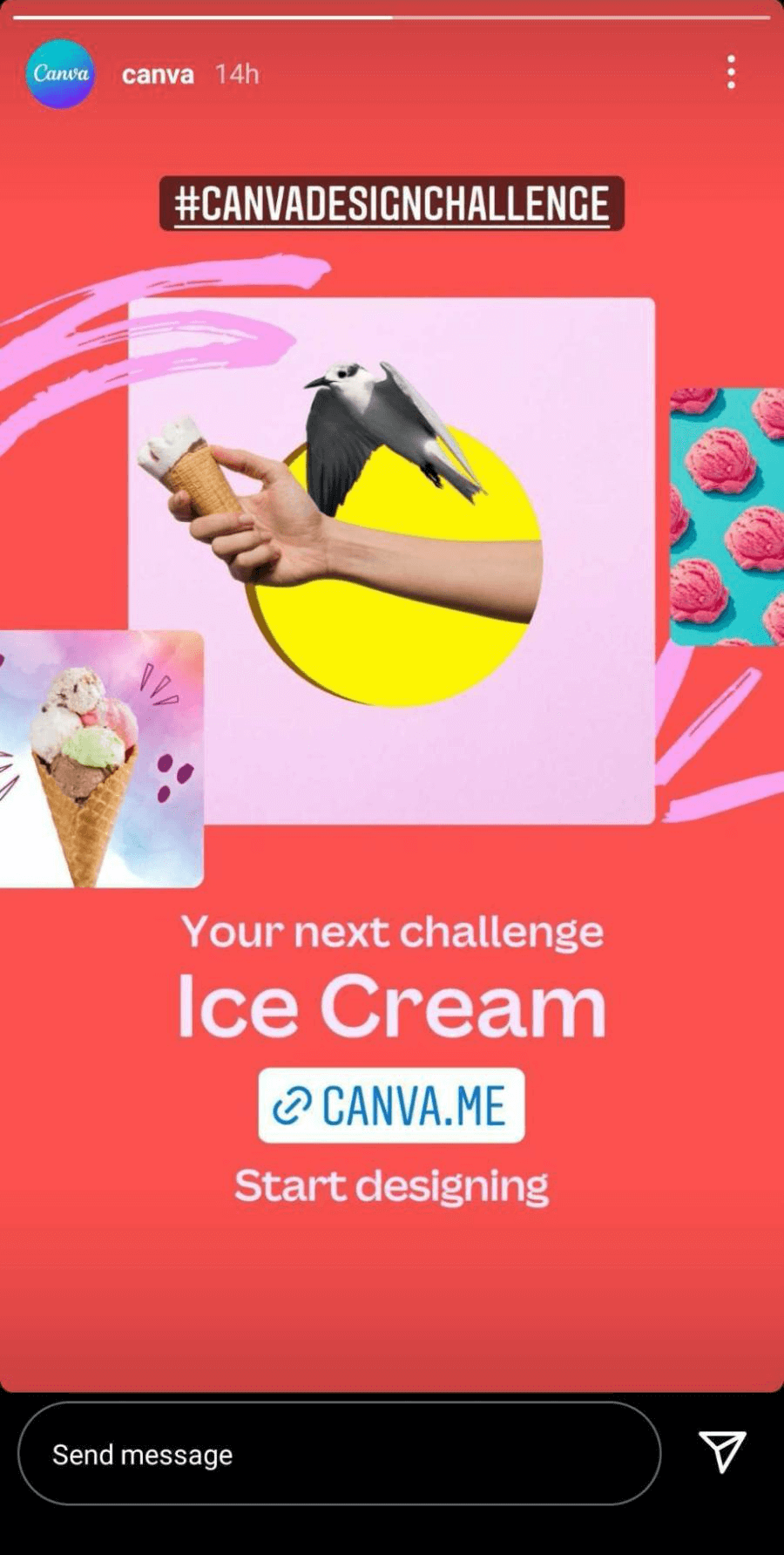 Generate Leads
Whether you're launching a new product or offering a free download, stories can be an ideal outlet for promotion. Without a link, stories can be effective at improving brand awareness but they can't always help with lower-funnel goals like leads and sales. With a link sticker, however, stories can generate leads and fill your sales pipeline.
In the story below, @hubspot introduces the brand's new operations software. The link sticker takes users directly to a product page, where they can click a button to start a free trial or sign up for a demo.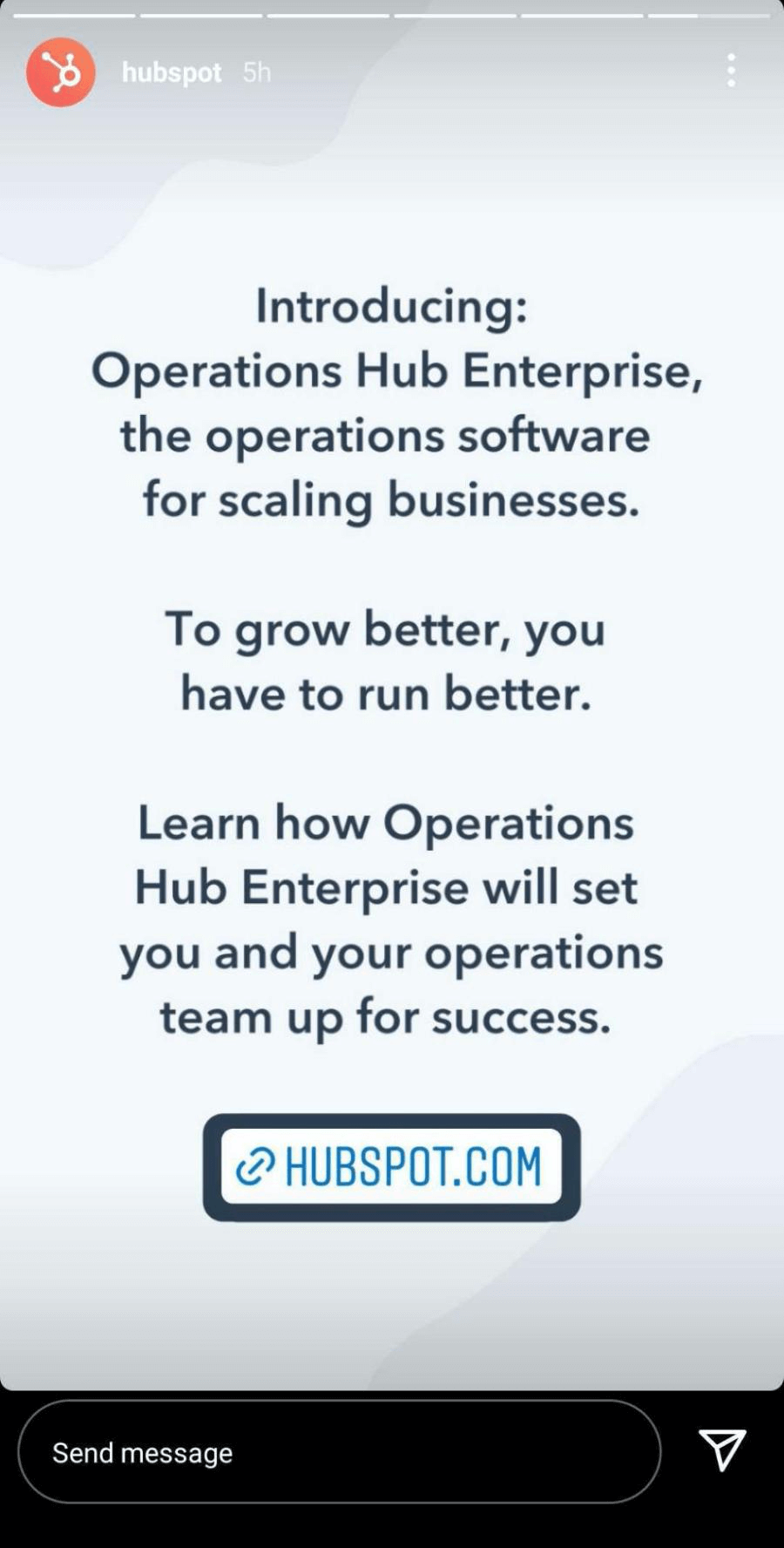 Drive Sales
Thanks to interactive elements like shopping stickers, Instagram Stories makes it easy to drive eCommerce sales. But what if your brand doesn't use Instagram Shopping or eCommerce? Link stickers offer a convenient alternative for boosting sales via stories.
For example, this @goodiegirlcookies story promotes the brand's product line to encourage seasonal purchases. The link sticker leads to an Amazon storefront that allows for instant shopping.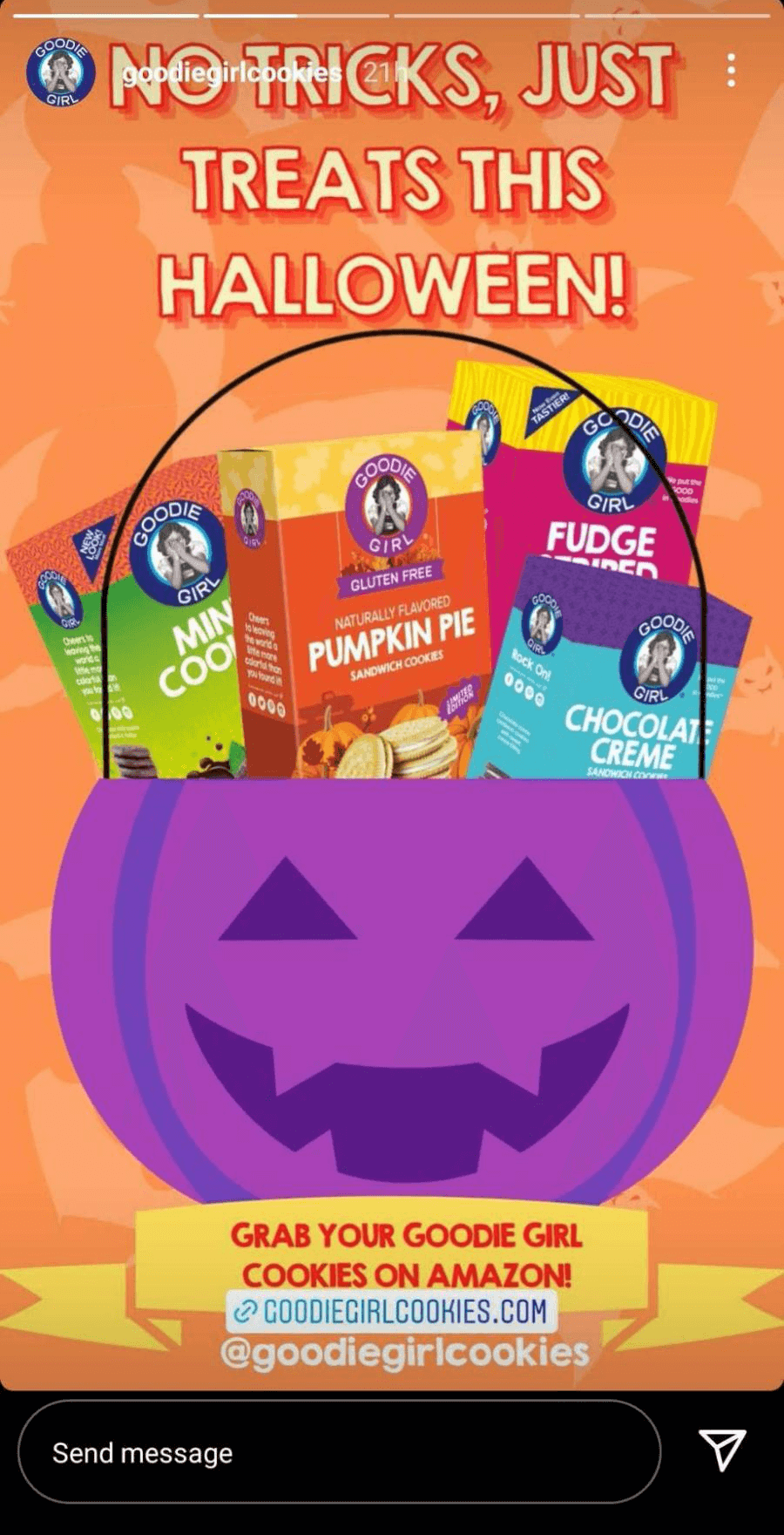 Conclusion
Link stickers add much-needed functionality to Instagram Stories and give all users the ability to link to external content—significantly increasing the potential of the average Instagram account. So why wait to experiment? Use these tips to leverage link stickers effectively and start getting more from your brand's Instagram stories.
Get More Advice on Instagram Stories
Get Your FREE Course: Web3 for Beginners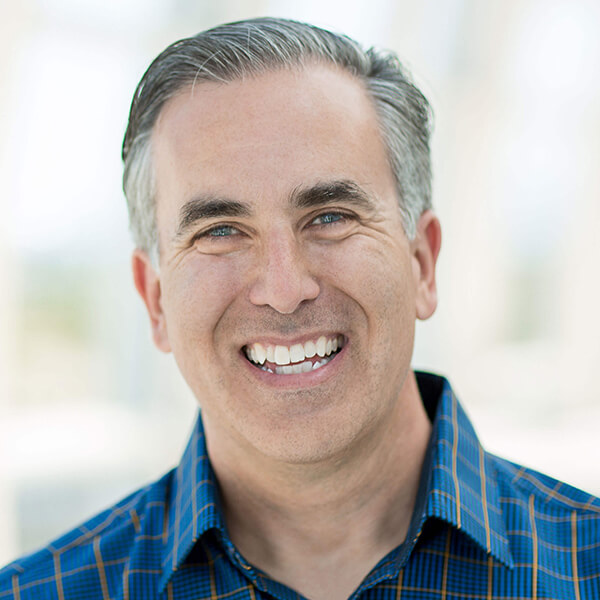 Curious about Web3, but don't know where to start or who to trust?

Introducing Web3 for Beginners, a course taught by Michael Stelzner, the founder of Social Media Examiner.

Learn the basics of Web3 and apply it to your business with this FREE comprehensive course.
CLICK HERE TO GET FREE ACCESS