Do you use Facebook ads to acquire leads? Wondering how to follow up with and engage your Facebook leads?
In this article, you'll discover a process for using Facebook ads to turn leads into paying customers.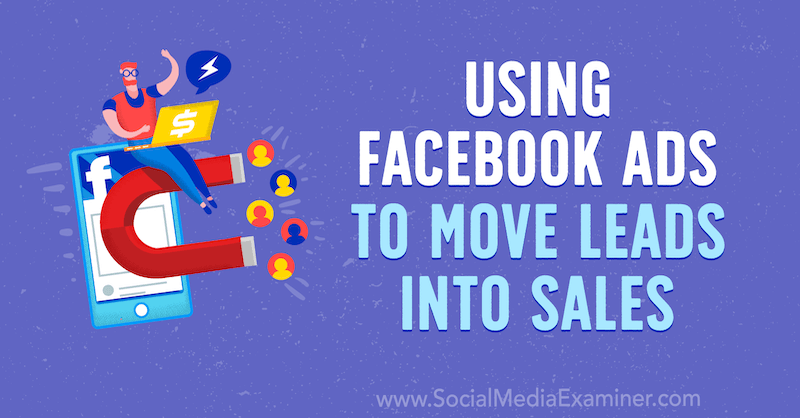 Why Facebook Ads Work to Move People From Lead to Sale
Not many local businesses make direct sales online and they need a way to turn people who've never heard of them or those who've heard of them but never worked with them into stronger prospects.
Rather than depending on prospective customers to search for you or the product you offer, you can use Facebook ads to assume control of your own lead flow.
Facebook ads can effectively reach and lead those prospects through the natural buying process every person goes through when they're considering the purchase of a product or service.
#1: Start With a Core Offer
Acquiring leads with Facebook ads begins with your core offer. Depending on how you design your offer, it'll either bring the largest volume of people or the most qualified (likely to buy from you) people into your pipeline.
You can offer a lead magnet or gated content in exchange for someone's basic contact information such as their name, email, and phone number, thus turning them into a lead you can follow up with and nurture. Your lead magnet offer might be a PDF checklist, guide or template.
Your offer can also be a loss leader or a product preview that essentially presents someone with the opportunity to work with you without spending money—perhaps through a promo code or voucher, a consultation or demo, or a live event. A financial services business Allie works with offers recorded video training delivered via an on-demand webinar. After the training is over, viewers have the option to schedule a call with the financial advisor. She closed several large accounts in 60 days.
Allie herself has had great success with her offer of a 5-day challenge she's packaged in two different formats: A live version with a start date and end date she conducts via live video inside her Facebook group, and an evergreen version that delivers recorded videos from a past live challenge via an email and text campaign.
Whatever you choose to offer, make sure it's in line with what your ideal customer wants to know or use, because if it's not, the people who sign up won't be the right type of leads for you.
#2: Create a Lead Capture Strategy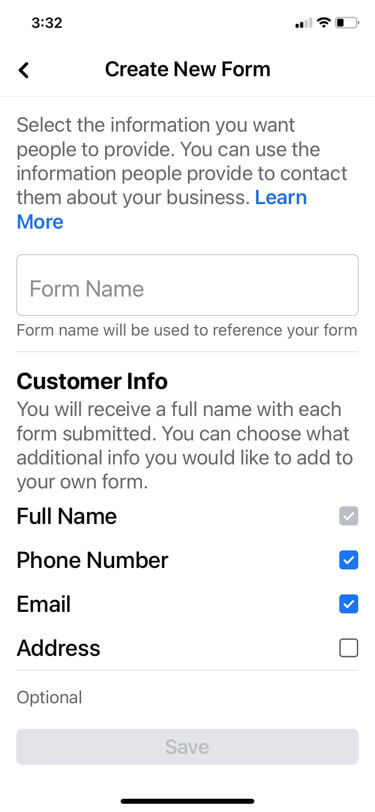 One way to capture contact information is via Facebook lead ads that autofill and ask for a phone number.
Why request the phone number?
While people often have incorrect or rarely checked email addresses associated with their Facebook account, the phone number associated with their account is typically accurate because it's used as a security measure if they need to regain access to their account.
Facebook lead ads work extremely well if you want to deliver your offer content via text messages. Allie particularly recommends them for delivering video links because people can quickly and easily click the link to watch the videos on their phone.
Another way to capture contact information is via a Facebook ad that leads to a form on a landing page on your website.
Allie uses this option for her own 5-day challenge. After someone enters their information to join/access the challenge, they're served a thank-you page that gives them the opportunity to schedule a call with her. Many people schedule a call without even seeing the challenge content.
#3: Provide a Path to the Sale
One of the biggest reasons lead generation campaigns fail to produce sales isn't the lead magnet, it's that business owners often don't put much thought into what happens after a lead comes in. Business owners depend too heavily on the content in the offer itself to do the selling, but the truth is that a lot of people are never going to open that content. People save it for later and then never return to it.
The moment someone opts into something you offer is the moment their attention is focused fully on you as the solution. Take advantage of that and show them the next step in the sales process.
Think about what it takes for you to make a sale and where that sale takes place. Is it in-store, online, over the phone, or a combination? How can you lead your prospect through that process to the end goal of a sale?
Perhaps they need to talk to you or hear from you more regularly before they convert.
Take the case of a laundromat that also offered laundry delivery. One sales process took place when customers came into the business to use the machines. Another sales process took place for laundry pickup and delivery because customers had to schedule their first laundry pickup. The sales process involved someone entering the home address and credit card information, which people can be hesitant to share.
Allie surmised what was missing from the sales process was the personal communication aspect. She created a Facebook lead generation campaign that gave new clients a special introductory offer. To claim that offer, they had two options: Click to call and activate their pickup/delivery account right away, or schedule a call for a time that was convenient for them.
Pro Tip: People have busy lives. If you don't give potential clients the ability to set a call for a time that works for them, you won't connect with many of them.
#4: Follow Up With Warm Leads Who Don't Convert
Some people convert immediately but other leads could take 6 months or even 2 years to convert. After a certain time period, it's not financially beneficial for you or your team to continue manual follow-up but you still need to maximize the relationship between you and every lead you paid to acquire.
If your lead doesn't convert right away, how can you deepen the relationship while presenting other offers that might move a lead to becoming a customer? Have a plan in place to continue delivering valuable content to them so they're conditioned to hear from you regularly.
Create a focused Facebook ad remarketing campaign to share a mix of content based on the categories your audience is interested in and on topics related to or adjacent to your product and service; video content, blog content, quick tips and tricks, testimonials, and so on. The timing, frequency, and length of your campaign will depend on the length of your buying cycle. When someone hasn't scheduled a call with you or become a customer within a certain timeframe, they can be automatically added to your campaign.
Similarly, you can use email and text messaging to remarket to your leads with the same content.
#5: Leverage Automation to Manage Your Lead to Sale Process
Putting automation in place for lead generation and nurturing makes them easier to manage, ensures no lead falls through the cracks, and makes it possible for a real person to respond to people who have questions.
Then there's the tracking side of the equation. Marketers talk a lot about tracking in terms of analytics and Ads Manager dashboards but that's only one piece of the puzzle for anyone focused on lead generation.
Many different elements are involved in leading someone through the buying decision. It's important to know where they entered the process, what steps that they've taken from that point, and if they've called you or texted you. Each of those instances should be automatically tracked via a customer relationship management (CRM) tool that's been edited to fit the stages of your unique buying process.
Whoever's dealing with sales can track how many calls come in each day, how many prospects showed up for the call, how many offers were made, and what the closing ratio is. On the marketing side, you'll be able to see how people flow through the process, where they're coming from, how many people are scheduling calls, and how many of those calls are converting into paying customers.
That data combined will help you optimize the path to conversion. For example, if you see you're getting the most sales from people who call you from Facebook, you might choose to do more click to call–style campaigns because those produce paying customers.
Allie recommends HighLevel as a solution for capturing lead info from Facebook, tracking leads, and automating campaigns that combine email, text messaging, voicemail drops, and other types of communications. HubSpot, Podio, AllClients, Marketo, and Salesforce also provide automation solutions.
The right solution for you should integrate with the tools you already use so you get accurate data on what's happening with your leads. Search integrations on Zapier to see which tools might work with the systems and tools you have in place.
Other Notes From This Episode
Episode sponsored by Iconosquare. For a free 30-day trial and an additional 30% off any annual plan if you decide to stay, visit iconosquare.com/sme.
Learn more about HighLevel, HubSpot, Podio, AllClients, Marketo, and Salesforce.
Check for automation integrations on Zapier.
Follow Michael Stelzner on Clubhouse at @Stelzner and follow the Social Media Examiner club.
Get your ticket to the Social Media Marketing Workshops at marketingworkshops.live.
Watch exclusive content and original videos from Social Media Examiner on YouTube.
Tune into our weekly Social Media Marketing Talk Show. Watch live on Fridays at 12 PM Pacific on YouTube. Listen to the replay on Apple Podcasts or Google Podcasts.
What do you think? Will you try Facebook ads to get more leads that turn sales? Share your thoughts in the comments below.