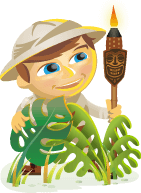 Do you use Twitter for your business?
Want to discover how to use the latest Twitter updates?
To learn more about Twitter marketing, I interview Joel Comm.
More About This Show
The Social Media Marketing podcast is an on-demand talk radio show from Social Media Examiner. It's designed to help busy marketers and business owners discover what works with social media marketing.
In this episode I interview Joel Comm, a serial entrepreneur and the author of 12 books. His latest project is an apparel brand you can find at DoGoodStuff.com. Joel's latest book is Twitter Power 3.0: How to Dominate Your Market One Tweet at a Time.
In this episode Joel will explore new updates to Twitter, along with video, his favorite apps and more.
You'll discover how to use Twitter more effectively.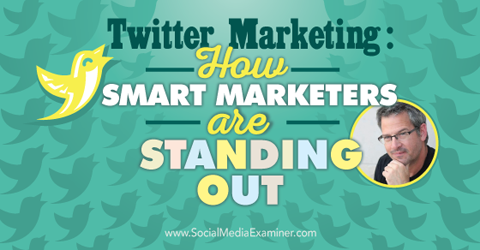 Share your feedback, read the show notes and get the links mentioned in this episode below.
Listen Now
Where to subscribe: Apple Podcast | Google Podcasts | Spotify | RSS
Here are some of the things you'll discover in this show:
Twitter Marketing
How Joel got involved with Twitter
Joel, who has been building businesses online since 1995, likes to explore different technology and new ways to communicate. Twitter and microblogging interested Joel, since he had already been blogging for several years.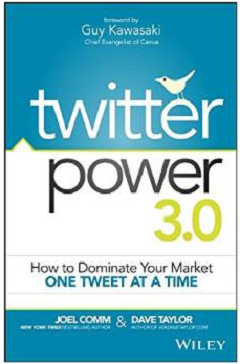 In May 2007 Joel posted his first tweet. "In true, first-tweet form, it was utterly forgettable," Joel recalls. "I think it was something like 'Trying to figure out what this Twitter thing is.'"
That was about it, until six months later, when Joel gave Twitter another try. He looked more closely, and decided Twitter was a cool platform for engagement. Sometime in 2008, after Joel accumulated about 5,000 followers, a friend told him John Wiley & Sons was looking for somebody to write a book on how to use Twitter for business. They connected and hit it off. The first edition of Twitter Power came out in February 2009.
At the time, many were still trying to figure out Twitter, which posed the question, "What are you doing?"
"We began to realize the heart of social media is about sharing life, relationships, the journey that we are on together," Joel says. "It's the points of commonality that we have in many of these mundane activities … that bring us closer together. Therein lies the power of Twitter to connect people."
An organic tweeter, Joel uses Twitter.com and the Twitter app on his phone. For those who like to consolidate and schedule tweets, he recommends tools like SocialOomph and Hootsuite.
Listen to the show to hear both of our initial thoughts on Twitter.
How the retweeting process has changed
In the past if people wanted to retweet something, they would have to take all of the original tweet's text, copy it and put "RT" in front of it. They could only comment if there was any space left in the 140 characters.
Joel believes Twitter finally realized that when people want to retweet, they have something they want to say about it. So now, if you want to retweet, you can quote that tweet and still have 116 additional characters left to add to it.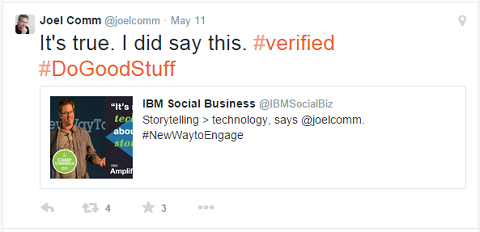 This change makes these retweets feel like more of a conversation, because it puts all related tweets together.
The way it works is simple. If you are in the app, you can retweet and share as is or quote the tweet. If you are on the site and you click Retweet, it opens up a window and you can comment or just retweet.
Listen to the show to learn what Joel thinks of the Twitter character limit.
Twitter video
Joel starts by talking about Vine. You can record a Vine video and it automatically goes to Twitter. In addition to doing a straight video, Vine allows you to do creative things. For example, you can hold down the recording button, let up with your thumb, then point in another direction and take some other video, until you've got your full segment.
Joel finds native Twitter video more interesting, even though he wishes the clips were longer than 30 seconds. He prefers a video that's as long as he wants it to be, especially since videos on Facebook and YouTube have no limits.
You can do a lot of creative things with short video. For example, Zach King uses special effects in his Vines.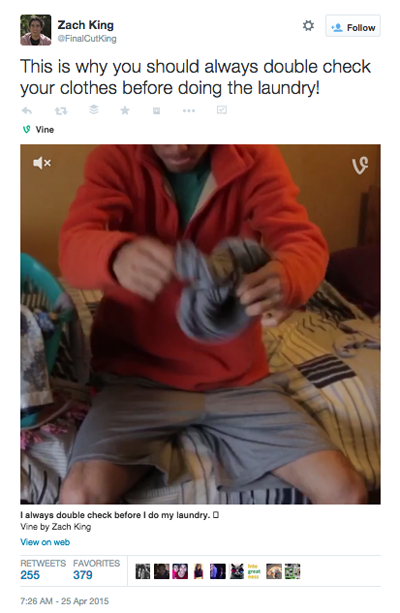 "The big social sites need to become the destination platform and Twitter is struggling to some degree," Joel explains. "Just because they have 284 million active users and are a giant doesn't make them Facebook, which has 1.4 billion users."
Joel records selfie videos called Walking with Joel. If he is on one of his daily walks and gets an idea, Joel pulls out his iPhone and starts recording. He'll share until he's done. It could be 90 seconds or 3 to 4 minutes.
"If you are making Vine videos or Twitter native videos that are compelling, people will watch them," Joel explains. "More and more, Twitter is becoming a broadcast channel. If people are engaged and entertained, then they're going to keep watching."
Listen to the show to hear types of quick videos to shoot for business that will entice people to click and learn more.
Live streaming on Twitter
Periscope and Meerkat are live streaming video apps, and Periscope is owned by Twitter.
It allows you to instantly send out a tweet that says you are streaming, and people who are using the app can connect and watch your live stream. Anytime someone comments on your stream, it's also a tweet, so people can engage in the conversation. It's like a one-way broadcast. Plus, you can talk back to the people who are commenting.
To start broadcasting on Periscope, you just hit the button and there's instantly an audience of people scrolling through, looking for something interesting to watch. They may be attracted by a headline, a person or the number of people already watching.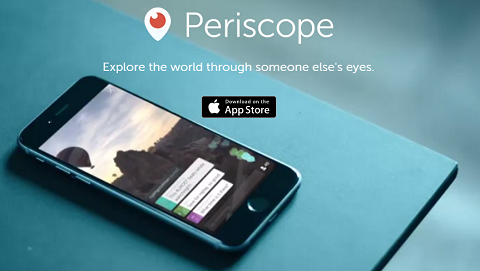 Although there's an upside to having an instant audience, there's some downside as well. You have a bunch of random people watching, wondering who you are and why they're listening. Joel would rather be watched by people who already know him.
Joel uses live streaming video to invite people into his world. Joel, who gravitates toward Meerkat, says live streaming is not a fad. People have been using Ustream for years. YouNow is an option lots of kids use.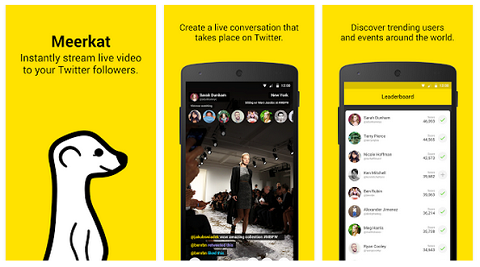 Social media's evolution has been sharing what's on your mind, followed by showing people through pictures, and then through a recorded video clip. It only makes sense that the next leap is to lifecasting.
Listen to the show to learn Joel's position on the selfie stick.
The importance of adding visuals to tweets
Visuals are the next level of sharing what's happening right now, Joel explains. Not only can you tell people, you can show them.
In the past, to share an image on Twitter, it would show up as a link offsite to something like TwitPic or Imgur. Now, you can upload a native photos to Twitter and they'll actually show up in the stream.
Pictures can say a lot more than text. To be able to show people what you're doing or thinking is really powerful.
Joel sometimes likes to add words to create photo quotes. He uses an app like Word Swag, which lets him type in the quote, pick from about 40 professional font styles, move the text around, add a filter and save the image.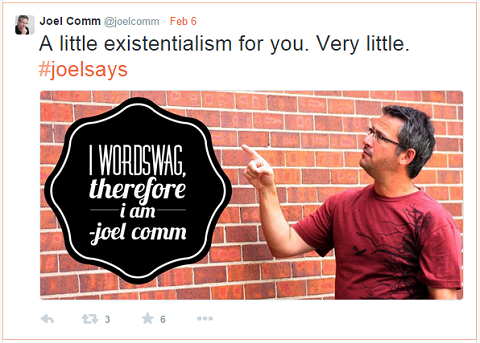 People love sharing visuals and they love sharing quotes, whether they're educational, inspirational, entertaining, weird or whatever. Photo quotes help communicate visually and without using up a bunch of characters.
To create images, Joel recommends Word Swag for iOS and PicLab, which is both iOS and Android. Canva is a good desktop option.
If you tweet from an app, it will show up as a link. That's why Joel will email the photo to himself from the app, and then upload it to Twitter directly.
Listen to the show to discover the life choice Joel made when it comes to social media.
What Twitter needs to do in the future
Joel reiterates his case for why Twitter needs to increase the character limit.
"I never find myself getting frustrated because my tweet was fewer than 140 characters," he shares. "So many times I've gotten frustrated because I had to edit my tweet down."
Joel thinks one of the reasons Twitter is struggling is because people can't say quite as much as they want to. Twitter now has native images, native video and retweets with quotes. All of these options let people say more. However, Twitter still has plenty of users who don't use it regularly.
On the other hand, Facebook allows you to connect more directly and is less chaotic than Twitter, Joel explains. Twitter's steps toward being more Facebook-like are steps in the right direction. It's not becoming like Facebook; Twitter is just giving people more of what they want.
There will be Twitter purists who say it should not change. But they're going to be a smaller group of people.
Listen to the show to learn more about the history of Twitter.
Discovery of the Week
HiddenMe is a free Mac tool. Install and click it, and it makes all of your desktop icons disappear.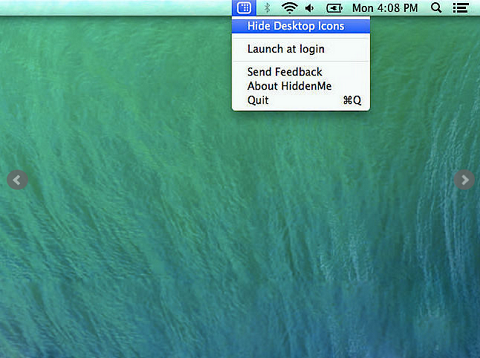 Use HiddenMe to remove distractions. Get rid of everything on your desktop and make it Zen. Also, if you're about to do a screenshare or a presentation, instead of putting everything on your desktop away, you can hide it. It's the equivalent of throwing everything in the closet when you have guests coming over.
HiddenMe hides everything and then brings it back when you want.
Listen to the show to learn more and let us know how HiddenMe works for you.
Listen to the show!


.
Key takeaways mentioned in this episode: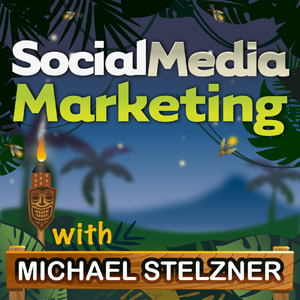 Ways to subscribe to the Social Media Marketing podcast:
How to subscribe to this podcast on an iPhone
Watch this quick video to learn how to subscribe on your iPhone:
.
What do you think? What are your thoughts on Twitter marketing? Please leave your comments below.