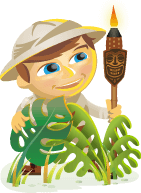 Want to know how Twitch is growing live video audiences?
Wondering how Twitch supports loyal, engaged communities?
To explore what marketers need to know about Twitch, I interview Luria Petrucci.
More About This Show
The Social Media Marketing podcast is an on-demand talk radio show from Social Media Examiner. It's designed to help busy marketers, business owners, and creators discover what works with social media marketing.
In this episode, I interview Luria Petrucci. She's the cofounder of Live Streaming Pros, a website that offers incredible content and services for live streaming and helps you master live video. She's also helping the next generation of young entrepreneurs build their business skills.
Luria explains how the Twitch ecosystem supports creators and influencers focused on a range of topics.
You'll also discover tools and tips for building a loyal community via live video.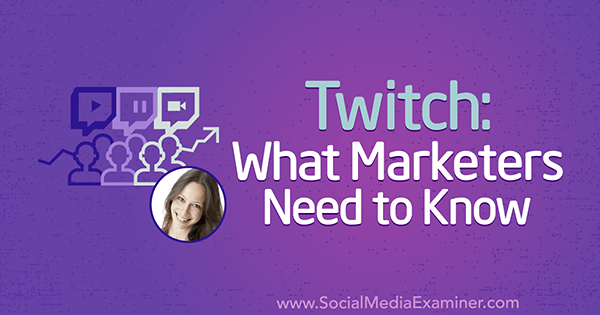 Share your feedback, read the show notes, and get the links mentioned in this episode below.
Listen Now
Where to subscribe: Apple Podcasts | Google Podcasts | Spotify | YouTube Music | YouTube | Amazon Music | RSS
Here are some of the things you'll discover in this show:
Twitch
What Is Twitch?
Before Twitch was Twitch, it was called Justin TV, which was one of the earliest live-video platforms along with Ustream. Today, Twitch is a live-streaming platform owned by Amazon.
Each month, Twitch has more than 100 million unique users and 2.2 million broadcasters. It also has about 15 million active daily users, which means they're either watching or broadcasting content. Nearly half of the users watch more than 20 hours of content each week. Currently, about 81.5% of users are male and 55% of them are 18-34 years old.
For about the last 5 years, Twitch has been known as a gaming platform where you watch people play games. However, for the past year, Twitch has been actively expanding its content base, which will make it relevant to more businesses.
After posting some videos back in 2007, Luria recently returned to Twitch and goes live 5 days a week for her Geeks Life channel, which covers geeky topics. Luria has a lot of fun with this channel. It has a weekly show as well as content about gaming, behind-the-scenes details about producing video on demand (VOD), and a live vlog.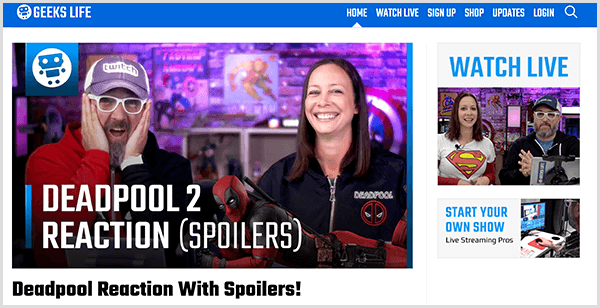 However, Twitch's popular communities go beyond geeky topics like programming, video editing, and comics. It also has communities for music, art, and DIY. Music broadcasters play guitar or piano or sing, sharing covers or original compositions. Visual artists share painting, drawing, and sculpture. DIY enthusiasts focus on a range of topics such as sewing, cooking, and LEGO.
On Twitch, community is the number-one priority for the platform and the people who use it. For example, Twitch has big yoga and LGBT communities. Although the yoga community will learn by doing yoga, the live-streaming content is focused more on hanging out than being educational. You can watch and interact through your computer, a mobile device, or TV box.
Listen to the show to hear Luria share more about the different types of content on Twitch.
How Twitch Differs From YouTube
YouTube is primarily recorded video, whereas Twitch focuses on live video. You can upload videos and watch them even if you missed the live broadcast. However, Twitch users don't watch as much on-demand content. Luria says that user behavior might change as the platform changes, but Twitch is only beginning to evolve.
Like YouTube, Twitch has a search feature that works really well. However, Luria finds that the results deliver live content first and then VOD. Also, Twitch has a Browse tab where you can discover popular communities such as gaming, music, and art.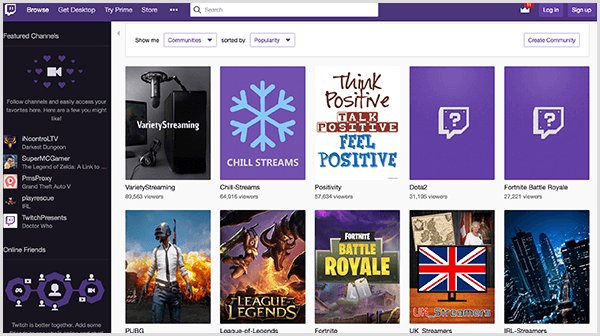 Unlike YouTube, Twitch is 100% focused on community. It's about people, not marketing. Twitch has no algorithms so you see only the notifications that you ask for by following someone. On each person's channel is a Follow button at the top. After you click that button to follow someone, notifications are turned on by default, which arrive via email or the mobile app if you install it.
With its focus on community, Twitch has some cool community features that YouTube doesn't have. Luria loves the clipping feature, which is a big deal on Twitch. The audience can create a clip that's between 10 and 40 seconds, and then it appears on your channel. These clips can help people who discover your channel see highlights of who you are and what happens on your channel.
Clips are also a great promotional tool outside Twitch. Because both the channel owner and audience can share a clip through social media, clips can promote your channel both during and after your stream. If someone likes your clip, they can find your channel and watch the whole recording if they like.
If you want to clip video from a live stream, you use the Clip button in the video player. You can even go back a little way to include an amazing bit you just watched in your clip.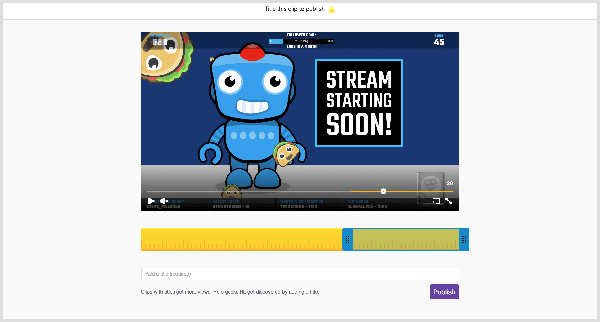 A Twitch stream has a chatroom, too. When something amazing or weird happens during a live stream, the community will say, "Clip it, clip it, clip it," in chat, and the clip becomes part of the community experience. Also, after someone creates the clip, everyone knows because a notice appears in the chatroom when a clip is created.
Listen to the show to hear Luria's and my thoughts for businesses whose content isn't a popular topic on Twitch yet.
Luria's Content and Tools
Luria shares more details about the content on the Geeks Life channel, which includes tech reviews, tech news, and geeky movie reviews. She's played with the structure of the content and found that having fun works well. One of the channel's hits has been going live on Twitch to share behind-the-scenes content about creating 4- to 5-minute recorded videos for YouTube.
Luria mixes fun content with value-oriented content. To illustrate, in one popular community engagement activity, Luria does a get-to-know-you segment where she opens a website with random questions, and the audience chooses the question categories. It's a bit like a game show.
Luria believes people looking to boost engagement can learn a lot from Twitch. Because Twitch is so focused on a fun environment, you can find ideas that will work on any platform. People like to engage with fun content.
The live streams on Twitch tend to be long, and Luria doesn't go live for less than an hour. Twitch broadcasters stream for hours on end, and you do best on Twitch if you're streaming for many, many hours. That comes from the gaming community. Also, with these long streaming times, broadcasters are informal.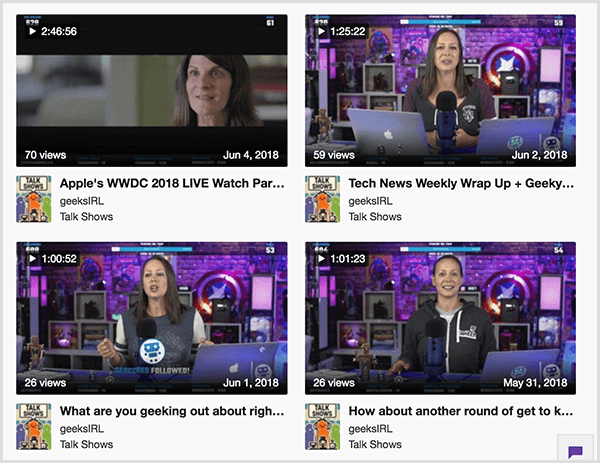 To stream live video to Twitch, you need third-party tools because Twitch doesn't offer any built-in tools that allow you go live. To create professional live video, Luria uses the same tools on Twitch that she uses for any other platform.
For live-streaming software, Luria uses vMix. Another good option is Streamlabs OBS, which is specifically for Twitch. Any software that supports RTMP (real-time messaging protocol) can stream to Twitch. All you have to do is enter your Twitch stream key into your software.
Like most other Twitchers, Luria also has a video overlay that shares information about subscribers, followers, donations, and so on. Also, anytime someone follows the Geeks Life channel, a woo-hoo! sound plays. Both the visual information and the sound appear automatically and start the process of gamifying her community.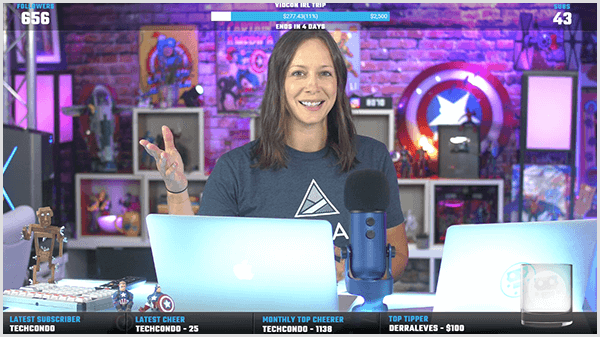 To create the overlay, you also need third-party tools. Both Streamlabs OBS and StreamElements allow you to make some fun, engaging things happen on-screen.
Listen to the show to hear Luria and me discuss sharing your screen during a live stream.
How Creators Make Money on Twitch
In the Twitch community, people are willing to spend money to support their favorite creators, and the moneymaking elements of Twitch offer a way to gamify your community.
To explain how Twitch creators make money, Luria first describes the basics of the Twitch ecosystem. Following a channel is free, and followers see notifications when you go live. Subscribing to a channel costs money and removes the advertising. You can also "bit" or donate to a channel. Beyond the Twitch platform features, creators might make money as influencers, too.
Subscriptions: A subscriber can pay $4.99, $9.99, or $24.99 per month (Tier 1, 2, or 3) to support a channel. Subscribers receive extras based on their subscription tier, so Tier 3 subscribers receive more than Tier 1 subscribers.
As the creator, you decide what you want to give subscribers. Tier 1 subscribers often receive emotes, which are images of faces the audience can use to express themselves in a Twitch chatroom. (The emotes are similar to emojis.) Other popular extras for subscribers are t-shirts and a monthly hangout.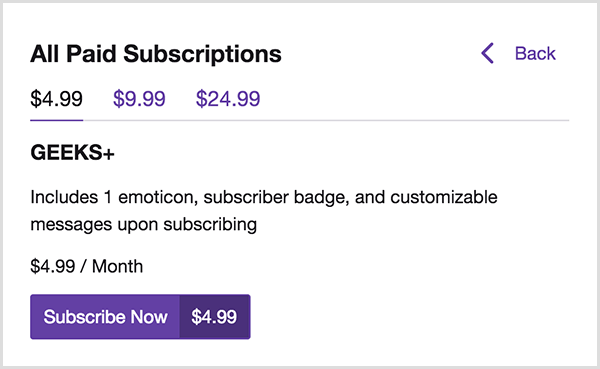 Other creators have a unique or personal approach. For instance, one musician writes every subscriber's name on her guitar. When they subscribe, she pulls out her guitar (if she's not already using it) and writes their name on it. Things like that make the community feel special.
If you have Amazon Prime, you can get Twitch Prime and subscribe to one channel per month for no extra cost. Subscribing to additional channels costs extra. Also, because a Twitch channel subscription through Amazon Prime is monthly, to maintain your channel subscription, you have to resubscribe through Amazon Prime every month.
Twitch shares 50% of this revenue with creators. As you gain traction on the platform, you can increase that percentage to 70%.
Bits: Bits are a virtual product that's part of the Twitch platform. One bit equals one penny. People can buy bits in bulk and give bits to a creator when they like something that occurred on their channel. Giving a creator bits is kind of like leaving a tip. Creators receive 50% of the revenue from the bits they receive.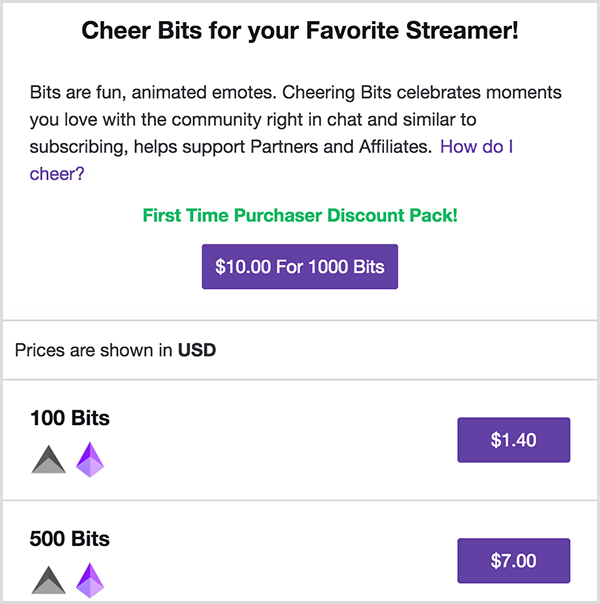 Donations: Donations are different from bits, and the creator receives a 100% of a donation.
Influencers: Twitch has a ton of influencers. Because Twitch is focused on creators who are building audiences, you can align yourself with a massive market if it's relevant to your brand.
Each channel shows how many viewers it has, which is a good way to gauge its influence. Many channels have around 300 simultaneous viewers. Other channels have from 2,000 to 4,000. Ninja, the biggest Twitch gamer, has 20,000 to 40,000 viewers at a time. To find channels with large audiences, you can sort by popularity in the Browse section on the Twitch website.
For some people, going live on Twitch is their full-time job.
Listen to the show to hear how Twitch subscriptions are like Patreon.
IRL on Twitch
On Twitch, IRL, which stands for in real life, is essentially live vlogging. People do IRL video in a couple of different ways. One way is to live stream via a smartphone while you're out and about living your daily life. Another popular option is a point-of-view (POV) style, which is what the Geeks Life channel does.
To create the POV videos, someone from the Geeks Life team wears a LiveU 500 backpack with some additional technology and a small Sony FDRX3000/W camera attached to their shoulder. (You can also use a LiveU Solo.)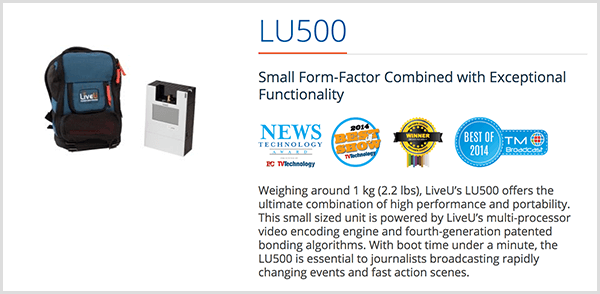 Sometimes, the camera shows whatever the wearer sees, and viewers hear the Geeks Life IRL host talking. Other times, the stream feeds back to the studio, and a producer switches between different cameras and the different audio sources.
During a Geeks Life IRL, people hang out with someone from Geeks Life while they go about their day. To illustrate, in a recent IRL vlog, Geeks Life went live while they grilled and hung out on Memorial Day. People loved it. These IRL videos are an example of a life stream, which takes people through the journey of your life.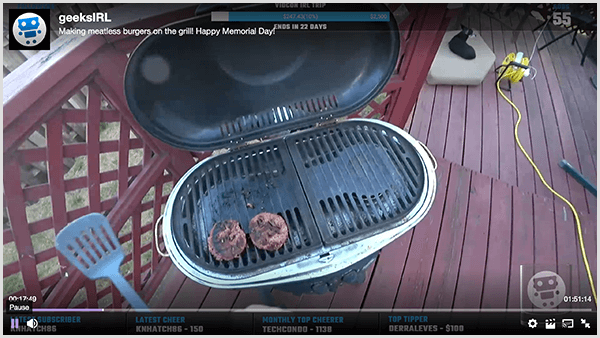 Other IRL streamers go live for hours on end while living their life. Several popular IRL broadcasters live in Japan or other countries, and they go explore or live their life by running errands or whatever they're doing. People just eat it up.
A life stream is a powerful way to connect with your audience and create a loyal community. Life streams are essential to live streaming on any platform. People will follow you, show up, and engage with you because this content is human, raw, and real. Whether you're on Twitch or another platform, live video builds community because it's all about human connection.
Life stream content is different from a professional live show, but the life stream can still be professional. Luria finds people often equate professional with stiff. However, the best IRL streamers combine the rawness and voyeurism of life streams with a professional-looking stream. So you see their real personality, but a professional layer creates credibility.
Luria emphasizes that personality is at the heart of this content. You have to offer something people want to watch, which is your personality. Also, you have to get the community involved some way.
Listen to the show to learn how Luria's camera compares to a GoPro.
What Marketers Can Learn From Twitch
Whether or not marketers create content for Twitch, Luria emphasizes that it's a great place to learn how to market in a more natural way. The Twitch community is very anti-marketing. If you share pitches or webinars, the community will tear you apart.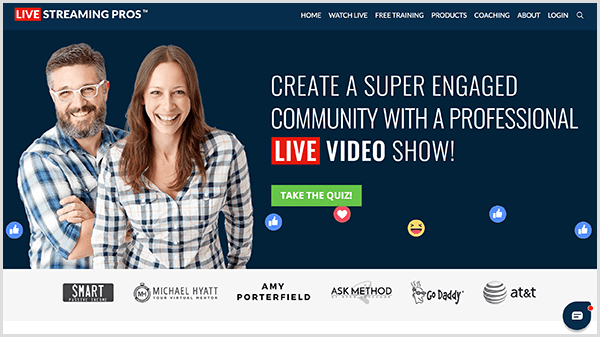 Parents often complain to Luria that their kids waste time on Twitch. However, Luria believes the channels and people kids choose to watch are very indicative of the future of business and marketing. Also, viewers connect with the host as well as the people in the chatroom, so they're creating a bond around the content.
In other words, Twitch's community-building can teach you how to be a better marketer. Also, marketers can teach kids how to turn their passions for gaming and creating other kinds of content into a business. Those two worlds are going to collide. Are you going to be on the forefront of that?
Listen to the show to hear more about the percentage of Twitch users who are younger than 18 years old.
Discovery of the Week
Listen Notes is a podcast search engine that helps you find podcasts, create playlists, and share content.
Listen Notes gives you a lot of flexibility in the way you find and listen to podcast content. For instance, if you don't want to listen to all the episodes from a podcast, you can create a playlist with only the episodes you want to hear. Or you can search for a specific person or topic and find related episodes from a range of podcasts. You can also add results that interest you to a playlist.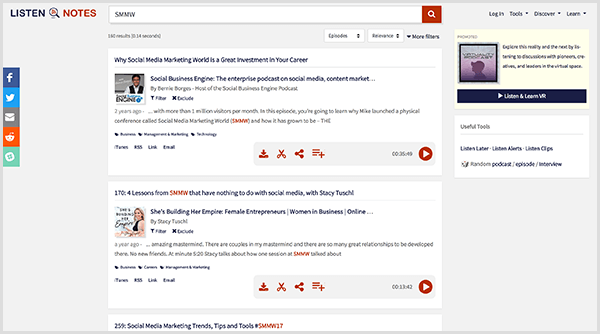 To listen to a playlist you create in Listen Notes, you copy the playlist URL and drop it into your favorite podcast app. You can also use the URL to share a playlist.
With the Listen Notes clipping feature, you can click a scissor icon while you're listening to a specific episode to set a start and an end time. You can also add notes about the section you clipped. After you click Create a Clip, you receive a URL to save or share with others. For example, on social media, you could share a quote from the clip and use the URL to share the clip audio.
The search engine is focused on podcast content (people, places, and topics) rather than the name of a show. If you're looking for a podcast by name, Listen Notes may not find the show you're looking for.
Listen Notes is a free tool that works in any web browser.
Listen to the show to learn more about Listen Notes and let us know how it works for you.
Key takeaways for this episode:
What do you think? What are your thoughts on Twitch? Please share your comments below.