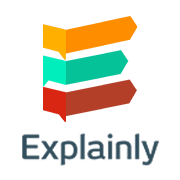 Explainly is an award-winning video production agency who has worked with start-ups to Fortune 500 Companies to create custom, frame-by-frame animation videos for businesses and agencies. No templates. No drag and drop software. No cutting corners. Mention Social Media Examiner by June 30, 2022 to receive $500 off your first video. Learn more about us.
Explainly is on a mission to help organizations create successful videos as easily as possible. Our service is a major part of our product – keeping video production simple.
Explainly specializes in transforming business challenges into problem-solving stories and works with companies on the strategy, script, storyboards, and visual direction that fit the brand. From complex, compelling 2D illustrations to next-level 3D, live action, and mixed media visuals, Explainly can deliver it all and then some including video business cards and personalized, interactive videos for unforgettable marketing campaigns. From perfecting and scaling your sales pitch, to optimizing web content for any platform, the uses for animated video are endless.
We're the talented video experts.
You're the talented industry expert.
Together, we're the perfect team.
Together, we create successful videos.
Check out our work and learn more about Explainly.