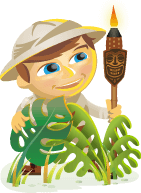 Do you have a blog?
Want to improve the content development, publishing and promotion processes?
To discover how to streamline your blogging with the best tools, I interview Ian Cleary.
More About This Show
The Social Media Marketing podcast is an on-demand talk radio show from Social Media Examiner. It's designed to help busy marketers and business owners discover what works with social media marketing.
In this episode I interview Ian Cleary, the social tools guy. His blog, RazorSocial.com has placed in our Top 10 Social Media Blogs 3 years in a row. He's also the founder of the Digital Influencer Club.
Ian will explore marketing tools for bloggers.
You'll discover tools for your editorial calendar, search engine optimization, social media, email marketing and more.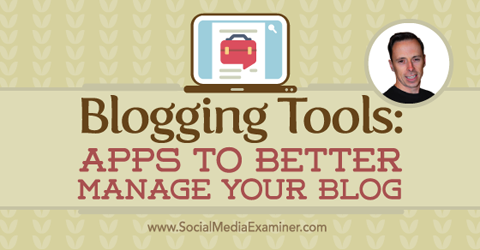 Share your feedback, read the show notes and get the links mentioned in this episode below.
Listen Now
Where to subscribe: Apple Podcast | Google Podcasts | Spotify | RSS
Here are some of the things you'll discover in this show:
Blogging Tools
How Ian got into blogging
Ian talks about the social media training company he had in Ireland. He says his blog failed because he wasn't particularly passionate about it; he was blogging because people said he should. Ian thinks that's the trap a lot of people fall into.
Ian shares how reading Launch helped him realize what he'd done wrong with his blog, so he decided to focus on the tools and tech side of social media.
Listen to the show to hear about Ian's first encounter with Mike.
Editorial tools and plugins
Ian says it doesn't matter if you have a team of one or ten, you still need to plan your blogging.
He explains how he and his team use the Status feature of a WordPress plugin called Edit Flow to move posts from Ian to his image person, and then to the editor. Once the editor is finished, the post is ready to publish.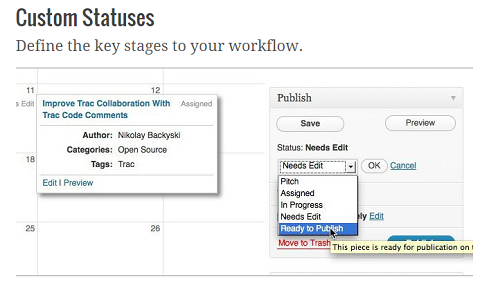 Ian also keeps rough ideas for future blog posts in EditFlow under the Pitch status, so he has post ideas ready to write anytime he goes to the blog.
CoSchedule is another excellent calendar tool Ian is excited to try.
Regardless of the tool you choose, you need a good editorial process, Ian says, even if you use Microsoft Excel to track things in the short-term.
Listen to the show to discover some of the limitations of Edit Flow.
SEO and research tools
Even if you don't know a lot about SEO, Ian explains how the Yoast SEO plugin helps you optimize your content for search in an easy way.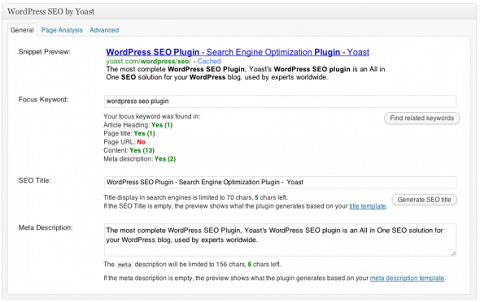 If you're creating a piece of content and want to see if there's a way to improve it, Ian suggests using BuzzSumo or Uprise. Both are research tools that let you view lists of content from across the web based on a keyword you search for. The lists show which posts received the most shares, and Ian tell listeners how to review them to make their own content better.
Ian explains the process of using Ahrefs to find links to high-ranking articles that are similar to yours but are out of date. He shares how bloggers can reach out to these authors or websites to link to their newly published content instead.
Ian also mentions a predictive content analytics tool called InboundWriter. The tool lets you put in the keywords you want to rank for, then gives you a green or a red status to show your chance of getting organic traffic to your content based on those keywords.
Finally, Ian shares how bloggers can use SEMrush to see which keywords their competitors rank for in Google search results. He says that when you see what words your competitors are ranking for, you can pull traffic from them by writing better articles based on those keywords.
Listen to the show to hear more about InboundWriter.
Social promotion tools
When you include influential people who are relevant to your niche in your content, there's a good chance they will share that content, which will drive shares and traffic.
Ian says Topsy is a great way to find relevant, influential people tweeting about content similar to yours so you can reach out to them with a link to your own content. He says you can also use it to find ideas for content.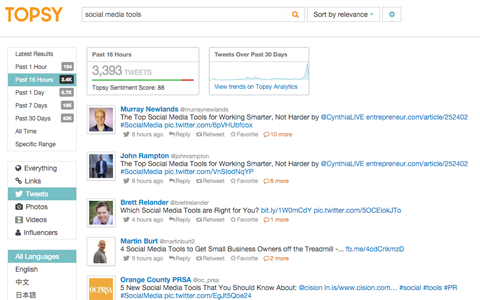 To make it easy for people to share, Ian suggests tools such as Social Warfare or Flare. Ian explains how he's used Social Warfare on RazorSocial to place share bars across the top and alongside his posts as readers scroll down.
Ian cautions bloggers to make sure their sharing plugin is optimized for mobile, so they don't miss out on shares from people reading content on their mobile devices.
Listen to the show to learn what to say when you approach an influencer on Twitter.
Scheduling tools
Because reach is low on Facebook and worse on Twitter, Ian says bloggers need to have a strategy for scheduling content multiple times. Ian explains how he uses the Queue and Re-queue features in Post Planner for scheduling content on both Facebook and Twitter.
He points to Edgar for scheduling support on LinkedIn and Google+, and discusses the bucket system, similar to Buffer's, that Edgar uses to categorize the content you want to share.
Listen to the show to learn Ian's scheduled posting strategy.
Other tools
Ian read a statistic that said 70% of your website traffic never comes back, so you need to have some way to capture their contact details.
To capture email addresses, Ian likes OptinMonster. The plugin has a number of different opt-in options, and Ian shares why he believes the Exit Intent pop-up is the most powerful.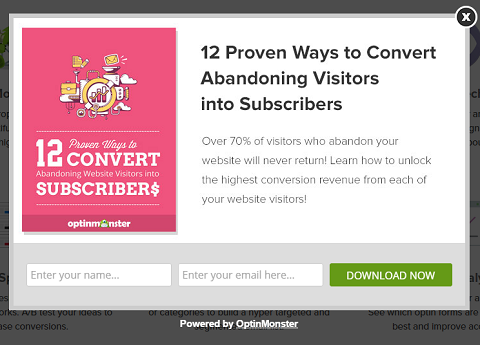 When it comes to analytics, Ian stresses his preference for Google Analytics. He says it's a powerful free tool that provides you with a lot of information.
Ian discusses how you can set up goals in Google Analytics to see how many people subscribed from a particular blog post. You can even find out how many people came from Facebook or Twitter and then subscribed. He says goals are simple to set up, but they're hugely powerful.
Listen to the show to hear more about OptinMonster and Exit Intent.
Discovery of the Week
MileIQ is a smart drive detection app that will help save you money if you deduct your driving miles each year off of your taxes.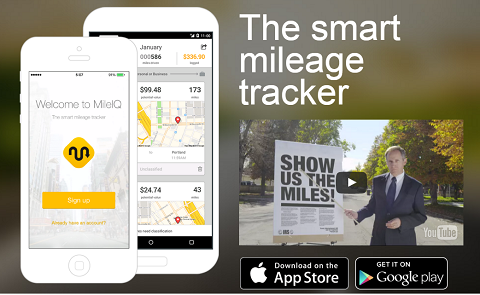 When you start driving, the app detects your drives and logs them automatically. It then calculates those drive distances, as well as their value, based on the deduction per mile that's already in the app.
You can wait a month and then go through your drives to categorize them into personal and business trips. The app even gives you the start and finish location of each drive and lets you add notes.
Try it to get 40 free drives in a month. Then, if necessary, upgrade to unlimited for a monthly or annual fee. MileIQ is available on iOS and Android.
Listen to the show to learn more and let us know how MileIQ works for you.
Other Show Mentions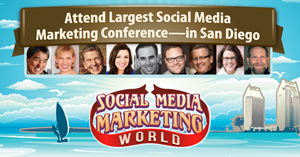 Today's show is sponsored by Social Media Marketing World 2016.
You can now sign up for Social Media Marketing World 2016. It's the world's largest social media marketing conference. By attending, you'll make connections with 100+ of the world's top social media pros (plus 3,000 of your peers) and you'll discover amazing ideas that'll transform your social media marketing. Speakers include Guy Kawasaki, Mari Smith, Michael Hyatt, Jay Baer and Michael Stelzner.
See what attendees experienced at our 2015 conference.
The event takes place in San Diego, California on April 17, 18 and 19, 2016.
Hundreds of people have already purchased their tickets and have committed to coming to this conference.
The networking is going to be off the hook. We have our opening-night party on an aircraft carrier, the USS Midway.
Social Media Marketing World is intensive professional development. Over the three days of the conference, you will have an opportunity to develop your skills in many different areas, not just on the latest and greatest on social networks (Facebook, Instagram, Twitter, LinkedIn and so on), but also in other areas, such as public speaking, creating videos, using your voice, creating visuals and more. These are all becoming a bigger part of social media marketers' responsibility. SMMW16 provides an incredible opportunity to walk away with extensive training, so you're better at your job, whether you work for yourself or someone else.
We have the best pricing you will ever find going on right now. Click here to check out the speakers and the agenda and grab your early bird discount.
Listen to the show!

Key takeaways mentioned in this episode: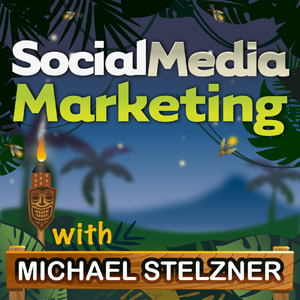 Ways to subscribe to the Social Media Marketing podcast:
What do you think? What are your thoughts on these blogging tools? Please leave your comments below.