Wondering if TikTok ads are right for your business? Want to know how TikTok ads compare to Facebook ads?
In this article, you'll discover how TikTok ads differ from Facebook ads and what types of ad creative work on TikTok.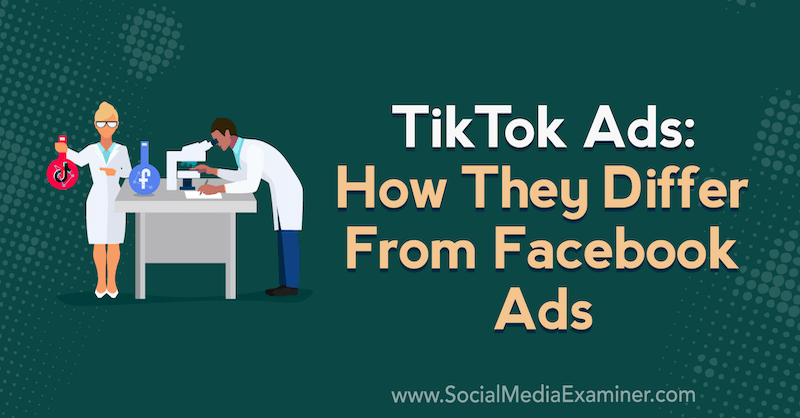 Why Advertise on TikTok?
If you're wondering if your target audience is on TikTok, they most likely are. Around 64% of TikTok users are older than age 20 so it's no longer just Gen Z. On top of that, users spend a lot of time on the platform. On average, they open the app eight times a day and spend 52 minutes per day on the platform.
What draws people in is the For You page, which is personalized for each user. It only takes a day or two for the TikTok algorithm to learn what content people like to see and continue to serve it to them.
For example, in your feed, you might see a good dose of DIY and business content but also viral videos that aren't necessarily made by kids or dancing teens. It could be adults talking about the funny parts of being a parent and family dynamics. TikTok is really a community-based platform at its core.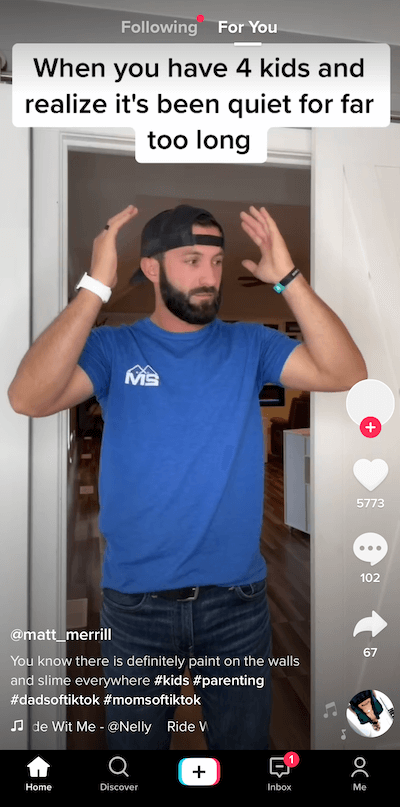 What makes TikTok appealing to marketers is the platform wants your content to be seen by as many people as possible. They want you to stay on the app so they're going to find your audience for you.
One of the advantages of TikTok ads over other platforms is that they're far more economical and deliver results much faster. In one instance, Caleb was able to reach 4.4 million people on TikTok for a cost per click of $0.11 and a CPM of $1.50.
If you put money behind an organic TikTok video that has reached some level of virality, your cost could very low. But if you're just getting started on the platform and want a lot of views on a video, your cost per click could be $1 more and your CPM could be $2 more if you don't have the right type of content.
TikTok ads are full-screen and immersive and the audio is unmuted. You can choose from several preset CTA buttons for your ads, including Download, Shop Now, Contact Us, Subscribe, Order Now, and Learn More.
The most effective TikTok ads look more like organic posts so viewers don't immediately recognize that their ads. This gives you a few seconds to grab your audience's attention before they swipe.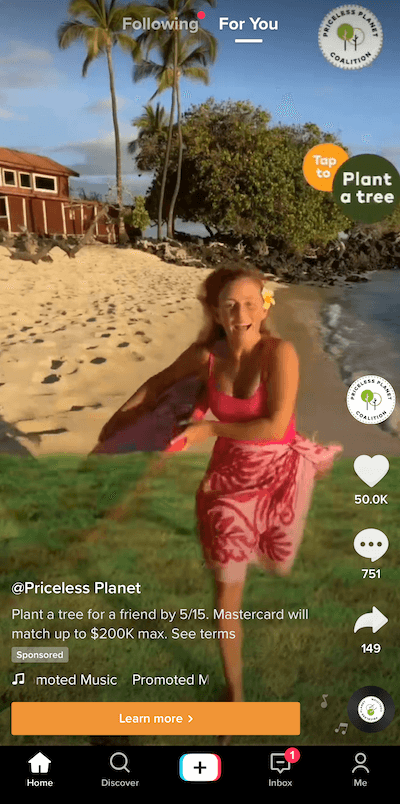 TikTok self-service ads are readily available only in the U.S. so you can get an ad account right now if you have a business in the U.S. In other parts of the world, you have to go through an interview process to run ads or go through an agency.
Now let's look closer at how TikTok ads compare to Facebook ads, what targeting options are available on TikTok, and what types of ad creative work.
#1: Understand How TikTok Ads Differ From Facebook Ads
Unlike on Facebook where your page represents you when you advertise, with the TikTok self-service ad platform you have a regular account and an ads account. The two accounts aren't connected. So while people will be able to interact and engage with your TikTok ads, they won't be able to follow your ad account and the views you get won't be saved.
Additionally, TikTok's pixel tracking isn't as robust as Facebook's. The problem is that audiences don't update, so every time you get more data, you have to create a new audience. For this reason, TikTok recommends targeting for in-app events rather than pixel data.
TikTok has both interests and categories that you can target but they offer just a fraction of what's available on Facebook. For example, you can't target other creators' audiences on the platform like you can on Facebook.
TikTok will let you retarget someone who's watched a video with another video. There are targeting options for people who watched to the end of the video and for those who commented on it.
As with Facebook, viewers will be able to comment on your TikTok ads, but you can't respond to those comments unless you work with an agency. Some advertisers will just turn off comments because they can't defend themselves if they have a bad ad. Caleb recommends that you keep them on because TikTok users won't respect your brand or who you are if you just turn them off. They want transparency.
#2: Target Your Audience on TikTok via Interests and Categories
While chances are good the people you want to market to are on TikTok, the TikTok ad platform isn't sophisticated enough yet to classify those people into interests. Currently, you can only target your ads to around 15 interests in 102 categories. An interest is broader and a category goes deeper into what the audience is.
A lot of the targeting that is available relates the viral categories popular on TikTok rather than what you'd see on other platforms.
Some of the targetable interests are oddly specific. For example, there's an interest for role-playing games, New Age games, and for people who are interested in slime.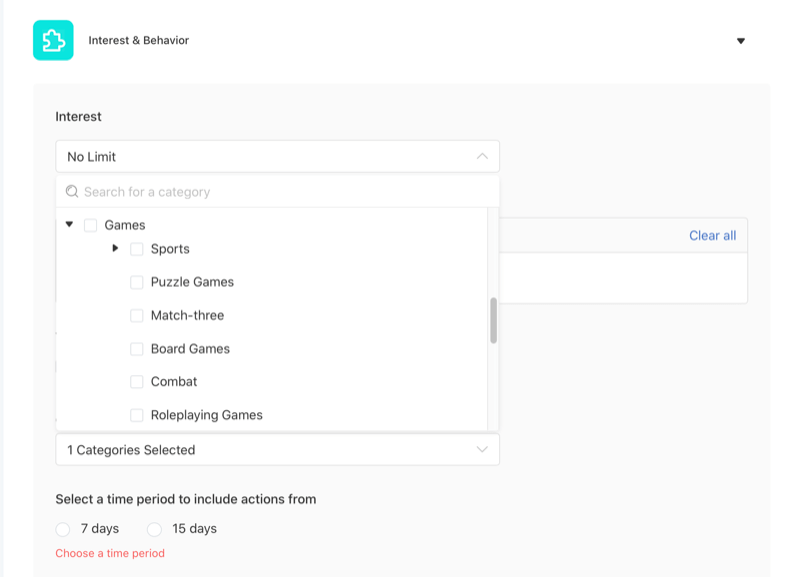 There's also a category for lip-syncing as well as talent categories. If someone has a talent in magic, for instance, you can target that too.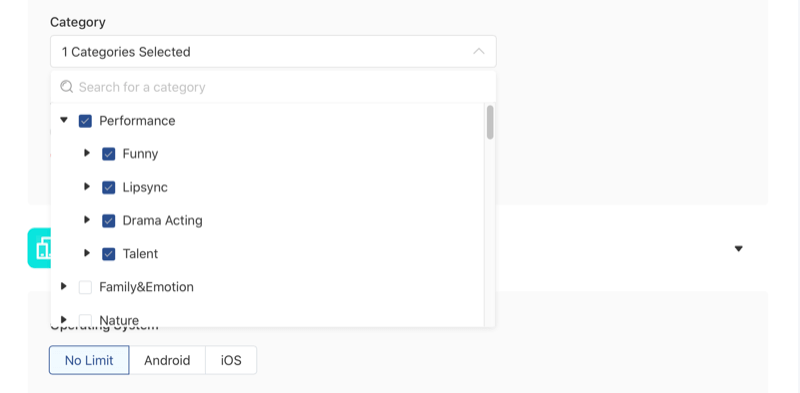 If you go into Lifestyle, there's only food, travel, and daily life. And under travel, you can target itineraries.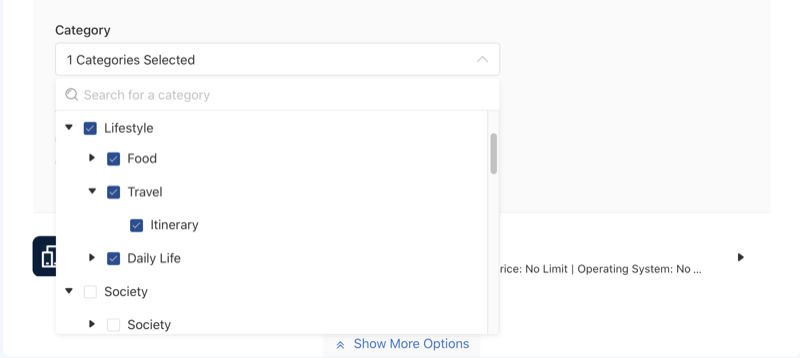 Currently, there aren't any categories for targeting business to business or for info products. The only way to target those groups is if you make an account and post content and then TikTok finds those audiences for you. Caleb has sold business to business with his ad agency but notes that your success relies on the algorithm finding your target audience and you providing the correct data to the algorithm through your content.
The only way to find out who's watching your TikTok videos and guess the relevant interests and categories to reach them is to read the comments and lead people through a funnel. Then you can get a sense of what categories and interests are the best fit.
Agency Accounts
While you can't turn an organic TikTok video into an ad directly with a self-service ad account (since your regular TikTok account and ad account are separate), you can if you work through an agency. You can then market to people who watch your videos and target lookalike audiences of people who are like the people who watch your videos.
There's a beta option that lets agency accounts run views to ads using an ad code, which every video on TikTok has. You can get this code by going into your privacy settings and then authorize it to be used in ads. Usually, big influencers are the ones doing this with very large companies.
Once you have the ad code, you can load your video into the ad platform through an agency and put a CTA button over the video.
#3: Design TikTok Ad Creative to Connect With Your Audience
TikTok users don't want their experience on the platform to be a manufactured reality like on Instagram or Pinterest. They want content that's authentic and relatable so the best ads look like organic posts. Caleb recommends that you shoot your video using your phone so the content look more like the footage people are accustomed to seeing in their feed.
If you haven't set up a self-serve ad account, you can create one at ads.tiktok.com if you're a U.S. business. Make sure to upload a profile photo to your ads account so your ads will look like organic pieces of content.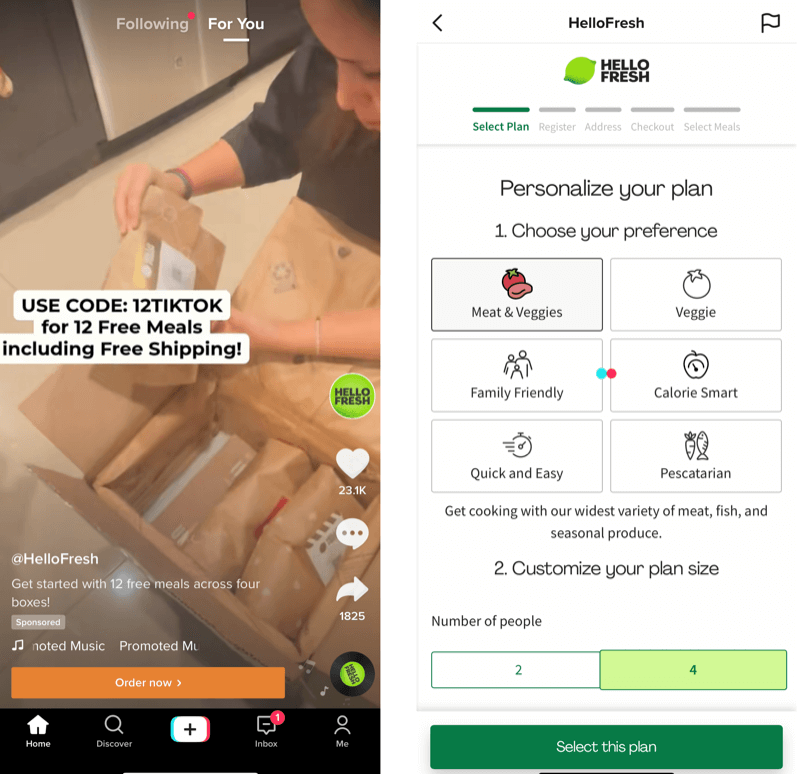 Because it's a community-based platform, TikTok wants you to connect with your audience through your ads, so the way to sell on TikTok is to manufacture a friendship with the audience.
When you design your ad, use subliminal messaging. Create the ad as if you're recommending the product to viewers because you love it. You could even compare your product to a competitor's. For example, you might say something like, "This company does this, but we do this," which implies that your product is better.
The most difficult part of creating your ad is the hook. You need to give people a reason to keep watching in the first few seconds of your video.
Caleb did a TikTok video ad for a prank company that had a product that was difficult to explain in 2 seconds, so in the video, he slammed the product package down on a desk full of money and trash. He wiped off all of the trash and money and said, "This is why you need to look at this product." The movement helped catch the viewer's attention in the feed and pique their interest enough to keep watching.
TikTok ads can be up to a minute in length but generally 30-45 seconds works best. If you're targeting for video views, you can target for a 2-second video view or 7-second video view. Caleb recommends 2 seconds for a top-of-funnel event and 7 seconds for retargeting.
Before you put any ad spend behind your videos, test them as organic posts first. Publish 10-15 videos to see which performs best. Then download the top performer without the watermark and reupload it as an ad through your self-service ad account.
Other Notes From This Episode