Wondering what types of content perform well with TikTok ads? Need fresh and proven ideas that really work?
In this article, you'll discover how to make TikTok ads that work.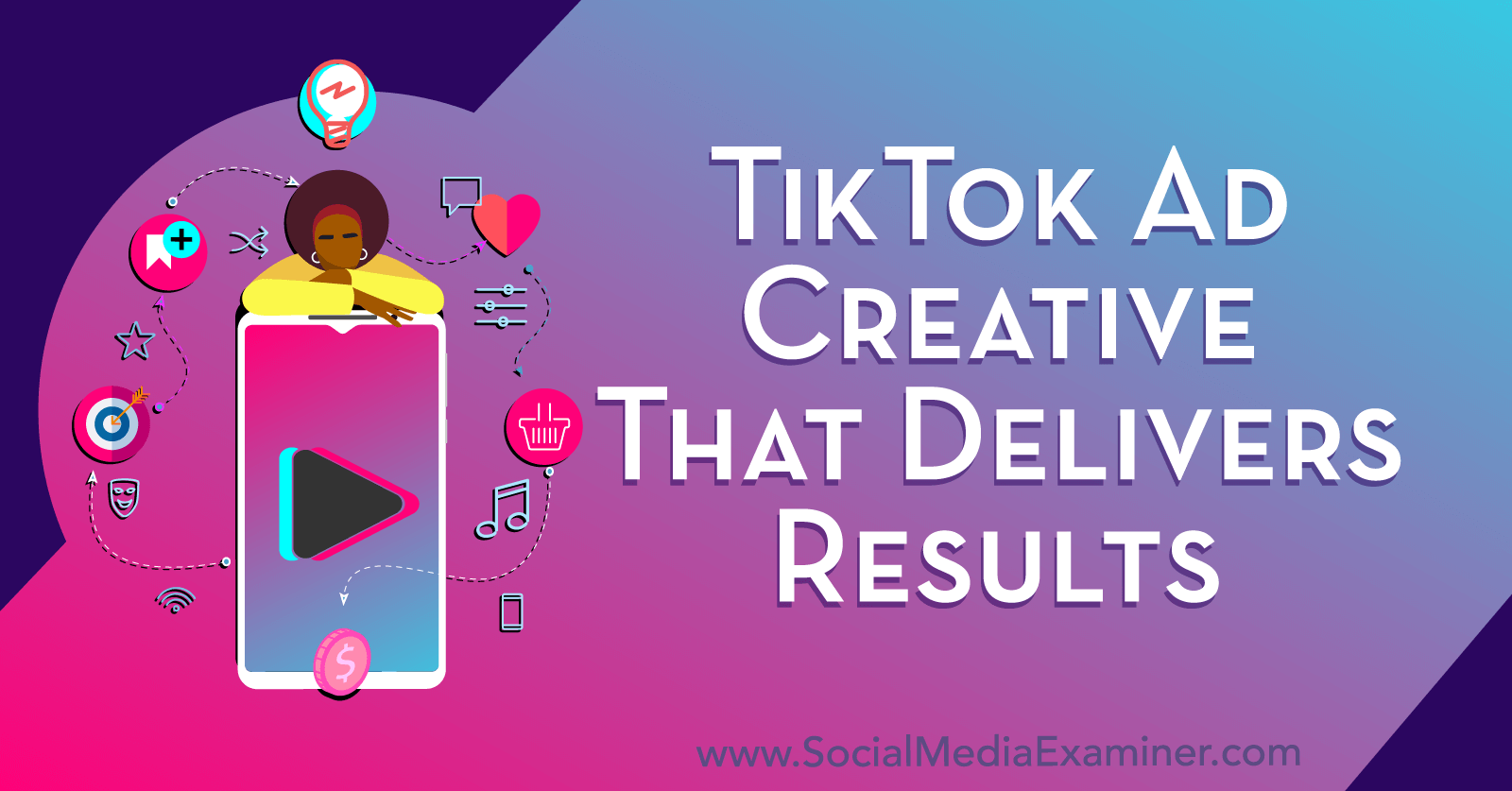 How to Use TikTok in Your Social Ads Strategy
Different social networks are valuable for different things. On Facebook, you can set and forget campaigns; it's good for long-term sales and audience-building. On Instagram, you can experiment with different content and interact with your audience.
TikTok ads are about speed and scale.
TikTok ads help you reach a large audience very quickly.
They have higher and cheaper click-through rates than other social networks.
TikTok ads increase your brand exposure and search traffic as people discover the brand and then search to find out more.
Brand awareness from TikTok can even translate into higher conversions on Facebook and Google ads.
But there are some caveats. On TikTok, paid content stays effective for a maximum of 2 weeks. After that, viewers lose interest and the algorithm downgrades it. TikTok also demands a different look and feel for content. You can't just upload TikTok ad creative that worked on Twitter or Instagram.
The big picture: TikTok ads are immensely effective but they should be used as part of a mixed social strategy, with long-term support from ads on other social networks.

They also have a different setup, style, and shelf life from ads on other social networks. Here's what you need to know before you start creating ad campaigns on TikTok.
Different TikTok Ad Types
There are two ways you can create ads on TikTok.
Use Spark ads to boost an organic post that's already performing well. The post can come from your profile or someone else's (for example, an influencer's). All you need is the spark ad ID code for that post.
Use the Ads Manager to upload content that's been specifically made for ads. You don't need an active TikTok profile to do this, just a business account. You can also re-upload videos from your organic posts if you don't want to run them as spark ads.
For now, we're mainly going to focus on creating content for the Ads Manager. But the two strategies aren't so different. As we'll see, the key to TikTok ads is making them look just like organic content.
How Long Are TikTok Ads Effective?
TikTok ads are almost unique in their short shelf life.
That's not necessarily a bad thing. After all, they make up for it with incredible reach and low costs. You'll get a lot of return on ad spend (ROAS) during that short window of opportunity.
But it is definitely short. Ad content has a shelf life of 2 weeks. If you have a really strong ad, it might last a little longer, but eventually, the TikTok algorithm will downgrade it. Your ROAS will drop and your cost per metric will rise.
That means you'll need to launch new TikTok ad creative every week. You'll get the optimum ROAS during that week, then move to something new.
If that feels intimidating, don't panic. There are ways to lighten the workload.
Use creative from your network of creators and collaborators, instead of developing all of the videos yourself.
Recycle formats and content topics that are successful. You just need a slightly different video to share as a new ad.
Focus on getting the content out, instead of worrying about high production values or perfect scripts. Authenticity is everything on TikTok.
4 Types of TikTok Ad Creative
So what actually goes into a TikTok ad?
There's only one golden rule: Don't make it look like an ad.
TikTok has a very strong community, which is part of what makes TikTok so successful. The community drives the success of content that's entertaining, informative, and authentic. Studies suggest that TikTok users trust the platform more than Google when they're searching for information.
To tap into that trust and enthusiasm and use TikTok for business, you have to use creative that looks organic and native to TikTok.
Keep it brief. Ads on TikTok can run for up to 3 minutes but it's a good idea to keep them much shorter.
Don't be too glossy. A good camera and lighting can work wonders but you don't need to produce immaculate, airbrushed videos. Instead, focus on looking authentic.
Keep it real. TikTok users respond poorly to corporate-style ads. Instead of going for the hard sell, use your ad to tell a story, evoke an emotion, or join a trend.
Effective branding. When you do mention your brand, keep it short and simple. Use brief, memorable names for your products. If you're sharing a URL, use a link shortener and customize it to refer to your brand. You can also show your logo in TikTok videos but keep it small—don't let it take over the screen.
If your ad can't look like an ad, what should it look like? Four tried-and-tested TikTok ad creative formats work well for both advertisers and audiences on TikTok. Each one is entertaining, genuine, and comes with an emotional hook.
Let's take a look.
#1: The Founder's Story Creative
TikTok loves stories so tell your greatest story: the story behind your brand.
What makes you unique? How did you launch your business or your latest product? What challenges have you overcome?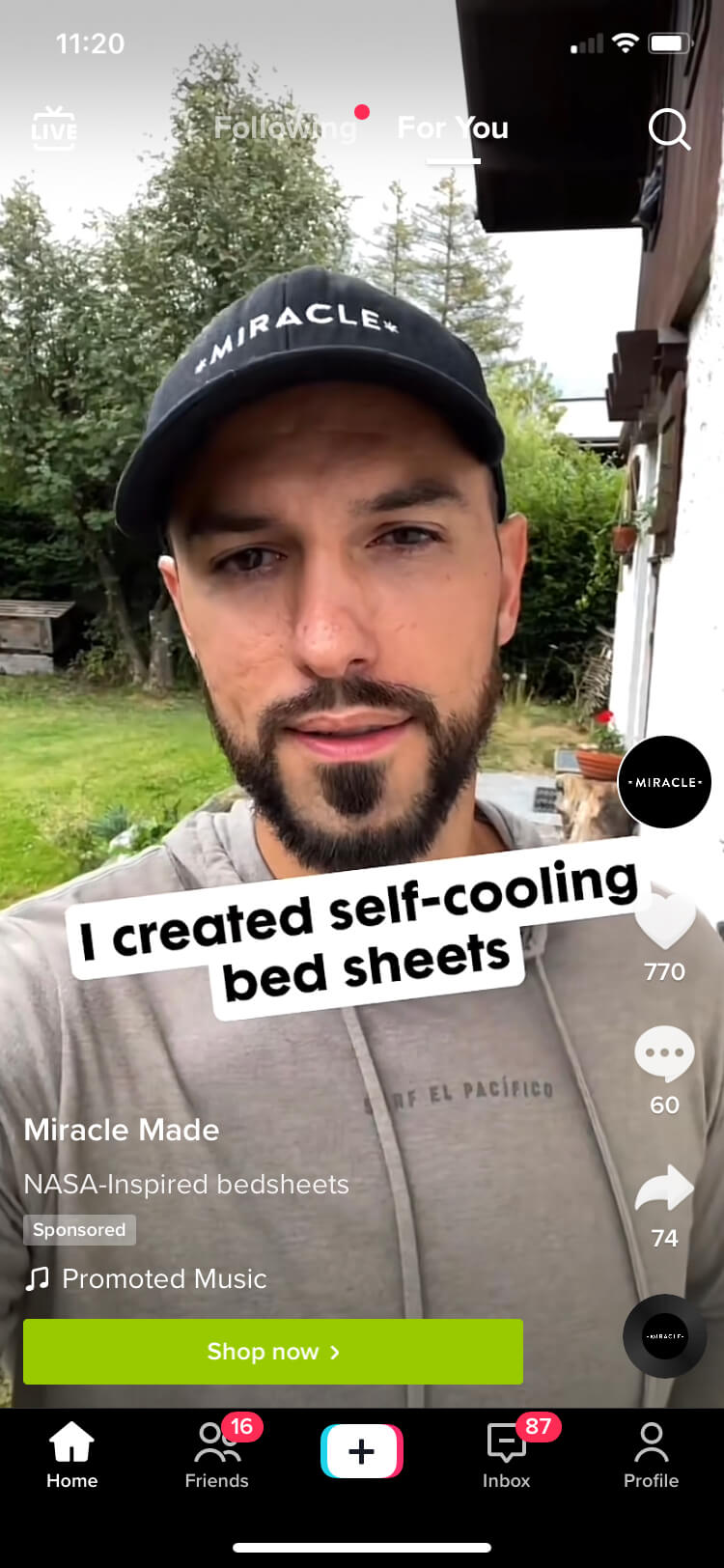 Keep the story to about 1 minute long and use a jump cut every 3-5 seconds to keep people watching. While you tell the story in the voiceover and captions, you can use clips and images from your business to illustrate it. If you don't have any footage from when you first started the business, re-enactments are fine!
Don't forget to end with a call to action and make it relevant to the story. Phrases like "if you want to support us…" and "be a part of our story…" are highly effective.
This format is very successful as an organic post, especially for eCommerce businesses. Once the post has some traction, you can boost it as a spark ad or re-upload the video to the TikTok Ads Manager.
#2: Product Comparison Creative
This ad format is all about standing out from the competition. It gets high levels of organic engagement because TikTok loves split screens and comparisons and it can boost your sales.
Keep the video to between 30 and 60 seconds. During that time, you'll compare your product to a competitor's by pointing out specific features. Focus on things like price, ingredients, environmental credentials, and unique features. Each point should last about 3 seconds.
Illustrate each point by showing the product in action, where possible. For example, for a makeup comparison video, you might open the product, smear some of it to show the color, and show how it looks after 12 hours of wear. Make it interactive and hands-on!
Try to show your product and the comparison in the same shot. You can use TikTok's features or a third-party editing app to create a split-screen effect if you need to.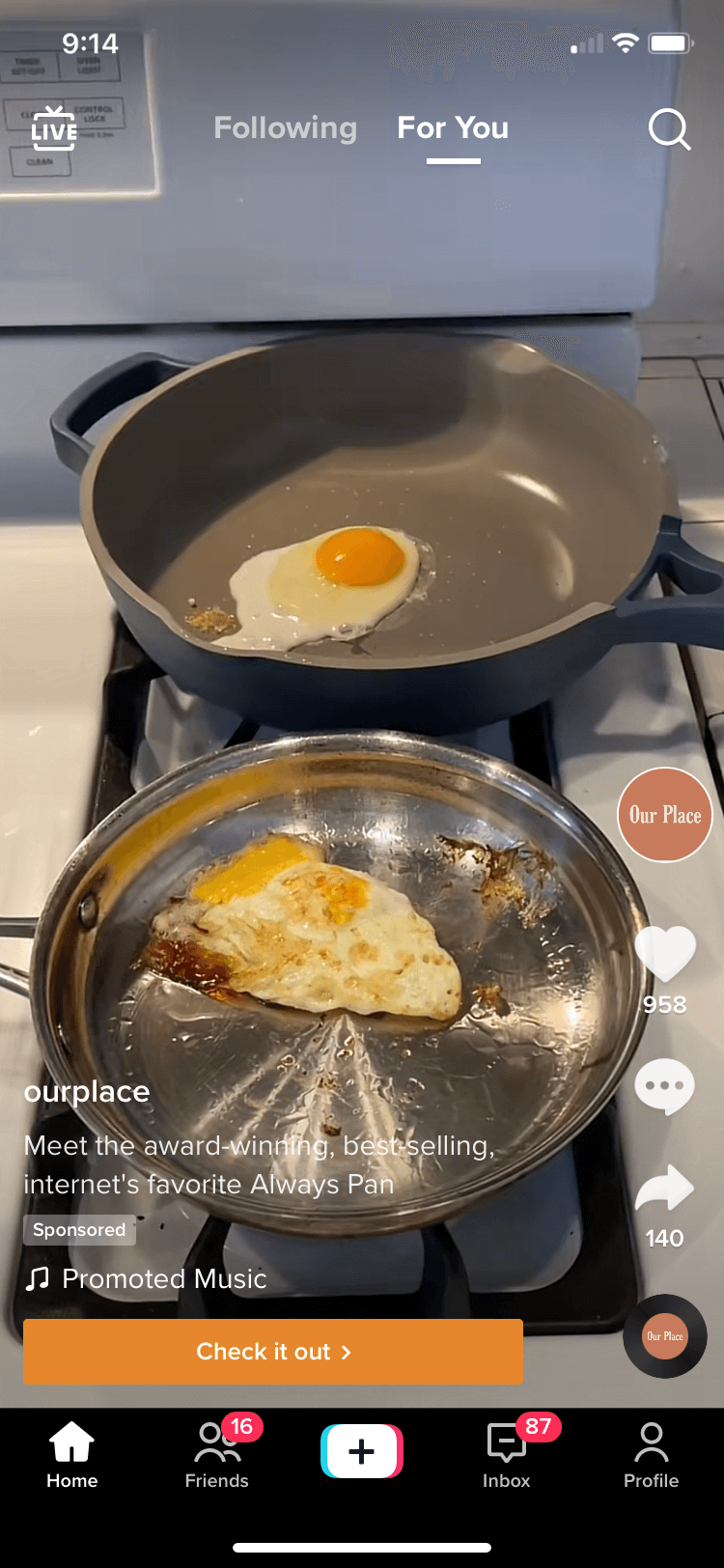 Some marketers are nervous about using this video format because of the legal implications of calling out your competition. It's always worth checking TikTok's terms of service to make sure your video sticks to the rules. But one simple way to avoid worries is to cover the label of your comparison product and refer to it generically. If you don't want to mention your competitors by name, you don't have to!
#3: Interview Creative
This next TikTok ad creative format is great for apps, services, B2B, and tech companies. It can be hard to make the case for your business in a short video. The interview format lets you cover a lot of key points quickly.
The interview should last for 20 to 60 seconds. That might seem short, but remember, this is TikTok so you can cut out the fluff. Don't waste time saying hi, introducing yourselves, or asking woolly questions. Get straight to the point; you can fill in details later if you have time.
You can use the interview questions to explain product features, share tips and tricks, answer FAQs, and handle common objections. You can also recut longer interviews such as podcasts.
Just like in a founder's story video, you'll need to change angles frequently to keep people interested. For example, you could keep cutting between the interviewer's and interviewee's faces. You can even interview yourself by switching between different camera angles!
Interview-type videos often get repeat views because people want to review the information and see their questions answered. That's great news for the TikTok algorithm. If you want to boost this effect even further, start and end the video on the same shot so it creates a perfect loop. People will start rewatching without even realizing it!
#4: Reaction Creative
Reaction videos are a classic video format on TikTok. They have an instant emotional hook and human interest.
There are lots of different ways you can use them in your ads:
Show people reacting to a product in different scenarios and situations. Filming in different places keeps interest high, while creating an overall impression of the product and brand.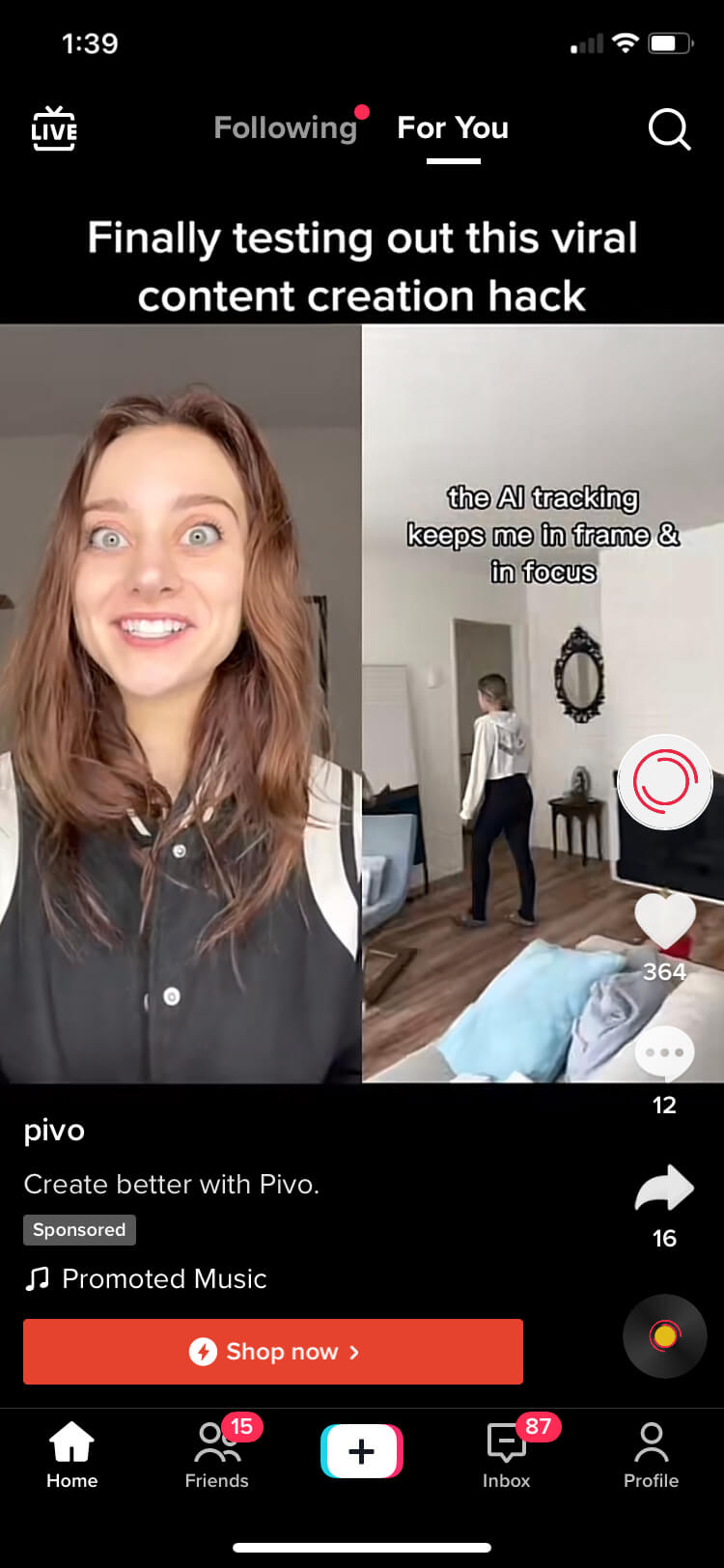 Combine reactions with other video formats. For example, you could film an interview-style clip where one person reacts to the other's words.
Ask questions of strangers or passersby. Their emotional reaction will make the video gripping. For example, if you sell hair products, you could ask people on the street if they're having a good or bad hair day!
Show yourself reacting to a new product reveal or delivery. Share your excitement with your audience.
How to Measure TikTok Ads Performance
Once you've created some awesome, authentic content and let it run for up to 2 weeks on TikTok, what's next? How do you measure your TikTok ad's performance?
First things first: as with any other ad platform, you need to define your goals clearly.
Organic follows and views can be tracked with TikTok's data for individual videos. Check whether video ads reached their targets and figure out which formats and topics were most effective for you.
Paid clicks, conversions, and sales are more difficult to measure. You'll need to use the TikTok Ads Manager's own analytics.
However, this still isn't the whole story.
A lot of TikTok's value is indirect. Remember when we talked about how brand exposure on TikTok can translate into more search traffic and even conversions on other platforms? That effect is gradual but very real—and it's extremely difficult to track.
Attribution for online marketing is tricky at the best of times. And with browser updates, new privacy policies, and international legislation, it's only getting harder.
There are a few ways you can understand the impact of your TikTok ads better:
Add UTMs to any links you share on the platform.
Use customer surveys at checkout to ask people how they first heard about your products. Just keep it brief!
Connect an attribution platform. This is a third-party tool that collects data from your website and ad platforms to build a more complete picture of customer attribution.
Sirge, linked in the bio below, is a new ad attribution tracking platform that was designed with social marketers especially in mind. It uses first-party data to bridge the gap between your TikTok analytics and eventual sales so you can see which ads are really working.
That data will help you understand which TikTok ad creative formats to focus on. Some of the ad styles we've looked at are great for instant sales. Others, like the interview format, will help you build a loyal community of customers over time. A complete picture of ad attribution will show you the value of those different ad types in the long term.
Other Notes From This Episode
Where to subscribe: Apple Podcasts | Google Podcasts | Spotify | YouTube Music | YouTube | Amazon Music | RSS
✋🏽 If you enjoyed this episode of the Social Media Marketing podcast, please head over to Apple Podcasts, leave a rating, write a review, and subscribe.
---
Stay Up-to-Date: Get New Marketing Articles Delivered to You!
Don't miss out on upcoming social media marketing insights and strategies! Sign up to receive notifications when we publish new articles on Social Media Examiner. Our expertly crafted content will help you stay ahead of the curve and drive results for your business. Click the link below to sign up now and receive our annual report!