Want to make the most of your Instagram bio links? Wonder about the pros and cons of Instagram's native links feature?
In this article, you'll discover how to add up to five links using Instagram's native link-in-bio feature and learn when a third-party link tool is a better option.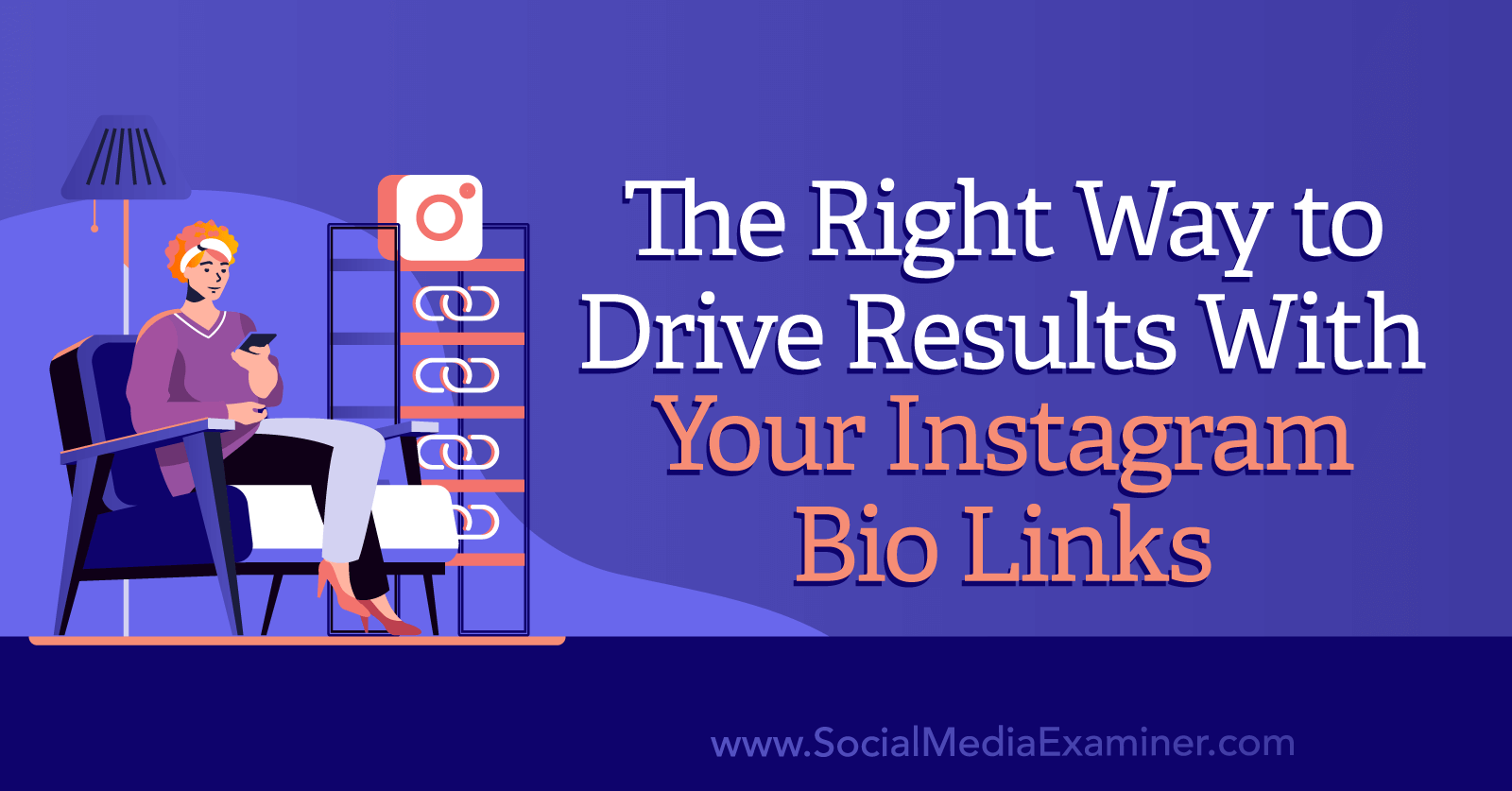 Should You Update Your Instagram Link in Bio?
Driving website traffic from Instagram has never been particularly easy. Since the platform doesn't support interactive URLs in feed content, adding link stickers to Instagram stories or using a third-party link in bio tool has long been your best bet for maximizing traffic.
However, these options also have drawbacks. Link stickers in stories disappear after 24 hours unless you add the content to story highlights. And using a third-party tool may lead to confused users and less traffic to an owned domain.
As of April 2023, there's no longer a single link in bio limit. Now you can add multiple links in your Instagram bio without using a third-party app. Instagram now allows up to five links for creator and business accounts. Here's how it looks:
When someone visits your profile, they automatically see the first URL on your list (below left) along with the number of additional links you've added. If they tap the URL, the Instagram app opens a pop-up (below right) that lists all of your URLs.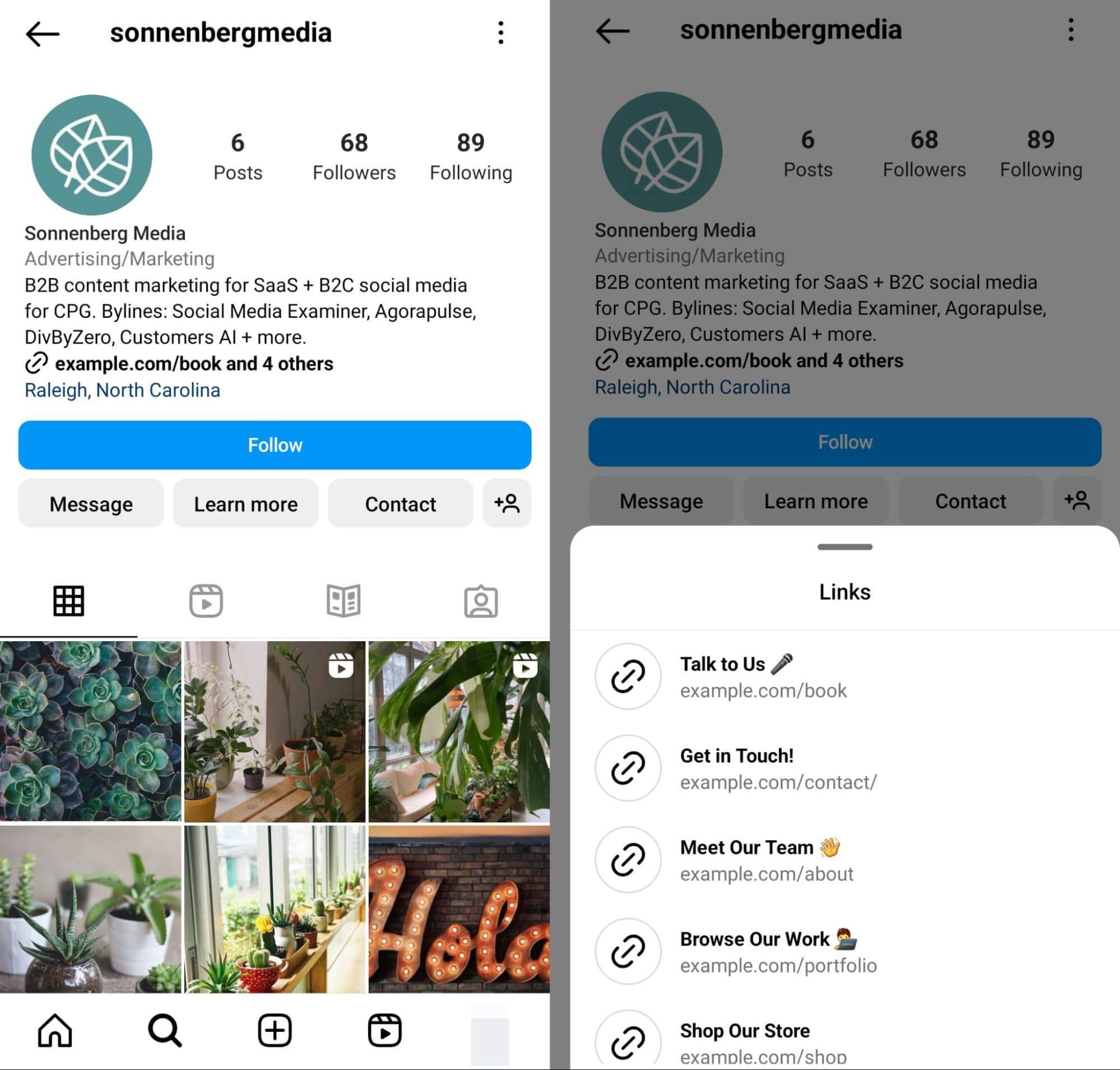 As you can see, Instagram's native link in bio tool supports brief calls to action (CTAs) alongside each link. Currently, the CTAs only appear when a user taps to view your link list so no CTAs appear directly on your Instagram profile.
Pros and Cons of Instagram's Expanded Bio Links
Should you switch to this new tool and start adding links to your Instagram bio? It certainly has a lot of potential benefits, including:
You can add up to five clickable links to any destination. That means you can direct users to a mix of your website, a third-party marketplace (i.e., your Amazon listing), your latest press feature, a guest post on a partner site, and more.
Alternatively, you can add five links that direct users to different parts of your website. That way, you can drive traffic to an owned domain while sending users to Instagram-friendly landing pages that relate to your social media content.
It eliminates the need for a third-party link in bio app. Although most of these tools have free versions, they typically require a paid subscription for access to all features. If you're working with a small budget, this built-in option is more affordable.
However, the new multiple bio link feature also has drawbacks, including:
It doesn't support visuals. The list of links displays in black and white, just like your Instagram bio section. There's no option to add thumbnails, background colors, or images from your grid. You can add emojis in CTAs, though.
Your bio still displays one link only, followed by a tally of additional URLs. That means users still have to tap to view your full list of links so this tool doesn't eliminate the additional step necessary for getting clicks and website traffic.
It limits you to a total of five links. If you need to drive traffic to a long list of external destinations—such as eCommerce product pages—you'll end up having to update the available links constantly.
Instagram doesn't provide analytics for your bio page. You can track profile visits and total website traffic from Instagram. But you can't see how many people opened your list or how they got there, which can make optimization tricky.
As you can see, the list of pros and cons is pretty evenly divided so adding multiple Instagram bio links is a great option for some brands but less ideal for others. Let's take a closer look at how to set up this new tool and when to choose a third-party app instead.
How to Add Multiple Links to Your Instagram Bio
To add more than one link in your bio, open the Instagram app and navigate to your business or creator profile. Currently, you can't update profile links via desktop (whether you have one or several) so you have to follow the steps below in the mobile app.
From your business or creator profile, tap the Edit Profile button. From the Profile menu, select the Links option. Then tap the Add External Link option. Copy and paste a URL, give the link a title (i.e., a CTA), and tap the checkmark to save it.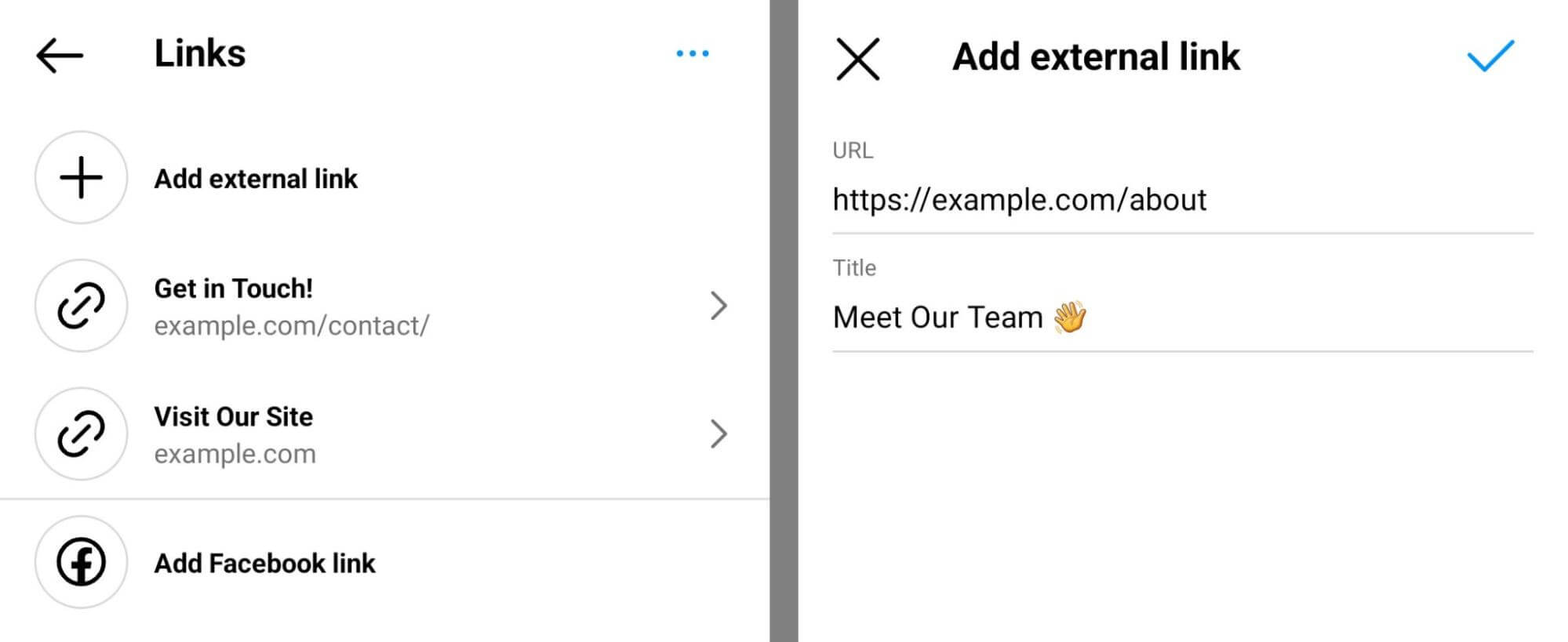 Repeat the process up to five times until you've added all of the links you want to share. When you've reached the limit, the Add External Link option will appear grayed out. You'll need to remove or update existing links before you can add new ones.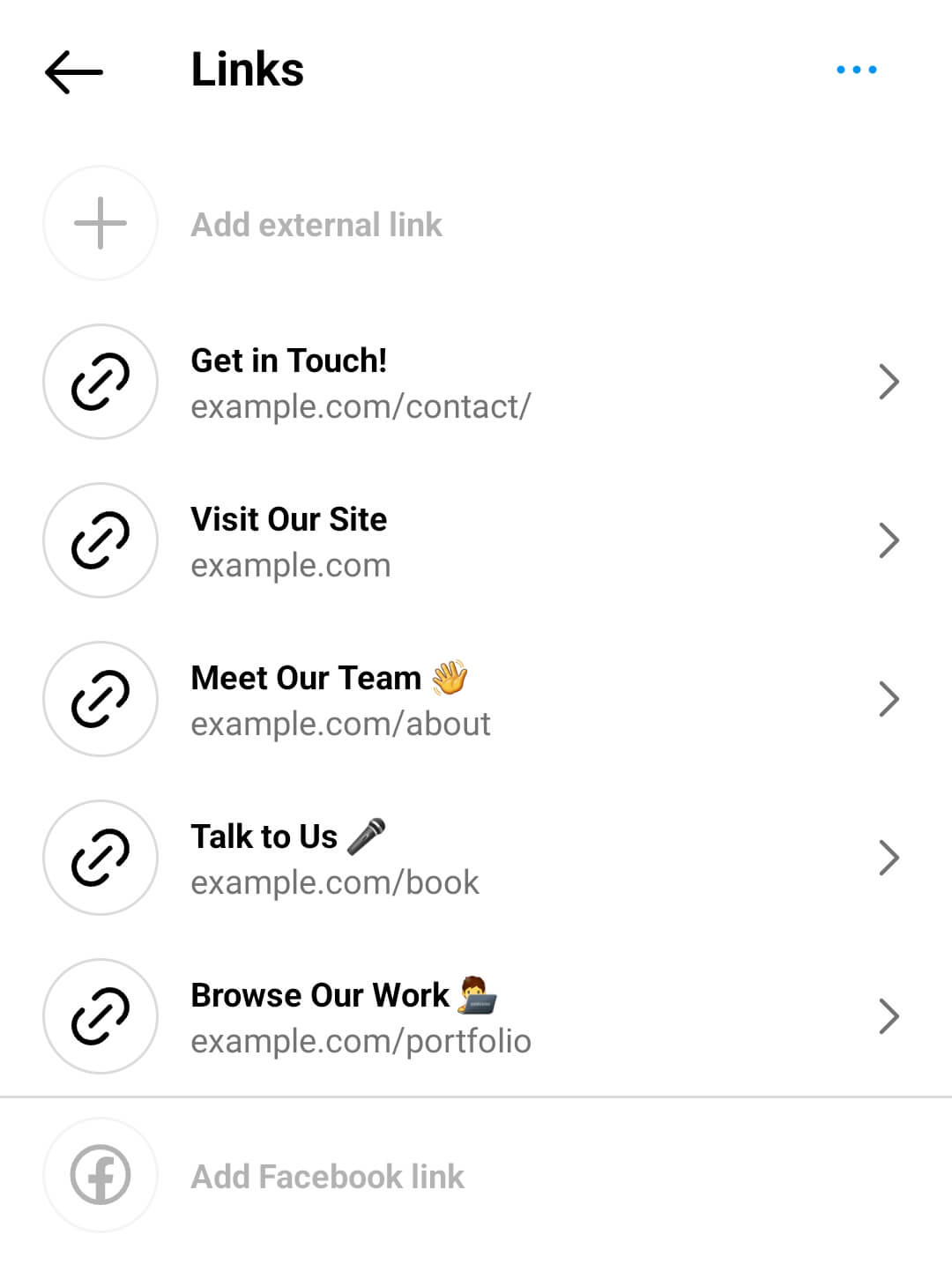 When you're finished, tap the back arrow to go back to the Edit Profile screen. Make sure to tap the checkmark to save the list of URLs and display them on your profile.
Get Your FREE Course: Web3 for Beginners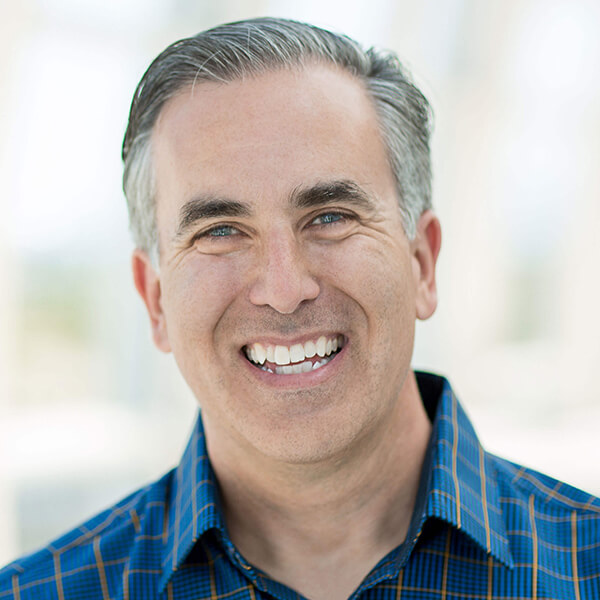 Curious about Web3, but don't know where to start or who to trust?

Introducing Web3 for Beginners, a course taught by Michael Stelzner, the founder of Social Media Examiner.

Learn the basics of Web3 and apply it to your business with this FREE comprehensive course.
CLICK HERE TO GET FREE ACCESS
Add a Facebook Link
Note that Instagram gives you an option to add a Facebook link to the list, which connects your Facebook account. This link counts as one of the five so you'll need to leave space for it in the list of your external links.
If you do opt to add a Facebook link, you'll need to configure your Accounts Center if you haven't already done so. This workflow enables Meta to deliver connected experiences across accounts and effectively links your Facebook and Instagram accounts.
Remove a Link From Your List
Need to remove one of the links you added to make space for another destination? Tap any link on the list, select Remove Link, and confirm your choice. Then repeat the steps above to add a new one in its place.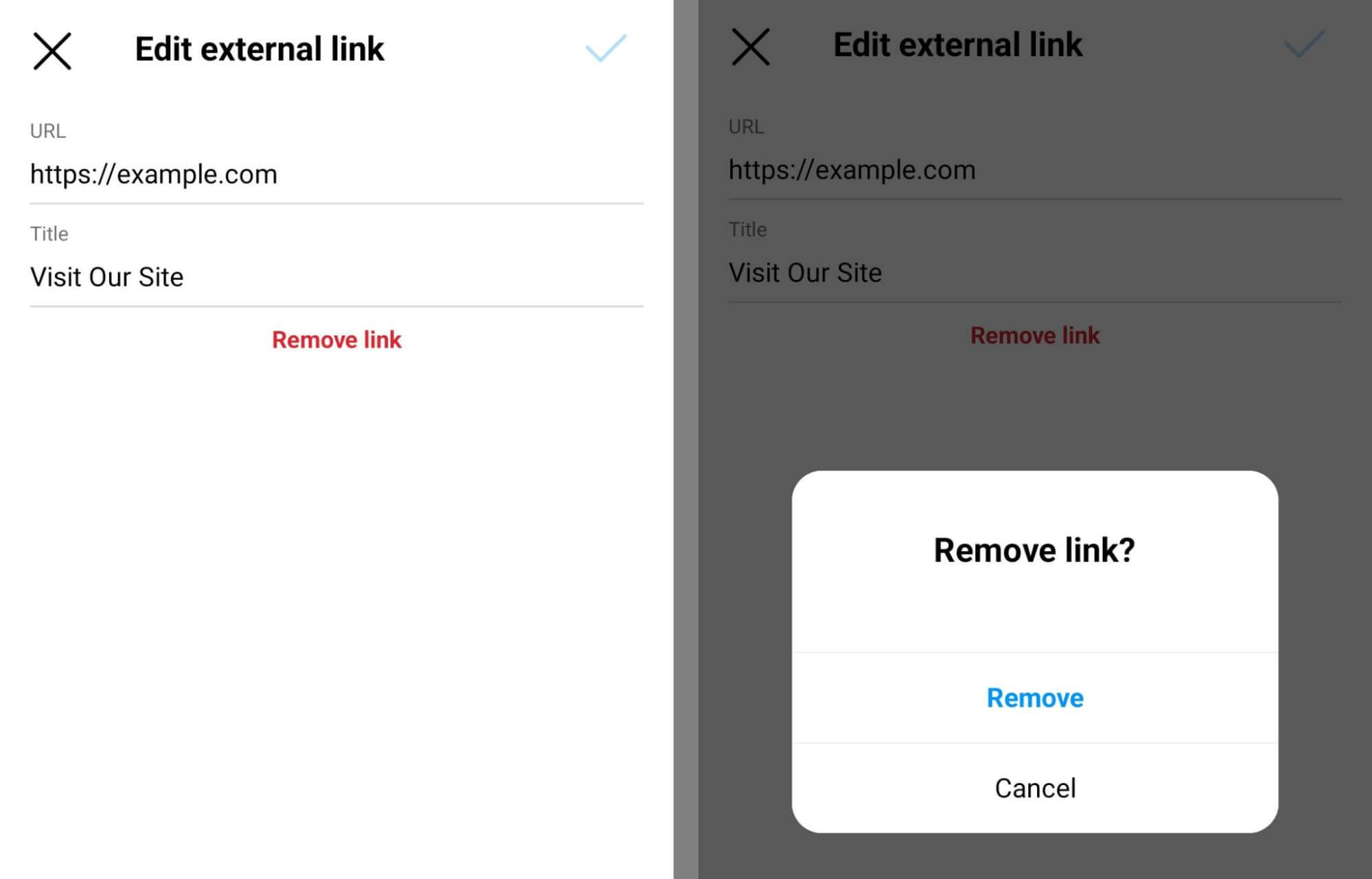 Reorder Your List of Links
Note that the order in which you add links doesn't matter. You can change how they display at any time. To reorder links, tap the three dots in the upper-right corner and select the Reorder Links option from the pop-up menu. Then drag and drop to change the order and tap the checkmark to save.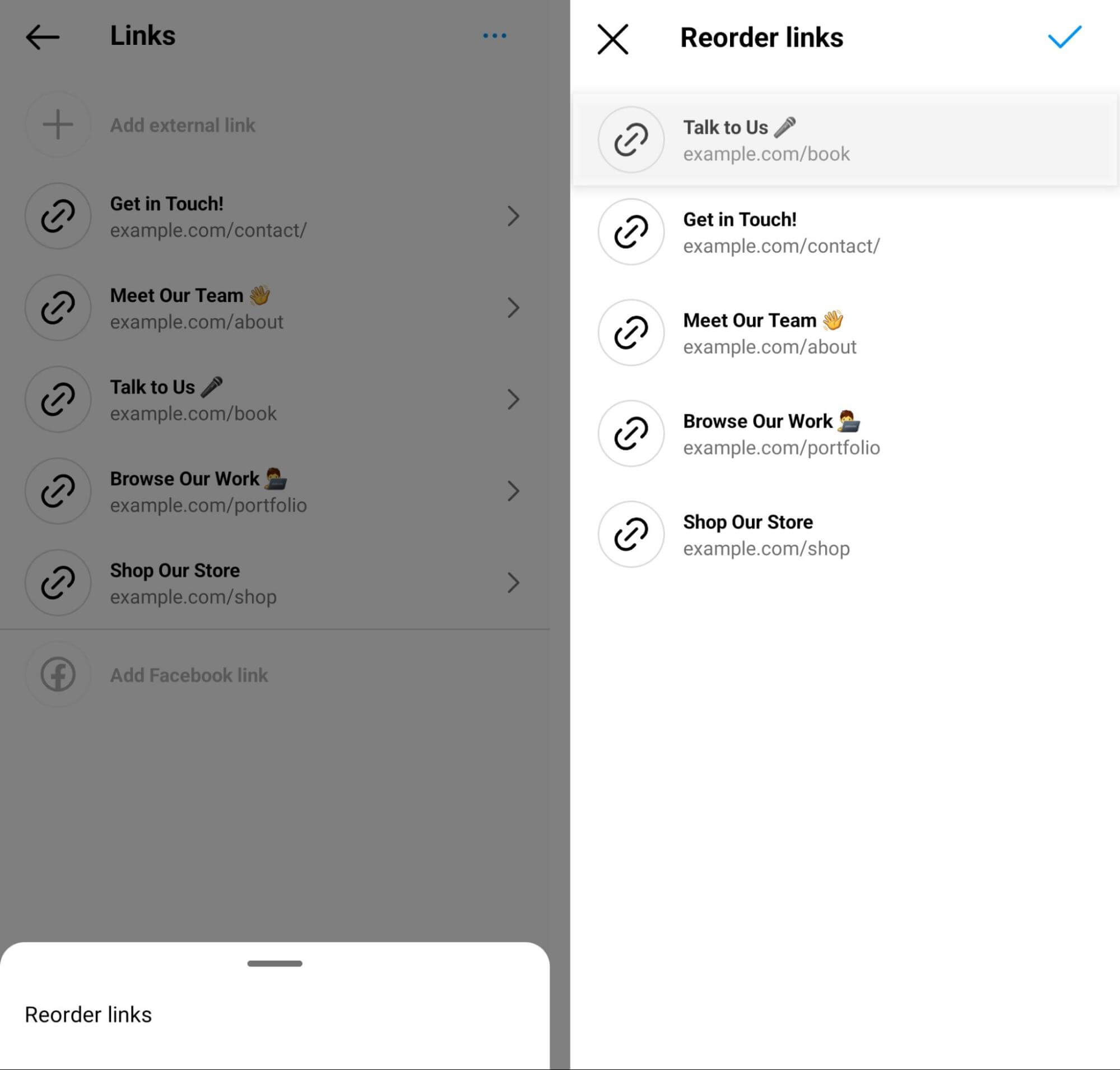 Which link should display first? Keep in mind that only the first link displays on your profile (without the CTA). So it's in your best interest to place the most compelling link first, especially if the URL includes keywords that are likely to get your audience's attention.
Optimize Your Instagram Links
Because Instagram doesn't offer many customization options for this built-in list, it's important to make your most important URLs stand out. Here are a few ideas: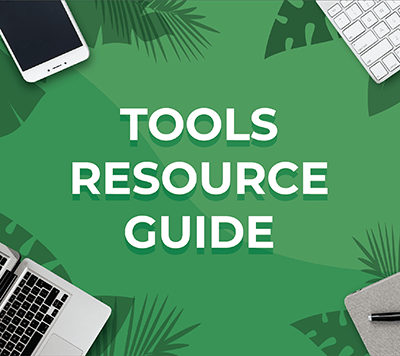 Looking for something to make your life easier?
Discover the tools we recommend to drive engagement, save you time, and boost sales across your entire marketing funnel or business.
Whether you need help planning content, organizing social posts, or developing your strategy, you'll find something for every situation.
FIND YOUR NEXT FAVORITE TOOL
Use emojis to make CTAs stand out. You certainly don't have to use emojis if they don't work with your brand voice. But they can help CTAs and links stand out in a uniform list of text and URLs. Consider adding emojis to certain CTAs only to amplify the effect.
Include crucial links only. Sure, it's tempting to maximize external linking opportunities. But do you really need a link to your home page, especially if it just adds clutter? Monitor website traffic from Instagram to see which links are really working.
Add URL tracking. Analytics tools can attribute relevant traffic to Instagram. But without link tracking, they can't tell you whether visitors tapped on a profile link or a story sticker. With a tool like Google Analytics Campaign URL Builder (below), you can easily track the source of the traffic and gather more data to inform your strategy.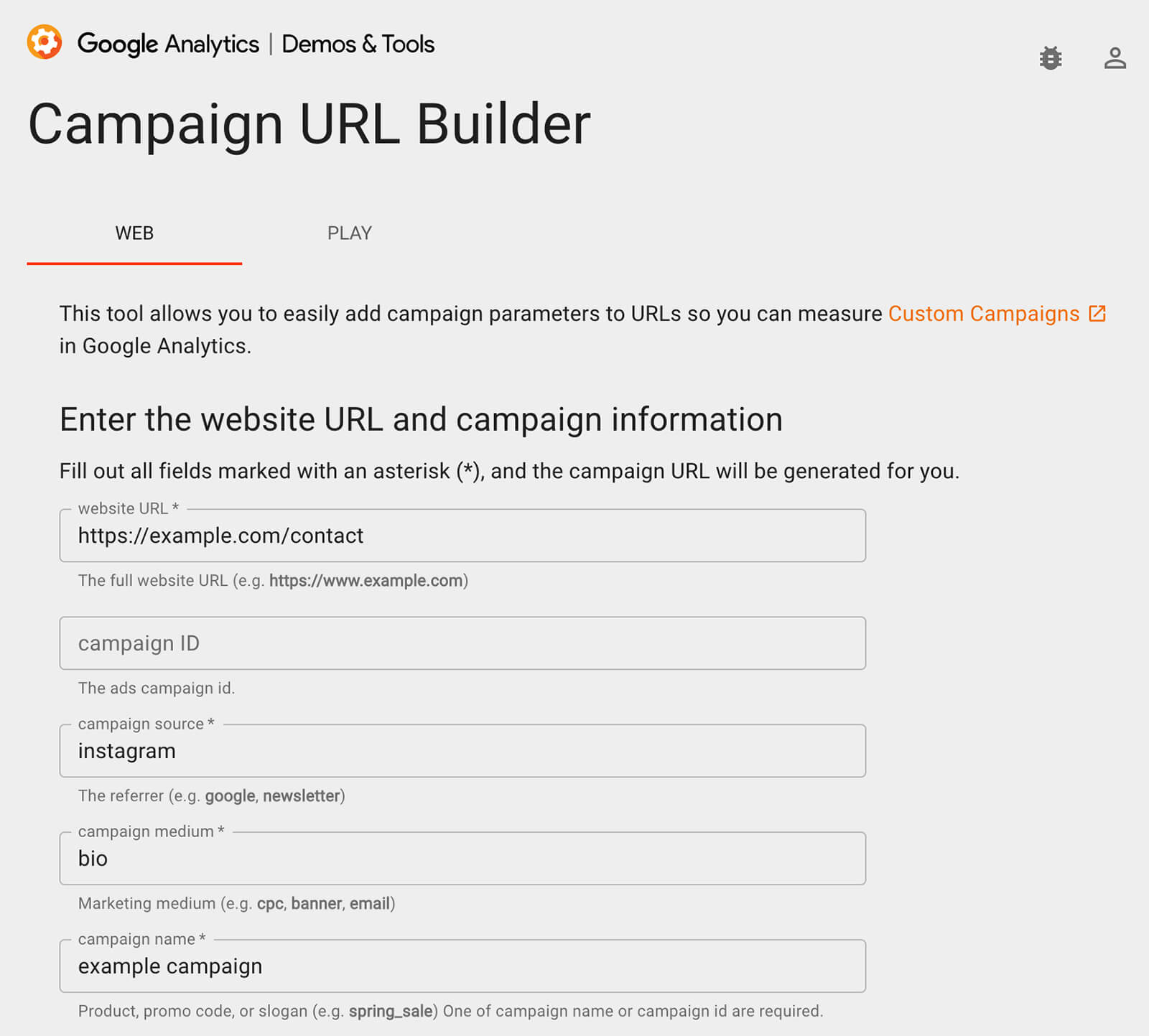 Add a CTA in Your Bio
Whether you add one or five links to your bio, they don't really stand out from the rest of your profile. To make your list of links more visible to Instagram users, add a CTA at the end of your bio. Including an emoji can add extra visibility.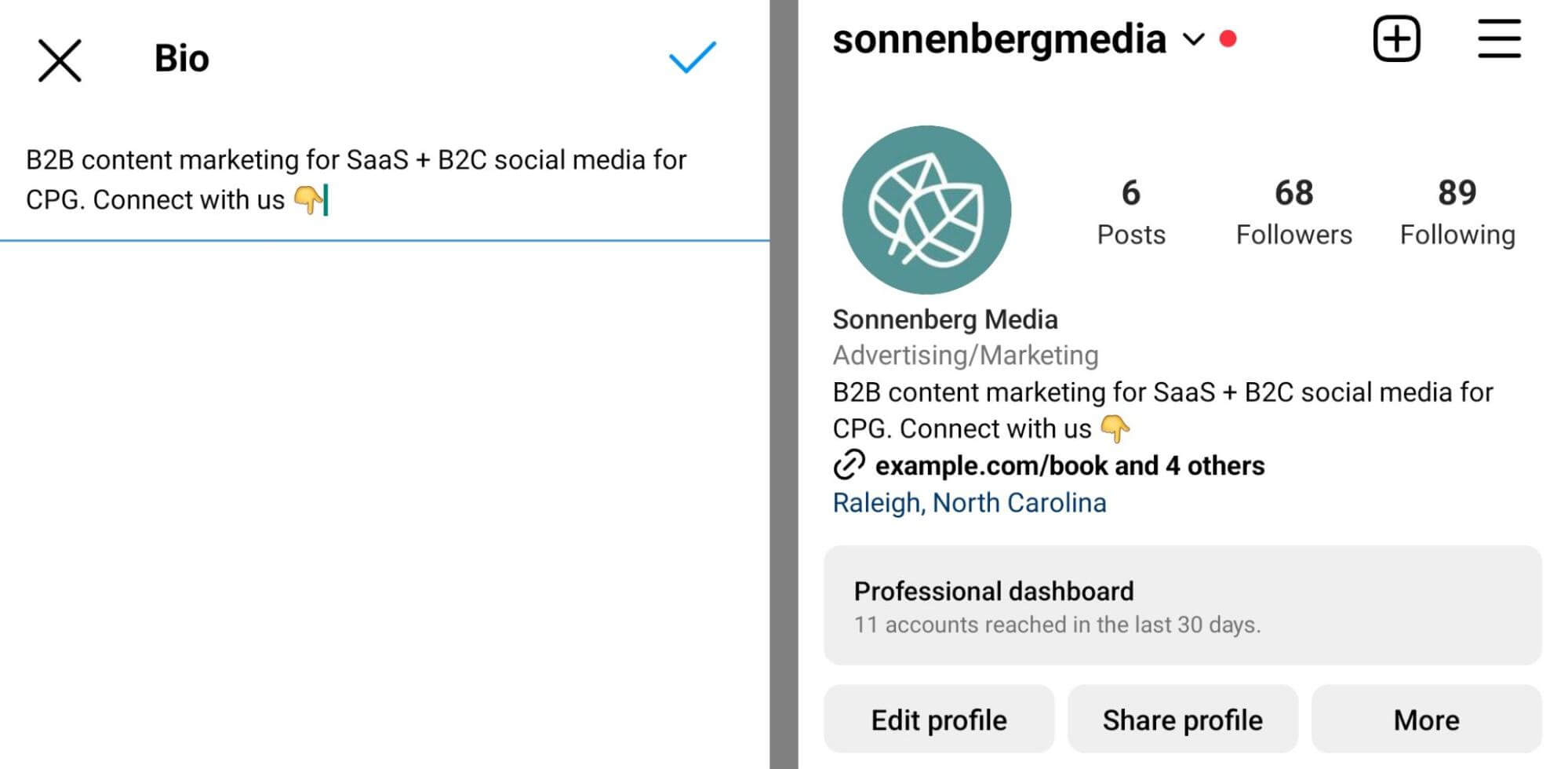 Keep in mind that the character limit for bios is only 150 characters. But Instagram truncates the text automatically so it may not display in full. To leverage this space, keep your bio as concise as possible and add a CTA at the end. Then double-check to make sure the most important elements display in full on your profile.
When to Use a Third-Party Link in Bio App or a Custom Landing Page
When Instagram initially announced this new linking option, the general consensus was that third-party apps would no longer be necessary. Yet there are still a lot of use cases for using a stand-alone app instead of linking natively.
In fact, more than a week after Instagram launched this expanded internal linking option, I still haven't seen many brands switch over. That suggests link in bio tools continue to provide value, at least compared to the current iteration of Instagram's native links.
Fortunately, there are plenty of Instagram-ready tools that can create a mobile landing page that works for your brand. Whether you need one with eCommerce capabilities or you simply want to make your grid more interactive, use these ideas for inspiration.
Your Brand Needs an Interactive Grid
Even if you add five links to your Instagram profile, it's still going to be tough to get Instagram users to tap over to your profile and follow the right link. In many cases, you'll end up wasting valuable caption space explaining which link to tap—or worse, adding the URL directly in the caption.
Apps like SproutLink add interactive options to Instagram content. Although you still can't link to them directly from feed content, these apps essentially duplicate your grid and make each feed post or reel clickable.
Below, @bamboohr uses SproutLink as an Instagram landing page. The feed posts link out to various resources, including newly published blog posts, company news, product updates, and more.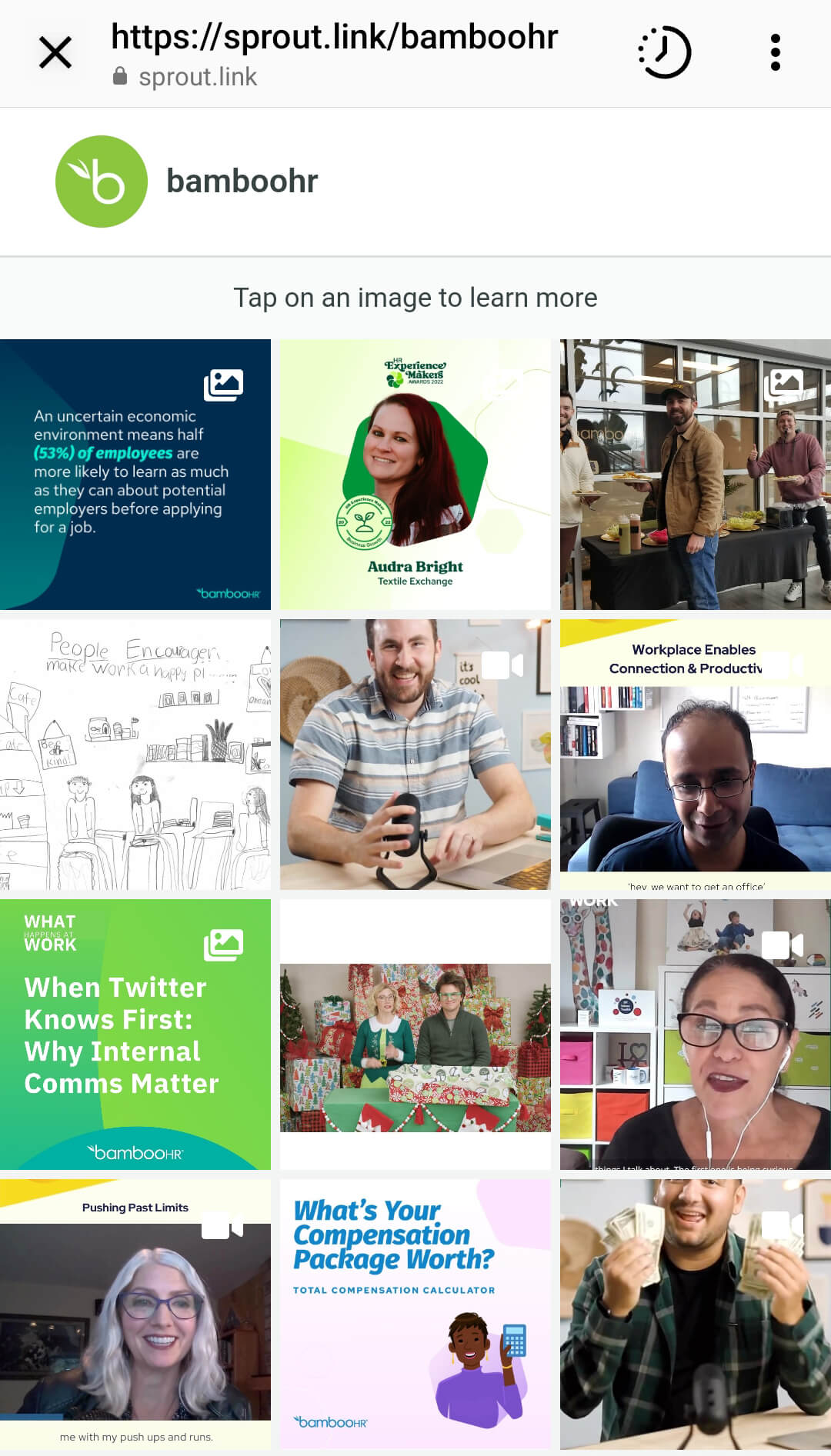 Since you can add a different link to every item that appears on your grid, this type of app gives you tons of possibilities. For example, you can link to a relevant blog post from one carousel and link to a webinar from another. You can also link to booking pages or lead magnets, which can help drive bottom-of-funnel goals.
Below, @bigcommerce uses SproutLink to share content ranging from Spotify podcasts to customer stories to corporate press. Because many of the company's posts feature stories that extend far beyond the grid, this type of landing page allows more in-depth storytelling, which may help guide users through the funnel.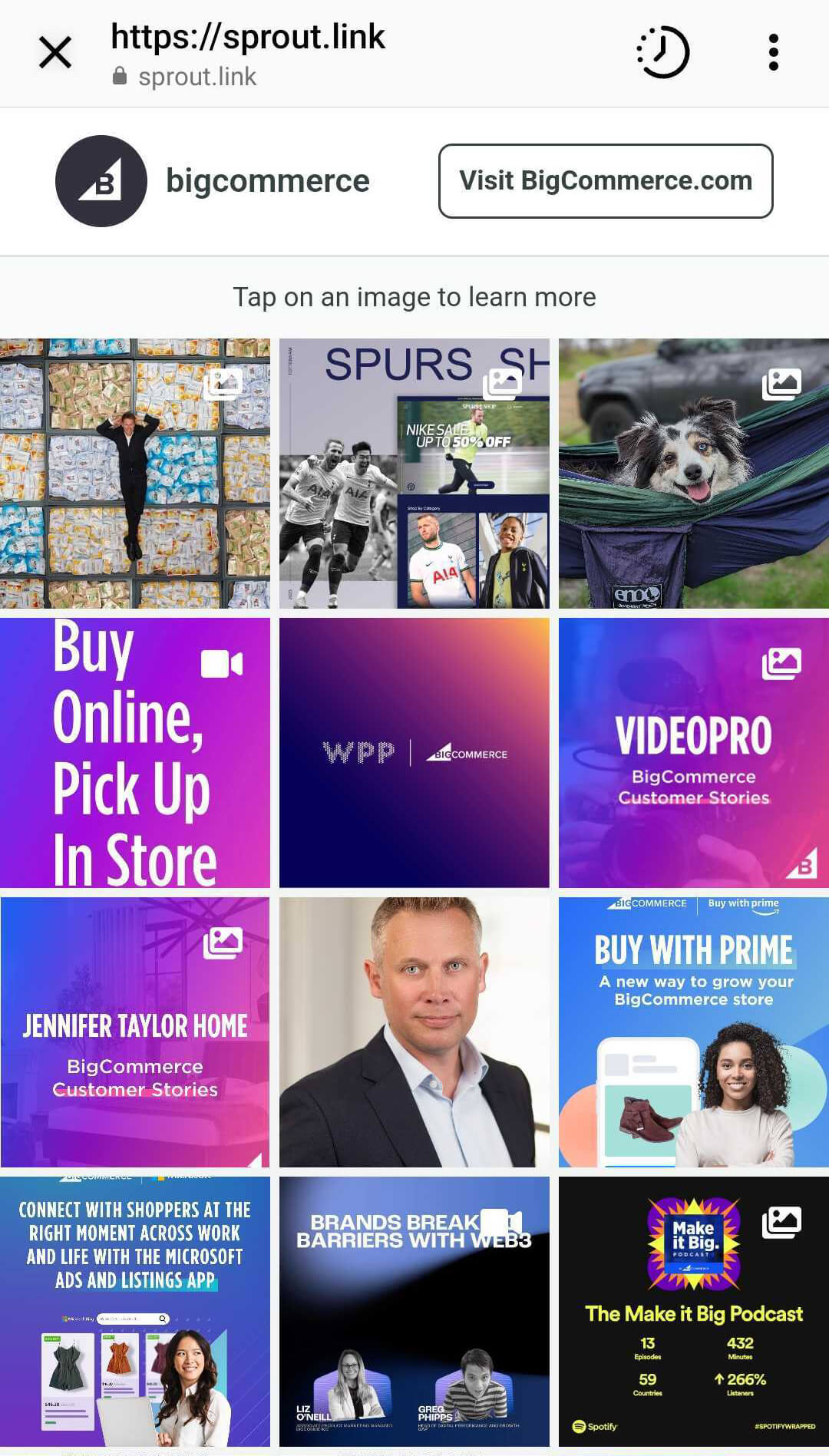 When you compare the two examples above to Instagram's native link page, it's clear how much more linking power third-party apps provide. Instagram caps external links at five but these apps allow unlimited links, which are essential for brands with a lot of products or resources.
You Want to Streamline Online Shopping
Because they allow in-app shopping and features like product tagging, Instagram shops are often great for eCommerce brands. But they aren't your only option for encouraging Instagram followers to shop your online store.
Apps like Later's Linkin.bio support interactive grids that streamline eCommerce shopping. Rather than linking out to content resources, you can use the app to link to eCommerce products or collections.
Below, @levainbakery uses Linkin.bio to add an interactive element to the bakery's cookie-focused feed. From this landing page, customers can tap posts to shop cookie gift boxes and branded merchandise or place local orders for pickup.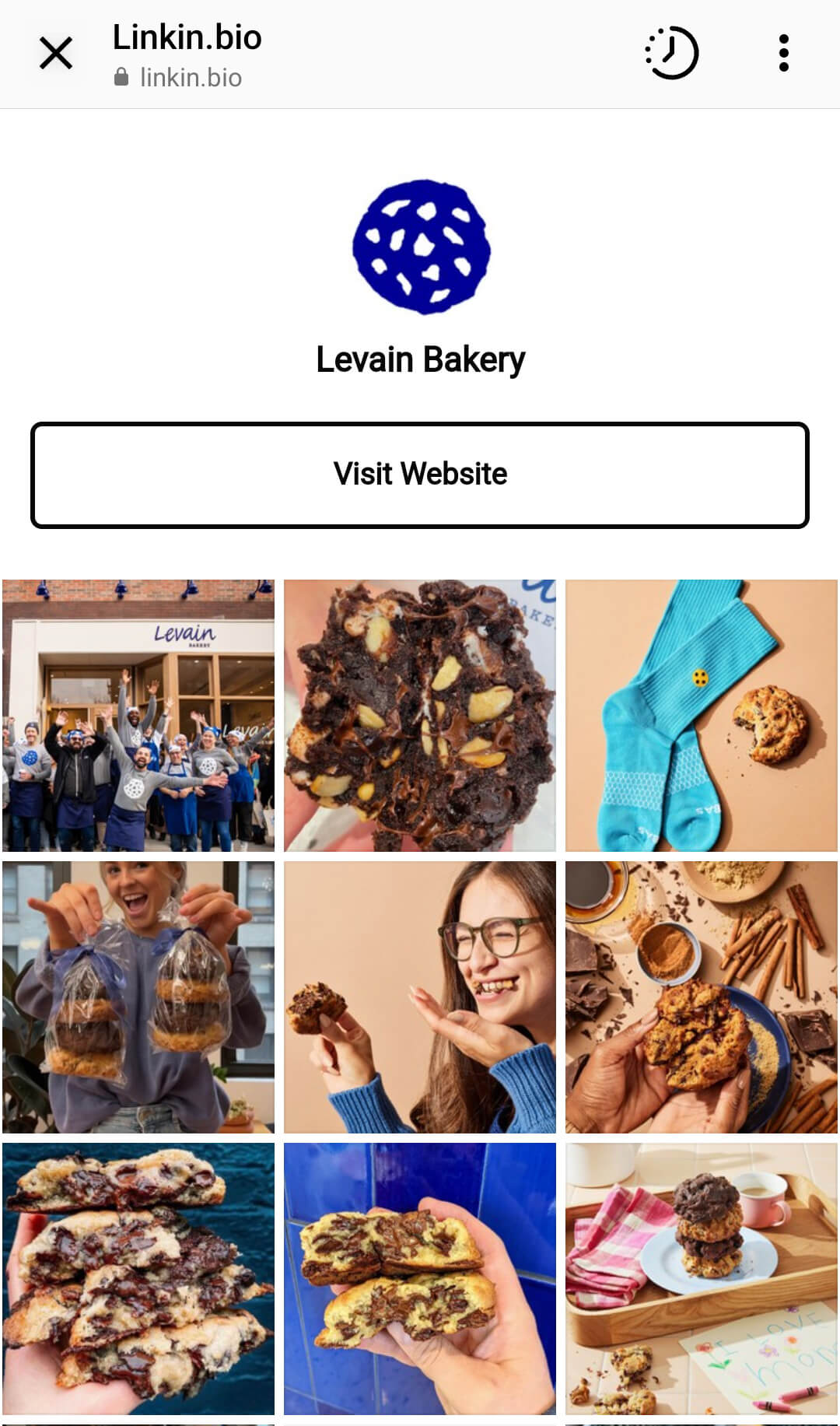 With a tool like this and permission from the creator, brands can even add links to creator-provided content. If your Instagram strategy focuses on user-generated content, this approach may provide significantly more value than adding a native link (or five) to your bio.
You Prefer Sending Traffic to an Owned Site
Apps like SproutLink, Linkin.bio, and Linktree are so appealing because they're designed with Instagram users in mind. Not only are these landing pages mobile-friendly but they also support integration with Instagram grids. There's no coding necessary. As a marketer, all you have to do is set up any integrations and start adding links to your feed content.
As handy as these apps are, you don't necessarily have to use them. You can always drive traffic directly to your company's website. But it's a good idea not to put a link to your home page in your bio unless it's optimized for Instagram.
A better option is designing an Instagram landing page on your organization's website and linking to it directly. Below, @veryveganish links to a custom landing page on an owned domain.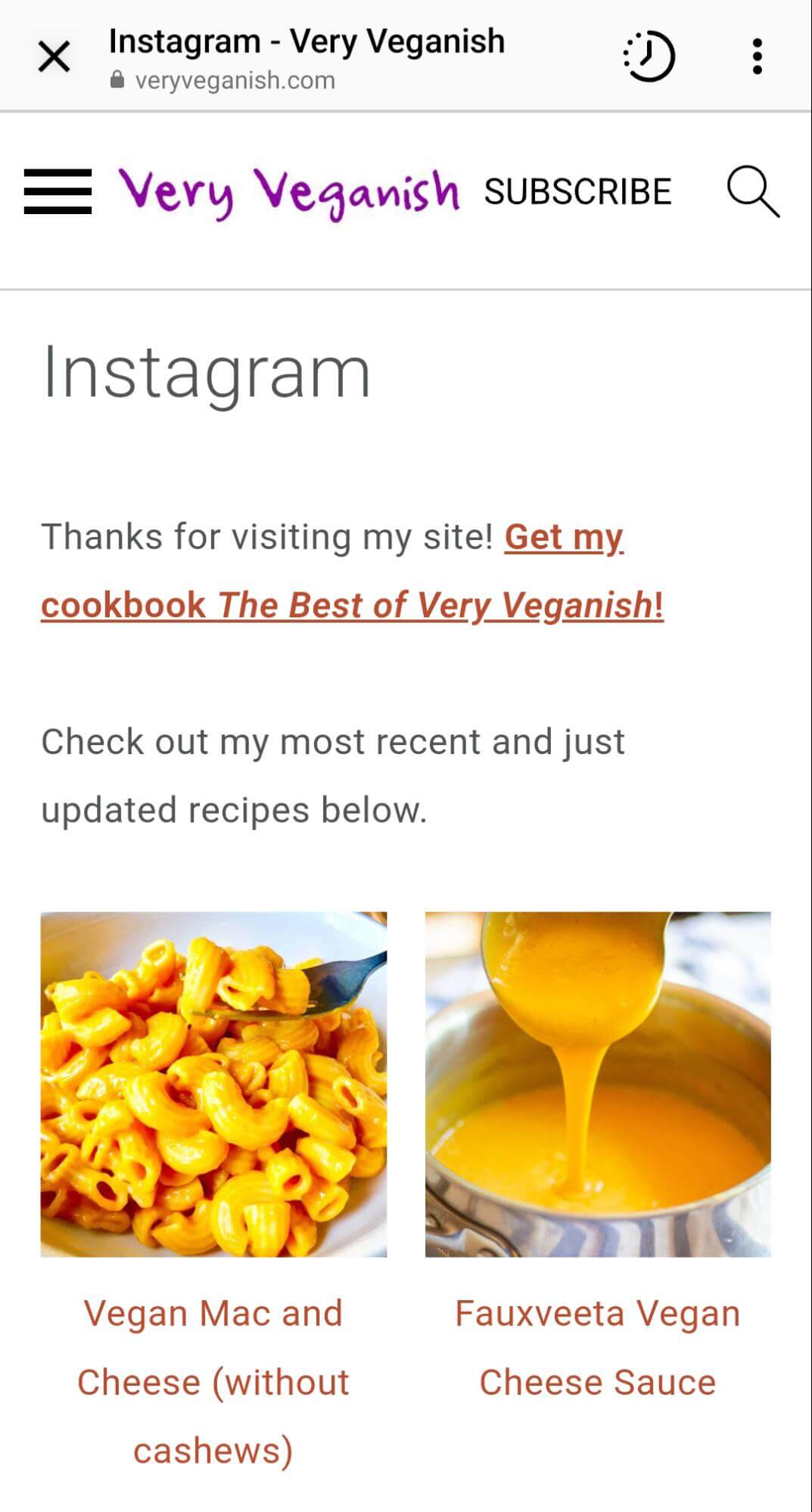 The page optimizes for Instagram users by using square thumbnails that are reminiscent of the grid, along with a title for added context. Although the page does include some introductory text, it's short enough that multiple eye-catching images display above the fold.
If your team has coding capabilities, a custom landing page is a great choice. Keep in mind you'll need capacity to update the landing page regularly or set up an automation to add a link and thumbnail whenever you publish new blog posts or launch new products.
Conclusion
Instagram's expanded linking capabilities give marketers more options to consider when driving external traffic. The app's built-in option to add multiple links is a solid choice for businesses and creators seeking a simple setup. But third-party apps ultimately provide much more functionality, making them a better option for brands with eCommerce shops and more complex goals.
---
Stay Up-to-Date: Get New Marketing Articles Delivered to You!
Don't miss out on upcoming social media marketing insights and strategies! Sign up to receive notifications when we publish new articles on Social Media Examiner. Our expertly crafted content will help you stay ahead of the curve and drive results for your business. Click the link below to sign up now and receive our annual report!
Get Your FREE Course: Web3 for Beginners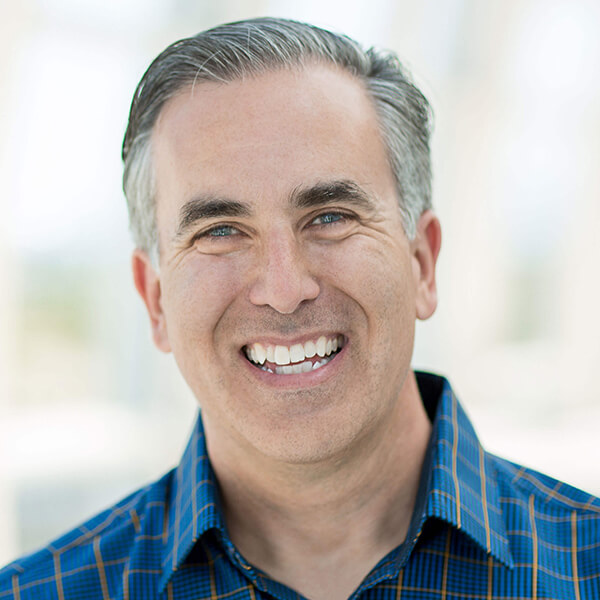 Curious about Web3, but don't know where to start or who to trust?

Introducing Web3 for Beginners, a course taught by Michael Stelzner, the founder of Social Media Examiner.

Learn the basics of Web3 and apply it to your business with this FREE comprehensive course.
CLICK HERE TO GET FREE ACCESS