Wondering how to forge customer relationships that last? Wondering how deep customer loyalty and connection are enabled by Web3?
In this article, you'll discover the future of loyalty for brands.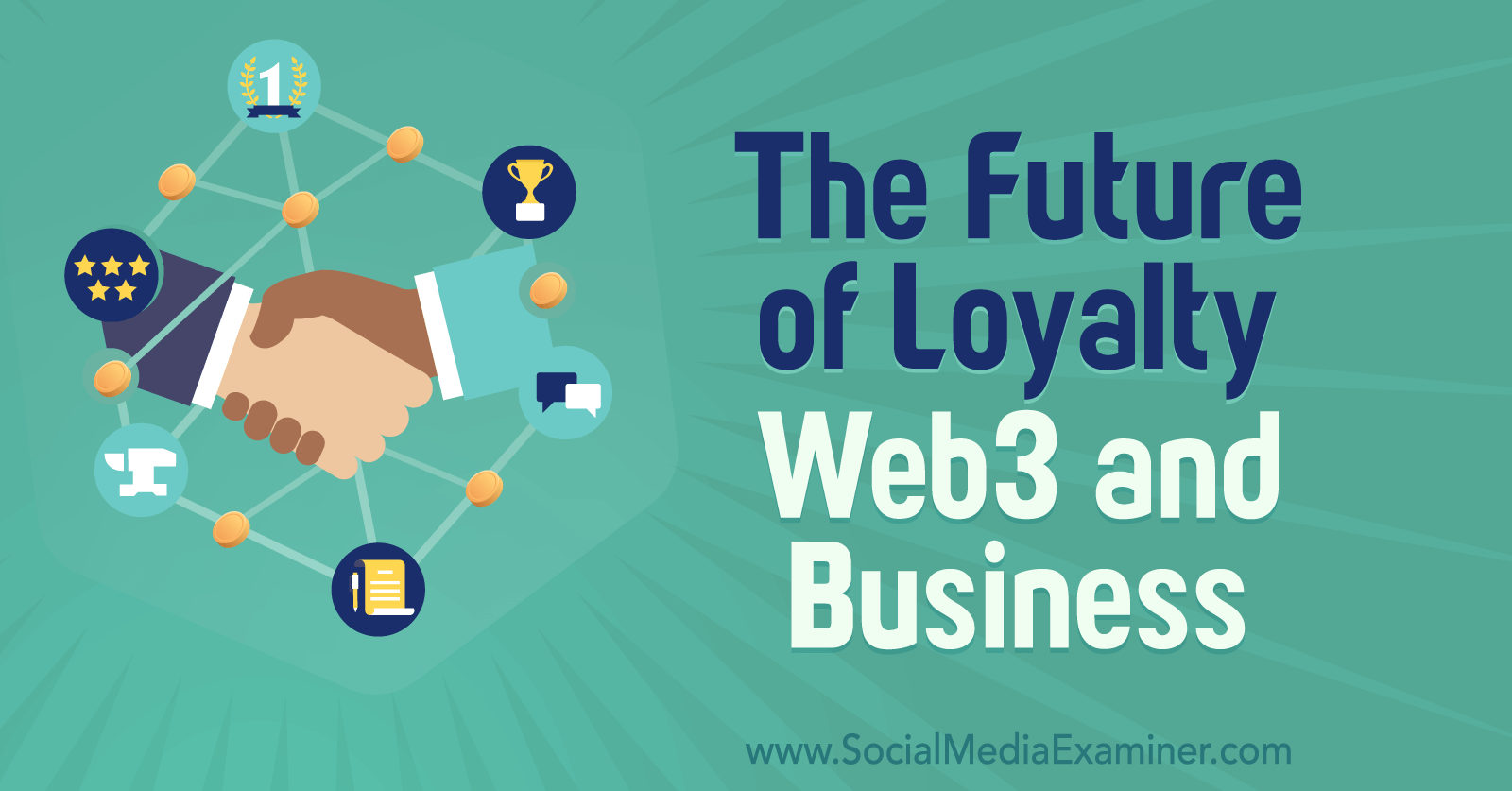 Web3 Is Changing the Brand-to-Consumer Relationship
As a marketer or business owner, you're constantly faced with the increasingly difficult task of attracting the attention of and converting consumers. You're likely asking:
How do you market in the right places to get the most cost-effective conversions?
What kinds of campaigns will help you get the right kind of owned media?
How do you use your own touchpoints to their full potential?
If you're asking these questions, you must pay attention to Web3. It's not just a new medium to work with—it's shifting the paradigm.
In the past, a business brand developed intellectual property to produce a product. Then the business used marketing to build cultural capital and demand for the product. After that, consumers would buy the product.
Today, business owners can start from the other end of the spectrum. They're drawing community around them first in Web3, and that community helps them build cultural capital. This route creates a feeling of belonging, an emotional tie and loyalty at the outset. Only after this emotional tie, this loyalty, is established does the brand build IP and launch products.
If you're a small- or medium-sized brand coming at this from the traditional route, there's a good chance that you're behind the mark when it comes to giving your customers experiences that support and nurture an emotional connection.
What's Missing From Brands' Customer Loyalty Programs Today
When you think about loyalty in relation to people—your spouse, your closest friends, the people you graduated with, and so on—its value has an incredibly high emotional index. These are the most valuable relationships in your life.
However, when you think about loyalty in relation to commercial entities, its value ranks much lower—most likely because consumers look at each customer loyalty program as transactional; a program that rewards customers for repeat purchases. We understand that a restaurant will trade a bit of profit margin by rewarding the purchase of 10 items with a free 11th item to retain a repeat customer because it's less expensive than recapturing a customer.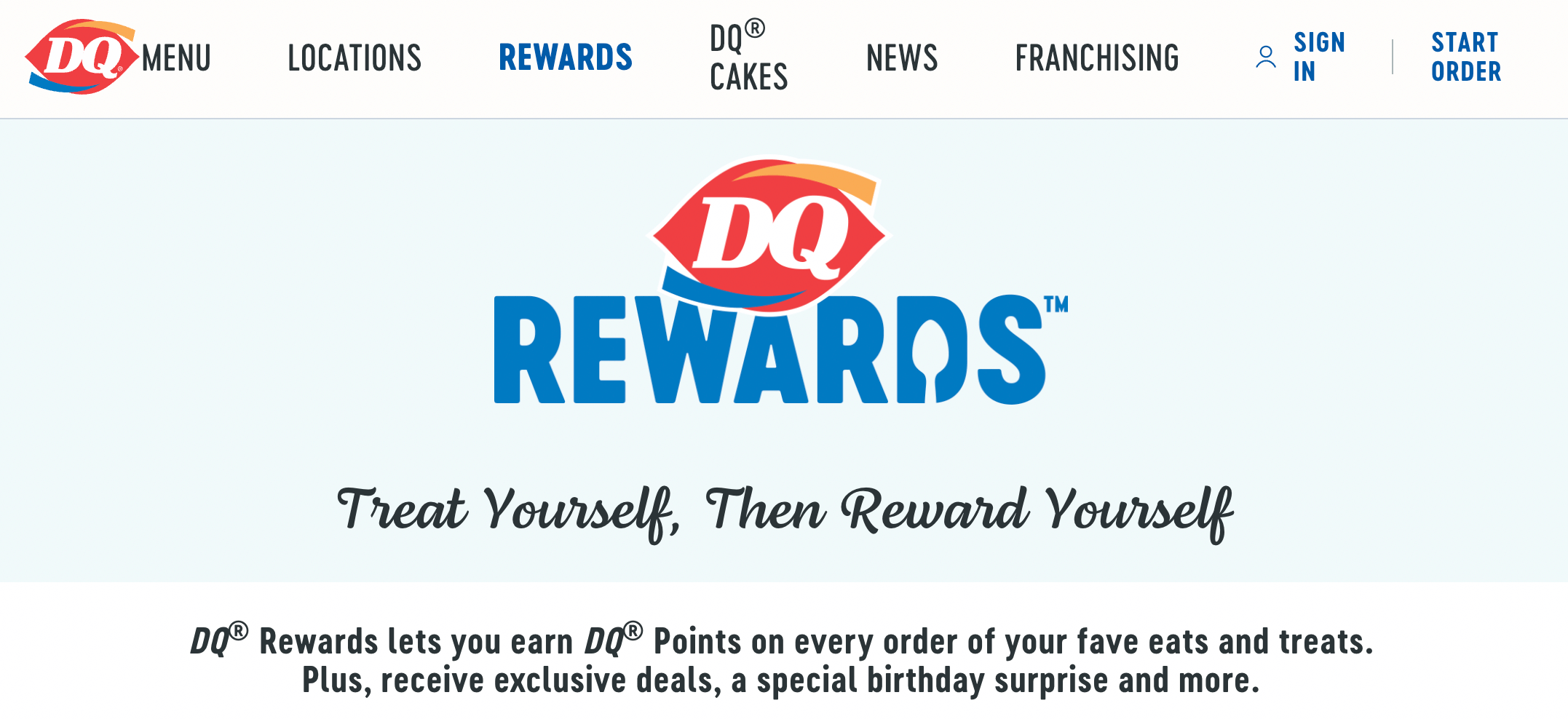 That free item is nice but it doesn't do anything to establish a sense of community or belonging with your loyal customers.
The loyalty paradigm, in its current state, feels incomplete. While there's always a case for value as part of a loyalty program, NFTs and Web3 offer new media that can connect customers to brands beyond the product or service being offered.
NFTs and Web3 tech provide a significant opportunity to complete the loyalty paradigm, rather than completely swapping it out with something new. Businesses can stack layers, like a pyramid, focusing on value, self-realization, contribution, and belonging, in a way that connects customers deeply to the brand. This new flywheel of acquisition, engagement, retention, and community contributions is key to creating long-term brand loyalty in the future.
Starbucks, owner of one of the most advanced loyalty programs in the world, recognized this. They became one of the first brands to launch a Web3-powered loyalty program called Odyssey.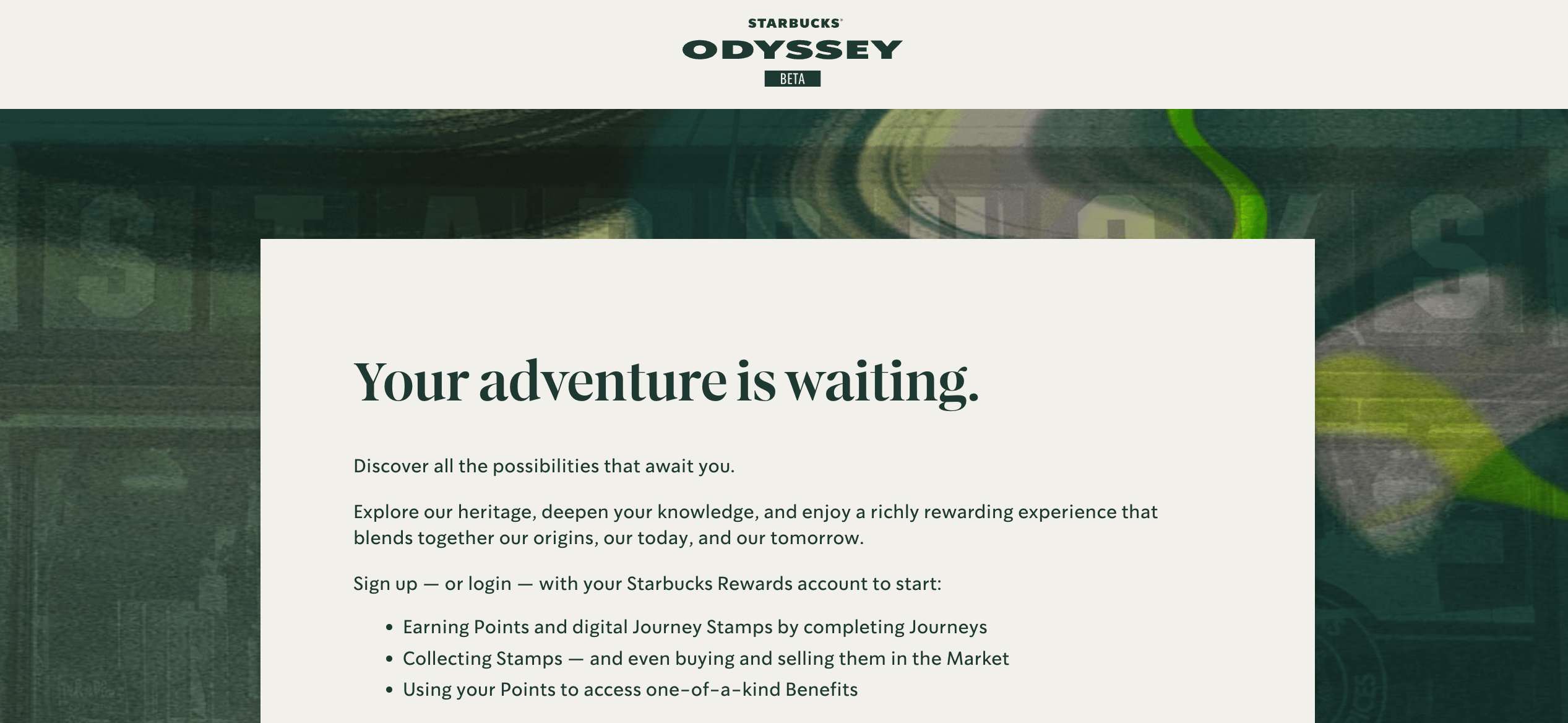 While building a community around a brand may seem daunting, the rewards are significant. The cost of not engaging and including customers in shaping a brand's direction could be high, especially when competing brands are being born with a strong community focus before a product is ever launched.
How Will Brand Loyalty Programs Change?
Web3-based loyalty programs will evolve to include four elements:
Playability
Community
Creativity
Ownership
Together, these elements will build a system that brings people into the ecosystem of your brand in a way that far outweighs the transactional nature of Web2-based loyalty programs.
Loyalty Programs and Playability
Loyalty is going to look a lot more like gaming in the future. That's not to say all loyalty programs will look like video games but the relationship between the consumer and the brand will become "playable."
What does that look like?
Today, if a brand has a great Web2-based loyalty program, they'll remember your birthday and present you with relevant or personalized offers. A Web3-based loyalty program introduces interactive components to the brand/consumer relationship where there are multiple decisions for a consumer to make:
Will they complete an experience to get advanced notifications of new product drops?
Will they buy the product?
If they buy the product, will they hold onto it and use/wear it or will they sell it to someone else?
Who will they tell about the product?
Loyalty Programs and Community
People generally crave connection and interaction with other people so it's crucial to consider how you'll structure playability to allow everyone in your community to engage one to one with your brand and with each other.
Loyalty Programs and Creativity
If you can successfully engage your community through playability, you can start thinking about how your community can help you decide what to work on or build next. Not everyone wants to engage this deeply with a brand but many in Web3 do. Whether it's bringing more women together to play sports or developing a new product, these engaged community members will help make it happen.
The Pudgy Penguins NFT community recently launched a full set of toys sold on Amazon.

Why are these people willing to help your brand with future initiatives? Two reasons. First, because they're committed to the mission that initially attracted them to the community. Second, ownership.we
Loyalty Programs and Ownership
Digital assets (NFTs) provide proof of ownership, and when a member of your community holds your NFT, they have proof of their ownership stake. It's up to your brand to decide how the value of the ownership is realized and rewards the community.
How to Start Your Own Web3-Based Loyalty Program
Sold on the concept of building a Web3-based loyalty program but don't know where to start? You're in good company. Even large brands are struggling with the questions of who, what, how, and when.
If you're on the DIY in-house track, here's an overview to guide you.
First, you have to decide who'll own your loyalty program. Is it your CEO, CMO, or chief digital marketing officer? The lines get blurry and a successful program will involve multiple departments.
Build your team so it retains a sense of clarity of the mission coming from the top, then include innovation and operational champions who can collaborate across departments.
If you're reading this, you're likely one of those champions. Look inside your company for others without worrying about what badge they're wearing. The Adidas loyalty program team included people from multiple departments including eCommerce, brand marketing, legal, content planning, app development, and others.
Next, consider your company's general attitude toward innovation. If it leans toward traditional, you'll need more time to develop the program. If it's more experimental and agile, you can move quicker. It's also important to consider external factors such as market competition and timing when deciding when to launch.
When you're ready to build, think big and start small. Create activations to provide proof points you can build on and demonstrate the case for doing more of X or Y in the future.
Other Notes From This Episode
Where to subscribe: Apple Podcast | Google Podcasts | Spotify | Amazon Music | RSS
✋🏽 If you enjoyed this episode of the Web3 Business Podcast, please head over to Apple Podcasts, leave a rating, write a review, and subscribe.
Disclaimer: The information provided on this website is provided solely for educational purposes and does not constitute any advice, including but not limited to, investment advice, trading advice or financial advice, and you should not treat any of the website's content as such. Social Media Examiner recommends that you independently research any information contained on this Website and that you speak with an investment professional before making any decision to purchase, trade, hold or sell cryptocurrency. Nothing herein should be treated as a recommendation to buy, sell or hold cryptocurrency. Social Media Examiner cannot guarantee the accuracy of any information listed on the website and is not responsible for any missing or wrong information. All information is provided as is and should be used at your own risk. Social Media Examiner disclaims all responsibility and liability for your use of any information found on the website.