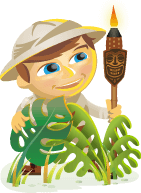 Do you give presentations or speak to clients?
Want to illustrate your knowledge with better stories?
To discover how to improve your stories, and your storytelling, I interview Michael Port.
More About This Show
The Social Media Marketing podcast is an on-demand talk radio show from Social Media Examiner. It's designed to help busy marketers and business owners discover what works with social media marketing.
In this episode I interview Michael Port, the author of NYT best seller: Book Yourself Solid. He also teaches workshops called Heroic Public Speaking, where he applies the craft of acting to public speaking. His latest book is Steal the Show: From Speeches to Job Interviews to Deal-Closing Pitches.
Michael will explore how to find, use and create stories in your marketing.
You'll discover tips to improve the delivery of your stories.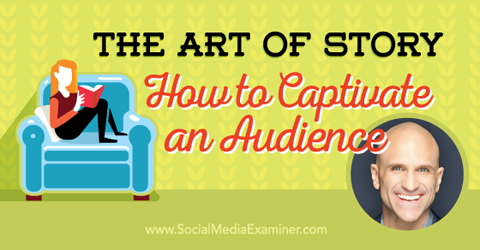 Share your feedback, read the show notes and get the links mentioned in this episode below.
Listen Now
Where to subscribe: Apple Podcasts | Google Podcasts | Spotify | YouTube Music | YouTube | Amazon Music | RSS
Here are some of the things you'll discover in this show:
The Art of Story
Michael's story
Michael shares how he started his career as an actor. He has a master from the graduate acting program at New York University. Michael worked professionally on the shows Sex and the City, Third Watch, All My Children, Law & Order and 100 Center Street, as well as in the films The Pelican Brief, Down to Earth and The Believer. He earned a living doing commercial voice overs for companies including AT&T, Pizza Hut, Braun, Coors Beer, MTV and others.
After he left acting, Michael says he decided to talk his way into a job for which he was completely unqualified. He pitched himself, got the job and worked his way up in the fitness industry on the business side. He credits his post-acting success to being an actor, as he was able to perform during life's high-stakes situations.
When the spotlight and eyes are on you, the way you perform will determine the quality of your life, Michael says.
After Michael left the fitness industry, he went into consulting for businesses and started writing books, and he saw it more and more. Over the last 13 years, Michael realized he had to meld his experience and training as an actor, his experience as a professional keynoter and what he knows about the business world.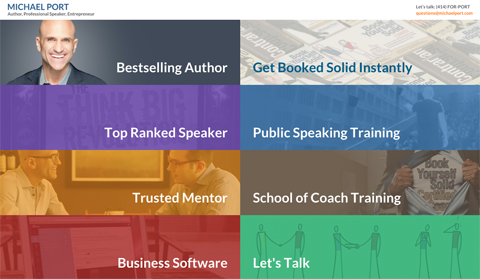 That's what Steal the Show is about, Michael says. Half the book is on the techniques associated with being a great public speaker and the other half is focused on performing during life's everyday situations.
Listen to the show to learn more about how Michael coaches speakers, as well as why he originally resisted helping people with their public speaking.
Why people love stories
People love narrative, wonder and imagination, Michael says. Stories can get us out of our own head and into another world. We turn everything into a story, he continues. Politics, religion, love, our success or our failures become stories. Sometimes the stories we tell actually get in our way and sometimes they can change the world.
Michael talks about a researcher named Jonathan Gottschall, who studies the neuroscience behind stories. Jonathan says the constant firing of our neurons in response to fictional stimuli strengthens and refines the neural pathways that lead to skillful navigation of life's problems.
Listen to the show to discover in what way projects are stories.
How to find your stories
People sometimes draw a blank when they start to work on a presentation or prepare for an upcoming meeting, because so many things have happened over the years. Those experiences and stories are not top of mind, since you are more likely thinking about today and tomorrow.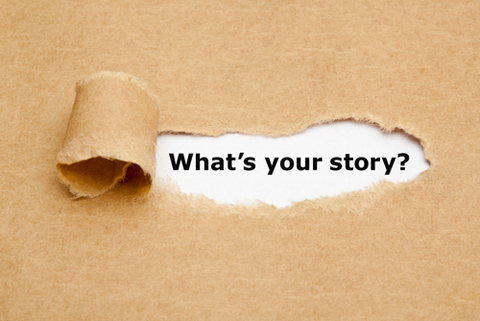 There are four different prompters for the discovery part of the process. Take a piece of paper and write out four columns, one for each of these categories. Then, when you go to craft a speech or presentation for a sales pitch, you'll be able to go back to this sheet, search through the stories and see if any of them apply. Look to the message in those stories. See if there is a metaphor or analogy you can use.
The first category is people. Go through your mother, your father, your best friend, your high school girlfriend, the girl that got away, etc. Then come up with stories that relate to each of these people.
Now, go through places. Did you have a vacation home or a particular place your family went to in the summer on a regular basis? Has anything ever happened there that was unique? Once you think about one story, another starts to come.
Remember, your personal stories tie into the business side of things. There is no difference between our business and our personal stories, since we are the same person. All marketers know that marketing is storytelling, Michael adds. Seth Godin wrote a book about it. Stories give you a way to illustrate a technical concept in a way that reminds people of their experiences, so they can connect to it.
Next, think about things. For example, think about your first car and stories around it.
Finally, go through particular times in your life and events. Look at things like weddings, Bar Mitzvahs, confirmations, graduations, anything that was important to you will start to bring up stories. That's how you source them.
Create a library of stories for yourself that you can then craft. Just because you you experienced it doesn't mean it's ready to share yet.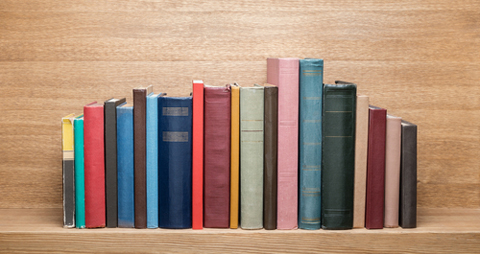 Listen to the show to hear why the discovery process is more fun with other people.
Elements of a story
Whenever Michael is going to tell a story in a professional setting, he uses Aristotle's three-act structure to sculpt it. Most plays, movies and TV episodes, as well as almost any story and many jokes, use the three-act structure.
It goes like this:
Act 1 is the given circumstances. It's the time, setting and place. The things you need to know in order to understand what's about to happen. If that exposition is lengthy, non-specific and goes on for a long time, the listener usually checks out. If there's not enough exposition, the listener is confused by the second act, and then checks out. You need to have just enough information for the audience to understand what's about to happen.
Act 2 is the conflict. This is where an inciting incident happens. This is something that occurs that creates conflict. Usually when a conflict occurs, some action follows. Then that action produces another conflict, which often produces more action, which produces another conflict and then more tension.
What makes a story rich is you have the protagonist, who is going after what they want but is thwarted by the hurdles, boundaries and roadblocks that get in their way. They keep trying to overcome them, Michael adds. The more tension, the better the story.
Act 3 is the resolution. The people in the story lived happily ever after, everyone died in the end or, if it's a joke, it's the big punchline. The resolution (or payoff) has to be worth the exposition and all of the conflict. Act 2 is usually the bulk of the time, as it's 85% of the story.
Michael suggests trying to put the stories you've uncovered into that structure. Write them out. Eventually you'll memorize them. You might tell them a little bit different each time, but you'll have your go-to stories, your core stories, that you pull out when you are in a sales meeting or even when you are on a first date. These are the stories that make you look good, but not so good that it seems like you're bragging.
The best stories are the ones people don't even know they're in until it gets to the conflict. The best theatrical experiences are the ones where the audience is excited to find out what's next.
Listen to the show to discover why you need to be careful when you tell other people's stories.
Tips for delivering a good story
Michael talks about the mediums and environments (on camera versus in person) that present benefits and challenges to speakers.
When you speak to a camera, there is no one else there. You can control the timing very well, because no one interrupts. However, you don't get the human interaction, the dynamic of another person or other people to help you create the timing via the energy in the room.
With a speech you have a lot of energy present to use, if you can control it, to own the timing. However, there are a lot of people and things going on that you need to be aware of and manage, so that the timing is not taken away from you.
Humor especially is very difficult straight to camera, Michael explains, which is is why historically sitcoms have audiences. Without the audience it's very hard to get the timing.
Timing is very important. The ability to sit in silence in different parts of your story is key. The most important part of the story, that often gets silence, is right before the resolution.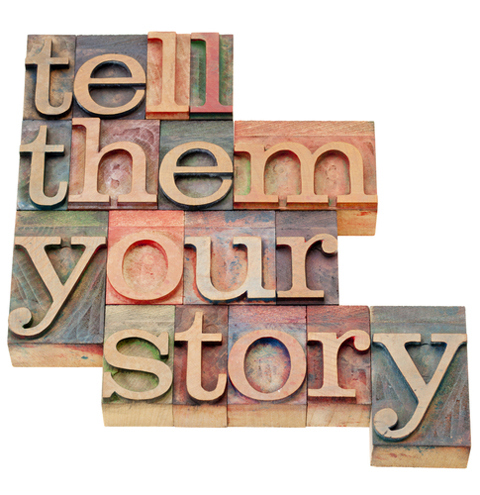 It's called a pregnant pause, Michael continues. It's a beat. And in that beat people fill it with their energy, their expectations. The audience is waiting for what's to come and that's exciting. So speakers need to feel comfortable drawing that out. You can use the rule of three. Count to three in your head. Wait wait wait. Now deliver.
Pacing, rhythm and volume are also important. If you tend to be very monotone, it's often because you like to play things safe. It's less likely that you are going to mistake in what you say, you are going to offend anybody, you will trip yourself up, because you are speaking slowly and measured.
On the other hand, variation in pitch, tone and pace show you are living a little bit more on the edge. And that's what people like to hear. While a speaking coach might advise people to slow down, Michael suggests focusing on pausing instead. There is power in the pause.
Listen to the show to learn Michael's thoughts on non-verbal communication while speaking.
About Steal the Show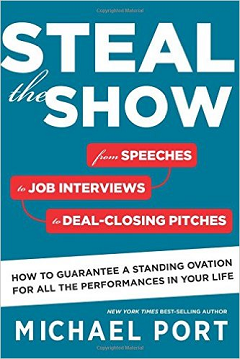 Steal the Show, Michael explains, is for people who want to speak professionally, people who want to speak to get more clients or those who need to speak for their job. Plus, it will help those who you don't necessarily speak publicly, but you want to do better in situations where people are watching.
Michael organized the book to focus on the mindset of the performer in the first part. It's to help people find their own voice and feel comfortable with it.
In part two he goes into six performance principles. These principles not only help you perform when you've rehearsed, but you can perform in the moment, because your improvisational skills are top notch.
Finally, part three is a master class in public speaking. It's everything from content creation, storytelling and a six-step rehearsal process to a section on writing and telling jokes and more.
Plus, if you go to Stealtheshow.com, there's a whole bunch of bonuses for pre-orders.
Listen to the show to hear Michael's guarantee to his readers.
Discovery of the Week
Want a cool way to save links for later with Pinterest? If you are already a heavy Pinterest user or looking for reason to start using Pinterest and experiment without having a full-blown commitment to it, you can use the Pinterest app on your iPhone or android, or even on the desktop, to save links to boards to read them later.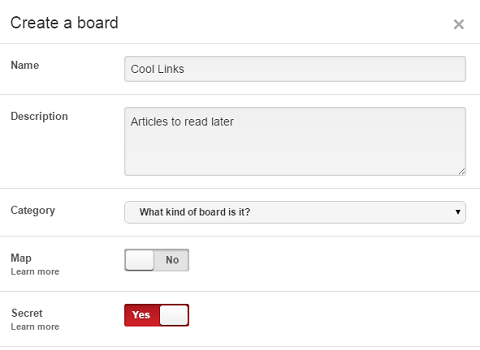 Set up your sharing. Hit the share button, hit more and then flip the toggle for Pinterest. From that point forward, if you are on an article in your browser, you can send that link to Pinterest. Create a secret board and pin what you want to read later to it.
You can even create a secret board for links to share with someone, like your spouse. It doesn't even have to be a secret board, it can be a "what I am currently reading" or a "articles I've found interesting" board.
Listen to the show to learn more and let us know how using Pinterest for saving links works for you.
Other Show Mentions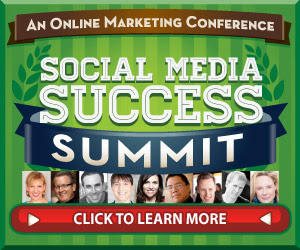 Today's show is sponsored by Social Media Success Summit 2015.
Want to improve your social media marketing? Need to prove your efforts are working? Join 4,000 fellow marketers at the online mega-conference, designed to inspire and empower you.
Discover the best and newest ways to market your business on Facebook, LinkedIn, Twitter, Google+, YouTube, Instagram and Pinterest. Find new ways to improve your content and measure your results all from the comfort of your home or office.
You'll be led by 35 top social media pros, including Mark Schaefer, Mari Smith, Christopher Penn, Amy Porterfield, Neal Schaffer, Ian Cleary, Viveka Von Rosen, Jon Loomer, Andrea Vahl, Steve Dotto, Amy Schmittauer, Peg Fitzpatrick, Brian Fanzo, Sue Zimmerman, Kim Garst, Andy Crestodina, Pam Moore, Martin Shervington, Donna Moritz, Ron Nash, Michael Stelzner and more. We have selectively recruited the top experts on every major social network to share tactical, step-by-step, hands-on information.
Martin Shervington will be presenting on Google My Business. This will be all about the research he has done into how local businesses in particular can make the most of getting more reviews and getting more customers coming through their doors.
Social Media Success Summit is just days away.
Social Media Success Summit is an online conference. It's 36 different sessions spread across 4 weeks. There are three sessions per day, three times per week, over four weeks. And it's on every conceivable social media platform you can imagine. Check it out. Visit SMSS15.com for significant early bird discounts.
Listen to the show!

Key takeaways mentioned in this episode: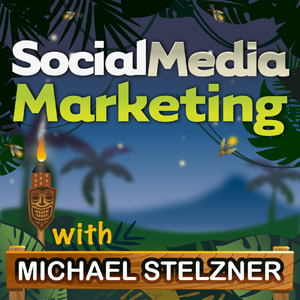 Ways to subscribe to the Social Media Marketing podcast:
What do you think? What are your thoughts on telling stories? Please leave your comments below.