Discover the best social media marketing techniques from the world's top experts
Experience three phenomenal days with the best social marketers, discover the latest tactics, and master social media in 2018.
Join 5,000 fellow marketers and creators at the mega-conference designed to empower you with business-building ideas—brought to you by Social Media Examiner.
"This was honestly the best conference I've attended in my professional life," said attendee Laura Kaslow.

Click play to see what you'll experience Social Media Marketing World.
A small sampling of our 170+ expert speakers include Guy Kawasaki (Apple's former chief evangelist), Mari Smith (leading Facebook expert), Jay Baer (social customer service authority), Michael Stelzner (Social Media Examiner's founder), Ann Handley (MarketingProf's chief content officer), Amy Porterfield (online marketing pro), Mark Schaefer (social futurist), Tim Schmoyer (leading YouTube expert), Gini Dietrich (crisis authority), Shaun McBride (top Snapchat influencer), Sue B. Zimmerman (Instagram expert), Peg Fitzpatrick (leading Pinterest pro), Joel Comm (top live video authority), Viveka Von Rosen (top LinkedIn expert), Derral Eves (YouTube authority), Amy Schmittauer (vlogging pro), Pat Flynn (top business podcaster), Madalyn Sklar (leading Twitter pro), Robert Rose (leading content marketing ninja), Darren Rowse (top blogging pro), Cliff Ravenscraft (top podcasting pro), and Christopher Penn (analytics guru).
Here's who this event was designed for:
#1: The social media marketing professional: If your job is to manage social media marketing, but you're struggling to keep up with the ever-changing nature of social marketing, this event is for you. You'll be amazed how many people you connect with who are are just like you.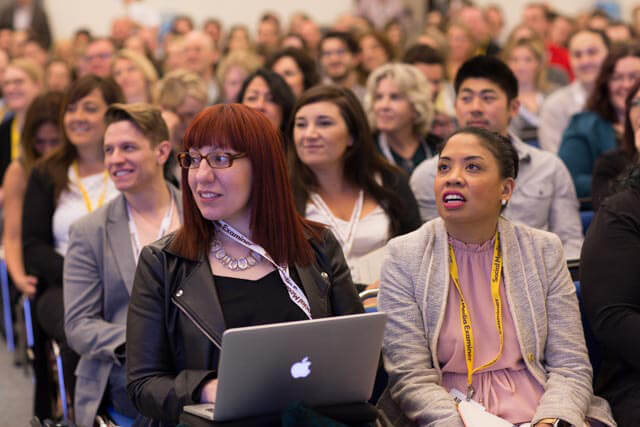 What makes Social Media Marketing World so unique are the attendees who either own or work for businesses with fewer than 100 employees. These are people just like you who are success driven, looking to connect with others, and enjoy having fun. 
We also attract plenty of marketers from big businesses. For example, in 2017 marketers attended from Apple, Cisco, CBS Interactive, IBM, Deloitte, Hilton, Humana, Macy's, Mayo Clinic, McDonald's, ReMax, Reuters, Sprint, Toyota, the United Way, UPS, and WalMart.
This is a great opportunity to connect, share ideas, brainstorm, and amplify your social marketing with your peers, marketing professionals, and experts.
#2: The influencer, blogger, video creator, or podcaster: If you regularly create content to establish yourself or your business as a thought leader—or you want to build a sustainable business on the back of your social content—we have an entire sub-conference just for you! We call it the Creator Ticket.
This event will help you get more attention online and better monetize your content. There are also many marketers attending who are seeking for creators just like you! That alone is worth the entry price. You don't get that level of networking and connecting anywhere else.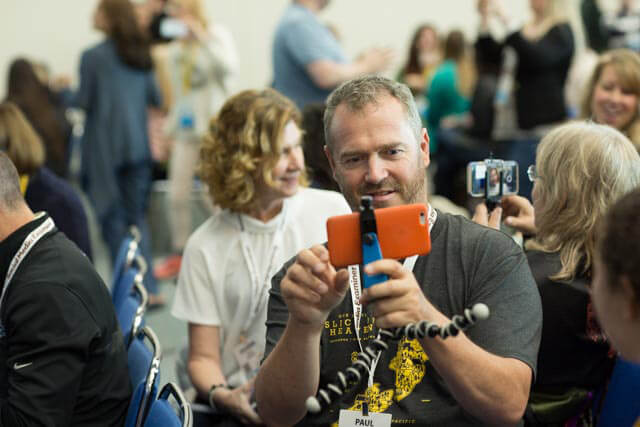 #3: Are you new to social marketing or want to be a creator? If you're relatively new to social media marketing or you aspire to be a creator, just know that the industry is in constant flux. This means even the most experienced marketer is often restarting the adventure, over and over. You have an opportunity to embrace the latest techniques at this event. So while this event is ideal for the experienced social marketer or content creator, even a beginner will find value.
Here's why you should attend this conference:
#1: Discover advanced marketing ideas to accelerate your growth: Social Media Marketing World is the place where you'll find the best insider secrets, the latest developments, tools that will help you grow your business, and where you'll become a social marketing master.
Take in 120+ powerful and practical, action-oriented social media marketing and creator training sessions from the world's leading experts—all in beautiful San Diego, California.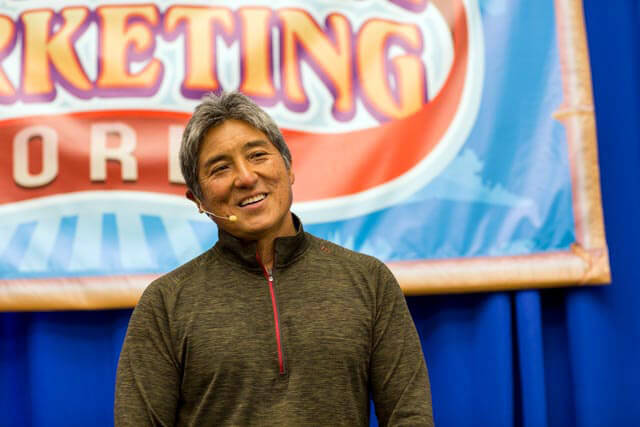 Want to learn from the social pros you've looked up to for years? Our social media marketing conference is the planet's largest gathering of social media thought leaders. We encourage all of our speakers to make themselves accessible to you.
#2: Meet future partners, customers, and influencers: Imagine connecting face-to-face with thousands of people on a similar mission—to share what works, gather ideas, and build relationships that last for years. We uniquely bring together marketers, creators, and businesses. We make connecting easy for you by building in extensive networking opportunities.
#3: Develop lasting relationships with your peers: Have a blast at our opening night networking party held aboard the USS Midway aircraft carrier (All-Access attendees). Plus, enjoy networking while taking in magnificent views of San Diego Bay from our waterfront conference venue.
What makes this event different?
Beyond meeting friendly social media pros and creators who are at the top of their game, here's what makes Social Media Marketing World unique:
#1: Highly valuable, pitch-free content—our trademark at Social Media Examiner. We don't allow our speakers to sell from the stage.
#2: Professional development for marketers AND creators—this conference goes way beyond social media by including dozens of sessions for YouTubers, bloggers, live video producers, and podcasters.
#3: Extensive networking opportunities—you'll make priceless professional connections because we built this event to include networking with our dedicated Networking Plaza, Networking Embassy, and Networking Ambassadors. All-Access attendees can also tour the USS Midway while attending our opening-night party on the aircraft carrier!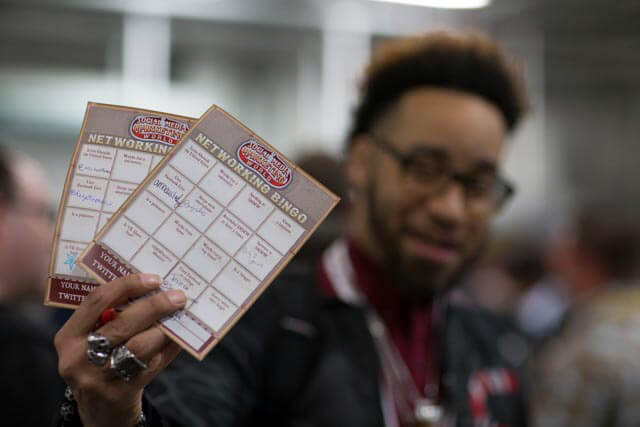 #4: San Diego waterfront in February—while much of the country is thawing out, you'll enjoy sunny San Diego at the bayside San Diego Convention Center.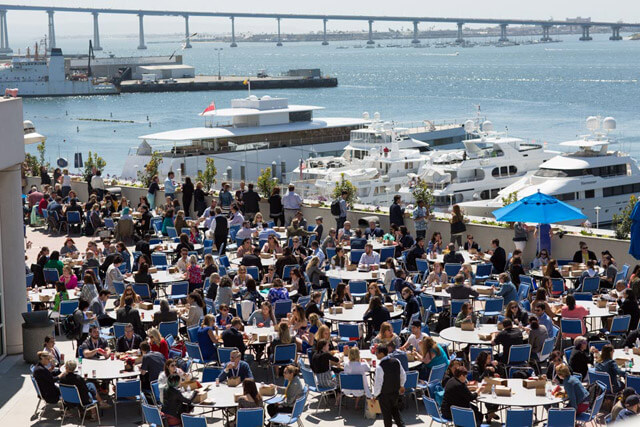 #5: Full access to the recordings of EVERY session—if you miss a session, no worries! With your All-Access ticket, you can watch playbacks from your computer, tablet or smartphone at your leisure!
#6: First-class conference experience—from the moment you arrive, your needs will be provided for at every turn. You'll never be left wondering what to do or where to go.
#7: Vacation opportunity—if you've never visited San Diego, this is a great opportunity to find out why it's called America's Finest City. Why not come early to San Diego and make a vacation out of it? Enjoy amazing beaches, surfing, the world-famous San Diego Zoo, SeaWorld, LEGOLAND, San Diego Safari Park, and tons more…
Home | Agenda | Networking | Speakers | Travel | Hotel/Venue | About | FAQ | REGISTER
Disclaimer: Your results may vary. Participating in this event doesn't guarantee success with your social media marketing.