Need a way to re-engage people who don't purchase your products or services? Looking for a strategy that doesn't involve ads?
In this article, you'll discover how to target visitors to your website organically with emails.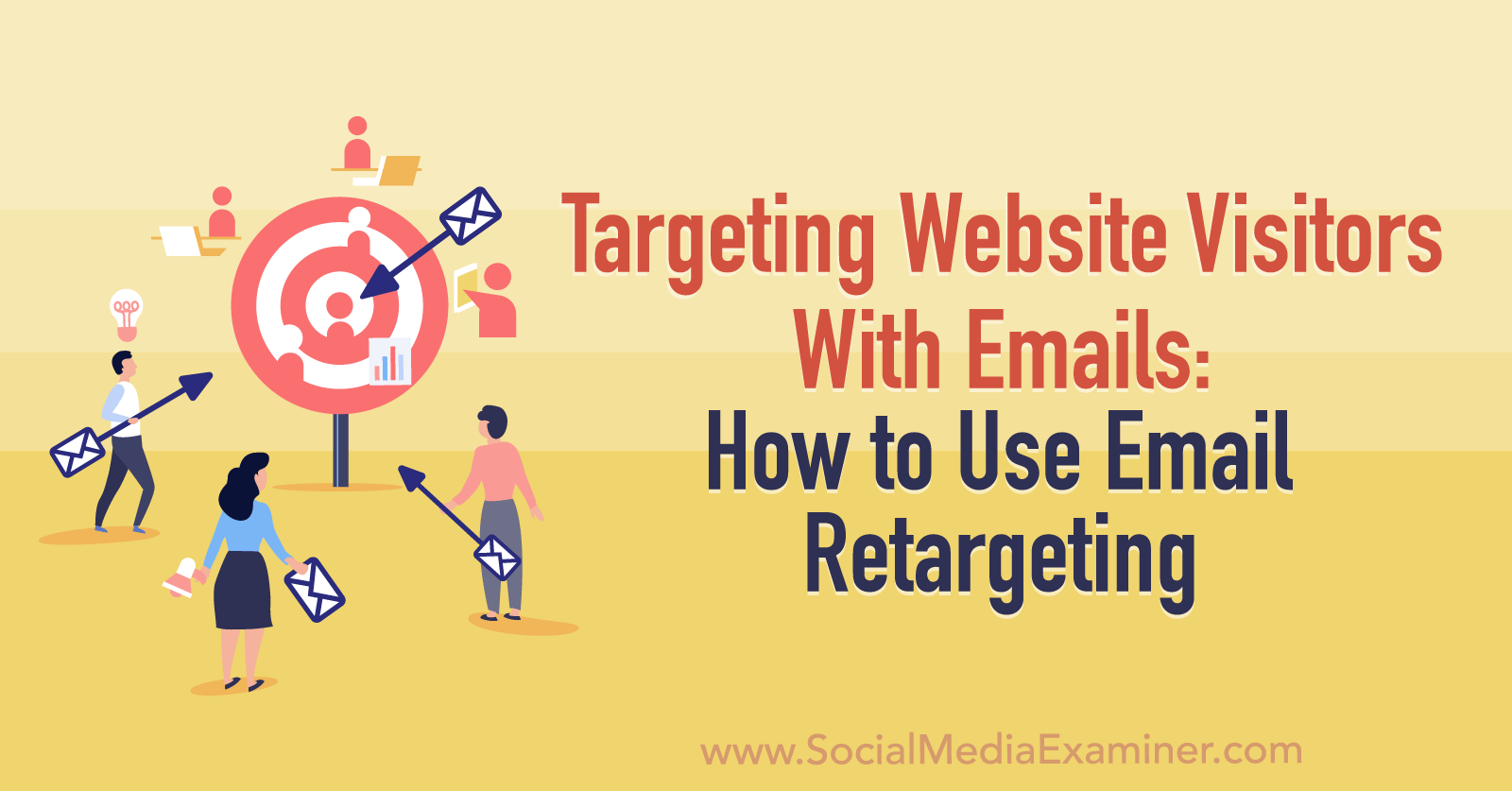 Why Email Still Wins in 2023
The idea of owning your audience is getting rarer for online marketers.
Facebook has throttled the reach of business pages, while ad costs have gone up. Only 7% of posts on the platform contain links to external sites. That's a reduction of 53% in just the past 9 months.
Meanwhile, TikTok is facing bans in several countries. Even search engine traffic is becoming disintermediated, as people take their questions to ChatGPT instead of Google.
Online platforms are still useful. You can still make a lot of sales through ads, organic content, and SEO. But you can't rely on any of those channels alone. Putting all of your eggs in one basket is risky for your business!
Email marketing is a highly effective channel and it's safer from the whims of social media moguls and legislators because:
You own your email audience. You alone control your reach and costs.
You can share however many links you want, in whatever format you want, throughout your messages.
You can contact people as frequently as you want, without time limits. You are free to manage your own list of subscribers.
You can automate email sequences to respond to user profiles and behavior. For example, you can follow up on abandoned carts, offer discounts to users who visit the same product page repeatedly but don't buy, or try to upsell customers who have made a purchase.
And the best part? Not everyone is on social media, but in 2023, pretty much everyone has an email account. Email cuts across demographics, regions, and interests. It's the universal marketing channel.
There's just one catch.
You can't implement any of this without an email address. You need a subscriber database that people have opted into, which also allows you to track actions in emails and on your site.
But what if there was a way to collect the email address of every U.S.-based user of your website?
How to Collect Email Addresses from Website Visitors
You can collect emails from your site visitors—precisely, legally, and with meaningful business results.
Services like Retention and LeadPost will help you capture and use email addresses from people based in the U.S.
How Does an Email Capture Work?
To explain this, we'll have to get a little bit technical. It starts with cookies.
Every visitor to your website will get a cookie—the virtual kind. This contains some unique data about the user such as their device ID, but it's usually anonymized. That means you can't check through the cookies to find out people's names or contact details after they visit your website.
However, the data can still be matched to information about that person later on.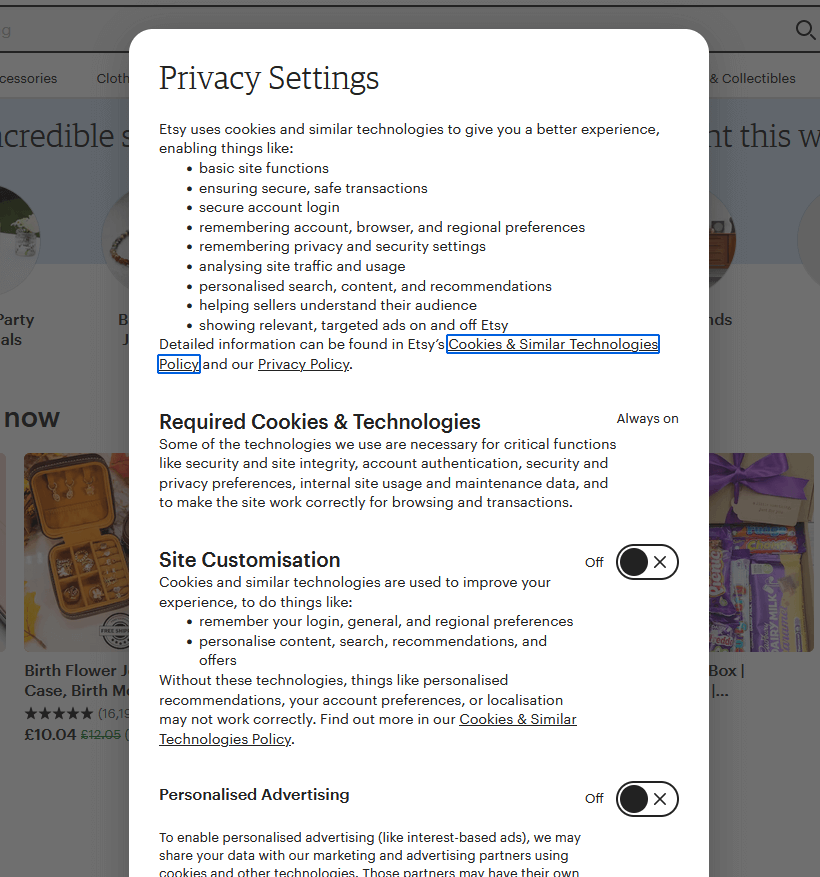 Let's say that Ms. A. Customer visits an online competition site. The website shares a cookie with her, and she types in her email address to enter the competition. All of that information is stored in a database.
A few days later, Ms. Customer stops by your website. She doesn't share her email address but you can cross-check the cookie information with that other database to find it.
In other words, you can de-anonymize cookie data to get email addresses from your website visitors. Services like Retention and LeadPost claim that they can get contact details for about 35%-40% of all of your website visitors. You can add scripts to your website to track exactly what percentage they collect for you (as well as check that the service doesn't duplicate email addresses that you collect through other means).
And the best part? The email addresses they collect can be integrated with your email service provider. They're instantly added to your subscriber list so you own the audience and can email them whenever you want.
You can expect to see an 8X return on your email spending in the first month. If you take the longer-term view, this strategy can increase customer lifetime value by up to 20 times. And each email address that you capture will cost about $0.20, compared to roughly $5.00 on Facebook and other social platforms.
How to Use Email Retargeting Campaigns
If you decide to use a service like this, you'll need to think about three different elements:
Collecting email addresses.
Using email addresses.
Cleaning your email list.
First, let's think about collecting email addresses.
While this strategy is legal in the U.S., active email opt-ins are still the gold standard. The more people who choose to share their email address with you directly, the better. So even if you use an email capture service, it's worth having an email form on your website or checkout as well.
Tag subscribers in your email marketing platform so you can tell the difference between email capture and active opt-ins. You'll need to talk to them in different ways. This is because the people you've added through email capture might not be expecting your messages. You have to frame your emails as helpful support, rather than creepy surveillance.
Here are a few tips to help you strike the right tone:
Only capture emails from users who are clearly interested in a purchase already; for example, repeatedly viewing a product page or abandoning a full shopping cart.
Send support-style emails. Did the user have any questions? Can you help them in any way?
Don't explain how you captured their email address. Nine times out of 10, people won't even wonder how it happened.
Always include an option to unsubscribe.
This cart-abandonment email from Dote is triggered when users add items to their cart but don't check out.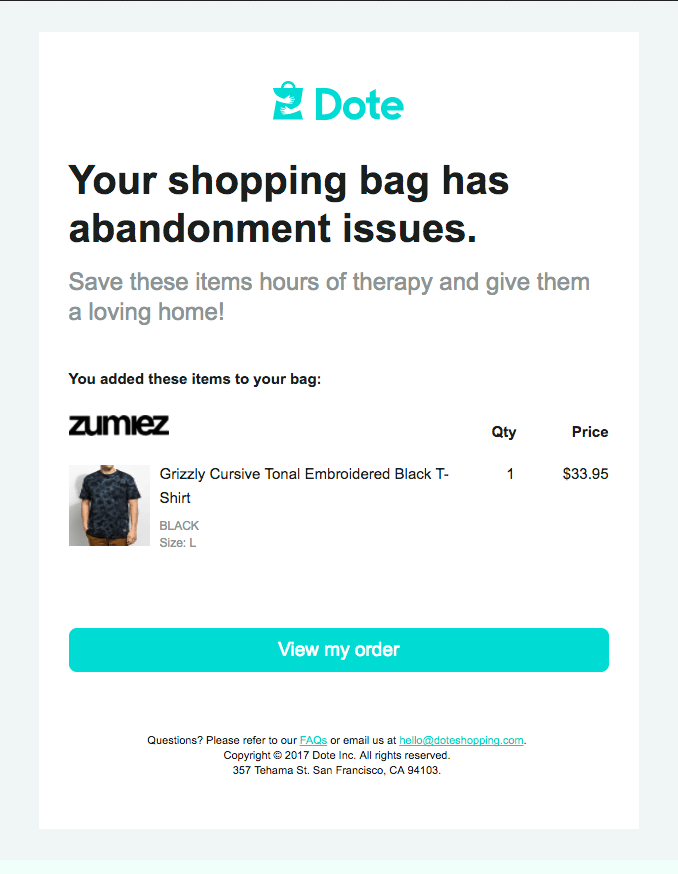 That last point isn't just to help consumers. It's also essential for keeping your email list healthy. If you send lots of unopened mail or start to pick up spam ratings, then your deliverability will suffer. Email service providers these days take a tough approach: if your spam rate edges up over 0.1%, your delivery rates will fall.
Here's how you can protect your email reputation and deliverability:
If someone doesn't open any of the first three emails you send, take them off the list.
If someone doesn't click on any of the first 10 emails you send, take them off the list.
Monitor your email response rates closely. You can use your email marketing platform to check on individual email campaigns, or for a more in-depth view, try Google Postmaster Tools.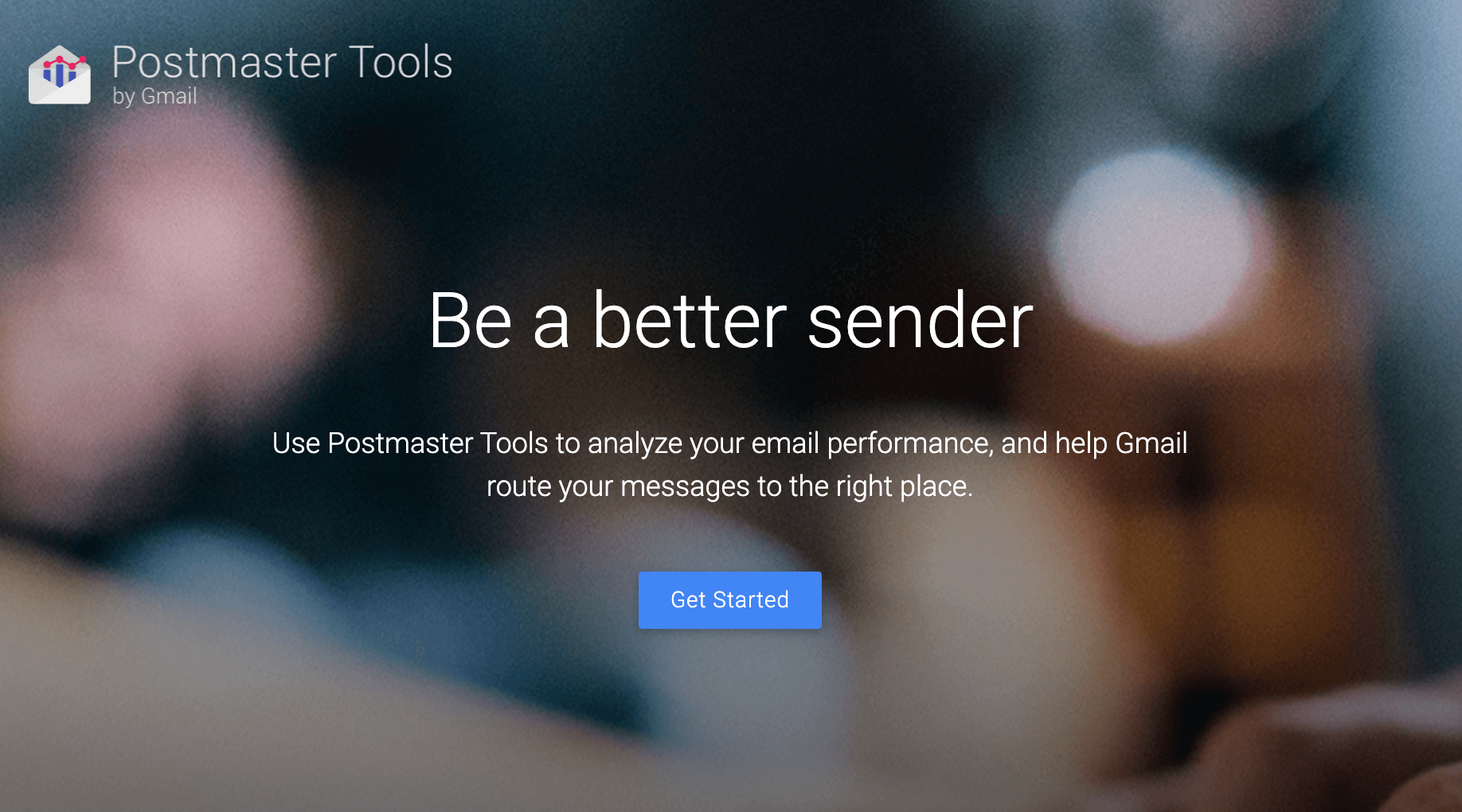 But… Is It Legal?
There are some very, very important caveats to this strategy.
First off, this kind of email capture is only legal in the United States. It's not compatible with the European General Data Protection Regulation (GDPR), nor with Canada's Anti-Spam Law (CASL).
In fact, email capture services will only collect U.S.-based email addresses. The best ones will cross-check their data with a third-party service to make sure that every email you collect has a positive engagement rate. They'll filter out spam addresses, burner accounts, spam-detecting honeypot addresses, and any account that has been inactive for over 30 days. You may find that your email capture list is even healthier than your active opt-in subscribers!
Next, your email campaigns have to fulfill certain conditions to stay within the law.
Every email you send to users on the list should be linked to clear purchase intent and include an Unsubscribe button. So it's OK to email potential customers about a product page that they viewed but it's not OK to send them a random newsletter about your thoughts and feelings.
You can upgrade your emails even further by adding personalized content and context. That means speaking to the specific products, services, or offers that the user has viewed. It will put you head and shoulders above the competition!
How to Use Website Retargeting Emails for Your Business
If you're selling courses or services, email capture can help you convert more of your audience by following up on the content they consume.
For example, if someone spends more than 60 seconds on your site, visits multiple key pages, and reads more than 75% of an article, that suggests they're a pretty hot prospect. But it doesn't guarantee a sale.
You can set up Google Tag Manager to flag users who meet all of these conditions, and then use an email capture service to get their contact details.
Your next step is to follow up with a helpful email that offers to answer any questions they have, personally.
This email, selling a course for content creators, uses an insightful question to start a conversation with the recipient.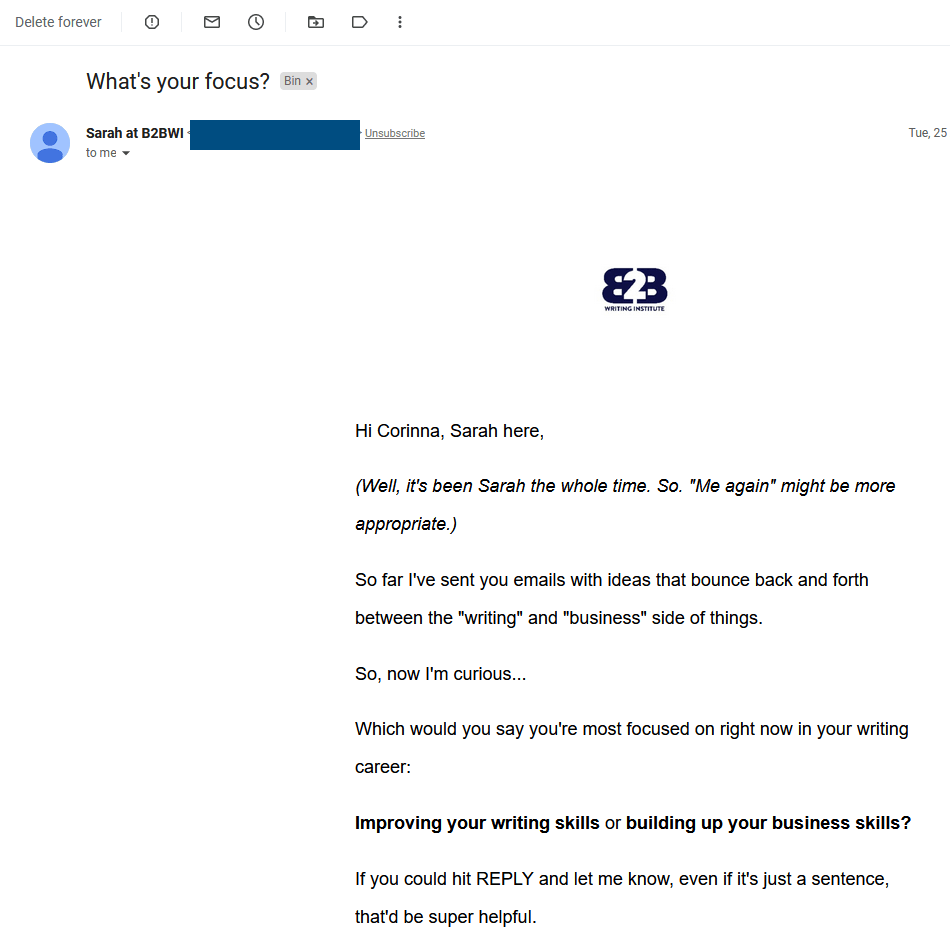 After that first email, you can follow up with a drip campaign. Share your most successful content, and then once you've established trust and authority, invite your email readers to sign up for a mini-course, masterclass, or another lead magnet.
The aim is to build on the expertise you already demonstrated on your website. When you follow up with personalized messages, you show potential customers that you really care about them and you're ready to help.
Email capture can also make a big difference to your eCommerce sales by speeding up your marketing funnel, reducing cart abandonment, and making it easier to upsell existing customers.
For example, whenever someone adds an item to their shopping cart, you can use email capture to stay in touch with them. They've shown a clear signal of purchase intent so you have every reason to follow up.
Send them a warm email—that is, personalized—referring to the specific product they viewed and aiming to close the sale immediately with a link back to the checkout. Encourage them to reply to your emails with any queries or customer service issues. (As well as building trust, this can also boost your deliverability rate!)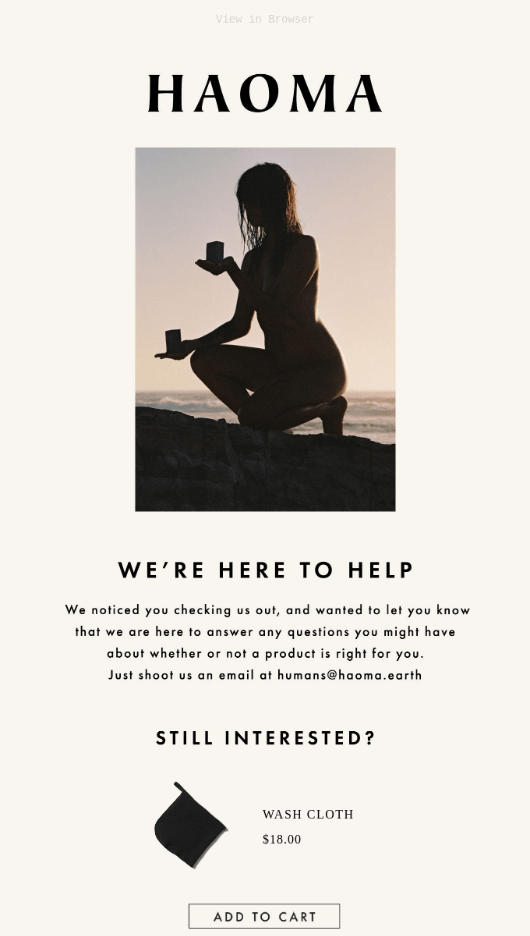 At this point, many users will convert. But if they don't, you can automatically route them to your normal abandoned-cart email sequence. If they still don't convert, transfer them to your pre-purchase email sequence. Remember, if there's no interaction at all after 10 emails, you can take them off the list—but don't give up earlier than that. Some people just need more time.
If this strategy works well for you, you can experiment with capturing emails where there's less explicit purchase intent; for example, users who view individual product pages, but don't make it all the way to the checkout. Just be sure to keep an eye on your email metrics so you're not damaging your own deliverability.
Is Email Capture Right for You?
It's worth repeating, one last time, that email capture isn't for everyone.
It only works in the U.S., and it only works if you're confident that you know what you're doing. You'll need to start with a small pilot scheme and constantly stay on top of your email and spam metrics.
Email capture has immense potential for personalized, organic marketing to your website visitors. But it has to be used respectfully. Remember: your goal is to help users toward a sale. Customers' needs always come first!
Other Notes From This Episode
Where to subscribe: Apple Podcasts | Google Podcasts | Spotify | YouTube Music | YouTube | Amazon Music | RSS
✋🏽 If you enjoyed this episode of the Social Media Marketing podcast, please head over to Apple Podcasts, leave a rating, write a review, and subscribe.
---
Stay Up-to-Date: Get New Marketing Articles Delivered to You!
Don't miss out on upcoming social media marketing insights and strategies! Sign up to receive notifications when we publish new articles on Social Media Examiner. Our expertly crafted content will help you stay ahead of the curve and drive results for your business. Click the link below to sign up now and receive our annual report!