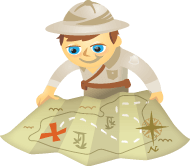 Do you wonder how to go about exercising good social etiquette and managing your social networking communities, all at the same time?
Social media community management has expanded into a growing field and there's a lot to think about.
In this post, I'll cover 26 tips, an A-Z guide, on ways to manage your company's presence.
#1: Answer Questions
With more and more of your customers participating on social networking platforms, businesses need to be doing much more than posting their own updates. Companies must also be willing to answer questions.
A recent survey organized by InSites Consulting found that eight out of ten American companies answer client questions and complaints via social media. The survey shows that US companies are very successful in answering questions via social media: "83 percent of companies indicate they always deal with questions or complaints sent to them via social media. Still, only 54 percent of the companies in this survey also talk to and actively participate in online conversations with consumers."
What about your business? Are you answering or avoiding questions?