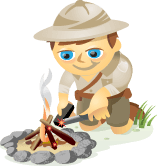 Are you drowning in social media tasks?
Do you need better tools to help you manage your social media marketing?
Automating some of the more repetitive tasks related to social media can help you be more productive and efficient with the execution of your social media strategy.
To save you time and improve your marketing efforts, I'll show you three social media tools that will deliver your content efficiently.
#1: Be More Efficient on Facebook
Post Planner, an independent application you install within Facebook, is designed to help you deliver content to your Facebook Page effectively. The app offers paid plans and a free trial. We've used the free trial for the demonstration below.
Features:
Automate publishing of selected content to your Facebook Page based on a time schedule that you predetermine.
Identify trending content to add to your queue.
Add your blog feed and publish your new posts automatically.
Crowdsource content from other Post Planner users. If a Post Planner user creates a folder containing content from the top Facebook experts, this folder is available to other Post Planner users to select content from.
View the latest content from your favorite Facebook Pages, Twitter accounts or blogs from within Post Planner and add articles, tweets or posts to your queue.
View simple analytics that show you the percentage of people who liked your post, clicked it or commented on it.
Target your posts based on a selection of details such as gender, age group and level of education and save the target for future use. Link the targeting to a time zone and Post Planner will adjust the publish time.
Post Planner provides a database of thousands of updates you can search to find ideas for your status updates.
Upload a bulk file of posts.