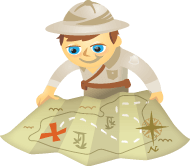 Are you looking for that competitive edge? Want to know what your peers are up to?
Using social media to research competitors can provide useful information for any business looking to create a smart strategy.  Learning about your competitors' activities can give you insight into what works and what doesn't.
The beauty of social media is that there's a ton of information about your competitors that is public. And not only is their strategy public, but the reaction to that strategy is public as well. Let's take a look at some of the things you can learn about your competitors through different social networks, search engines and other outlets.