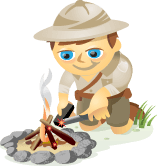 Are you thinking about doing more with YouTube?
In December of 2011, YouTube unveiled their latest design and navigational changes to the world.
Although it was met with unbridled criticism from a virtual mob of YouTube fanatics, these changes are here to stay.
Embrace YouTube's recent makeover and their vision for the future of online entertainment. Change is good, right?
This article will only cover the three major changes that may affect your online strategy. If you want to stay on top of your video marketing game in 2012, these are the only three changes that you need to focus on.
Ready? Here we go!