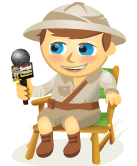 In this video I interview Robert Halper, who is the director of video communication for Johnson & Johnson.
Robert shares the story and strategy behind the company's successful social media activities. You'll also learn how Johnson & Johnson's social media communication is not just about the brand and how they create awareness with YouTube videos.
Be sure to check out the takeaways below after you watch the video.